UFC 158: 7 Fights to Make After Georges St-Pierre vs. Nick Diaz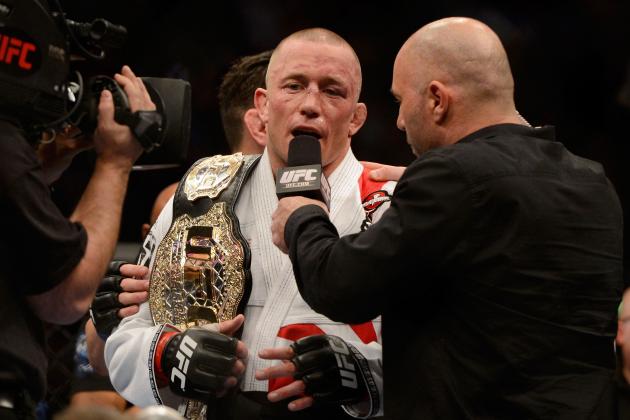 Eric Bolte-USA TODAY Sports

UFC 158 is in the books, and it went much as we expected it to.
Georges St-Pierre scored another dominant and fairly boring win by wrestling Nick Diaz from bell to bell. Johny Hendricks secured his place as the number one contender by beating Carlos Condit in a much closer fight than most were expecting. And Jake Ellenberger staked his claim as a potential title contender by wrecking Nate Marquardt.
With the fights out of the way, it's time for me to dust off my old crystal ball and tell you what I'd like to see for some of the winners and losers from UFC 158. Let's get started, shall we?
Begin Slideshow

»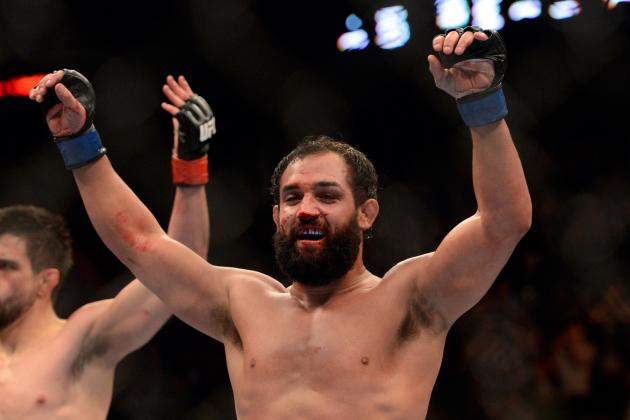 Eric Bolte-USA TODAY Sports

This one is a no-brainer, and barring some type of injury to Hendricks or St-Pierre—and assuming that St-Pierre doesn't suddenly decide that he wants to move up and face Anderson Silva after all—this is the only fight for the welterweight championship that makes sense.

I scored Hendricks' fight against Carlos Condit for Condit, but I'll admit that it was very close and that it was not a robbery. Hendricks faced his toughest test to date and passed with flying colors, or at least as much color as one can get when facing the gritty, durable Condit.

And here's the thing about Hendricks: He has the boxing, the power and, most importantly, the wrestling to provide a real threat to St-Pierre's reign as champion. St-Pierre will not take him down as easily as he has everyone else he's faced, and if the fight remains standing for any length of time, Hendricks is a real threat to knock the champion out.

And on top of that, Hendricks is quickly becoming a major star in the welterweight division. The crowd in Montreal gave him a superstar reaction, so I can only imagine what he'll get if he fights a little bit closer to home the next time around.

In fact, I'm predicting that Hendricks will end St-Pierre's reign as champion and take the title. How's that for a bold prediction? How about you? Do you think Hendricks has what it takes to win the belt?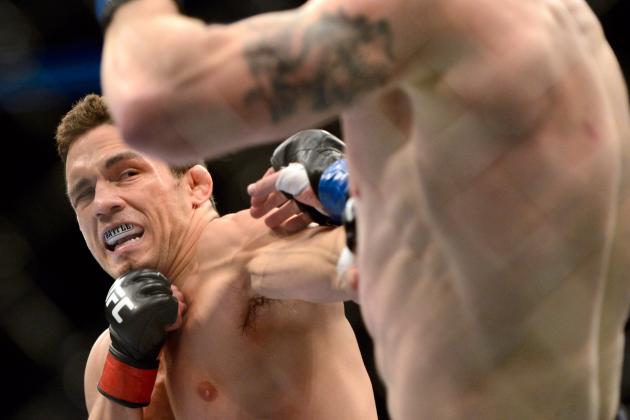 Eric Bolte-USA TODAY Sports

Jake Ellenberger staked his claim as a welterweight contender by finishing off Nate Marquardt, but he's still going to need at least one win before getting a shot at the title.

That's why it makes perfect sense to pair him up with Demian Maia, who has been a wrecking ball since dropping to welterweight. If Ellenberger can deal with Maia's takedowns, he can finish the fight standing; we all saw what Marquardt did to Maia after all.

And the best part about it? The winner would be lined up for a title shot. This is clearly the fight to make next to determine the next challenger after Hendricks gets his shot.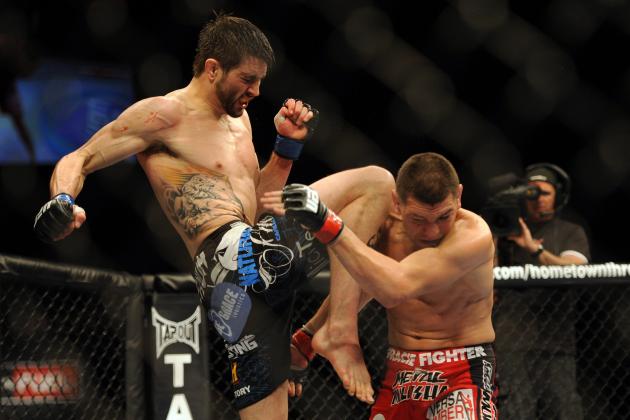 Kelvin Kuo-USA TODAY Sports

I know, I know. You don't want to see this fight again. But I do, and I think it makes sense. Let me explain.

Diaz is coming off two losses. Condit is coming off two losses in a row, as well. The UFC likes to pair up fighters with similar records in their recent fights.

But more importantly, that first fight between Diaz and Condit was so very controversial and such a source for hang-wringing and argument between MMA fans that it only makes sense to run it back and let them do it all over again. We might see the same thing as we did the first time, with Condit using superior strategy to beat Diaz, but it's worth seeing if Diaz can prevent it the second time around.

I don't know if Diaz wants to fight Condit. He sure didn't sound like he was interested in it at the post-fight press conference. But if he's willing to do it in order to work his way back to St-Pierre, then this is the fight to make.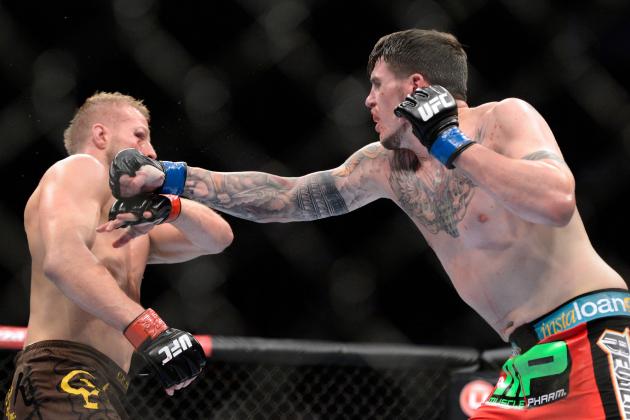 Eric Bolte-USA TODAY Sports

Don't look now, but Chris Camozzi has four consecutive wins in the UFC after beating Nick Ring. He hasn't looked like a world-beater, to be sure, but he's done enough to win. In the UFC, that's an impressive feat in and of itself.

I'd match Camozzi up with Brad Tavares in his next bout and let the winner continue his move up the middleweight ladder. I know Tavares wants Wanderlei Silva, but I can't imagine Silva settling for anyone without a big name at this point. And besides, we don't even know that Silva is going to drop back to middleweight this late in his career; he's been noncommittal when asked about it in recent weeks.

Camozzi deserves a good fight, and so does Tavares. Put these two rising youngsters in the cage against each other and let the dust settle where it may.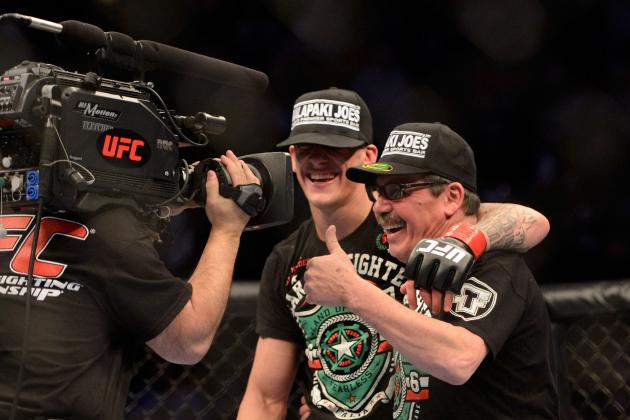 Eric Bolte-USA TODAY Sports

Mike Ricci wasn't all that impressive in beating Colin Fletcher on Saturday night, but he did enough to score the win. I did, however, give him my personal award for walkout music: "In the Air Tonight" will always be a favorite.

Ricci's been dubbed "the next Rory MacDonald," and we all know that MacDonald has been dubbed "the next Georges St-Pierre." But the key with Ricci, as with MacDonald, is to take it slow and not push him too fast.

That's why I'd have Ricci fight Ultimate Fighter winner Mike Chiesa next. You've got the built-in storyline that both were excellent competitors in the Ultimate Fighter house, and both guys have roughly the same standing in the lightweight division. Plus, Chiesa's scrabbly hard-look beard against Ricci's impeccable dress sense will always be interesting to me.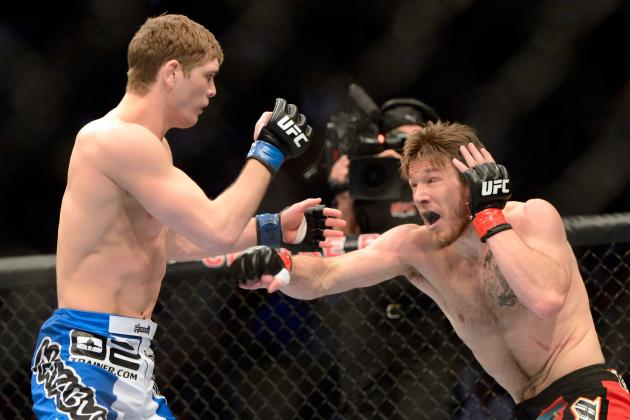 Eric Bolte-USA TODAY Sports

In a video I did with "Showdown" Joe Ferraro last week, I picked Jordan Mein as my lock of the night. I did that for a reason. I think Mein is a future megastar in the welterweight division; he has over 35 fights, and he's just 23 years old. That's incredible.

The UFC brass is very high on Mein, and he'll get every opportunity to go as far as he wants to. What I'd really like to do is match him up with Rory MacDonald. The two fought back in Mein's professional debut in 2006, with MacDonald scoring a win at a Rumble in the Cage event.

But MacDonald is much higher in the rankings than Mein at this point, and so it makes more sense to pair him with a fighter more in line with his standing. Put Mein in the cage with Patrick Cote, who somehow scored a win over Bobby Voelker despite everyone in the entire arena seeing the fight the other way.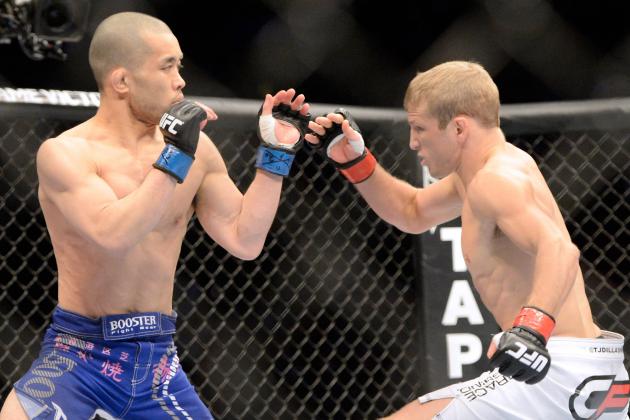 Eric Bolte-USA TODAY Sports

T.J. Dillashaw is a wrecking machine. Outside of his loss to John Dodson, Dillashaw has been perfect in MMA competition, and he continued that by absolutely wrecking Issei Tamura on Saturday night.

Dillashaw is a fighter that I've long pegged as a future world bantamweight champion, and it's time for him to take a step up the ladder and face big name competition.

To that end, I'd have him wait to face the winner of Mike Easton vs. Brad Pickett, which takes place at UFC on Fuel 9 in a few weeks. The timing is great, and both fighters make sense as opponents for Dillashaw. Easton was scheduled to face Dillashaw back at UFC on FOX 5, but the fight was canceled after Dillashaw suffered an injury. But he's healthy now, and there's no question that both fighters do not like each other, which adds a level of intrigue to what would be an exciting fight.

And Pickett? The guy always brings it, and so does Dillashaw. It's a great stylistic matchup and a great test for the Team Alpha Male product as he continues his move up the division.