Syracuse Basketball: 5 Predictions for Orange in 2013 NCAA Tournament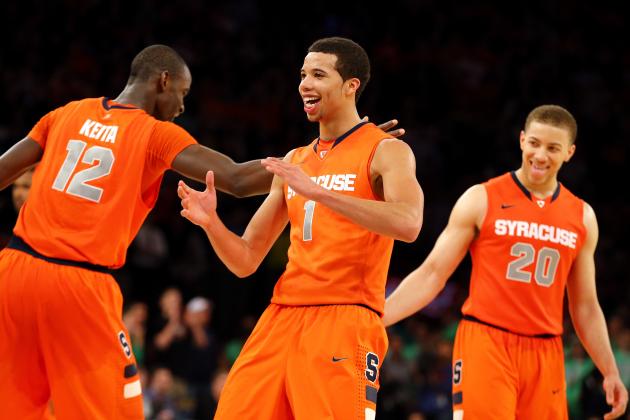 Al Bello/Getty Images

"It's the most wonderful time of the year."
I actually heard the song in my head as I wrote that. Spring is coming. Baseball is coming. And best of all, March Madness is here.
Leave it to me to make predictions for the Orange tournament run in the most black is white, up is down, topsy-turvy season ever.
First-round exit? Final Four?
The suspense is killing you, isn't it?
These aren't ranked in any order, other than saving the prediction of how far the Orange will go until last. The other four are the events that are the most pressing and interesting. I even play amateur psychic and give you the future.
Begin Slideshow

»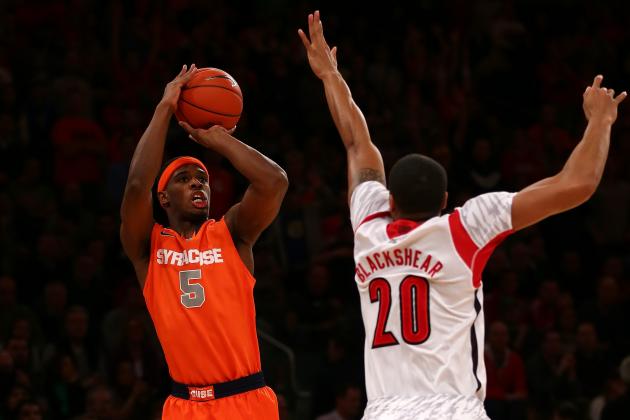 Elsa/Getty Images

It seems hard to fathom for Orange fans that C.J. Fair could possibly be under anyone's radar. He has clearly been the best player on a team that is very much on the radar of college basketball fans.
Yet, Fair's game is very understated at times.
Yes, there was the posterization of Georgetown's Otto Porter Jr. in the Big East semifinals, but C.J. typically blends into the woodwork until the game is over and his stat line wows those who just didn't know.
He had an outstanding and very consistent junior year, averaging 14.4 points and 7.1 rebounds per game. He shot 47.1 percent from the floor, 75.9 percent from the line and an amazing 49.1 percent from beyond the arc.
Fair wisely picked his spots to shoot a three, attempting only 55 compared to 110 for Michael Carter-Williams, 158 for Brandon Triche and 187 for James Southerland.
The athletic, efficient left-hander might just operate in traffic better than anyone in college basketball. He wastes no movements as he slithers and head-fakes to find the precious inches he needs to get that beautiful shot off.
I predict everyone will soon know.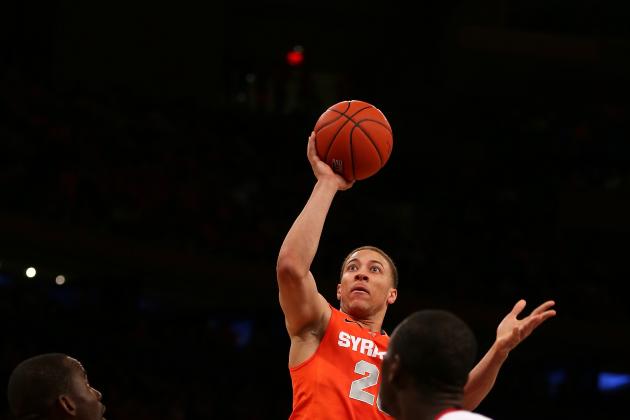 Elsa/Getty Images
Senior Brandon Triche
College teams turn over players much more so than professional teams, especially these days. Everyone knows that the tournament is the last run for seniors Triche and Southerland.
But will anyone else leave?
Michael Carter-Williams
MCW came in last year with much hype as a McDonald's All-American. I doubt he was very pleased with his stat line from his freshman year. What a difference a year makes.
Minutes/game Points/game Rebounds/game Assists/game Steals/game
2011-12 10.3 2.7 1.5 2.1 .8
2012-13 35.2 12.0 4.8 7.7 2.7
Carter-Williams has great court vision along with a willingness and ability to pass. Put those in a 6'6" body and it's no wonder the NBA beckons. When he is penetrating, he is very dangerous—though he does need to work on his strength, quickness and shooting.
So, will the 2013 NCAA tournament be Carter-Williams swan song in Orange?
Yes. He's projected to be in the lottery and that will be too much to pass up.
C.J. Fair
When the season started, there was no talk of Fair leaving for the NBA. Midway through the season the whispers started. We all can hear the conversation now.
Fair needs to work on putting the ball on the floor from the perimeter to get his game more NBA-ready. This will sound crazy, but he also needs to work on his outside shooting. I know he has great percentages, but that's because he takes very few shots and really picks his spots.
Will the tournament be the final games for Fair in Orange?
No. He's made great strides but needs that last season to continue that movement up the draft board.
Rakeem Christmas
Much like Carter-Williams, Christmas came in last year as a McDonald's All-American and struggled to produce. He spent most of the time on the Orange bench.
Unlike MCW, his sophomore season hasn't been a dramatic improvement.
Even so, there has been talk...whispers?...that Christmas could leave for the NBA. He won't.
You noticed that I didn't ask the question like I did of Carter-Williams and Fair. Very good.
Here's the Rakeem Christmas question...
Will he transfer?
No, I've not heard that talk. Two underachieving years for a McDonald's All-American is tough to take. I'm sure there are plenty of people in his ear telling him that he deserves better and just needs to get away from the old man.
So, will the tournament be Rakeem Christmas' last days in Orange?
No. He'll be back to show Orange Nation what he can do.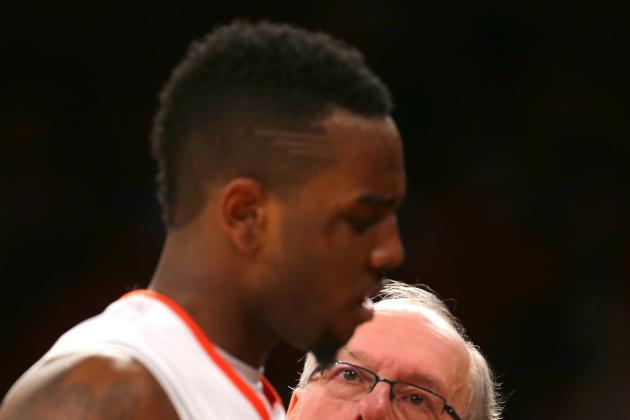 Elsa/Getty Images
Too Familiar for Christmas
It's been a tumultuous Orange career for Christmas. He's not seen the minutes he'd like and just doesn't seem to be able to meet the enormous potential attached to him.
You look at that physique and athleticism and just expect more. Add in his laid back attitude, and I imagine Jim Boeheim gets more gray hairs.
It clearly appears as if the Big East Tournament brought out the best in Christmas' backup, Baye Moussa Keita. And thus, more bench time for Rakeem.
Keita went from averaging 14.9 minutes per game in the regular season to 27.8 at Madison Square Garden. From 3.1 points per game to 8.3 From 3.7 rebounds per game to 4.8.
We'll see how the first-round game against Montana goes, but if Christmas doesn't play well, expect more Keita and less Rakeem.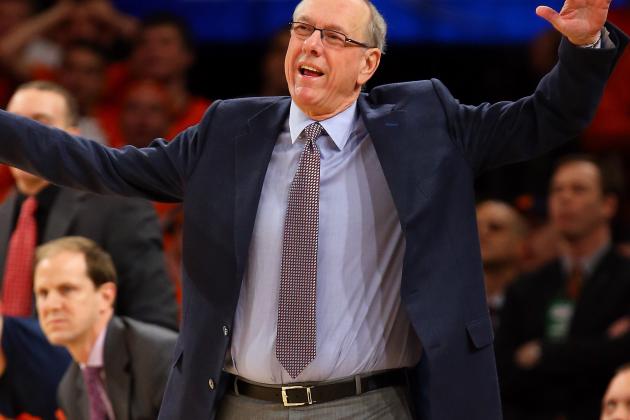 Al Bello/Getty Images

It's hard to imagine Syracuse basketball without Jim Boeheim. He's been part of it for the past 51 years. As he wraps up his 37th season as head coach, his record stands at 915-310.
There have been rumors that he is going to step down. They seem to fly in the face of his still-burning competitiveness and continuing energy.
Top recruits continue to come to Syracuse. The Orange are very relevant with the high-schoolers who are making their college choice.
See where I'm going here?
Will the 2013 NCAA Tournament be it for Jim Boeheim?
No. The challenge of the ACC is something to look forward to and he still has it.
That brings us to assistant Mike Hopkins.
With the exception of two years, Hopkins has been part of Orange basketball for the past 23 seasons. He has been an assistant coach for the past 18 and a major reason for the recruiting success Syracuse has enjoyed recently.
Hopkins has been named the successor to Boeheim whenever he retires. But will he wait?
He interviewed for the Charlotte job in 2010 and met with USC recently. Hopkins is from California; will he be wooed back?
Will the tournament be the last games for Hopkins at Syracuse?
No. He's waited years to take over and is now just a few seasons away. This program is rolling and will continue to with Hopkins at the helm. He's staying put.
Game One
I know, I know. Syracuse was the first No. 2 seed to ever lose to a 15th seed so they could lose as a No. 4 seed to 13th-seeded Montana.
They won't.
Game Two
Chalk says that UNLV, the five-seed, will be waiting in the second round. Yes, I call it the second round, they are play-in games.
The Rebels are 25-9 and are led by a soon-to-be lottery pick in power forward Anthony Bennett, who averages 16.1 points and 8.1 rebounds per game.
Point guard Anthony Marshall averages 10.5 points and 5.8 assists per game.
The Rebels protect the ball, which normally bodes well against a pressing, zone defense. Not against the one played by the Orange.
Syracuse will suffocate the Rebels, get out and run and advance.
Game Three
The top-seeded Indiana Hoosiers. A star-studded team led by Cody Zeller, Victor Oladipo, Christian Watford and Jordan Hulls. It seems like Indiana would be well-suited to beat the Orange 2-3 zone since they shoot the three very well.
Watford hits 49.1 percent, Hulls 46.4 and Oladipo 44.3. Zeller is a beast inside.
And yet the Orange will move on.
The length of Carter-Williams and Triche will disrupt the Hoosier's shots and the attacking back-line of the zone will do well with Zeller.
Game Four
The No. 2-seeded Miami Hurricanes. Veteran coach Jim Larranaga leads a very experienced team with seniors Durand Scott, Kenny Kadji and Reggie Johnson.
Point guard Shane Larkin is playing as well as any point in the tournament. That, combined with the big, athletic front-line of Kadji, Scott and Johnson will be trouble for the Orange.
Yes, I said it. The Orange will lose in the East Regional Final to the Miami Hurricanes.
Follow me on Twitter @sprtsramblngman