6 Positives Everton Must Take Forward from Manchester City Win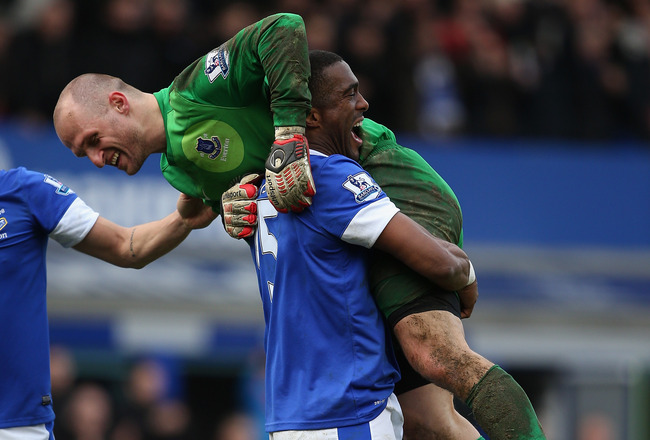 Everton players celebrate their second goal
Clive Brunskill/Getty Images
What a difference a week makes.
I suppose Everton couldn't have played any worse than they did in their cup quarterfinal against Wigan. But the 2-0 win over Manchester City offered up plenty of positives which Everton have to take forward into the remaining games. The City game was a step in the right direction for the players, fans and manager.
David Moyes atoned for his poor team selection against Wigan by bringing Darron Gibson and Victor Anichebe back into the side, with Leon Osman taking over as skipper.
The Everton manager had called for a response from his players in the week building up to the game. And his players responded. So did the fans, as the team were roared home to a much needed victory by a raucous Goodison Park crowd.
Everton have to put the abysmal performance against Wigan behind them. Easier said than done, of course, and it will take much more than a solitary victory for fans to forget the cup horror-show.
Qualification for Europe on the other hand? That might come close to full vindication.
The Toffees have the toughest run-in from any of the European challengers. But this tough set of fixtures also give Everton the opportunity to make ground on their rivals. With Everton still having to travel to Chelsea, Liverpool, Spurs and Arsenal, they have the chance to take points off those sides whom they are in direct competition with.
I criticised David Moyes last week for failing to motivate his players in high pressure encounters. Those four aforementioned matches present big opportunities to prove otherwise.
To do that, Everton have to replicate a lot of the things they did well in the Manchester City game. Here are a few I picked out:
Osman a Capable Captain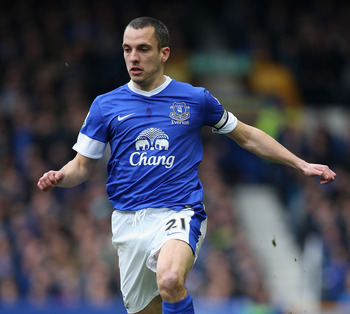 Osman took the armband and lead by example
Clive Brunskill/Getty Images
With Phil Neville and Phil Jagielka out of the side, it was Leon Osman who took over the captaincy duties. A fitting way to mark his 300th game for The Toffees.
The armband seemed to galvanize Osman, who has been in a slight rut in form as of late. He was fantastic in the early stages, giving the Manchester City midfielders no time on the ball whatsoever. He hassled, harried, blocked and tackled.
His stunning goal was just reward for what was a true captain's performance from the England international.
Moyes was obviously concerned about a lack of leadership within the side in the cup-tie against Wigan, as he drafted long-term skipper Phil Neville back into the first XI. As we are all aware, this backfired dramatically.
But if the situation arises again where the two Phils are out of action, the Everton manager should not hesitate in making Osman his captain on this evidence.
Coleman Getting Better and Better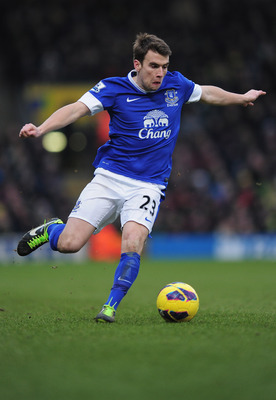 Coleman was Everton's man of the match against Manchester City
Jamie McDonald/Getty Images
Seamus Coleman was awarded the Sky Sports man-of-the-match award following his fantastic display.
Since his return to the side last month, the Irishman has shown increased maturity in the defensive areas of his game. He has always been a massive attacking threat, but questions marks have always lingered about how he stands up defensively.
Against City, with Everton down to 10 men, his defensive mettle was always going to be tested.
Coleman rose to the challenge. Putting in his best ever defensive performance in an Everton shirt in the process. His back-post header to deny Carlos Tevez a certain goal in particular was a remarkable piece of work.
It is testament to his defensive improvement that he put himself in such an excellent position to nick the ball away in that instance. Earlier in the season, Coleman has been caught out at the back-post and it has cost Everton goals. But he looks to have been working hard on the defensive side of his game and The Toffees are beginning to reap the rewards.
If Everton persist with Coleman and his defensive contributions continue to improve at their current rate, then they could have one of the country's top full-backs on their books.
Having signed for a mere £60,000, the Irishman looks set to go down as one of Moyes' best-ever signings.
Anichebe Realising His Potential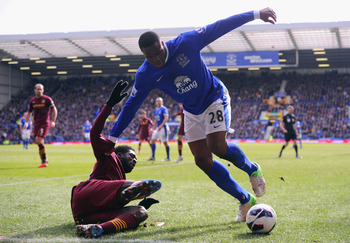 Anichebe gave Kolo Toure a rough afternoon
Michael Regan/Getty Images
Having failed to endear himself to the Everton supporters during vast majority of his time at the club, Victor Anichebe is certainly doing his best to make amends this season.
There was certainly no sign of the lethargic and ponderous Anichebe against City, as the Nigerian striker led the line superbly. His physical presence coupled with his persistent closing down resulted in a standing ovation when he eventually made way for Nikica Jelavic later on.
Anichebe is finally starting to realise his potential. He has always had the tools at his disposal to be a top centre-forward, but has looked consistently raw despite totting up 121 appearances in the Premier League. Not to mention the fact he has often let himself down with his poor attitude and sulky demeanour.
But this campaign, he seems to have had a wake-up call. His hold-up play, work-rate and decision making have all improved markedly. He has definitely won many a fan over (this writer included) with his recent showings.
Moyes looks as though he will continue to start Anichebe for the remainder of the season, and it is difficult to disagree with this notion when the Nigerian puts in performances like the one against City.
If Anichebe can start to add goals to his game, then Everton have a real striker on their hands.
Gibson an Indispensable Figure
Gibson has developed into Everton's best central midfielder
Michael Regan/Getty Images
You have to wonder what David Moyes was thinking leaving Darron Gibson out of the side against Wigan. Especially looking at his performance against City.
Gibson has quietly become one of Everton's most important players this season. After Marouane Fellaini and Leighton Baines, the former Manchester United man has to be the next name onto the team-sheet.
As his central midfield partner Osman was given license to push up and stop City dictating play from deep, Gibson anchored the midfield to fantastic effect.
He sat deep, patrolling the spaces in front of the back-four and picked off City's forward passes time after time. Even on the rare occasions City got in behind the Everton midfield, Gibson had the mobility and the legs to recover into a good position—a trait Everton were in short supply, but in dire need of in the FA Cup quarterfinal against Wigan.
Gibson has suffered with a few knocks this campaign. If he can stay fit for the run-in, he will play a significant role in Everton getting closer to those European spots.
Mucha an Unlikely Hero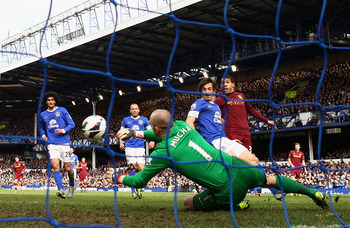 Mucha has done well since coming into the side
Clive Brunskill/Getty Images
Jan Mucha is another player who has never won the fans over.
He has had the odd appearance in the cup competitions, but, when tested, has more often than not has committed some very basic errors.
It was understandable that Evertonians were concerned when Tim Howard was confirmed injured for up to two months—especially when Mucha was the only viable goalkeeping alternative.
But as is sometimes the case, Mucha looks as though he could be a cult-hero in the making. He kept City at bay with a remarkable string of stops and offered a commanding presence from balls into the box—something that Everton often lack when Howard plays, it must be said.
His double save from Carlos Tevez and then James Milner was the pick of the bunch, as the Slovakian international showed remarkable agility to get to his feet quickly and smother Milner's follow up strike.
The fans have backed Mucha to the hilt since he was drafted into the side. He has repaid them with some top performances so far. If he keeps these types of efforts up, he might have Tim Howard slightly concerned about regaining his place!
Floodgates to Open for Jelavic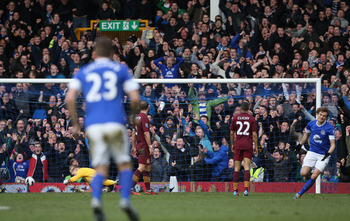 Jelavic sends Goodison into raptures
Clive Brunskill/Getty Images
The relief was there for all to see as Nikica Jelavic's strike looped over Joe Hart and into the Gwladys Street net.
It has been a rough few months for Jelavic, having often ploughed a lone furrow up-top without any reward. His admirable work-rate has been to the detriment of his goal-scoring exploits.
The classic line about out-of-form strikers is that they need "one to go in off their backside." Failing that, any kind of lucky strike to get them back amongst the goals and back. Evertonians will hope that the goal against City proves to be the one that opens the floodgates again for Jelavic.
Jelavic is clearly a massively popular figure at Everton. The mass celebrations following his strike made that abundantly clear. But he must go on from this if Everton are to have a fruitful end to the campaign.
He may have to wait for another opportunity coming off the bench with Anichebe playing so well. But with Fellaini and Steven Pienaar both suspended for Everton's next two games, Jelavic should get plenty of game time in the coming weeks.
If he wants to become a regular feature in the side once again, he has to make the most of these opportunities. His first league goal in over three months will certainly have him raring to go.
What do you think? Let me know in the comments section or on Twitter @MattJFootball
Keep Reading

Everton: Like this team?