Grading the Fighters That Made Their UFC Debut at UFC 158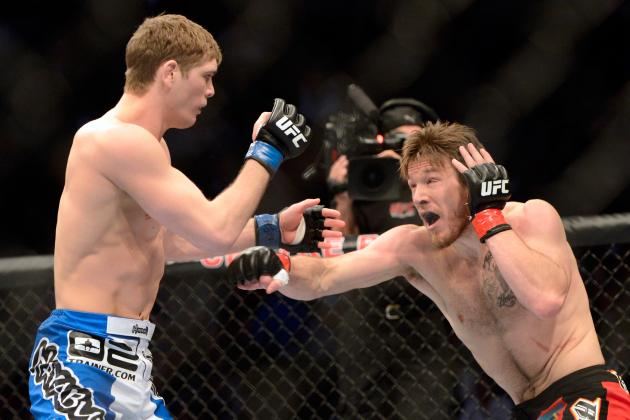 Eric Bolte-USA TODAY Sports

The Ultimate Fighting Championship's Octagon represents the pinnacle of mixed martial arts for aspiring fighters.
Much like the NFL or the NBA, the UFC represents the ultimate achievement for its fighters. It announces a fighter's arrival on the grandest stage, and it showcases his or her talents for the largest audience available.
At UFC 158, three fighters—all welterweights—stepped foot into this venerable cage for the first time with mixed results.
Who seized the moment and used the stage to showcase his talents to the world?
Who faltered under the bright lights?
Start the slideshow to find out.
Begin Slideshow

»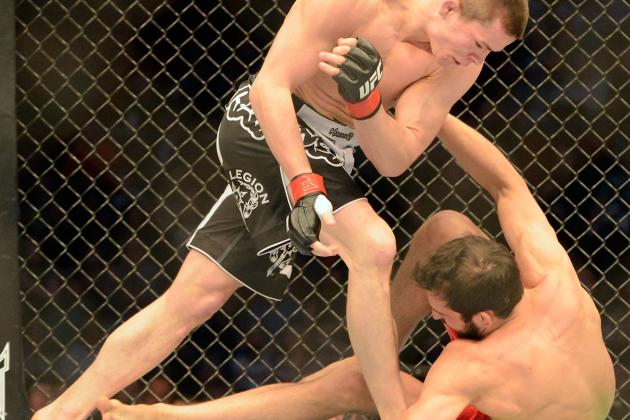 Eric Bolte-USA TODAY Sports

Quinn Mulhern looked like a rookie in his UFC debut.
Facing UFC veteran of 12 fights Rick Story, Mulhern was overwhelmed from the bout's onset.
While the former Strikeforce welterweight Mulhern did land a few significant strikes near the middle of the first round, this success was worthless as Story immediately crushed him with a left hook that injured his eye and led to the finishing flurry.
Story unloaded on Mulhern and forced the referee to intervene with two minutes remaining in Round 1.
For Mulhern, the fight was not pretty, and it proved that he needs a less experienced, less powerful fighter than Story in his next outing.
To be fair, the counter left that hurt Mulhern initially looked to have caused some legitimate damage—possibly a broken orbital bone—and he simply could not defend himself after the strike.
He turtled to avoid damage, essentially gifting Story the fight from there.
Still, a first-round technical knockout loss is what it is, and Mulhern did not impress in his Octagon debut.
Grade: C-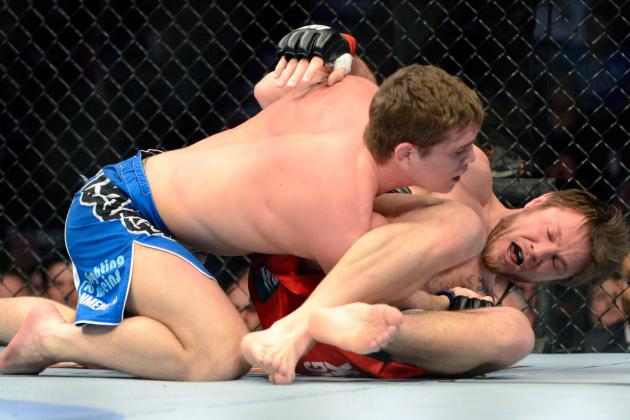 Eric Bolte-USA TODAY Sports

Well, that was ideal for Jordan Mein.
The 23-year-old former Strikeforce fighter looked sensational against Dan Miller at UFC 158, earning a first-round TKO victory.
After escaping a deep armbar from Miller early, Mein established control of the fight by dictating the pace and the range through his technical striking.
Mein repeatedly caught Miller with stiff punches, but the young fighter remained collected throughout and waited for the perfect opportunity to present itself to officially unload and look for the finish.
When the moment arose, he pounced with power and precision, abusing Miller with elbows and punches before the referee halted the contest.
Between his submission defense and his striking offense, Mein looked absolutely incredible in this bout.
With the TKO, he became the first man to stop Miller in professional action, and the 170-pound division just got more interesting with Mein's arrival.
Grade: A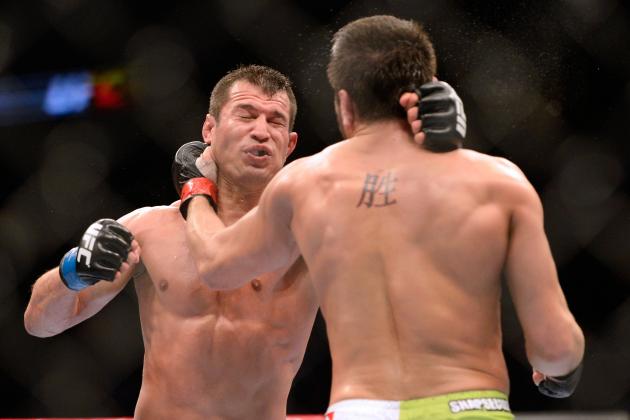 Eric Bolte-USA TODAY Sports

Losing your UFC debut sucks, but if you have to lose, you want to lose like Bobby Voelker.
The Octagon newcomer came into battle revered for his furious fists and solid chin, and he showcased these elements for all to enjoy in his UFC 158 bout with Patrick Cote.
Cote eventually took home a unanimous decision in front of his hometown crowd, but some (myself included) feel that Voelker should have received the judges' nod.
A compelling case can be made through numbers, but the fact remains that both of these guys cemented their status as wildly tough brawlers in this one.
If Carlos Condit and Johny Hendricks did not host a potential fight of the year later in the evening, Voelker and Cote would have emerged with a cool $50,000 Fight of the Night bonus for their efforts in Montreal.
Voelker did not put the welterweight division on notice like Mein, but his fan-friendly style will make him a useful commodity for the UFC moving forward.
Grade: B