Denver Nuggets vs. Chicago Bulls: Live Score, Results and Game Highlights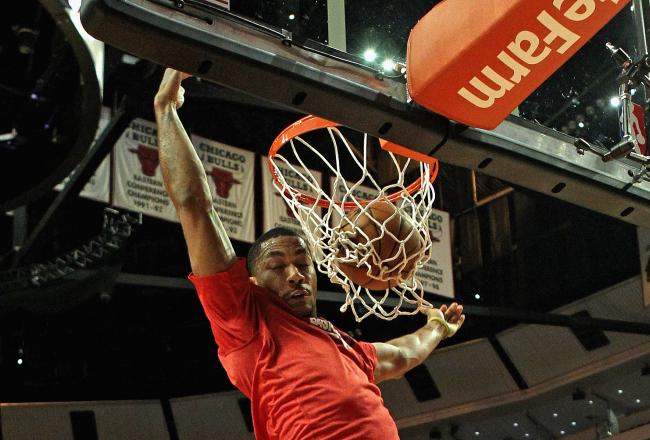 "How much longer, Derrick?" is the only question D-Rose can seem to hear right now.
Jonathan Daniel/Getty Images
Commentary from the dramatic 119-118 Denver Nuggets' overtime victory over the Chicago Bulls at the United Center in Chicago, IL on March 18, 2013.
Keys to the Nuggets Win:
1) Phenomenal Bench Play: The Nuggets bench shot 30-of-50 from the floor en route to 71 of the Nuggets' 119 points. Wilson Chandler's 35 points was a game high, and he played 39 minutes as the sixth man.
2) Rebounding: Denver had 20 offensive rebounds, and out-rebounded the Bulls 53-42.
3) Excellent Ball Movement: Denver Recorded 26 assists on 43 field goals. Their 13 turnovers aren't really that bad either, considering they attempted 100 field goals and the game went into OT.
NUGGETS 119, BULLS 118 — FINAL OT
They reversed the possession call, but the Bulls were forced to inbound on the baseline and Andre Iguodala deflected the inbounds pass to clinch the game.
Tom Thibodeau is beyond irate...prediction: Thibbs picks up a postgame fine for some comments on this one.
NUGGS 119, BULLS 118 — FINAL OT
After what appears to be a blown possession call on this final play, the Bulls really have been on the bad end of two consecutive calls. The United Center crowd is stunned, and the refs are going to have to be escorted out of the stadium...
NUGGS 119, BULLS 118 — 0.7 seconds OT, Nuggets Possession
Wilson Chandler deflected the inbounds pass to drain another second off the clock, giving the Bulls 5.7 seconds and forcing a backcourt inbounds.
The Bulls rushed it to Marco Belinelli, who forced a wild shot that Joakim Noah guided right into the basket as the horn sounded. That's a perfectly timed jump.
The refs are reviewing the play to see if the ball was above the cylinder, but it didn't look like it was from what I could tell.
IT WAS WAIVED OFF.
Thibbs looks flat out murderous towards the refs, and Luol Deng is doing his best to prevent a costly technical.
NUGGS 119, BULLS 118 — 1.7 seconds OT, Nuggets Posssession
Iggy's three from the right wing...contested by Joakim Noah, and nothing but net. WOW.
There really couldn't be any more drama. They're reviewing the shot to see if it's really a three. Replay seems to indicate his foot was definitely behind the line.
NUGGS 119, BULLS 118 — 7.1 seconds OT, CHI Possession
I'm completely baffled as to how Wilson Chandler caught Nate Robinson on a switch and failed to take advantage of it. Well, actually, the blunder was entirely covered by Joakim Noah. I guess the only way Chandler really could have capitalized would have been to wait on the double team and swing the ball, since Noah was looming at the rim and has already blocked SEVEN shots tonight.
BULLS 118, NUGGS 116 — 16.9 seconds OT, Denver Possession
George Karl put Corey Brewer onto Nate Robinson (I seem to remember someone suggesting this earlier?). It only partially worked. Nate blew by Brewer but missed the layup.
And...
Joakim Noah tipped it home to put the Bulls up a point again.
BULLS 117, NUGGS 116 — 18.4 seconds OT, Denver Possession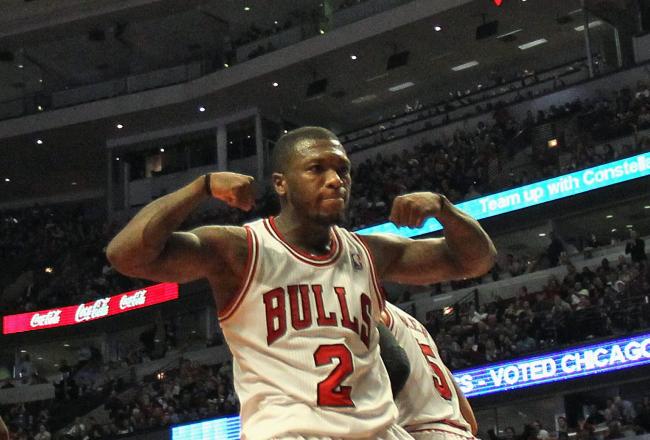 Nate Robinson's pull up jumper from the right elbow gives him 33 points on the night. It's amazing that a player whose career scoring average is just 11.3 points per game has nights this big. And again, his career high is 45. Tonight, he's 13-of-21 from the floor, and eight of his made field goals have been threes.
NUGGS 116, BULLS 115 — 39.5 seconds 4th, CHI Timeout
Marco Belinelli was baited into his fifth foul by Wilson Chandler. Nate Robinson already has five. The Bulls don't want Marquis Teague to come in at such a critical juncture in the game, so Marco and Lil Nate will have to be very careful as this game winds to its conclusion.
NUGGS 114, BULLS 113 — 1:10 OT, Bulls Possession
Wilson Chandler was definitely bumped out of bounds by Joakim Noah. What a horribly missed call.
CSN Chicago's Stacey King is calling it a flop of sorts, but it looked a lot more like a guy who was slightly off-balance and fell the rest of the way out of balance with the bump. Not a good time for a blown call.
NUGGS 112, BULLS 111 — 2:12 OT, CHI Timeout, Bulls possession
Nate Robinson 3 sends Bulls-Nuggets to OT. Bad news for Denver which plays at OKC tomorrow night.

— Jeff Caplan (@Caplan_NBA) March 19, 2013
At least Manimal will be fresh. He's played just 15 minutes tonight due to Wilson Chandler's breakout performance.
NUGGS 112, BULLS 111 — 2:20 4th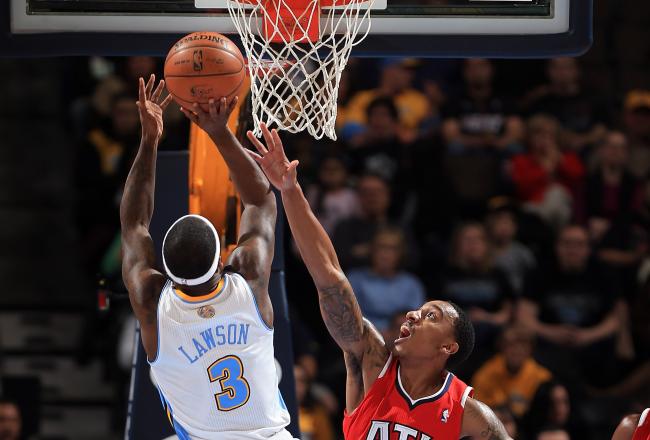 Ty Lawson's three from the right wing partially redeems his airball at the end of regulation. OK, it really doesn't, but Lawson clearly took no hit on the confidence meter by being the goat of regulation.
BULLS 111, NUGGS 110 — 2:41 OT
That's 60 points in the paint now for Nuggets. Had 64 against Bulls last month.

— K.C Johnson (@KCJHoop) March 19, 2013
The funny thing is that the Nuggs have amassed these points in the paint mostly through backdoor cuts and dribble penetration. They really haven't been dumping it inside; that isn't how they score their points in the paint.
BULLS 111, NUGGS 107 — 3:20 OT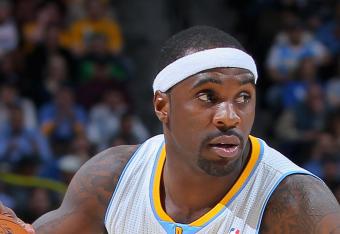 Ty Lawson fired up an airball for the Nuggets' final shot. He's 4-of-12 from the floor as we head to OT.
Of all the times to shoot an airball? And why didn't Wilson Chandler play a more prominent role in the final play. Something tells me George Karl isn't pleased with the way Lawson allowed that play to unfold.
The officials are reviewing the final play to determine a) if the putback layup counts (it doesn't) and b) how much time, if any, remains on the clock.
BULLS 105, NUGGS 105 — End of Regulation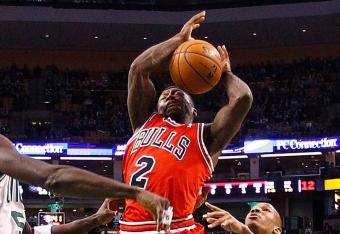 Nate Robinson's triple from the right wing ties the game. That's a season high 29 points for Lil' Nate.
Perhaps more remarkably, Nate the Great has a career high of 45.
NUGGS 105, BULLS 105 — 13.4 seconds, 4th, Denver Possession
Andre Miller doesn't turn it over very often, but he lifted his pivot foot as he made an up and under move in the paint. Miller didn't see it as a walk, but sometimes it's difficult to tell when you lift your pivot, as moves are made in split seconds - not multiple seconds as we have the advantage of with instant replay.
Either way, that's a costly turnover and the Nuggets 11th of the game.
NUGGS 105, BULLS 102 — 17.7 seconds, 4th, Bulls possession
A Joakim Noah to Luol Deng assist followed by a Marco Belinelli triple tied the game at 103, before Andre Miller got into the paint to put the Nuggets back up two.
Going down to the wire here.
NUGGS 105, BULLS 102 — Under 1 Minute, 4th
Note: The Marco Belinelli shot was ruled a two-pointer.
Nuggets have won 11 in a row; a win tonight would match the franchise mark for longest winning streak, set in the 1981-82 season

— ESPN Stats & Info (@ESPNStatsInfo) March 18, 2013
And still, all the media feeds us is the Miami Heat's win streak. There are other teams playing well, I promise. The Nuggs are about to win their 23rd game in their last 27. How is that not nearly as impressive as 22 in a row?
I know, I know. Everyone is obsessed with LeBron James.
NUGGS 101, BULLS 98 — Under 2 Mins, 4th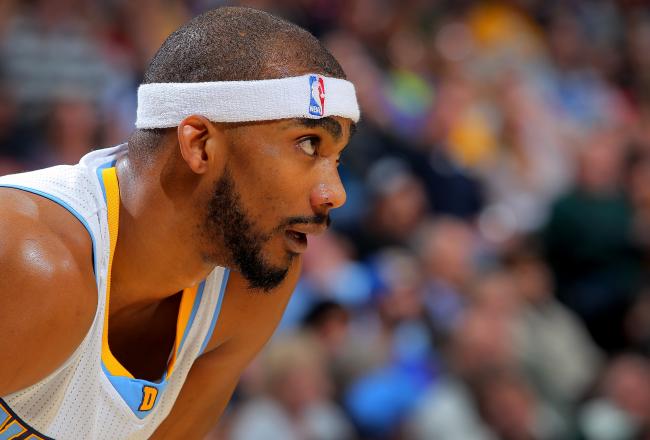 Corey Brewer is an unrestricted free agent at season's end. With the way he has played this season, he may seek to head to a team that could use his talents for more than 23 minutes a game. Brewer has 16 points, four rebounds, three steals and two assists in 25 minutes off the Nuggets' bench tonight. That's a stat-stuffing line, to be sure.
A number of teams will look to tender a mid-level exception contract at the Florida product.
NUGGS 99, BULLS 94 — 2:30 4th
The Nuggets don't slow it down often, but now is a time when they should be milking the clock a little.
They're not; they really aren't. Why maximize possessions when trying to maintain a single-digit lead on the road?...
NUGGS 99, BULLS 91 — 3:15 4th
61 of Denver's 96 points have come off the bench. Can any team compete with that kind of bench production?
NUGGS 96, BULLS 87 — 4:11 4th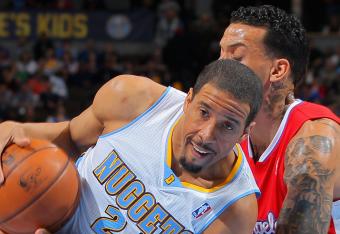 The Nuggets only have eight turnovers on 81 field goal attempts. That's pretty impressive, especially considering that they've assisted on 23 of their 38 field goals. Andre Miller is now up to 11 assists in 22 minutes off the bench.
NUGGS 94, BULLS 85 — 5:30 4th
The Bulls defensive intensity is picking up, but the Nuggets are now playing with such confidence and their offense is hyperactive with ball movement, and backdoor cuts. It's difficult to imagine even one of the best defensive teams in history stopping a team with this kind of arsenal. OK, slight hyperbole, but not by much.
NUGGS 94, BULLS 85 — 6:00 4th
Another example of JaVale punking Noah. Imagine if these two were in the same conference and met four times a year.
NUGGS 92, BULLS 83 — 7:07 4th
Corey Brewer's breakaway dunk puts the Nuggets back ahead by double-digits for the first time since the second quarter when they led by as many as 14. Tom Thibodeau has seen enough, but it doesn't seem the Bulls have any defensive answers for the Nuggets, which is surprising considering they are a premier defensive team, as I reiterated already earlier in this live blog.
NUGGS 94, BULLS 83 — 7:07 4th, CHI Timeout
This article is
What is the duplicate article?
Why is this article offensive?
Where is this article plagiarized from?
Why is this article poorly edited?