Report: Toronto Maple Leafs Seeking Another Center, Eyeing Mike Ribeiro?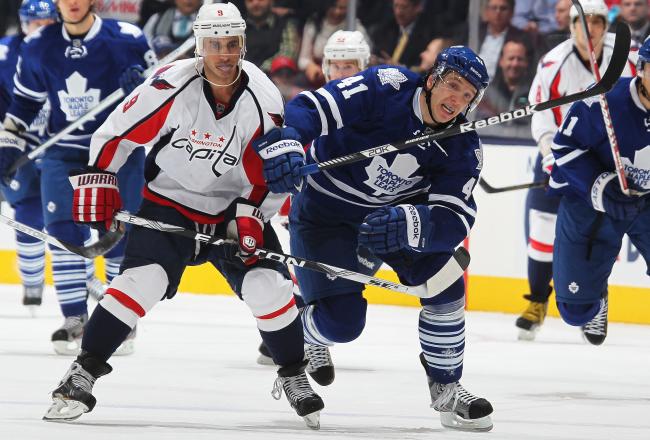 Claus Andersen/Getty Images
In case you haven't heard this story before, you are going to hear another rendition of it today. The Toronto Maple Leafs, after about the first half of the season, sat in a playoff position and were nearly approaching home-ice advantage.
Fast-forward a handful of games, and the Leafs are falling faster than a flash flood rain.
Recent losses to the Boston Bruins, Pittsburgh Penguins (times two) and the Winnipeg Jets (times two) have seen the Leafs not really move from their sixth-place position. However, they are losing track on the division leaders and are hearing footsteps from the non-playoff teams approaching quickly.
Questions still remain with the Leafs, despite the returns of John Michael Liles from the press box and Matt Frattin and Joffrey Lupul from injury.
Why exactly is the Leafs' defence so prone to giveaways? Are the forwards not coming back enough? Are the defencemen just that bad at handling the puck?
Is the Leafs' goaltending in need of a shake-up?
Ben Scrivens seems to be unbeatable for stretches, then he allows a single weak goal, and then the weak goals are given out like Halloween candy.
James Reimer, on the other hand, has been very shaky after he returned from his injury and, like last year, looks like a completely different goaltender than what he was prior to his injury.
What exactly is happening with Mikhail Grabovski?
Where has his scoring touch gone? Why was he skipped in the shootout against the Jets, and Cody Franson and Dion Phaneuf got a chance to shoot instead of him? For the highest-paid forward on the team, you would believe he'd be a shootout option.
With more and more mistakes building up, the Leafs are once again the center of trade rumors. According to Mark Zwolinski of the Toronto Star, the Leafs are searching the trade market for yet another top-six center as well as a top-four defenceman.
According to the report, Zwolinski lists Mike Ribeiro of the Washington Capitals as a possible trade target.
Ribeiro, playing alongside Alex Ovechkin, is currently leading the Capitals in points with 31 points through 28 games. He's an elite playmaker and is very strong on the puck. However, he's going to be an unrestricted free agent this season for the Capitals, and trading for him may only be on a rental basis.
What would the Leafs give up in return for Ribeiro, however?
Based on the games left (19) and the overall player, a second-round draft pick and possibly a prospect could be enough. A deal similar to the one that brought Ribeiro to Washington from the Dallas Stars is a good comparison. In that deal, the Capitals gave up prospect Cody Eakin and a second-round pick for Ribeiro. Expect the same kind of return for Ribeiro this time around if he's dealt.
Is it really worth it in the grand scheme of things? Unless he's dealt for Mikhail Grabovski, there is no real advantage to doing this deal. Ribeiro will just plug up the center position more for the Leafs. He is a very similar player to Nazem Kadri, and with the way Kadri is playing right now, he's in line for a promotion or more ice time. Why take that away from him?
Also, according to the report, the Leafs are eyeing a top-four defenceman to help carry the load for the Leafs. No names were mentioned, but players such as Mark Streit, Ryan Whitney, Lubomir Visnovsky, Robyn Regehr and possibly Jay Bouwmeester, amongst others, could all interest the Leafs.
All of this is just speculation, but if the Leafs plan on making a move, I recommend doing it quickly because this season is just about over. If not, and the Leafs stick with their current group, expect things to go from bad to worse in Leaf Nation as the Leafs continue to play stinker after stinker.
This article is
What is the duplicate article?
Why is this article offensive?
Where is this article plagiarized from?
Why is this article poorly edited?

Toronto Maple Leafs: Like this team?