10 Successful WWE Gimmicks That Never Should Have Worked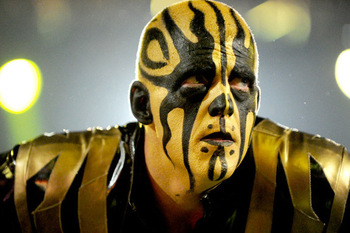 Photo credit: WWE
When WWE hands a wrestler a gimmick, be it that of an aristocrat or a barbarian, the company truly has no idea how it will pan out.
Battle Kat might have seemed like a good idea in the boardroom, but it bombed. Conversely, some of WWE's more goofy ideas have led to surprisingly successful runs.
Utilizing mental issues and fake superheroes, WWE has tapped into the unexpected. The achievements of these stars either proves the company's brilliance or luck.
In no particular order, here are 10 WWE stars who achieved success beyond the limitations of their gimmick.
Undertaker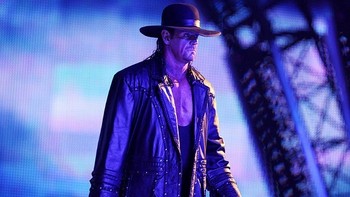 Photo from WWE.com
Undertaker has been so successful and so cool that it's easy to forget how risky his gimmick was in the beginning. His mortician in the style of Western films gimmick could have gone the way of Isaac Yankem D.D.S. or the Repo Man, but WWE fans took to Undertaker right away.
He not only played a somewhat cartoonish role, but WWE also added supernatural elements to the mix.
Undertaker can apparently turn off lights with his mind and fire lightning bolts out of his hands. That sounds fine for a member of the X-Men, but a wrestler? WWE fans could have easily laughed Undertaker into early retirement, but he has instead carved out a legendary career.
Honky Tonk Man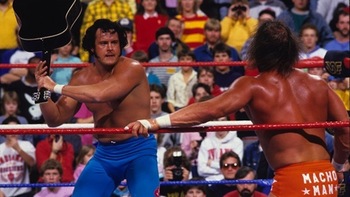 Photo from WWE.com
Warriors and monsters have made their mark on WWE, a world that doesn't seem like the place where an Elvis impersonator would belong.
The Honky Tonk Man wore jumpsuits in the style of Elvis Presley and smacked his opponents over the head with his guitars.
Somehow that translated into the longest single reign in Intercontinental Championship history. Fans despised him and salivated over the thought of him losing that title. In that way, he became one of his generation's best heels.
Props to the Honky Tonk Man for building a memorable career on something that seemed to be doomed from the start.
Bushwhackers

Bushwhackers promo

In New Zealand, Luke Williams and Butch Miller wrestled a violent, brawling style as The Sheepherders.
WWE stripped away the team's barbarity and replaced it with face licking, arm swinging and wobbling. Their promos rarely made sense, as they seemed to trade volume for substance.
It all seemed too buffoonish even in the era of WWE's most ridiculous gimmicks, but The Bushwhackers garnered a following.
Their fanbase was mostly children, but adults certainly joined in on the fun as well.
The Battman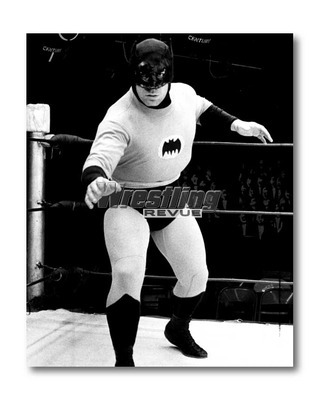 Photo from Wrestling Revue
WWE in 1966 was an ill-fitting home for a character as silly as Tony Marino's The Battman.
Had he been born several years later and introduced that gimmick alongside Doink and Mantaur, it wouldn't have been as strange. Marino somehow made ripping off the popular comic-book superhero work, even in the '60s.
Wrestling's version of Batman had no utility belt, no Robin, no Batmobile. Despite those deficiencies, despite the bizarreness of a superhero rip-off performing in the ring, Marino's character had significant success.
He earned several victories over opponents like Johnny Rodz and Baron Mikel Scicluna and later teamed up with then-WWE champ Bruno Sammartino.
Goldust

Goldust promo

The fact that a cross-dresser suffering from Tourette syndrome became as prominent a part of WWE as Goldust did is hard to fathom.
Most wrestlers would have floundered with the gimmick. It could have come off as silly and cartoonish. Dustin Rhodes played the role so vigorously, though, that he made it a hit.
He rode the oddity that was his character to nine Hardcore title reigns and to a character that stood amidst all the chaos that was the Attitude Era. Goldust remains one of WWE's most unforgettable figures.
Irwin R. Schyster

Series of IRS promos

Everybody hates the I.R.S., but it's hard to believe that translated as well as it did to the wrestling ring.
A villainous tax man seems right at home in a Disney movie, but Mike Rotunda made it work in WWE. Dressed in suspenders and a shirt and tie, I.R.S. made a name for himself alongside Ted DiBiase as the team of Money Inc.
Rotunda's ring skills helped him work past the goofy outfit he wrestled in. He and DiBiase won the tag titles three times and defeated Hulk Hogan and Brutus Beefcake at WrestleMania IX.
Al Snow

Al Snow vs. Jeff Jarrett

Al Snow's success is proof that sometimes bizarre is good business.
The words "Help me" written backwards on his forehead, Snow carried around a mannequin head that apparently had conversations with him. It's an idea that sounds like a joke, but translated well in the real world.
After suffering as a jobber for so many years, Snow's new character lead him to winning the Hardcore championship, the European title and once the tag team belts with Mankind.
The Hurricane

Hurricane and Rock segments

The concept of Greg Helms' Hurricane gimmick sounds like a joke.
A squeaky-voiced masked superhero doesn't exactly sound like a great WWE star in waiting. Even without the weight of this goofy gimmick, Helms seemed too small to hang with WWE's elite.
Helms made it work though, his infectious energy powering him to tag team title runs. He also had several hilarious backstage segments with The Rock.
The Hurricane's success is proof of WWE fans' unpredictable taste. The gimmick gave them every reason to reject it, but The Hurricane certainly built himself a significant fanbase.
Koko B. Ware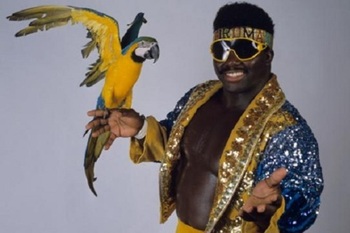 Photo credit: WWE
Usually one finds men who have a strong fondness for birds and dress in wacky outfits living under a bridge. In one case, that description fit a WWE star.
Koko B. Ware doesn't have WWE championship gold to boast about on his resume, but he energized fans for years. WWE apparently valued his entertainment value to the point of inducting him into the Hall of Fame.
While that selection is often criticized, there's no doubt that Koko B. Ware was more successful than one would have guessed before he put his Birdman routine into action.
Boogeyman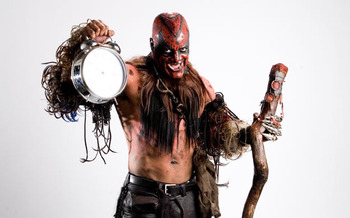 Photo from WWE.com
It's surprising how popular this red-faced, crazy-laughing worm eater became with WWE fans. Boogeyman never won any titles, but he became a fun part of WWE.
Part Beetlejuice part Candyman, Boogeyman's character was not only over-the-top, but ridiculous. Even his name shouldn't have worked. Naming wrestlers after imaginary creatures that children are afraid of doesn't have a great track record.
Boogeyman seemed better suited for haunted houses than WWE rings, but in the process of terrorizing men like JBL and Booker T, he won fans over.
Keep Reading