Predicting Houston Texans' Starting Lineup Post Week 1 of Free Agency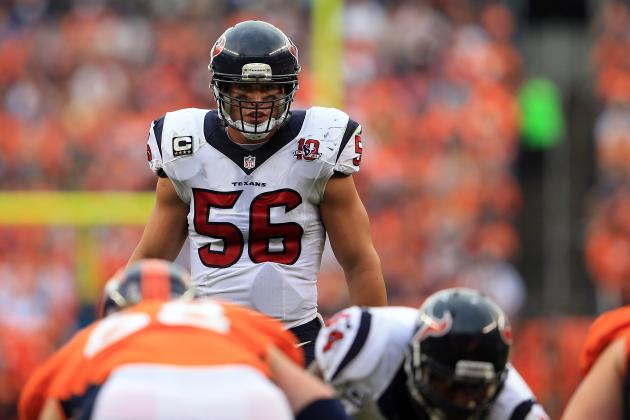 Doug Pensinger/Getty Images
Brian Cushing
The first week of NFL free agency in 2013 was highlighted by an abundance of new deals. Unrestricted free agents (UFA) moved to new teams in many cases, while some decided neither the grass nor the money was greener elsewhere.
The Houston Texans kicked off the free-agent frenzy by releasing WR Kevin Walter, who had been with the team since 2006. Over the next seven days their top three UFAs, SS Glover Quin, OLB Connor Barwin and FB/TE James Casey, signed contracts with other teams.
Ed Reed, longtime FS of the Baltimore Ravens, made a trip to Houston in hopes of his becoming the replacement for Quin. He did not sign a contract and left town with nothing but speculation in the wake of his departure.
A look into our crystal ball at who will be the regular-season starters for the Texans indicates most positions are set. The majority of the lineup remains intact, which includes nine Pro Bowl selections. Things get a bit cloudier when trying to figure out who will replace those four ex-Texans.
There are also questions concerning RT Derek Newton and ILB Brian Cushing and their recoveries from surgery. In an interview from the Texans All Access radio show on March 19, Head Coach Gary Kubiak made it clear both would not be healthy enough for participation in OTAs. Presumably they will be ready to go once training camps rolls around.
Begin Slideshow

»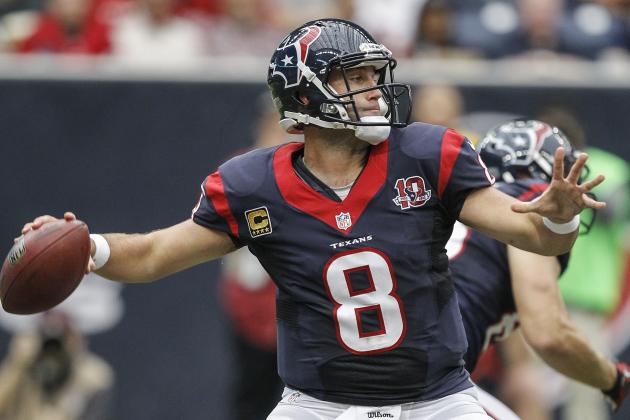 Bob Levey/Getty Images
Matt Schaub
QB: Matt Schaub
Like it or not, Schaub will be leading the offense for at least a couple more seasons. His critics have been around for years, and the culmination of the 2012 season only confirmed their doubts.
The fact that he started all 16 games, threw for over 4,000 yards for the third time and led the team to a club record 13 wins matters little. He was unable to clinch home-field advantage in three opportunities, and appeared lost when facing Tom Brady and the New England Patriots.
The upcoming season gives him one more chance to prove he has the skill and the will to take the Texans all the way. Now that Kevin Walter has gone, the new No. 2 wide receiver is expected to give Houston's QB more firepower than in the past.
Whether Schaub can take full advantage of the weapons provided can only be answered once the regular season is underway.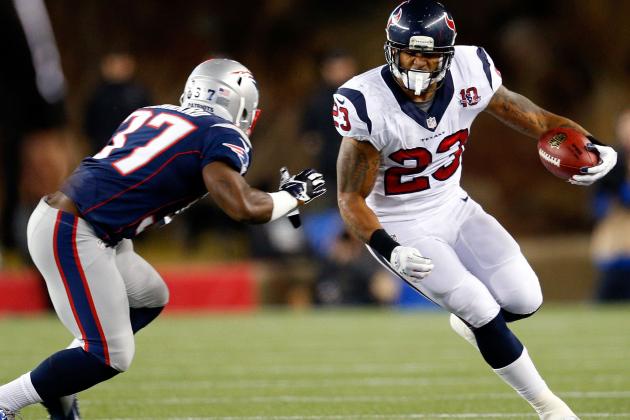 Jim Rogash/Getty Images
Arian Foster
RB: Arian Foster
FB: Tyler Clutts
If Arian Foster could stay on the field for the entire 2012 schedule, there was little doubt he could solidify his place as the top running back in the NFL.
In 2010 he led the league in rushing, then added some outstanding receiving numbers in an injury-shortened 2011 campaign. Foster was poised to put it all together last season.
Whether it was his flirtation with veganism, being asked to run the ball for at least 24 carries in nine out of 16 games or the fact he was without a straight-line blocking fullback for the first time in his brief career, he was not the same player.
The centerpiece of the Texans' offense will have to adapt to his fourth fullback in as many seasons. Tyler Clutts is the only man currently on the roster with an FB next to his name.
The draft or the free-agent pool may be tapped for some competition at the position. Finding qualified applicants for a position in decline could be tough.
This new blocking back may only be on the field for 30-40 percent of the snaps, but could mean the difference between a season of greatness for Arian as opposed to a repeat of last year.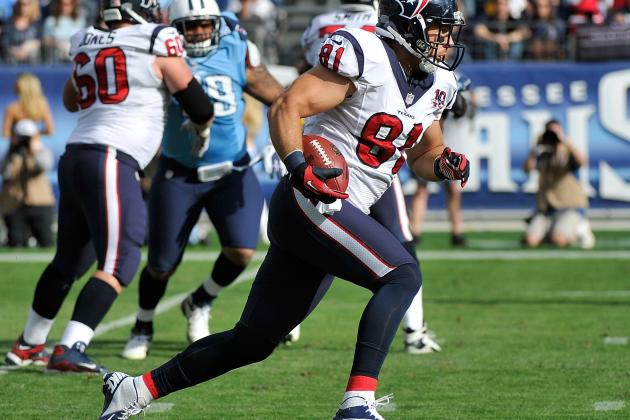 Frederick Breedon/Getty Images
Owen Daniels
WR: Andre Johnson and ?
TE: Owen Daniels
When the rushing game sputtered as 2012 wore on, Andre Johnson was asked to pick up the slack. He responded with the most receiving yards (1,598) in his remarkable career, but had the fewest touchdowns in a 16-game season (four) since his rookie year of 2002.
Although he will be 32 once two-a-days commence, his iconic status and unfaltering production guarantees he will still be the focal point of the passing game.
There was not a complementary receiver to keep the safeties from rolling in Johnson's direction. Many wonder if the draft or free agency will be the instrument of choice to remedy the situation.
There is a case to be made for going in both directions. It seems foolish to name a rookie as the starter when going from college to the pros is such a tough transition for receivers.
Houston should consider these veteran UFAs to ease the way for its wideout draftee: Darrius Heyward-Bey (Oakland), Brandon Lloyd (New England), Mohamed Massaquoi (Cleveland), Domenik Hixon (New York Giants), Chaz Schillens (New York Jets).
The following should be available for selection by the Texans in the first or second round: DeAndre Hopkins (Clemson), Quinton Patton (Louisiana Tech), Terrance Williams (Baylor), Justin Hunter (Tennessee).
Owen Daniels made his second Pro Bowl as an injury replacement. If he could block worth a lick, his name would be among the leaders at his position. As it is, his role as the actual No. 2 receiver is deserved due to his clean routes and sure hands.
Troy Taormina-USA TODAY Sports
Derek Newton
LT Duane Brown
LG Wade Smith
C Chris Myers
RG Brandon Brooks
RT Derek Newton
If Duane Brown is not at the head of the class among left tackles, his combined expertise at run- and pass-blocking is certainly without equal. This makes him as valuable as anyone on the team.
Accompanied by his Pro Bowl colleagues LG Wade Smith and C Chris Myers, the majority of Houston's offensive line is as good as it gets.
The right flank is something else altogether. Manned by a foursome of contenders, guards Ben Jones and Brandon Brooks along with tackles Derek Newton and Ryan Harris played musical chairs throughout 2012.
When the music stopped, Brooks was tapped as the heir apparent to line up next to Myers. Tackle became more problematic when likely starter Newton had to surgically repair to a torn right patellar tendon in the offseason.
As of publication, Harris is an unsigned UFA but looks like he will return to the Texans. His role as backup may be upgraded to starter if Newton's knee does not respond to rehabilitation.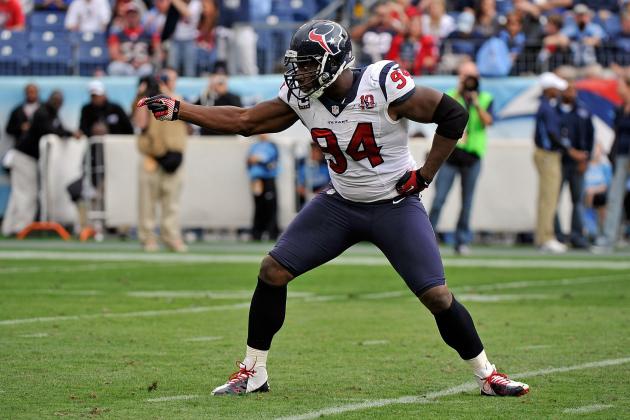 Frederick Breedon/Getty Images
Antonio Smith
DE Antonio Smith
NT Earl Mitchell
DE J.J. Watt
How often have you heard an NFL coach say a player makes his greatest improvement between his first and second seasons? No matter how many times it is repeated, nothing could have prepared the NFL for the gargantuan leap J.J. Watt made in his sophomore season.
It goes beyond being named Defensive Player of the Year, or the sacks, stops and tipped passes. Watt affected the outcome of more games than any single player on either side of the ball.
So what does J.J. do for an encore? Much of that depends on whether Antonio Smith can maintain his level of play at defensive end. And how well Earl Mitchell handles most of the snaps at nose tackle.
When Shaun Cody was still on the team, he split the duties with Mitchell on an almost equal basis. Mitchell will need a partner to keep his stamina up throughout the year.
Many of the early mock drafts had the Texans going for a king-sized NT like Johnathan Hankins of Ohio State or John Jenkins of Georgia in the first round. While receiver is now deemed the most urgent requirement, Houston is still expected to look for some depth there.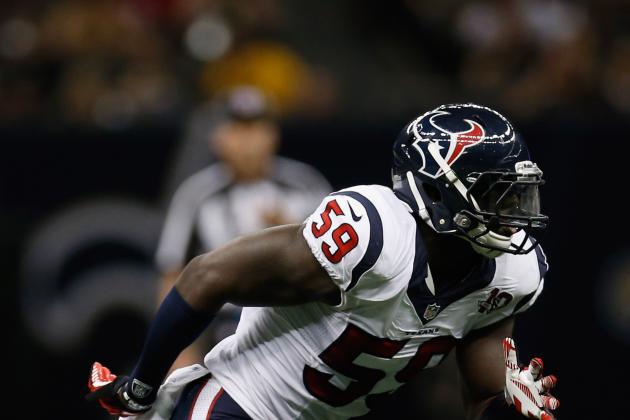 Chris Graythen/Getty Images
Whitney Mercilus
OLB Brooks Reed
ILB Darryl Sharpton
ILB Brian Cushing
OLB Whitney Mercilus
Connor Barwin might still be a Texan if he had agreed to an extension before the 2012 season. Whitney Mercilus was a "just in case" draft pick at weak-side OLB should Barwin prove expendable.
The fact that Mercilus had double the sacks as a fill-in showed his selection was both lucky and the correct move. There may be holes in his game when it comes to coverage and defending the run. Now he will get the reps as the starter to show he is as quick with his head as he is with his feet.
What the Texans defense needs more than anything else is the return of its emotional leader, Brian Cushing. His cohorts missed both his intensity and his exceptional ability to get after the passer. After he was lost for the season in Week 5, the pass rush started a slow decline that rendered it mediocre by Week 17.
Tim Dobbins subbed for Cushing but had his own injury issues. This made the return of Darryl Sharpton from the PUP list essential. He came back too soon and was largely ineffective due to the same hip injury that afflicted him in 2011.
Sharpton is expected to have fully recovered by now, but the club has released no details. He is the player Wade Phillips would like to see at that position in 2013.
The situation became so pressing at ILB that Brooks Reed was forced to move inside. Unlike J.J. Watt, Reed had something of a sophomore slump at OLB. It is possible he could end up starting next to Cushing.
Outside linebacker is key to the success of what Phillips expects from his defense. Reed's rookie season indicates it would be his optimal role if all the other pieces fall into place.
Bob Levey/Getty Images
Kareem Jackson
CB: Johnathan Joseph
FS: Danieal Manning
SS: ?
CB: Kareem Jackson
Glover Quin was the one man this defense could not afford to lose. In a system that regularly uses five or six DBs, a guy who can play the run like a linebacker and cover like a safety has the utmost value.
Ed Reed has never undertaken such a role. If he signs on, the Texans will play more Cover 2 or Danieal Manning will have to play closer to the box.
Just as with the No. 2 receiver, it would make little sense to draft an immediate starter for strong safety. There are some old hands at SS out there who could be had for a nice price: Chris Crocker (Cincinnati), Corey Lynch (San Diego), Adrian Wilson (Arizona), Charles Woodson (Green Bay).
The draft is not especially deep in this case, but the compensatory pick the Texans have in Round 3 could be used on the following: Shawn Williams (Georgia), J.J. Wilcox (Georgia Southern), T.J. McDonald (Southern California), D.J. Swearinger (South Carolina).
At least cornerback is locked in with Johnathan Joseph and Kareem Jackson. If Jackson continues his improvement, Houston could have a pair to rival Richard Sherman and Brandon Browner of the Seattle Seahawks.
Joseph had rough time playing on one good leg over the second half of 2012. Groin injuries can be difficult to rehab, but should it heal properly the Texans will have one of the top five cover men on their side.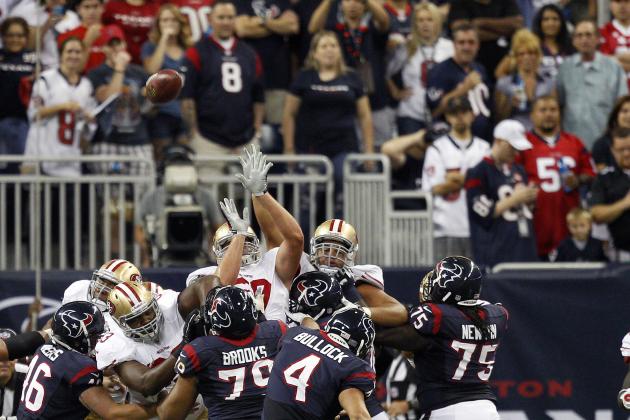 Bob Levey/Getty Images
Randy Bullock
K Randy Bulloch
P Donnie Jones
KR Keshawn Martin
Shayne Graham was brought in last year to show rookie Randy Bullock the ways of an NFL kicker. When Bullock was put on injured reserve just before the start of the regular season, Graham was in the right place at the right time to get the job himself.
But his kickoffs were weak and contributed to the special teams of the Texans having the worst kickoff coverage in the league. His accuracy from 40 yards and beyond was a pedestrian 11-of-18.
Bullock is supposed to have the leg to correct these shortcomings. Truth be known, Houston should pray its red-zone percentage ranks higher than it did in 2012 (14th) and not have to rely on Bullock too much.
Donnie Jones ended up ranked as the No. 1 punter by Pro Football Focus (subscription required). Jones is a UFA, and if he starts asking for Michael Koenen-Pat McAfee type money ($3 million or so), he better put United Van Lines on speed dial. Texans' GM Rick Smith must hope Jones' agent cannot afford a PFF subscription.
It may be too much to expect Keshawn Martin to work on becoming a proficient receiver and kick returner. Danieal Manning is too valuable to risk on kickoffs, and Quintin Demps was not good enough at safety to earn his pay as strictly as a punt returner.
The last two gentlemen to be assigned these jobs went on bigger and better things. Trindon Holliday returned a couple of kicks for TDs in 10 games as a Denver Bronco, and Jacoby Jones was almost named MVP in Super Bowl XLVII for his exploits as a Baltimore Raven.
Better to keep Martin and do everything possible to get him up to speed. Three in a row would be too much to take.