UFC 158 Results: 3 Reasons to Book Diaz vs. Condit 2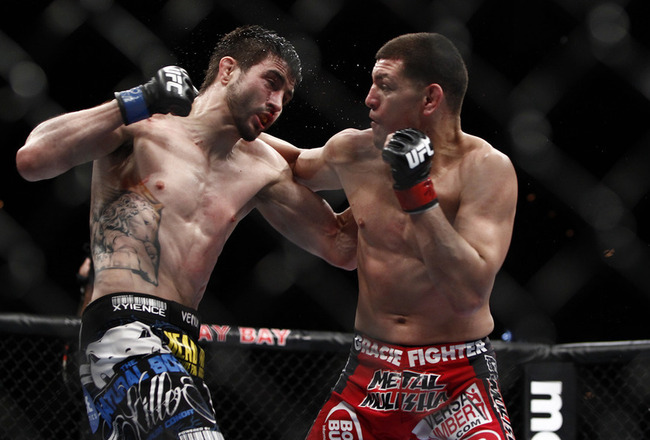 Nick Diaz and Carlos Condit - Esther Lin/MMAFighting

With the welterweight division slowly passing them by, there isn't a better time to book a rematch between Nick Diaz and Carlos Condit.
The future appears a bit murky for the two welterweight stars following a pair of losses at UFC 158.
On Saturday night, Diaz was routed by longtime welterweight champion Georges St-Pierre and Condit fell to top contender Johny Hendricks.
Since defeating Diaz over a year ago, Condit has dropped back-to-back losses to St-Pierre and Hendricks. Prior to UFC 158 at the open workouts, he was asked whether he preferred to fight St-Pierre or Diaz for the welterweight title.
Surprisingly, he chose Diaz as the opponent he would much rather see again in the Octagon. When asked why he wanted to fight Diaz again, Condit's explanation was short and to the point.
"I want to beat him again," he said.
There was plenty of controversy following the first fight, which Diaz ultimately felt like he won. The time is ripe to settle the score once and for all between two of the division's best.
Here are three reasons to book Diaz vs. Condit 2.
Note: All quotes obtained by first hand by Bleacher Report
Both Coming Off Losses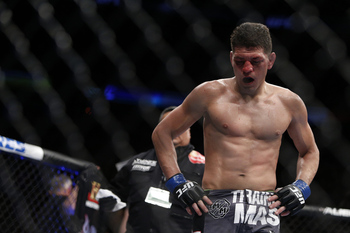 Nick Diaz - Esther Lin/MMAFighting
Coming off back-to-back losses, both Condit and Diaz have a good amount of rebounding to do to climb back into title contention.
With St-Pierre's continued dominance, the welterweight division is in need of fresh contenders.
It makes little sense to give Condit and Diaz an opportunity to knock off newcomers who could potentially challenge St-Pierre, if he gets past Hendricks.
The rematch between Condit and Diaz would be great in steering one fighter back on track to once again ascend to the top of the welterweight ranks.
The only possible downside to this idea is the fact that one of the UFC's biggest stars will drop three straight losses.
Luckily, UFC President Dana White has shown his affinity in the past for keeping exciting fighters on payroll, regardless of losses.
Controversial Interim Title Bout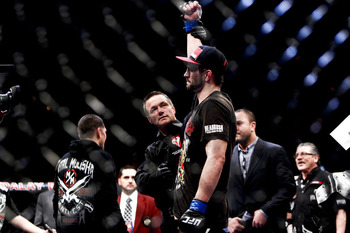 Carlos Condit and Nick Diaz - Esther Lin/MMAFighting
It's always annoying when a highly anticipated fight ends in controversy, which is exactly what happened over a year ago between Diaz and Condit.
Diaz was the aggressor throughout the entire fight, but the judges still favored Condit, who kept his distance and picked his shots.
It was a close fight that definitely deserved more than the ending it received.
Apparently, Condit thinks so as well. He wants a rematch to prove once and for all he's a better fighter than Diaz.
Most fighters would simply take the win and run away with it. It's quite an honorable gesture for Condit to seek a rematch against a man he already defeated.
As for Diaz, he deserves another shot to prove the judges got it wrong the first time around.
Incredible Style Matchup Deserves One More Shot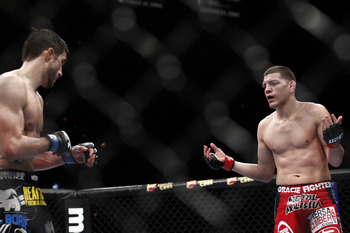 Nick Diaz and Carlos Condit - Esther Lin/MMAFighting
When the UFC announced the interim title bout between Diaz and Condit, it was initially looked at as a potential "Fight of the Year" candidate.
Unfortunately, the actual fight never lived up to the hype.
Condit came in with a slick game plan, which relied more on distance and point fighting.
Instead of cutting off the cage, Diaz just followed Condit around doing more taunting than actually engaging.
At this point, the rematch may not deserve another main event slot, but it would fit nicely as a co-main event to bolster a future UFC card.
Condit and Diaz are easily the best strikers in the entire welterweight division, and they usually put on great performances. It isn't out of the realm of possibility that a rematch could deliver the fight fans had hoped for the first time around.
Keep Reading