5 Trades the NY Rangers Could Make to Shake Things Up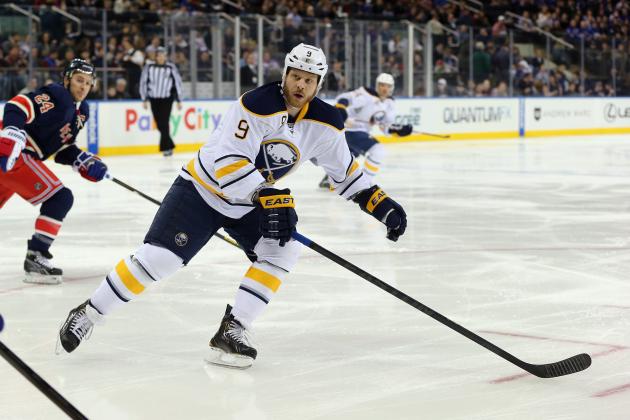 Bruce Bennett/Getty Images

The New York Rangers came into the season with high expectations.
They certainly haven't reached them. The team sits in 10th place in the Eastern Conference, and while they have shown flashes of the dominance that was expected, it hasn't been consistent.
Clearly, the team needs a shake-up. The NHL Trade Deadline is April 3rd, and the Rangers would be wise to seek out any trades that could shake the team up.
I'll make it easier for general manager Glen Sather and give him five trades the team could make to shake things up.
Read on to find out what the trades are.
Begin Slideshow

»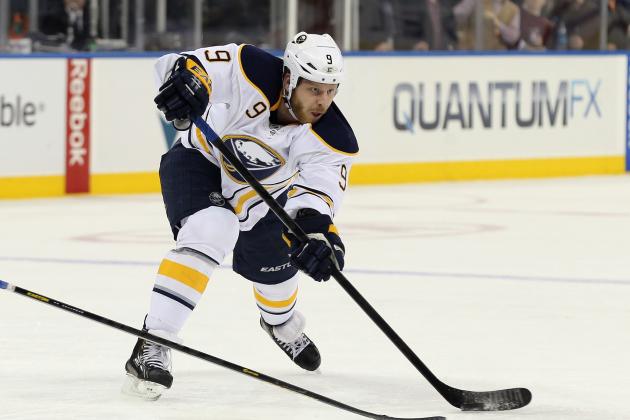 Bruce Bennett/Getty Images

The Rangers have three critical needs: another top-six winger, bottom-six depth and a right-handed, top-four defenseman.
Trading for Steve Ott would take care of the bottom-six depth.
Steve Ott, currently with the Buffalo Sabres, is the consummate bottom-six forward. He's not a top scorer, but he brings incredible energy. He's a great forechecker, a top penalty killer and is also willing to lay the body and drop the gloves.
He'll add a little bit of offense, as he has three goals and 11 assists this season. But his main role is to be an agitator on the ice, to rile up opponents and bring more energy to the Rangers.
The Blueshirts lost a lot of depth this past offseason. They lost key contributors in Brandon Dubinsky, Artem Anisimov, Ruslan Fedotenko, Brandon Prust and John Mitchell. They have not been able to make that up.
Adding Ott would help replace that depth. A bottom-six with Ott, Brian Boyle, Jeff Halpern, J.T. Miller, Darroll Powe and Taylor Pyatt would be dynamite.
With the Sabres in full-on sell mode, the Rangers wouldn't have to give up too much. A mid-round draft pick and a prospect should suffice.
The Rangers should do this deal. Ott fills a need and would give the Rangers an agitator they've lacked since the Sean Avery era.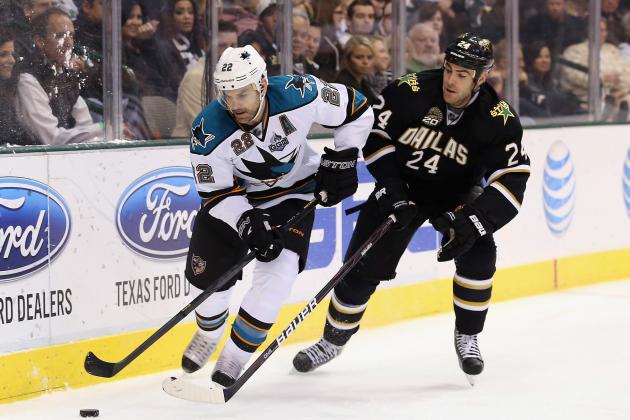 Ronald Martinez/Getty Images

The Rangers really need a top-four, right-handed defenseman. Anton Stralman is not suited to a top-four role, and unless Marc Staal comes back this season, they'll need an upgrade.
That upgrade could come in the form of Dan Boyle. Pierre LeBrun of ESPN says the Sharks are willing to trade Boyle and the Rangers could be a good fit:
He'd be a valuable addition to a contender, that's for sure. And while I'm not sure people still consider the New York Rangers contenders or not, he's that top-four, right-handed D-man the Blueshirts could sure use.
Boyle is not the same player he used to be, but he's still effective. He's excellent on the power play, an area the Rangers desperately need help in.
He has plenty of playoff experience, especially with John Tortorella, as they won a Cup together in Tampa Bay.
One potential snag is that Boyle makes $6.6 million through next season, according to CapGeek. The Rangers would have to shed some salary in a deal for Boyle.
If they could do that, perhaps by way of trading Michael Sauer, Steve Eminger and Anton Stralman, Boyle could represent a huge upgrade for the Rangers as they make a playoff push.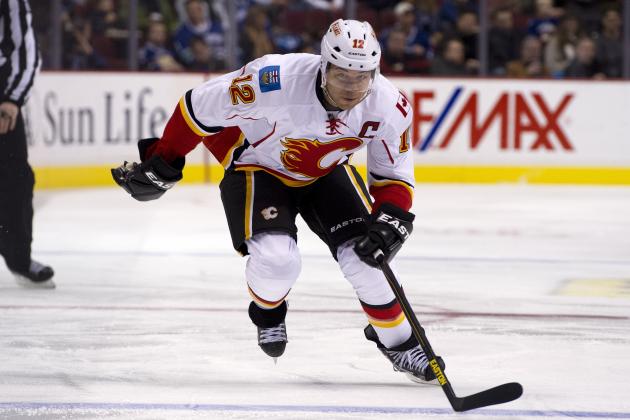 Rich Lam/Getty Images

There are plenty of rumors swirling around that Calgary Flames star Jarome Iginla might be traded. According to the Ottawa Sun, the asking price will be a No.1 pick, a prospect and a roster player.
Iginla would give the Rangers another scorer and round out the top-six. Yes, he's getting older, but he's a veteran who knows how to win and score. He would provide invaluable intangibles. He's also a good defensive player who would fit well in the Rangers' system.
Of course, the Flames will want a lot for Iginla, their captain and best player.
The player I mentioned in a previous article is Marian Gaborik. As I wrote:
This deal would benefit both sides. The Flames could get an elite talent to replace Jarome Iginla, and he would fit well with Jiri Hudler.

Iginla would give the Rangers depth on offense and someone who is more natural on defense than Gaborik is.
It's a win-win. The Flames could include defenseman Cory Sarich or gritty forward Steve Begin, while the Rangers could send a first-round pick and a prospect, perhaps Christian Thomas.
This deal would work for both sides. Will it happen? That remains to be seen.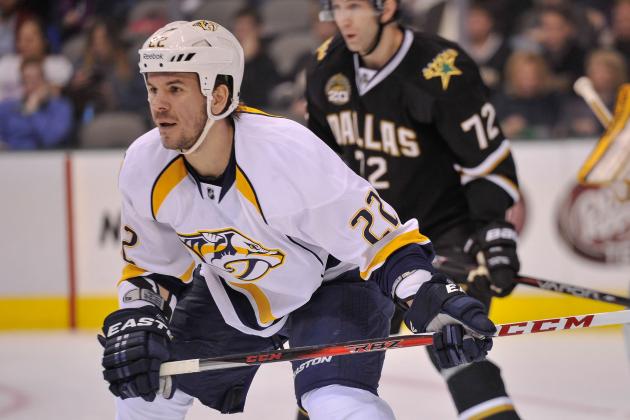 USA TODAY Sports

The Rangers don't have the toughest of rosters. The game against Ottawa on March 8th was instructive.
The Rangers were tied with the Senators when Jakob Silfverberg crashed into the net and gave Henrik Lundqvist a snow shower. Normally, this would be cause for a response by the Rangers, in the form of some sort of fight.
Nothing happened.
Instead, Silfverberg ended up scoring the winning goal a few minutes later.
The Rangers need a tough, physical player who would've given Silfverberg a taste of his own medicine.
That player could be Scott Hannan.
The 6'1" defenseman for the Nashville Predators is a tough-as-nails player. He's willing to hit anything that moves, willing to drop the gloves and do anything to protect his teammates.
He's a decent defenseman, too, and could give the Rangers solid minutes.
He wouldn't cost much to acquire—a fifth or sixth-round pick should suffice.
Hannan would give the Rangers a huge boost of toughness and would represent an upgrade over both Steve Eminger and Roman Hamrlik.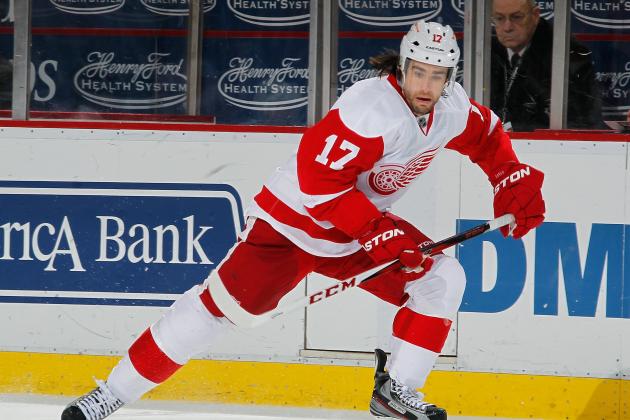 Gregory Shamus/Getty Images

The Rangers need depth forwards who can put the puck in the back of the net, as well as kill penalties.
They could find that in Patrick Eaves of the Detroit Red Wings.
Hampered by injuries in recent years, Eaves hasn't been able to play to his full talent. But when healthy, he's been a productive player.
In his last full season, 2010-11, Eaves scored 13 goals.
He's a gritty forward who can play in all situations and would fit nicely on either the third or fourth line. He'll play the body, block shots and would be able to buy into John Tortorella's system.
He would come cheap, too. A low draft pick or a marginal prospect would probably get the job done.
Eaves is not a flashy player, but he's the type of guy who can help a team win. The Rangers need more guys like that.