2013 NCAA Tournament: March Madness Upsets, Sleepers and Who to Avoid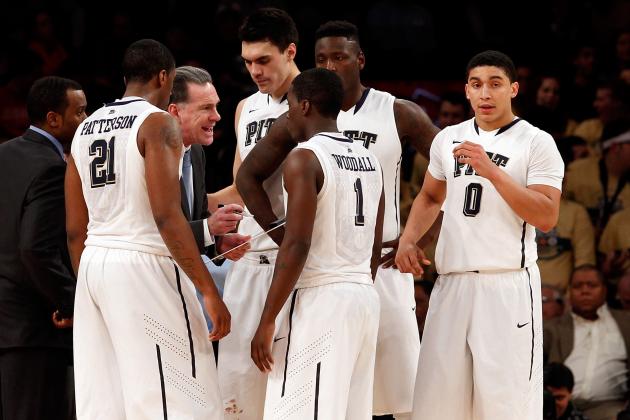 Chris Chambers/Getty Images

The 2013 NCAA Basketball Tournament is finally here.
The brackets are set. The committee expects this to be the best tournament ever (as if you haven't heard that one before).
Who will play the role of spoiler in the first round?
Who is a sleeper to go far in the Big Dance?
Which high-seeded teams should be avoided?
Let's take a look, shall we?
Begin Slideshow

»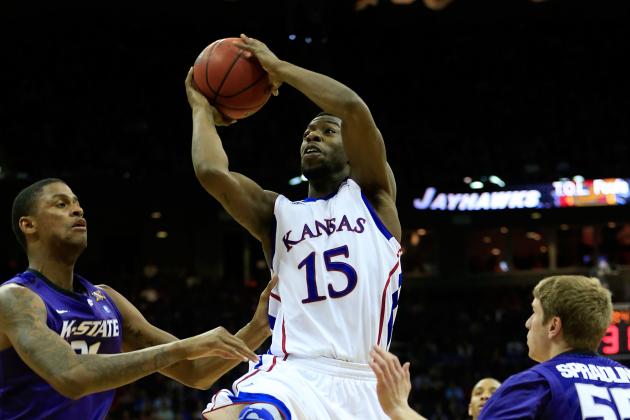 Jamie Squire/Getty Images

(1) Gonzaga
Pittsburgh has been on a roll lately. If they get past Wichita State in the round of 64, look for Gonzaga to go home early.
(2) Ohio State
Notre Dame is very underrated. I always look back to the adversity they were able to show in their five-overtime win against Louisville earlier this season. If both Notre Dame and Ohio State win their first games of the tournament, I like Notre Dame to send Ohio State back to Columbus.
(4) Syracuse
The matchup against Montana is awful for Syracuse. Had they been able to hold on and not let Louisville go on a 44-10 run on them in the second half of the Big East title game, they could've very well been a No. 2 seed with a much better matchup. Their 4-5 record heading into the dance has also helped to turn me away from the Orange.
(3) Marquette
Don't rely on Marquette to get you very far. They are going to have to get past a Butler team that knows how to win in the tournament.
(1) Kansas
The last time UNC was a No. 8 seed, they reached the Final Four. Roy Williams would love nothing more than to beat his former team in the round of 32. Since getting beaten badly by Miami earlier in the season, the Tar Heels are 8-3, with two losses to Duke and one to Miami in the ACC Championship game. UNC is hot right now and knocking down plenty of outside jumpers. The Jayhawks are trapped with a tough 1-8 matchup that I don't think they will make it out of.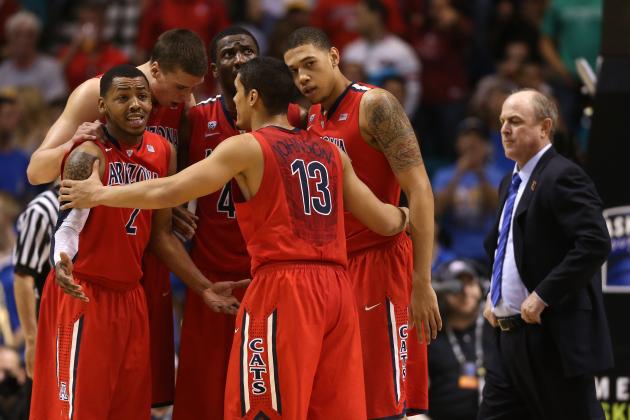 Jeff Gross/Getty Images

Arizona
Although I have the Wildcats losing to New Mexico in the round of 32, if they make it past them, the weak West bracket could land them a spot in the Final Four. Arizona has a strong athletic team who could potentially go on a run. Let's not forget when the Wildcats were the third-ranked team in the country earlier this season. All it takes is for them to get hot again.
Oregon
Coming in as one of five Pac-12 teams in the dance, the Ducks aren't happy about their poor seeding as a No. 12. They could make it to the Sweet Sixteen if they get past Oklahoma State and St. Louis.
North Carolina
The Tar Heels have gotten hot at the right time. As I will say time and time again, Kansas did not deserve a No. 1 seed. If they get past Kansas, they could very well sweep the entire South Region.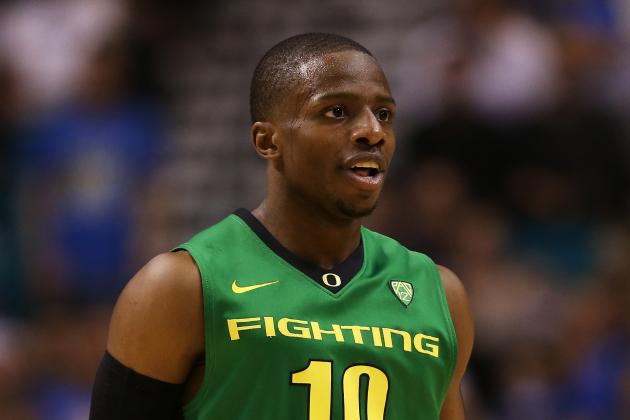 Jeff Gross/Getty Images

Midwest Region
(12) Oregon over (5) Oklahoma State
The fact that Oregon is a No. 12 seed and UCLA is a No. 6 seed boggles my mind. With Artis on the floor, Oregon is a solid, quick basketball team. The poor seeding will be fuel to the fire as the Ducks will knock off Oklahoma State in the round of 64.
(10) Cincinnati over (7) Creighton
Aside from close losses to UConn, Providence and St. Johns, Cincinnati's other eight losses came against ranked opponents. They took down Marquette and Pittsburgh earlier in the season. The Bearcats also rank No. 8 in rebounding, which will be a nightmare for a Creighton team ranking 142nd in the country in that category.
West Region
None
South Region
(11) Minnesota over (6) UCLA
UCLA losing Jordan Adams in the final moments against Arizona in the Pac-12 semifinals ruined any chance of the Bruins making it past an underrated Minnesota team.
(10) Oklahoma over (7) San Diego State
A loss at home against Air Force allows San Diego to stand out as vulnerable to a first-round upset. Oklahoma has a few quality wins this year, including a 72-66 victory over the No. 1 seeded Kansas Jayhawks.
East Region
(13) Montana over (4) Syracuse
The Orange are 4-5 in their last nine games heading into the Big Dance. Montana comes in matching up well with Syracuse, and will shock the world with a stunning 13-4 upset over 'Cuse.
(10) Colorado over (7) Illinois
Illinois comes into the tournament winning only two of their last six games. If it weren't for a miracle win at Indiana, the Fighting Illini could very well not be dancing. Colorado comes out of a tough Pac-12 conference with five teams in the tournament this year. They were one of only two teams to beat Oregon in Eugene in 2013. I like Colorado to beat Illinois.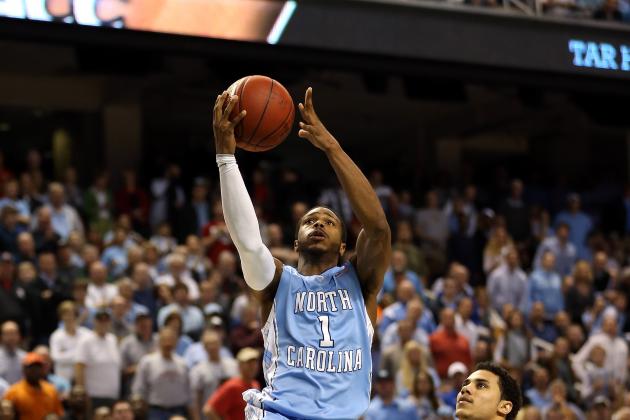 Streeter Lecka/Getty Images

Midwest Region
None
West Region
(8) Pittsburgh over (1) Gonzaga
Going 31-2 and 16-0 in your conference should never go unnoticed, which is why the Bulldogs of Gonzaga are a No. 1 seed in the tournament. As I look at their schedule, I don't see one win that impresses me aside from a one-point win at Oklahoma State on New Years Eve.
Pittsburgh has beaten Syracuse, Georgetown by 28 and nearly knocked off Louisville on their own court. The Panthers come into the tournament winning 11 of their last 15 games. I like Pitt to take down Zaga.
(7) Notre Dame over (2) Ohio State
If Ohio State wants to keep their hopes alive to win the tournament, they are going to need to contain a Notre Dame team which is sixth in the nation in assists. Mike Brey has done a great job with his Irish, disciplining his guys to play unselfish basketball. I see Notre Dame sending Ohio State back to Ohio.
South Region
(8) UNC over (1) Kansas
As I said, the last time North Carolina snuck into the tournament as a No. 8 seed, they reached the Final Four. Since Roy Williams put P.J. Hairston in the lineup, the Tar Heels have been playing terrific basketball.
It definitely came as a shock to me that Kansas won the Big 12 tournament, considering right before it started, they were crushed 81-58 by Baylor. I just think Kansas is overrated as a No. 1 seed and will join Gonzaga as the other No. 1 to go home after the round of 32.
East Region
(6) Butler over (3) Marquette
Butler is well coached and always has great shooters. They have plenty of impressive wins this year, including an overtime victory over No. 1 seeded Indiana. Three of their eight losses came against St. Louis, who clearly had their number this year.
Marquette comes into the tournament with only eight losses on the year, with only four of them coming against ranked opponents. Don't forget they lost to Green Bay. There were certainly a few other teams more deserving of a No. 3 seed than the Golden Eagles. Either way, they are going home after they lose to Butler.