GSP vs. Diaz: 5 Takeaways from St-Pierre's Dominating Win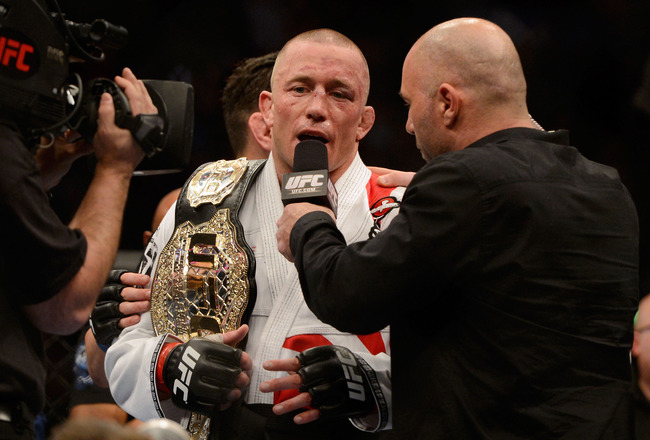 Eric Bolte-USA TODAY Sports
Georges St-Pierre enjoyed another night of glory at UFC 158 on Saturday, dominating Nick Diaz for five rounds in front of a home-crowd audience in Montreal, Quebec, Canada.
The win is GSP's 11th straight and helps him to further stake his claim as the best pound-for-pound fighter in the world.
As usual, he did it in emphatic style, controlling Diaz with his wrestling for most of the match and leaving the Stockton bad-boy unable to come up with excuses for his failures.
Diaz's vaunted BJJ skills and pressure-boxing did no damage to GSP. Against the cage and in the clinch, Diaz seemed to fare marginally better. However, we've never seen him fight like that, and he wasn't going to spend much of the match clinched up either way.
Of course, that wasn't the only takeaway from the night. Here are five others.
Nick Diaz's Cardio Is Better Than GSP's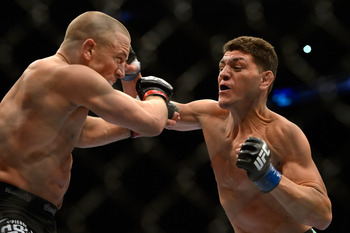 Eric Bolte-USA TODAY Sports
Nick Diaz has legendary cardio and it showed on Saturday night. The Stockton native, despite having the weight of GSP on top of him for most of the match, was able to finish strong. Meanwhile, GSP faded.
It wasn't enough, but it showed that Diaz is equal—if not superior—to GSP as an athlete. By the fourth and fifth rounds, the takedowns that had come easy to GSP at the beginning of the match proved more difficult. In fact, after looking so superior in the early stages, the Canadian looked under pressure from the third round until the final bell as Diaz came into his own on his feet.
Of course, there's more to MMA than raw athleticism, and GSP's superior strength and incredibly well-developed technical abilities were enough to seal an emphatic win.
Freddie Roach Was Right, Diaz's Boxing Is Overrated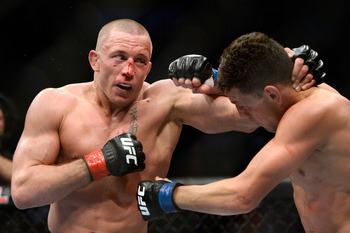 Eric Bolte-USA TODAY Sports
Nick Diaz's boxing divides fans. Against BJ Penn, a man he demolished, Diaz was able to bully his opponent with a blistering array of punches that the smaller Penn had no answer to.
However, Penn is considerably smaller than most men Diaz meets at welterweight. What's more, in his last two matches against much sturdier opponents, Diaz has come up short.
Freddie Roach, a man who's worked extensively with GSP, said recently that Diaz was more like a "street fighter" than a real boxer. "He doesn't shuffle and land combinations and put his weight behind his shots," said Roach in a recent interview (h/t Pro MMA Now). "He walks forward. He walks forward in a straight line and walks backwards in a straight line."
Against both Carlos Condit and GSP, in fights he lost, he showed the same unrefined style of boxing—of moving in a straight line and throwing indiscriminate punches to pressure his opponents. It didn't work against Condit and it didn't work against' GSP.
Neither Man Has Much Punching Power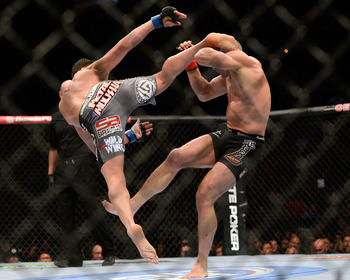 Eric Bolte-USA TODAY Sports
While the likes of Paul Daley and Sean Sherk will disagree with this statement, neither Nick Diaz nor Georges St-Pierre have much in the way of punching power.
Both men spent five rounds on Saturday throwing countless shots without doing any significant damage with any particular one. While both have been lauded for their boxing in their turn, it is clear that punching power isn't their strong point.
Diaz was able to get his hands off with what looked like vicious body blows, but this seemingly did little damage. GSP, on the other hand, was able to throw several trademarked superman-punches in the match. None of those did much damage, either.
GSP Is One of the Best Wrestlers in MMA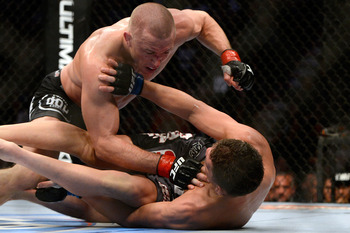 Eric Bolte-USA TODAY Sports
Nick Diaz has never faced a wrestler of the calibre of Georges St-Pierre. The Canadian, who only started wrestling after he got into MMA, dominated his opponent by taking him down repeatedly for most of the match and holding him there. Not many have ever done that to Diaz.
What's more, Diaz was completely neutralised on the ground by GSP's top control, which was scary to watch against a top level and unorthodox jiu-jitsu practitioner like Diaz.
Rarely was Diaz able to pull guard, spending much of the time on the mat turtled; desperately trying to minimise the damage from GSP.
GSP Is Among the Greatest of All Time
Eric Bolte-USA TODAY Sports
GSP now has 11 straight wins and has defended his belt eight times. If it wasn't for the aberration against Matt Serra, GSP's run would be the best in the whole of MMA.
In his recent run of wins, GSP hasn't looked threatened once—except against Jon Fitch back in 2008. Considering the calibre of his opponents in that time, not only did he prove once more that he is certainly among the best in his generation at UFC 158, but arguably among the best of all time.
Keep Reading