The 5 Best and 5 Worst NFL Free-Agent Signings So Far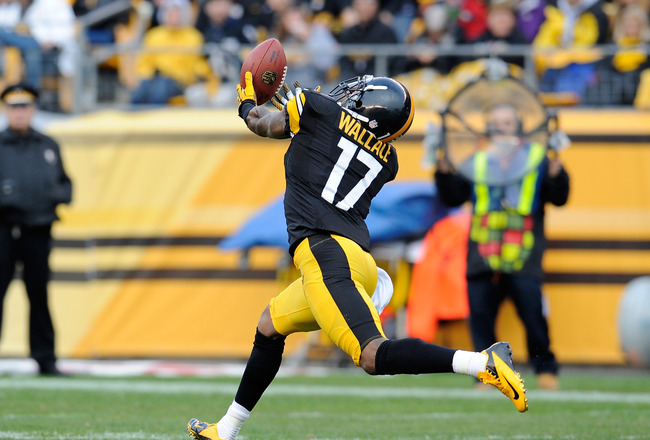 Joe Sargent/Getty Images
The 2013 NFL free-agent period is now a week old, but the flurry of activity that's ensued will certainly change the fortunes of many teams. The question is whether these teams will be better or worse off.
Here, I grade the five best and five worst free-agent signings. Many things are taken into account with these selections, including age, system fit, financial details and contract length.
Has your team made the right moves thus far in free agency, or has it spent its cash in irresponsible fashion?
Time to find out.
Best: Lions Sign RB Reggie Bush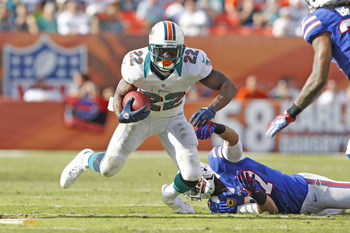 Joel Auerbach/Getty Images
The Detroit Lions' signing of running back Reggie Bush was an inspired one, and made all the sense in the world.
When the team drafted Jahvid Best out of Cal with the 30th overall pick in the 2010 draft, it was hoping he'd serve as the team's speed back with the ability to catch the ball out of the backfield in offensive coordinator Scott Linehan's pass-happy offense. Unfortunately for Best and the team, he hasn't been able to stay healthy and has lingering concussion issues.
Enter Bush. For all of the criticism he faced earlier in his career, Bush has become a solid tailback and had a nice season for the Dolphins in 2012.
Is Bush a guy who will carry the rock 25 times per game? No, he's not. But, he'll provide a nice change of pace and will be lethal catching the ball from Matthew Stafford.
The Lions' offense got a lot better with the signing of Bush.
Worst: Dolphins Sign WR Mike Wallace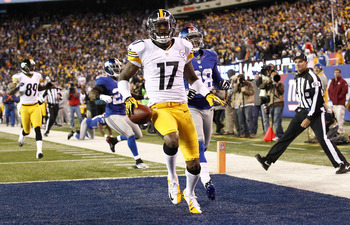 Jeff Zelevansky/Getty Images
I'm not a fan of what Miami Dolphins general manager Jeff Ireland has done in this free-agent period. He's splurged tons of owner Stephen Ross' money on a variety of free agents, no contract richer than the one lavished on wide receiver Mike Wallace.
Now, I think Wallace is a tremendous weapon in the passing game. Speed kills, and Wallace has wheels to spare. The Dolphins' receiving attack has been limited for years, and Ireland and coach Joe Philbin needed to surround quarterback Ryan Tannehill with some legitimate playmakers.
Still, the price was extremely steep for a player who's been plagued by issues of inconsistency and who didn't have his best season last year.
The Steelers are one of the best organizations in sports, and the fact that they let Wallace get away without a fight should tell you something.
I happen to like Philbin and Ireland, but I don't believe the investment in Wallace will end up being worth it.
Best: Titans Sign G Andy Levitre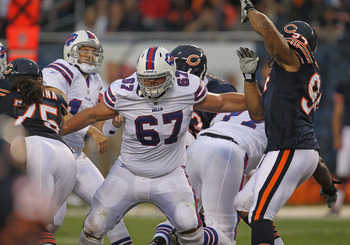 Jonathan Daniel/Getty Images
When Tennessee Titans running back Chris Johnson joined The SiriusXM Blitz at Radio Row in New Orleans last month, he was adamant that the team needed to improve its offensive line. I agreed with Johnson, and Tennessee certainly did that with the signing of former Bills guard Andy Levitre.
Levitre is a stud, proficient in both run- and pass-protection. With the Titans possessing young, talented skill players, the next move was to improve the offensive line. This is a move that helps quarterback Jake Locker in addition to Johnson. I love the move for general manager Ruston Webster and coach Mike Munchak.
Worst: Patriots Sign WR Danny Amendola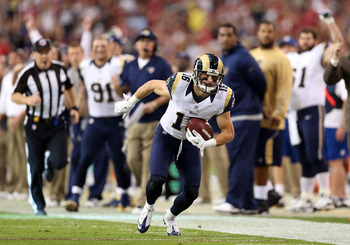 Christian Petersen/Getty Images
I was extremely shocked by the series of events that led to the departure of wide receiver Wes Welker from New England, and the Patriots' signing of Danny Amendola to replace him. Rarely do you see the Patriots make such a major blunder, but this certainly qualifies.
Let me go on record as saying that I don't believe Amendola is as good as Welker, as reliable or will be as productive in New England's offense. I think this was a major downgrade for the Patriots.
It's obvious that Bill Belichick and Welker had differing opinions as to the slot receiver's value on the open market, but with Tom Brady saving the team cap space in 2013 and 2014 by restructuring his contract, re-signing Welker should have been a no-brainer.
Instead, the Patriots opted to let Welker test his value. When he signed with rival Denver, New England immediately replaced him with Amendola, who, when healthy, is a nice player. Unfortunately for Amendola, the caveat of health is one that's come into play too often. He's only played in 12 games over the past two seasons.
Meanwhile, Welker has only missed three games in six seasons with the Patriots, and his rapport with Brady is unquestioned. Can Brady and Amendola replicate that chemistry? Perhaps, but it will take time, and Amendola will have to stay healthy in order to accomplish that goal.
I'm not saying Amendola can't succeed in New England. But this was the rare situation where Belichick and the Patriots made the outright wrong decision.
Best: Seahawks Sign DEs Cliff Avril and Michael Bennett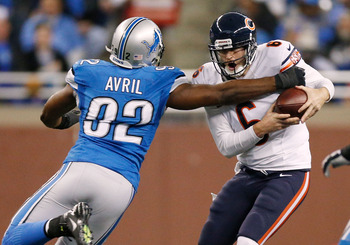 Gregory Shamus/Getty Images
I couldn't be more impressed with the job that Seattle Seahawks general manager John Schneider has done thus far this offseason.
After acquiring wide receiver Percy Harvin from the Minnesota Vikings in stunning fashion, the Seahawks' main priority was to fix their pass rush, which let them down tremendously in their divisional-playoff loss in Atlanta.
Schneider was able to make that happen with the signings of pass-rushing defensive ends Cliff Avril and Michael Bennett, both to affordable contracts.
The two players combined for 18.5 sacks last season and will be fearsome coming off the edge in the Pacific Northwest. Once the "12th Man" gets going and it becomes difficult for offensive linemen to hear and communicate, the pass-rushing ability of Avril, Bennett and last year's first-round pick, Bruce Irvin, will be on display for all to see, and for opposing quarterbacks to fear.
These are the kinds of aggressive decisions general managers must make as their team's window to win a Super Bowl title is wide open. Seattle is on the precipice of greatness, and the signings of Avril and Bennett will only serve to push it to the next level.
Worst: Cardinals Sign RB Rashard Mendenhall
Gregory Shamus/Getty Images
For the most part, I love what the Arizona Cardinals have done thus far in free agency.
I predicted the team would sign quarterback Drew Stanton, and that came to fruition. Stanton isn't a world-beating, franchise-type signal-caller, but is a solid option who knows coach Bruce Arians' offense and can step in and play for a few games if needed.
I liked the team's signing of safety Yeremiah Bell, who had a good season last year for the Jets, and the club is reportedly on the verge of signing kick returner Josh Cribbs away from the Cleveland Browns. These are all good moves by new general manager Steve Keim.
One move I didn't like was the signing of former Steelers running back Rashard Mendenhall.
There's no questioning Mendenhall's talent. The former first-round pick has a ton of it, and has produced in the past.
But, it's Mendenhall's attitude that has gotten him into trouble, as he basically played himself out of Pittsburgh last year. He was benched for multiple games and suspended in Week 15 for conduct detrimental to the team.
It's worth noting that Arians, his former offensive coordinator in Pittsburgh, took a flier on him, and the one-year length of the contract makes this a low-risk move.
But for a team that's trying to build a culture of winning, I'm not sure Mendenhall is the right kind of guy to have in the locker room. I believe Ryan Williams will beat him out in training camp.
Best: Buccaneers Sign S Dashon Goldson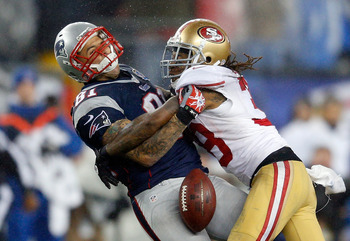 Jim Rogash/Getty Images
For the second consecutive year, the salary-cap-rich Tampa Bay Buccaneers were able to sign their No. 1 target in free agency, as they inked versatile safety Dashon Goldson to a multi-year contract.
While some have criticized the move for being too expensive ($22 million guaranteed), because the 49ers—Goldson's former team and one of the better organizations in football—didn't make a strong attempt to keep him, I think this was an inspired signing by general manager Mark Dominik and head coach Greg Schiano.
Look at the quality of opposing signal-callers in the NFC South. Drew Brees (New Orleans), Matt Ryan (Atlanta) and Cam Newton (Carolina) are all ultra-talented quarterbacks capable of putting up big numbers in the passing game.
Goldson will team with last year's first-round pick, Mark Barron, to form one of the better and more physical safety combinations in the league.
While Tampa Bay still must address the cornerback position, it is now set at safety, and I believe Goldson will be an impact player on the Buccaneers' defense.
Worst: Browns Sign LB Paul Kruger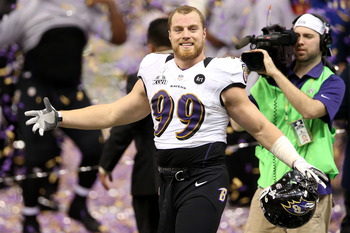 Ronald Martinez/Getty Images
Pass-rusher Paul Kruger was a terror for the Baltimore Ravens on their run to a Super Bowl championship, leading the team with 4.5 postseason sacks as it captured the franchise's second Lombardi Trophy.
Still, I don't love the Cleveland Browns' decision to sign Kruger to a huge contract.
While Kruger did shine in the postseason, he wasn't as effective without a healthy Terrell Suggs on the field. He was always more of a role player in Baltimore, but became overvalued because he hit the open market.
I'm not saying Kruger is a bad player, and the Browns certainly needed to fortify their pass rush. Pairing Kruger with Jabaal Sheard could pay dividends in new defensive coordinator Ray Horton's scheme.
But $8 million per year seems rather high for a player who hasn't been consistent enough throughout his career.
Best: Falcons Sign RB Steven Jackson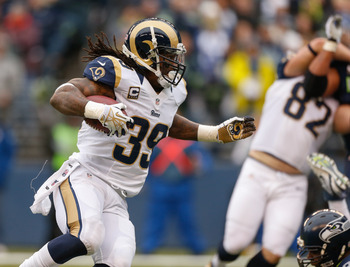 Otto Greule Jr/Getty Images
Steven Jackson has long been one of the more underappreciated players in the NFL, largely because he'd played his entire career for the hapless, moribund Rams.
That will change next season, as the defending NFC South champion Atlanta Falcons signed Jackson to become their new featured running back.
This was an inspired decision by general manager Thomas Dimitroff. The Falcons' short-yardage attack has been stagnant for years, and former tailback Michael Turner had lost both power and burst, making him expendable.
Enter Jackson, a workhorse and team leader. He will add significant grit and toughness to a Falcons offense in dire need of both.
Jackson is a player who leads by example, not with his mouth, and will fit in perfectly in the Falcons' locker room. For the first time in a while, he's on a team expected to contend for a playoff berth. I believe that will rejuvenate Jackson and enable him to have his best season in years.
Worst: Vikings Sign WR Greg Jennings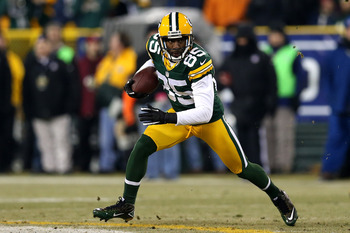 Jonathan Daniel/Getty Images
The Minnesota Vikings had to sign wide receiver Greg Jennings. That doesn't mean signing Jennings was the right move.
When the team traded star wideout Percy Harvin to the Seahawks, it left a gaping hole on the roster at the receiver position. Defensive tackle Kevin Williams told The SiriusXM Blitz that he couldn't name a single one, following the trade.
So, yes, Jennings definitely improves the wide-receiving corps, and his proficiency in the West Coast offense should certainly aid quarterback Christian Ponder as he enters his third season.
But a five-year deal for a 29-year-old wide receiver coming off consecutive seasons in which he's missed time due to injury? I don't like it.
For 2013, the move might make sense. The Vikings desperately needed a reliable target for Ponder who would also take pressure off all-world running back Adrian Peterson. Jennings can provide that in the short term.
However, I have serious concerns about Jennings' long-term viability. This is a deal that I think will look very bad for general manager Rick Spielman in a few seasons.
Nick Kostos is the executive producer of "The SiriusXM Blitz," hosted by Rich Gannon and Adam Schein, on SiriusXM NFL Radio.
Keep Reading