Who Is the Golden State Warriors' Most Important Player?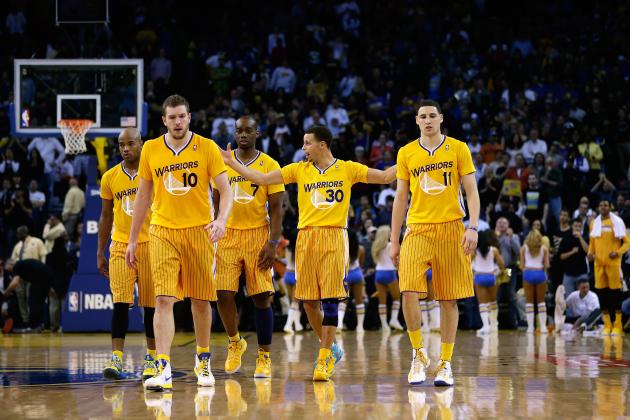 Ezra Shaw/Getty Images

This question could be answered quickly and easily.
One could say David Lee, as he was the Warriors' lone All-Star this season. One could name Stephen Curry, as he is the Warriors' leading scorer and highest-profile player.
A quick answer like this would be ignoring a key fact: The Warriors have had these two players for years, and only started winning this season.
That doesn't mean the answer isn't Lee or Curry, but to rule out Klay Thompson, Jarrett Jack, Andrew Bogut, Carl Landry and co. would be insulting and ungrateful.
So I've decided to go in-depth and figure this out fairly. I'm going to break down every major area in which an individual can contribute to a basketball team, rank the top Warriors in this category, tally up the points and figure out which Golden State player is in fact the team's most important asset.
Six total points will be assigned for each category. All players will be considered candidates.
Begin Slideshow

»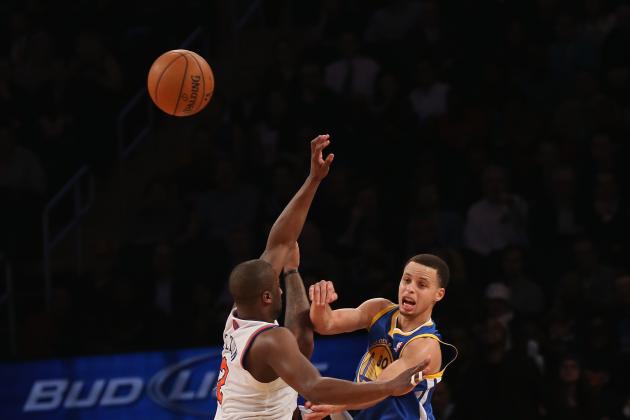 Bruce Bennett/Getty Images

What shows up on the scoreboard is points, but the ability to put the ball in the bucket is not enough.
Without guys who can dribble the ball up the court, make the first pass, drive and dish, pass out of the post, swing the ball along the perimeter or just move the ball into a better position, scorers and shooters are useless.

1. Stephen Curry (4 points)
Curry is the Warriors' most skilled ball-handler by far. This, combined with the threat of his shot, allows him to get to any spot on the floor he wants to.
When he does this, he forces defensive rotations and creates brief openings. His ability to recognize these openings and get the ball to open teammates with filthily accurate and deceptive passes is why he's No. 12 in the NBA in assists.

2. Jarrett Jack (2 points)
Jack may not have the absurd handles or flashy passing ability of Stephen Curry, but he is a master of forcing the defense to make tough decisions, anticipating the decision they will make and choosing to either score himself or pass it off based on their decision.
Jack averages 1.3 assists per game less than Stephen Curry, but is a more accurate and more judicious passer, leading the team with a 2.6/1 assist/turnover ratio.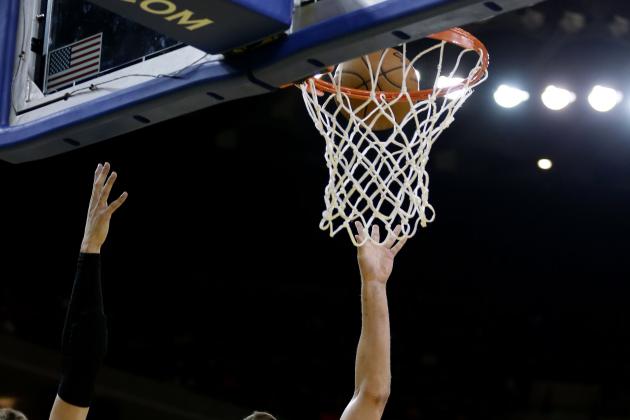 Ezra Shaw/Getty Images

Ball movement is the best way to score, and the Warriors run one of the most ball movement-heavy offenses in the NBA.
That being said, the ability to score one-on-one is the ace-in-the-hole of every great offensive team. It forces defenses to play honest, draws double teams and comes in handy against elite defensive teams and in playoff-style contests.
1. David Lee (3 points)
There's nothing like a 6'9, 250-pound guy who can knock down an 18-foot jumper, drive to the rim, finish with either hand, knock down free throws and pass it off with precision if you double-team him.
There's nothing like David Lee. The Warriors power forward is good for 19 points a night on 52 percent shooting, and that's because there's simply no way to guard him one-on-one. He'll shoot if you give him space, take you to the rim if you give ground, and finish in so many ways inside that you may as well game-plan around shutting everyone else down.
2. Jarrett Jack (2 points)
Stephen Curry may be the Warriors' leading scorer, but Jarrett Jack is usually the guy with the ball in his hands when the Warriors desperately need a bucket. This is because Jack possesses the ability to knock down a mid-to-long-range jumper with even the best of defenders on him.
Jack's deadly shooting ability off the dribble forces defenders to play him tight. This allows him to get around perimeter defenders, and he can finish with a runner or take it all the way to the rack.

3. Stephen Curry (1 point)
Stephen Curry can't beat elite defenders one-on-one the same way Lee and Jack can, but his sick crossover dribble and ability to create separation allows him to destroy weaker defenders on isolations.
And while Curry doesn't have the same ability as Jack to knock down shots consistently with the defense right on him, he does have the ability to do so inconsistently.
In other words, when Curry gets hot, no one can guard him one-on-one.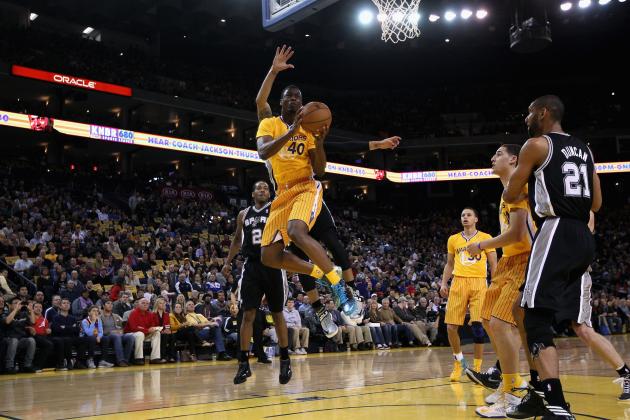 Ezra Shaw/Getty Images

As we've discussed, ball movement is essential to scoring. Of course, ball movement is not sufficient; team's need guys who can finish plays once the ball enters his hands.

1. Stephen Curry (3 points)
Curry makes his third appearance within the first three categories. Yes, Curry can create for others and yes, he can create for himself, but the 25-year-old's best skill is still his catch-and-shoot touch.
Curry is a relentless cutter off the ball, constantly weaving through traffic, reversing his route and looking for screens in order to free himself up.
Once Curry gets open and the ball enters his hands, it's over. There isn't a better shooter in the NBA and there may never have been; Curry leads the NBA in three-pointers this season and is second to Steve Kerr in all-time three-point percentage.

2. Klay Thompson (2 points)
Thompson would be first on a lot of teams. Thompson is third in the NBA in three's made and has shown a similar commitment to cutting endlessly until he's open.
Without Thompson as a threat, Curry wouldn't get as many looks as he does and vice versa. Put them together, and you get the backcourt duo known as the "Splash Brothers."

3. Harrison Barnes (1 point)
Barnes can't drain from range like Curry or Thompson, but it's still unwise to leave him open on the perimeter.
Barnes is the best slasher on the Warriors by far. If he's unaccounted for, a dunk or layup is soon to follow, whether he catches it in the corner and explodes towards the middle, receives the ball mid-cut, takes two steps and launches or cuts all the way to the lane before receiving a lob and throwing it down with ease.
The combination of the "Splash Brothers" and the "Black Falcon" should have opposing defenders frantic for years to come.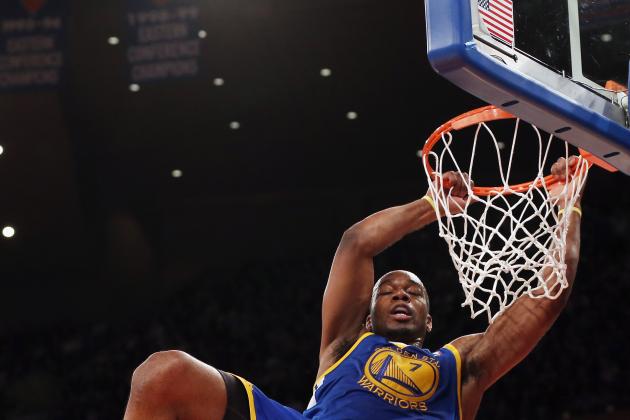 Bruce Bennett/Getty Images

Ok, so we've covered ball movement, isolation scoring and off-ball scoring. All of these things are key to a great offense, but something's still missing: The post game.
Without guys who can bang down low, get easy buckets inside, crash the offensive glass and pass the ball back out, the sharpshooting Warriors would have much less space on the perimeter and have to rely solely on hot shooting in order to win.
1. Carl Landry (3 points)
Landry is strong, crafty and relentless inside. He leads the Warriors with 3.6 offensive rebounds per 36 minutes, and makes the most of those second-chances.
If he gets the ball down low, he can destroy defenders with pump-fakes, power moves and an automatic turnaround short-range fade away. He leads the Warriors with a 53.2 field-goal percentage.
Putting him on the line isn't a smart alternative, as Landry knocks down free throws at an 82.1 percent clip.

2. David Lee (2 points)
Lee doesn't have the strength of Landry, nor does he have quite the offensive rebounding ability. His scoring efficiency is nearly identical, and his array of clever and highly skilled finishes inside means that he can score even when he doesn't have a strength advantage.
Lee is also an exceptional passer out of the post, leading all NBA power forwards with 3.8 assists per game.

3. Andrew Bogut (1 point)
Bogut has the ability to score down low, but has not displayed it this season as he has yet to play at 100 percent.
However, Bogut's 2.9 offensive rebounds per 36 minutes places him just ahead of David Lee, and he is arguably the best passing center in the NBA after Marc Gasol.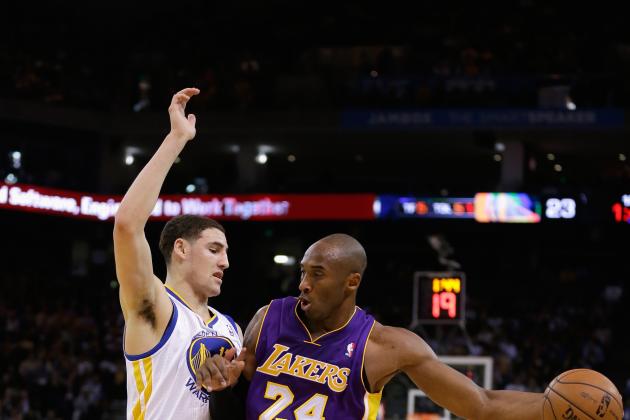 Ezra Shaw/Getty Images

Let's transition over to the defensive side of the ball.
A good defensive team must be able to guard the perimeter. Most NBA teams can win games on three-point shooting alone if you give them enough looks, and allowing consistent dribble penetration and easy cuts to the basket will lead to a loss 10 times out of 10.

1. Klay Thompson (3 points)
The Warriors gave up something offensively when they traded Monta Ellis and made Klay Thompson their starting 2-guard. Thompson's defensive growth this season, however, has made up for it.
The second-year Warriors shooting guard uses his 6'7" height, long arms, lateral agility and—most importantly—his ability to fight through screens to frustrate opposing wings. He's shut down the likes of LeBron James, Carmelo Anthony, James Harden and Paul Pierce this season.
Thompson's perimeter defense is the most undervalued part of what makes this Warriors team successful.

2. Draymond Green (2 points)
Green doesn't have the offensive game to get the minutes Klay Thompson gets, but when he's on the floor his defensive impact is certainly felt.
While Green doesn't have the quickness of Thompson, he stays on his toes and does not get driven on, despite his tight brand of defense. Green also brings an obnoxious (to opponents) physicality that all elite wing defenders have, and generates turnovers at a high rate.
He leads all Warriors non-centers with a defensive rating of 103.

3. Stephen Curry (1 point)
Curry is not the perimeter defender Thompson or Green is. He's four inches shorter than both, often gets beaten off the dribble and lacks strength.
Curry nearly makes up for it with his understanding of the game. He knows he can't stay with everyone off the dribble, so he always forces the offensive player either to the corner or into a trap off of a screen. He also fights through screens with a passion.
Curry's best defensive skill is his ability to anticipate passes and pick ball-handler's pockets. He has as many steals (1.6 per game) as Klay Thompson (1.0) and Draymond Green (0.6) combined.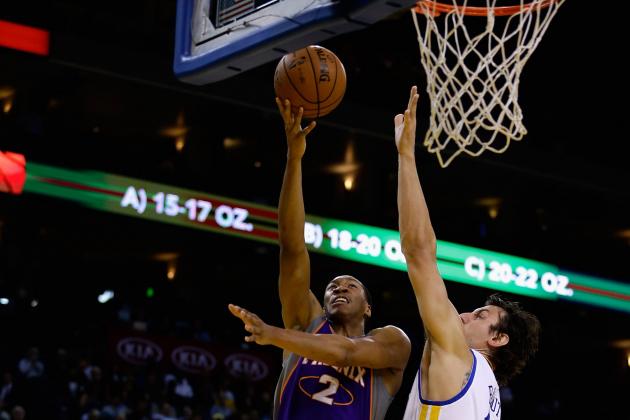 Ezra Shaw/Getty Images

Regardless of a team's perimeter defense, all is lost if the paint is left vulnerable.
Weak perimeter defense allows dribble penetration, and weak interior defense allows these players to finish at the rim. Even strong perimeter defense can be countered by throwing the ball into the post, where strong interior defense is needed to force a miss or come up with a block.

1. Andrew Bogut (3 points)
Bogut is one of the best interior defenders in the NBA. Again, he has not been at 100 percent all season, but he still makes all the difference inside for Golden State.
Bogut is a natural shot blocker, using great lateral quickness to rotate when the lane is penetrated, great anticipation and timing to avoid fouling and excellent leaping ability in order to meet would-be scorers near the rim.
Bogut leads all Warriors rotation players with a defensive rating of 100.

2. Festus Ezeli (2 points)
If Bogut is so important inside, why were the Warriors so successful with him absent for the majority of the season? Because Festus Ezeli has defensive ability beyond his years.
The Warriors' rookie center has above-average ability to block and alter shots, but he also brings a lot of strength and the ability to commit hard fouls when necessary. He can't guard skilled opposing bigs like Bogut can, but can deter slashers from attempting to finish at the rim.

3. Andris Biedrins (1 point)
Biedrins plays far less than Bogut or Ezeli and lacks the strength that they possess. However, he has, by some measures, been the most effective of the three defensively. Biedrins leads the Warriors with a defensive rating of 98 and with 3.1 blocks per 36 minutes.
Of course, Biedrins also commits 7.1 fouls per 36 minutes, so considering him the team's best shot-blocker would be absurd. His lack of strength also limits him.
Still, having a third-string center as defensively skilled as Biedrins is a luxury for Golden State, so long as he remains the third-string center.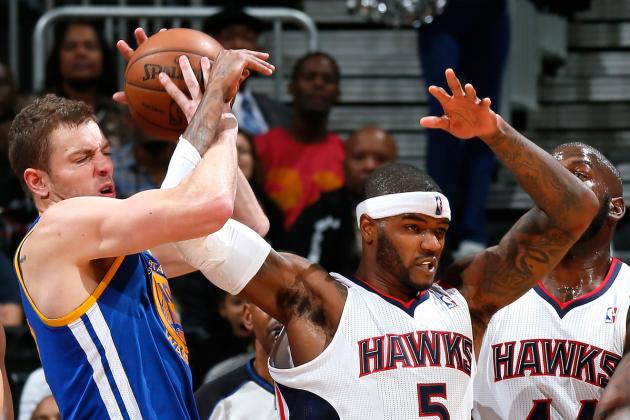 Kevin C. Cox/Getty Images

Okay, I've gone over offense, perimeter defense and interior defense.
Here's the thing: No matter how efficiently a team can score the basketball, how tightly they guard the perimeter or how strongly they defend the paint, winning in the NBA is very difficult without clearing the defensive glass.
You can shoot 50 percent and hold your opponent to 40 percent, but if they're getting extra possessions, it erases that advantage.

1. David Lee (4 points)
Lee doesn't look like a dominant rebounder. He's only 6'9" and struggles to defend top-tier bigs. However, he's as tenacious as they come once a shot goes up.
Lee always boxes out and uses excellent timing, craftiness and hustle to grab every rebound in his vicinity. That's why he's second in the NBA with 8.3 defensive rebounds per game, trailing only Dwight Howard.

2. Andrew Bogut (2 points)
Bogut should be the Warriors best defensive rebounder. He's 7'0", weighs 245 pounds and has more hops than anyone else close to his size on the team.
Of course, he doesn't nearly have the tenacity Lee has, nor does he have the intangible skill that is anticipating how the ball will come off the rim that Lee possesses in bunches.
Still, Bogut's physical prowess and proficient rebounding ability makes him the Warriors second-best defensive rebounder, and he still grabs an impressive 8.0 defensive boards per 36 minutes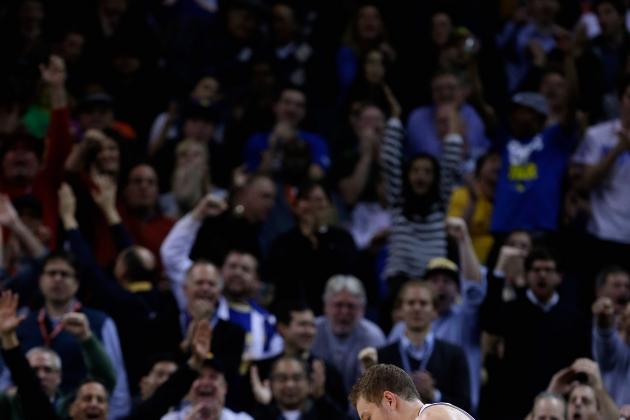 Ezra Shaw/Getty Images

As it turns out, Stephen Curry and David Lee are indeed the Warriors most important players.

At least now we can say so more definitively, and we've also got a ranking that goes 10 players deep (not to say that Richard Jefferson and Kent Bazemore are valueless...Malcom Thomas might be though).



Stephen Curry- 9

David Lee- 9

Andrew Bogut- 6

Klay Thompson- 5

Jarrett Jack- 4

Carl Landry- 3

Draymond Green- 2

Festus Ezeli- 2

Harrison Barnes- 1

Andris Biedrins- 1