NCAA Bracket Predictions 2013: Every No. 1 Seed's Early Upset Threat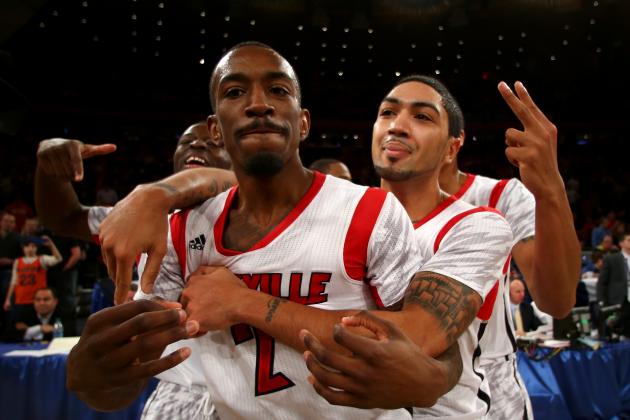 Elsa/Getty Images

March is upon us, the selection committee has spoken and the field has been set for the 2013 NCAA tournament. While the seedings have all come with questions about validity and deservingness, there is no group more talked about than the No. 1 seeds.
The question is, where might the No. 1 seeds slip up during the early rounds?
When you're acknowledged as one of the top teams in the nation, there is reason to believe that you will make the Final Four. The fact of the matter is the No. 1 seed has become a curse in recent seasons.
So where could our favorite powers slip up early? Let's find out.
Be sure to download a printable NCAA bracket and check out Bleacher Report's live bracket.
Make your picks for the 2013 NCAA tournament here with the Bracket Challenge Game.
Begin Slideshow

»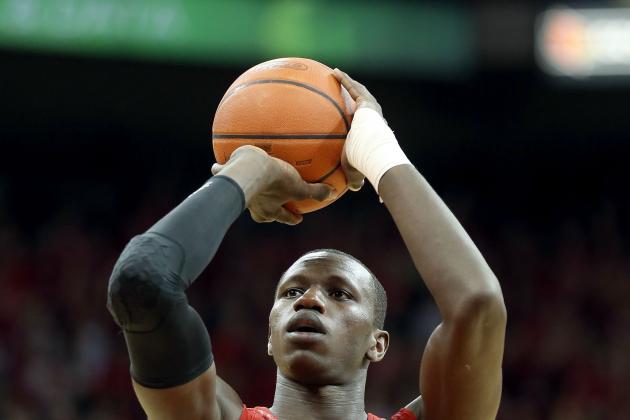 Andy Lyons/Getty Images

W-L Record: 29-5, 14-4 Big East
RPI: 3
SOS: 6
Upset Threat: Oklahoma State Cowboys, Sweet 16
To put it simply, the Louisville Cardinals are better than every other team in their region. They hold a significant advantage through the Sweet 16 and match up well against the bottom half of their bracket the rest of the way.
Come the Sweet 16, however, they could run into a team with a bona fide star—Marcus Smart and the Oklahoma State Cowboys.
The NCAA tournament is all about winning one game, and there are few in the nation whom you can trust to do that more than Smart. Not only is he an elite athlete, but he's proved to be one of the nation's better point guards.
Watching Smart and Peyton Siva go to battle would be nothing short of legendarily memorable.
Furthermore, Le'Bryan Nash is a dangerous scoring threat that thrives in big-game situations. If he and Smart get it going together, Oklahoma State could be the team to dethrone Louisville.
Markel Brown is a true X-factor here.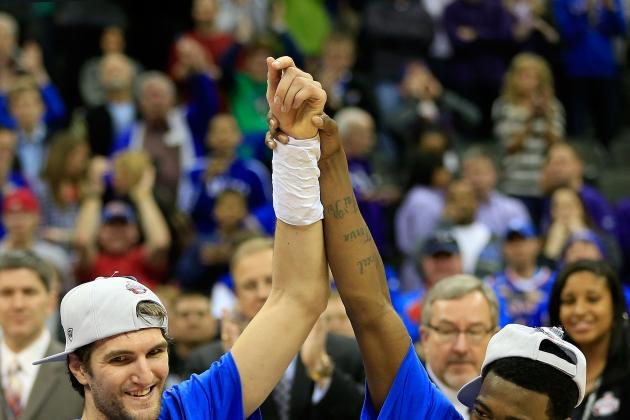 Jamie Squire/Getty Images

W-L Record: 29-5, 14-4 Big 12
RPI: 5
SOS: 29
Upset Threat: North Carolina Tar Heels, Round of 32
The Kansas Jayhawks have a rough bracket, with a battle against the likes of Michigan or VCU looming in the Sweet 16. With that being said, they could go down as early as the Round of 32.
Former head coach Roy Williams and his streaking North Carolina Tar Heels are a major reason why.
The Tar Heels move the ball extraordinarily well and love to get out in transition. Elijah Johnson and Travis Releford should be able to contain their guards, but that's hardly a certainty.
Marcus Paige and Dexter Strickland are as talented as any at getting out and facilitating an elite offensive output.
Furthermore, Reggie Bullock and P.J. Hairston match up well against the Kansas' Ben McLemore-led perimeter. Both can hit the three-ball and each play a physical brand of basketball.
When it comes down to it, however, coach Williams is the X-factor.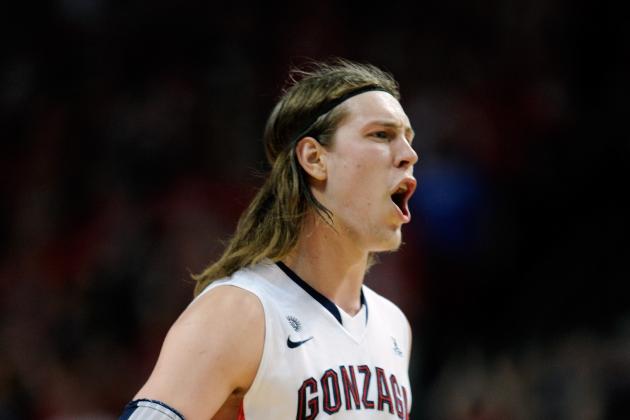 David Becker/Getty Images

W-L Record: 31-2, 16-0 WCC
RPI: 6
SOS: 96
Upset Threat: Pittsburgh Panthers, Round of 32
It's no secret that the Gonzaga Bulldogs have a longstanding history of crumbling come the Sweet 16. With that being said, this is the best team that Mark Few has ever coached and they have legitimate title aspirations.
Unfortunately, they could see their run come to a close as early as the Round of 32.
Should Gonzaga draw Pittsburgh, the Panthers match up extremely well against the Zags. They are responsible ball-handlers that rarely turn the ball over and possess an athletic NBA prospect down low.
In other words, Pitt has everything that could take Gonzaga out of their rhythm.
Steven Adams is a player with extraordinary length at center. While he's not as powerful as Kelly Olynyk, he's every bit the athlete and one of the more dominant interior defenders in the Big East.
If Adams is on his game, he could significantly limit Olynyk's contributions.
Furthermore, Tray Woodall is your quintessential Pittsburgh point guard. He's a low-risk player that has a tendency to come up big with the game on the line.
Gonzaga is rightfully favored, but Pitt is more than capable of taking down the Bulldogs.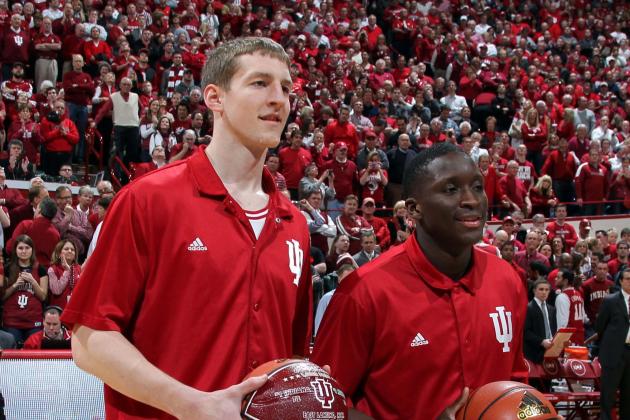 Brian Spurlock-USA TODAY Sports

W-L Record: 27-6, 14-4 Big Ten
RPI: 7
SOS: 11
Upset Threat: North Carolina State Wolfpack, Round of 32
The North Carolina State Wolfpack are one of the most underachieving teams in the nation. They're 24-10 overall and have fallen apart on the defensive end of the floor.
With that being said, N.C. State was ranked No. 6 in the nation during the preseason polls. They have the raw talent to justify that ranking.
Should they get it together for even just one night, they can beat any team in the tournament—including Indiana.
C.J. Leslie and Richard Howell are an elite interior tandem that can truly make an impact against Cody Zeller. Scott Wood is a lethal shooter who would keep Victor Oladipo honest as point guard Lorenzo Brown entered the paint.
Brown, meanwhile, is a 6'6" point guard that has helped shut down the likes of Joe Harris and Erick Green in recent days.
Indiana is the better team, both on paper and off of it. With that being said, the Wolfpack have national title boom and first-round exit bust.
Indiana could be the source of the Wolfpack's exit or their second team downed.