After netting his 200th goal for the London club over the weekend, Chelsea legend Frank Lampard simply must be offered a new deal this summer.
The star midfielder is off-contract with the club at the end of the season and, according to reports that emerged around the 2013 winter transfer window (per The Daily Mail), will not be offered a new deal at the Blues—despite his strong performances throughout the season for them.
The Sun ran this exclusive report on February 8—documenting how the veteran midfielder would not be playing with the Blues again come the end of the year.
[Frank] Lampard's representative denied fresh talks have been held—or that new negotiations have been scheduled. [The] Blues have given them no signal that their stance about him leaving this summer has changed.

Lamps' agent Steve Kutner said: "Nothing has changed regarding Frank's situation at Chelsea." That news will come as a bitter blow to Blues fans who are desperate to keep the England superstar at Stamford Bridge after his current contract ends in the summer.
Yet after the season that Lampard is having for the Blues this year, it's almost ridiculous to think that the London club won't want to keep him on next year.
Especially given how their season has transpired so far.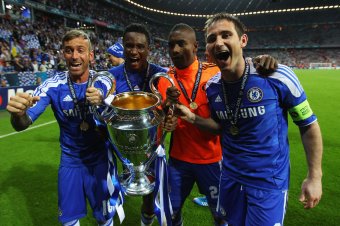 Alex Livesey/Getty Images
Chelsea came into the 2012-13 season with aspirations of clinching the English Premier League once more, and successfully defending their Champions League title. Yet as a tumultuous year unfolded, the Blues not only saw themselves drop 19 points behind Manchester United in the title race, they also became the first defending champions eliminated in the Champions League group stages.
Roberto Di Matteo was fired as a result of their poor performances, as the Blues sputtered their way through various English and European competitions—barely surviving Brentford in the FA Cup, and recently needing their substitutes to get the job done against Steaua Bucharest in the Europa League.
And yet in all of it, their central midfielder and club legend Lampard has been a consistent and dominant force that has keeper their season alive.
Without him, the Blues would surely be nowhere in their chase for a top four spot and a title in 2013. They would be struggling in mid-table, out of every major competition and left to wonder how such a dominant squad had produced such little results.
Chelsea with Frank Lampard
Chelsea without Frank Lampard

3rd in English Premier League

55 points, 58 goals scored

6th in English Premier League

49 points, 46 goals scored
* Those statistics are just in reference to his goals scored. Imagine how low Chelsea would be if we factored in his significance to their attack in 2013.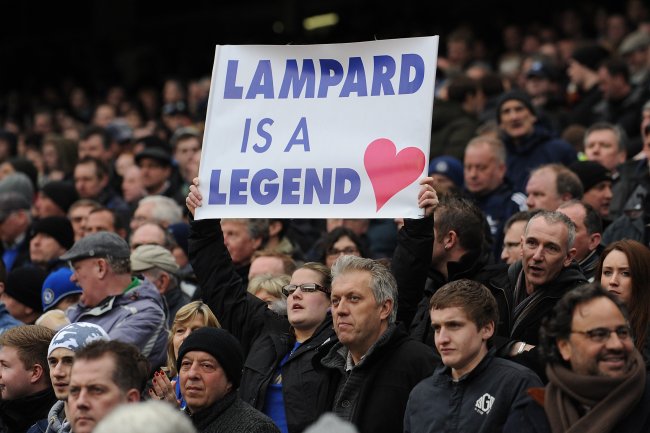 Steve Bardens/Getty Images
Despite starting just 16 games this season and playing a central midfield role when selected, Lampard is the club's leading scorer this year with 12 goals. He has more than Fernando Torres, Demba Ba and Oscar combined, and continues to produce goals when the Blues need it most.
Moreover, Lampard isn't making the mistakes that others at Chelsea are making, with the midfielder averaging just 0.5 turnovers per game. By comparison, Juan Mata, Torres, Hazard and Oscar are all average more than 1.5 per game for the London club.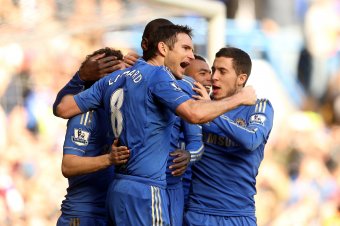 Scott Heavey/Getty Images
Chelsea have a very talented squad on hand, but the reality is that Lampard is the glue that holds them all together and makes them function effectively. Without him, their talented squad would not be as successful, and the Blues would have failed to produce the results they have this year.
To do away with him in the summer transfer window would be the complete wrong move for Roman Abramovich to make, for he would simply cripple this team in the process. They rely on Lampard more than the statistics will indicate and would struggle next year without him.
More than they have already struggled this season, that's for sure.
Respect MR Lampard. 200 goals juste respect. #respect #respect et encore #respect

— Eden hazard (@hazardeden10) March 17, 2013
The 34-year-old won't have long left in the English Premier League until his body and mind give in, but the reality is that right now, Lampard is still fine. He's still firing and dominant in midfield and hasn't been made to look out of place by any midfielder in world football this season.
And as long as that's still the case, Chelsea should do everything they can to make sure he's plugging away in their midfield.
He's simply too good and too valuable to let go otherwise, and with his contract expiring, surely deserves a new deal at Stamford Bridge next year.
Chelsea will dearly miss him otherwise.
Do you think Frank Lampard should be offered a new deal at Chelsea?
Comment below or hit me up on Twitter: Follow @dantalintyre