The 10 Most Memorable MMA Ring Entrances Ever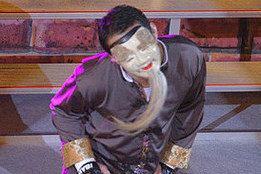 Photo credit: MMA Weekly via Tapology
Some MMA fighters have power in their hands. Others have powerful takedowns or submissions. Still others have strong wills, refusing to lose or break in the cage.
And then there are some who possess a power transcending even these formidable strengths. These are powerful men indeed, members of an elite cadre in the mixed martial arts community. These men hold the power of the entrance. Don't pretend it's not important.
These are the 10 greatest entrances in the sport's recorded history. That means individual entrances judged on their absolute value, if you will. So these are not lifetime achievement awards. They are not for the signature entrances of famous fighters or iconic walkout songs. They are not for unintentional comedy (well, maybe a little they are).
Those are fine for other lists. But this one is evaluating sheer spectacle. Pure production value. All style points.
Also, this is for major-league MMA only. So please spare me your natterings about that time you watched a guy surf to the cage on a milk cow at the Nebraska State Fair.
One entry per fighter. Video footage provided in accordance with relevant policies (I think). Please enjoy.
Begin Slideshow

»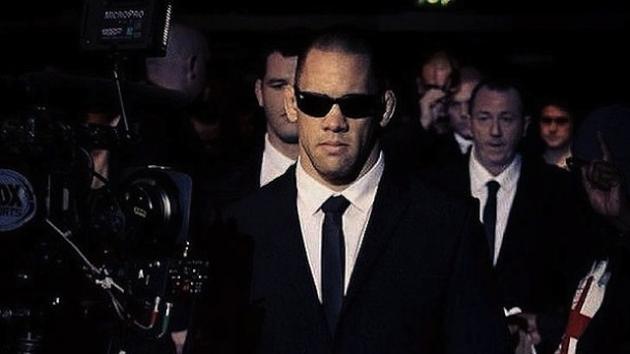 Photo credit: UFC/Zuffa via FightDay
James Te'Huna is not one of the more familiar faces in the best-entrance lineup, but he earned his foothold with a recent Men in Black-inspired entrance for his fight with Ryan Jimmo. The New Zealander then proceeded to notch an impressive come-from-behind W.
Guys who pull off big entrances in the modern UFC get extra points, seeing as how they're kind of swimming against the current a bit to make it happen.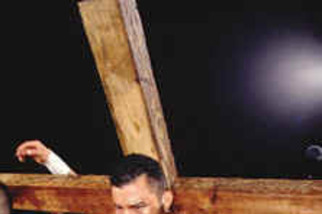 Photo credit: UFC
Here's some red meat for the old-school fans.
Kimo Leopoldo was a weird dude—for a lot of reasons. One of the main reasons is that he carried a frickin life-size cross to the cage on his frickin back.
And this wasn't some sideshow fight, either. This was UFC 3, and Kimo was lugging this super-awesome prop toward an Octagon date with a Mr. Royce Gracie.
Leopoldo lost, but the contest took so much out of Gracie that he had to forfeit his next match. It was the first UFC tournament Gracie didn't win. And for your part in that, Kimo, Steve Jennum thanks you.
Outstanding work here from Muhammed "King Mo" Lawal, heading ringside in 2009 for his decision win over Ryo Kawamura.
This entry goes to show that the little things often make the difference. Little things like that huge umbrella. Cracks me up every time. Things like the fact that he doesn't stop dancing throughout the entire walkout. Things like the girls throwing flower petals in his path.
Hey, at least they weren't throwing backfists. Zing!
Sexyama has been very consistent in his walkouts. And if it's true that he's as consistent—and consistently elegant—with the ladies as he is with his walkouts, and I believe it is, then that explains a lot, vis-a-vis his nickname.
The Sexyama soundtrack is always "Time to Say Goodbye" by Andrea Bocelli and Sarah Brightman, and there's always the praying and so forth. It's all just so haunting and ornate. I always half-expect someone to commit symbolic Seppuku at some point during the proceedings.
I chose this particular iteration because of the added pyrotechnics and the fact that he seems to have borrowed an entire karate school's worth of children for the occasion. And this is the fight where he's coming out to face the great and inimitable Kazushi Sakuraba (a fight the Sexy One lost for greasing). So that's a positive value-add.
And speaking of value-adds, as a final flourish there's that huge red "TV" patch on his gi, like he's a George Foreman Grill or something. Maybe that was the source of the grease: The drip tray spilled all over him. We're through the looking glass now, people.
Speaking of the great and inimitable Kazushi Sakuraba, The Gracie Hunter had several career walkout highlights of his own. This one, which preceded a third-round armbarring of Kevin Randleman, wins for me.
I can't decide what the best part is: the authentic Super Mario Bros. music and graphics, or the fact that Sakuraba keeps a perfectly straight face during the entrance despite rocking a baby ferret on the upper lip there. I keep waiting for him to leap into the air with one arm raised above his head. But it never materializes.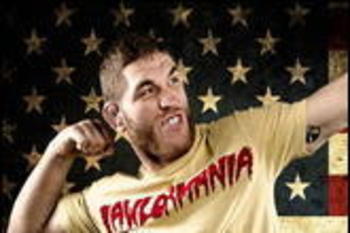 Photo credit: UFC/Tom Lawlor
It was a special night in the Washington, D.C. metropolitan area on Jan. 11, 2010. That was the day Tom Lawlor looked up to the heavens with his hand on the Three Demandments and called down the gods, brother.
Never mind that he lost to Aaron Simpson that day. Never mind that! The point is, all the maniacs could feel the very foundations of the aptly named Patriot Center shake when Lawlor strode in to the arena doing his best Hulkster impression. His gesticulations were spot on, and the theme song to end all theme songs, "Real American," blared on the speakers.
Fun trivia fact: "Real American" was originally recorded by Rick Derringer. And here I was under the impression he was coasting solely on the merits of "Rock n' Roll Hoochie Koo."
Now we're into the true, time-honored classics. I don't know about you, but I prefer to remember Jason "Mayhem" Miller in this classic mold, at the height of his powers. Before that retired, broken-down, quasi-Kaufmanesque, naked church-goer swallowed him up.
In this snippet from 2009, Miller selected about 30 girls in private-school getups to accompany him to the ring. I don't think they're real school girls, though.
But that's not even the craziest part. The craziest part is that he was heading to the ring to fight Ronaldo "Jacare" Souza for a title belt. Let that sink in.
I had to talk myself out of giving this the top spot. It would have been pure bias. Yes, it's true. This is my personal favorite walkout ever.
This is actually what made me an Anderson Silva fan. He was an awesome fighter even back in 2002. But that wasn't the clincher for me. The clincher was this brilliant homage to old-school Michael Jackson. Well, not Motown old-school. The Off The Wall-Thriller era.
Silva's a huge fan of that particular era, and so am I. In fact, I'm listening to "Baby Be Mine" right now. Right this second. In this walkout, the GOAT picks another great one in "Don't Stop Til You Get Enough." And as he makes his way to the ring, he rips through a downright dazzling array of Michael Jackson-inspired maneuvers.
And this was not a one off personality-wise. Silva's MJ fandom is well known in Brazil. I wonder: why not in the states and in the UFC? People would eat it up with a spoon. I'm being serious now. His popularity would explode. Then he could go on "Dancing with the Stars" or what not.
Ed Soares! Listen to me. Do this for your boy. You don't even have to credit me for the idea.
P.S. Look at Wanderlei Silva and the other corner guys in the background, standing back and giving him room. Love it.
I like making MMA entrance lists for the sole reason that it gives me a reason to listen to Akihiro Gono's entrance song.
Akihiro Gono-land is just so smooth and good. It's so wiggy and synchronized. This entrance came on the night he fought Gegard Mousasi, who I believe was only like 14 years old at the time. Mousasi already had approximately 87 fights under his belt, though, so that was good.
It's kind of boring and predictable to have Genki Sudo in the top spot. But the facts are undeniable: There is absolutely no one, and I mean no one, on Genki Sudo's level when it comes to MMA entrances. Maybe all entrances. He's in the company of Kramer and Scarlett O'Hara.
There are many works of art in the Genki Sudo catalog. Many colors, if you will, in the Sudo rainbow. This one's my favorite, and my vote for the very best walkout ever. It's not one of the more well-known Sudo entrances, but to me it's the most mesmerizing.
We are all one, man. We are all one.
Scott Harris likes to discuss MMA entrances. If you would also like to discuss MMA entrances, you can find Scott on Twitter.