Head-to-Toe Breakdown of Young Stars Playing in Monday's Lightning-Flyers Game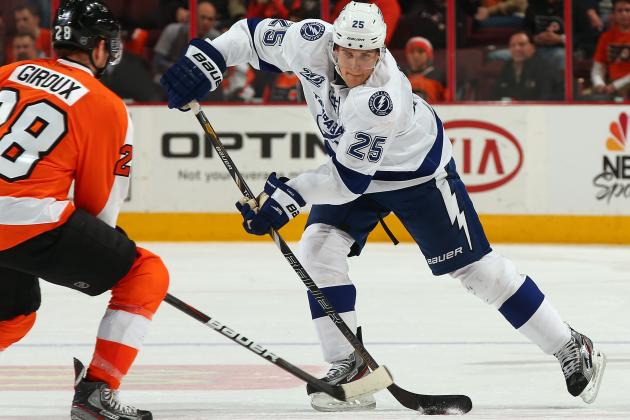 Elsa/Getty Images
The matchup between the Flyers and Lightning will showcase some of the games elite young talent.
Despite having less-than-stellar seasons to this point, the Philadelphia Flyers and Tampa Bay Lightning are two franchises with very bright futures. These two teams square off March 18 on NBC Sports Network at 7:30 p.m. ET and will showcase some of the brightest young stars in the game.
These two teams list 14 players on their active rosters who are 23 years old or younger. Add in stars like Claude Giroux, 25, and Wayne Simmonds, 24, for the Flyers, and you have nearly an entire group of skaters that haven't hit their prime years yet.
When these two teams face off Monday, the young talent will cover every inch of ice. In preparation for that contest, here is an in-depth breakdown of the young stars for Tampa Bay and Philadelphia
Begin Slideshow

»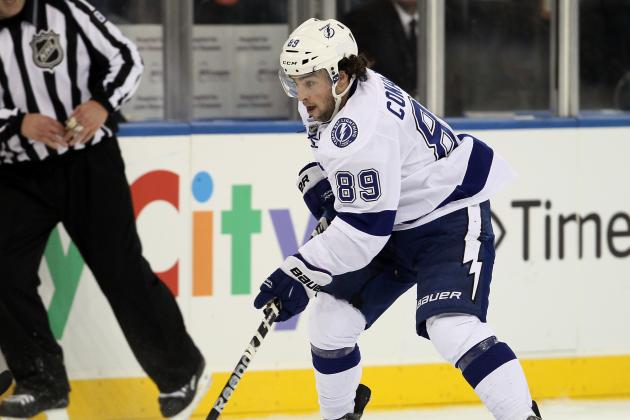 Elsa/Getty Images
Cory Conacher is one of many stars under 25.
Tampa Bay Lightning (11)

Cory Conacher, 23 (Rookie, 28 games played)
Tyler Johnson, 22 (Rookie, two games played)
Alex Killorn, 23 (Rookie, 18 games played)
Ondrej Palat, 21 (Rookie, seven games played)
Steven Stamkos, 23
Dana Tyrell, 23
Keith Aulie, 23
Radko Gudas, 22 (Rookie, three games played)
Victor Hedman, 22
Brian Lee, 25
Richard Panik, 22 (Rookie, nine games played)
Philadelphia Flyers (11)

Sean Couturier, 20
Zac Rinaldo, 22
Brayden Schenn, 21
Jakub Voracek, 23
Luke Schenn, 23
Claude Giroux, 25
Wayne Simmonds, 24
Erik Gustafsson, 24
Tye McGinn, 22 (Rookie, 16 games played)
Scott Laughton, 18 (Rookie, five games played)
Eric Wellwood, 23 (Rookie, four games played)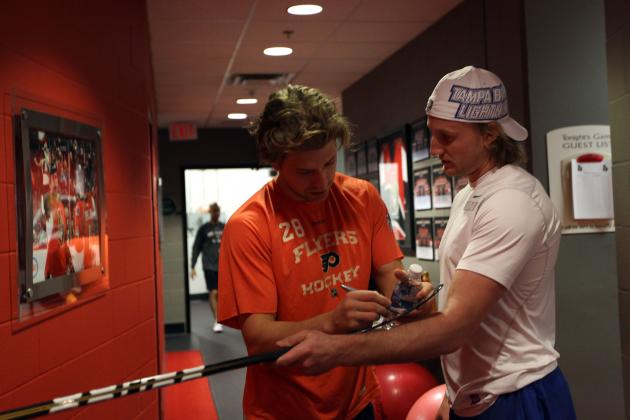 Bruce Bennett/Getty Images
These two young stars are some of the brightest in the game.
The most intriguing matchup when these two teams take the ice is Steven Stamkos against Claude Giroux. Stamkos and Giroux are developing into the heirs to the throne for the best in the game after Sidney Crosby's best years are behind him—or maybe even before that.
Giroux and Stamkos both burst onto the NHL scene in 2008-09. These two superstars have both logged over 300 games since and taken strong leadership roles for their respective clubs.
Giroux by the numbers
314 games played, 86 goals, 183 assists, plus-17 rating, 293 hits, 51.8 faceoff win percent
Stamkos by the numbers
353 games played, 199 goals, 168 assists, minus-eight rating, 300 hits, 46.7 faceoff win percent
Edge: Tampa Bay (Stamkos)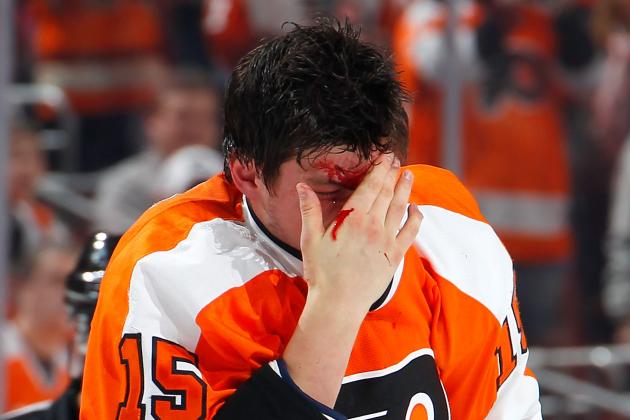 Paul Bereswill/Getty Images
Tye McGinn's career was put on hold after breaking his orbital bone in a fight.
The top rookie for the Tampa Bay Lightning is Cory Conacher. Conacher leads all rookies with 21 points and has added two game-winning goals already this season.
He could be considered the favorite for the Calder Trophy, but much like the most valuable player race, how his team fares could play a factor. Conacher is an energy guy, much like veteran Martin St. Louis.
On the other side, the Flyers counter with Tye McGinn. McGinn's numbers are down due to him missing the last few weeks with a broken orbital bone suffered in a fight with then-Toronto Maple Leaf Mike Brown.
He is a grit guy with size and solid hands. In 16 games this season, McGinn has five points (three goals, two assists).
Both players are very heady and play well on both ends of the ice. They are still learning the game but could be staples for their respective clubs moving forward.
Edge: Tampa Bay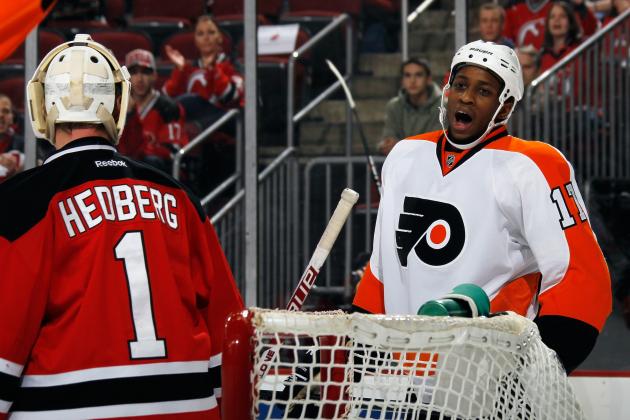 Bruce Bennett/Getty Images
Wayne Simmonds has been an offensive surprise this season for the Flyers.
Outside of Steven Stamkos, the Lightning's young stars don't provide a lot of goals, but they do provide assists. Conacher has 14 assists this season. Victor Hedman has four goals and nine assists from the blue line, and Alex Killorn has 11 points to provide secondary scoring.
The Flyers get the majority of their scoring from the young guns. With Claude Giroux—who missed time earlier this season—Jakub Voracek, Wayne Simmonds and Brayden Schenn at the top of the stat sheets, Philadelphia has young offensive weapons everywhere.
Voracek, Giroux and Simmonds have combined for 77 points this season.
Despite the Lightning having the league's second-best offense (3.29 goals per game), the edge goes to the Flyers based on depth of scoring.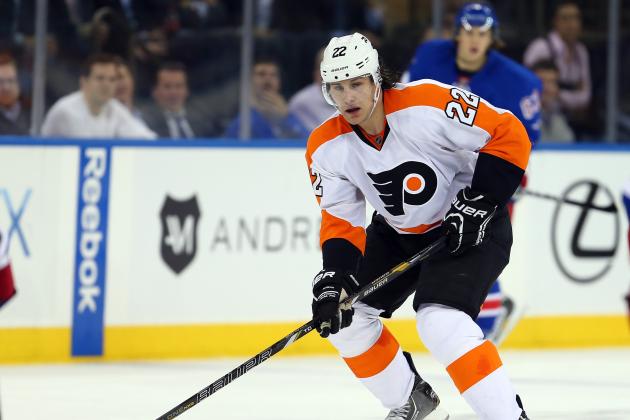 Elsa/Getty Images
Luke Schenn has been a solid top-pair defenseman for the Flyers.
Statistically, these two teams are awful in their own zone. Tampa Bay is 23rd in the league (2.96 goals against per game). Philadelphia holds its own low ranking at 24th in the league (3.00 GAPG).
Both teams do have some legitimate defensive stars. The Flyers have Luke Schenn, who averages over 20 minutes per game and has a minus-22 rating in his career, but has improved in each of his last three seasons. He has recorded over 250 hits in the last two seasons and already has 112 this season.
The Lightning have found a physical defenseman in Radko Gudas. Gudas has been with the team for just three games but already has 14 hits and is cementing himself with Lightning fans with his physical play and puck-moving skills.
Tampa Bay also has 22 games from Brian Lee.
Edge: Flyers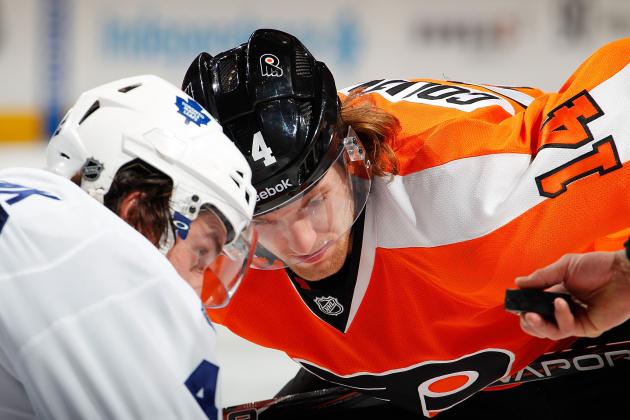 Paul Bereswill/Getty Images
Sean Couturier is a stable penalty killer for the Flyers.
The Flyers are better statistically than the Lighting on both special teams. Philadelphia is seventh in the league (84 percent) on the penalty kill. Tampa Bay is 13th (82.4). On the power play, the Flyers are sixth in the league (22.5 percent) to the Lightning's ninth (20.4).
The Lightning don't use the majority of their young talent on the penalty kill. Victor Hedman gets the most PK time (2:34 seconds per game). The rest of the group only gets used as a last resort.
Most of the stars get their special-teams time on the power play. Stamkos has 13 points on the PP, and Conacher is the next highest with four. But look at the Flyers' production and you see a drastic change.
Luke Schenn, Claude Giroux and Sean Couturier all see significant minutes on the penalty kill, and the power play is even better. The top three producers of Giroux, Jakub Voracek and Wayne Simmonds have accounted for 41 points on the power play this season.
Edge: Flyers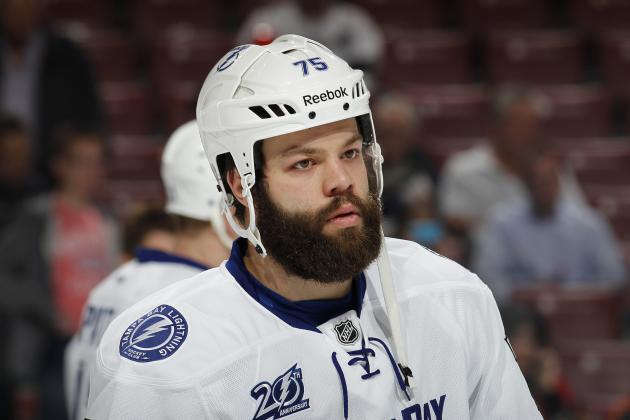 Joel Auerbach/Getty Images
Radko Gudas is one of the most physical players the Lightning have and he has the best beard.
The Lightning have provided a bunch of young players with NHL experience this season. That experience could pay dividends if Tampa Bay promotes its American Hockey League coach John Cooper to the big club. Tampa Bay has a ton of young stars at the AHL level just waiting for their shot.
Meanwhile, the Flyers have solid depth on the wings but lack depth at center, defense and goaltending—much like the Lightning from a few years ago. Eric Wellwood, Harry Zolnierczyk and Marc-Andre Bourdon are part of a talented but shallow group for the Flyers.
Edge: Lightning
Overall Edge: Flyers
These two organizations have some strong prospects and young stars who are ready to become part of the next group of elite players. With players like Steven Stamkos and Claude Giroux providing the blueprints for success, it will be fun to watch these organizations grow up in the next few seasons.