How to Cheer Up a Despondent Philadelphia 76ers Fan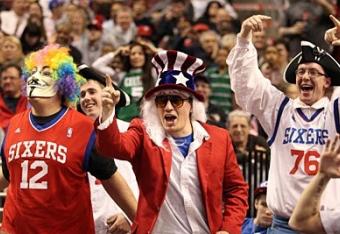 The Sixers fans in the revolutionary row have reason to cheer despite enduring a rough 2012-13 season.

It's been a brutal ride for a Philadelphia 76ers fan this season. Many have abandoned ship for the rest of the season after the news that center Andrew Bynum will miss the remainder of 2012-13 in his recovery from knee injections over the offseason.
What's the best way to cheer up these dedicated, but now despondent fans?

As a team the 76ers stand at 25-40, good for last in the Atlantic Division. They're 10th in the Eastern Conference and are eight games behind the Milwaukee Bucks for the No. 8 seed in the East. Now in tank mode, the 76ers have suddenly won two of their last three games against two quality teams from the Eastern conference, the second-ranked Indiana Pacers and fourth-ranked Brooklyn Nets.
This has left fans even angrier, who know that the best thing for the 76ers is a good draft pick at this point in time.

If you look past the Bynum frustration, team record and questionable decision-making, there's actually a lot to still be happy about in terms of the future of the organization and certain events that happened this season.


Reasons to Be Happy
No. 1: There's still a chance Andrew Bynum gets healthy

The Sixers as an organization are just as mad as you are about the status of Andrew Bynum. It's old news. Every status update gets buried deeper and deeper as a news story. The Sixers are looking like the clear losers of a trade that sent Andre Iguodala to the Denver Nuggets as well as Nikola Vucevic, Moe Harkless and a lottery-protected, first-round pick to the Orlando Magic in exchange for Bynum.

Yet, if Bynum ever does get healthy and suit up for the 76ers, there's no doubt that he'd play a huge factor in the team's future and automatically turn them into title contenders.
The facts are there: Andrew Bynum averaged 18.7 points, 11.8 rebounds and 1.9 blocks in an All-Star season last year for the Los Angeles Lakers.

In an interview I conducted with Jrue Holiday last week, he explained to me his feelings on how Bynum would affect the 76ers if he does indeed come back healthy. He even called him "the best big man in the league."
He'd make everyone's life a lot easier. He'd have a ton of easy points. With Bynum we'd be scoring in the 100's which would make the defense's job so much easier. Defensively he's also that guy who can clog up the middle and make it easier for us on the wings. He'd definitely change the way this team scores.
Holiday has a point. If the team and its fans have waited this long for Andrew Bynum already, what's an extra offseason going to hurt?
Obviously Bynum's salary is a big concern, and any time you're investing the future of your franchise into an injury-prone player like Bynum there's a feeling of unease, but if he can come back the player he was last season, fans will forget the 2012-13 season even happened.
Having Bynum teamed with Holiday, Evan Turner and Thaddeus Young for a full season would make one of the youngest and most dynamic foursomes in the league.
No. 2: Jrue Holiday was named an NBA all-star

With averages of 18.7 points, 8.7 assists and 4.2 rebounds, Jrue Holiday proved why he deserved his four-year, $41 million contract extension at the beginning of the season.

Holiday was voted into his first NBA all-star game by the coaches in February at the age of just 22. Holiday has also entered into the elite conversation among guards. The only player in the NBA besides Holiday to average 18 points and seven assists this season is Oklahoma City Thunder guard Russell Westbrook, who averages 23.2 points and 7.6 assists.

No matter what happens with Andrew Bynum, the 76ers are set at the point guard position for the future with one of the most dynamic players in the league. Holiday is what people call a five-tool player. He can score, pass, dribble, he can rebound well for a guard and defend.
There's plenty of bright moments to go in Holiday's young career and he continues to impress, with plays such as his dunk on LeBron James last week:
Jrue rose up against LeBron James last week.
No. 3: Thaddeus Young's consistency as a starter
There were a lot of questions surrounding 76ers forward Thaddeus Young to start the season. Young, who had played his whole career in the sixth man role, was being given the opportunity to start at the power forward position by coach Doug Collins.
Young has thrived as a starter, notching 18 double-doubles while averaging 15.2 points, 7.8 rebounds and 1.7 steals this season.

All of Young's averages are career highs, and although Young struggles at times defensively, he's been one of the lone bright spots in an otherwise forgetful season. Without him on the blocks, the Sixers would've compiled even more losses this season. During a six-game stretch in February without him, the team went just 1-5.

If Bynum returns to health, the combination of Bynum and Young in the frontcourt will be a lethal duo for opposing defenses.


No. 4: There's a ton of cap space to use if Bynum isn't re-signed

In a recent article by Philadelphia Inquirer writer, John Mitchell, he explains the Sixers' financial flexibility this summer. Mitchell says:

"Like a good number of teams, the Sixers can have millions of dollars available under the salary cap this summer, which will probably be about $60 million when it is announced later this year. And if Bynum isn't re-signed, that just means more cap space for the Sixers."
Gary A. Vasquez-USA TODAY Sports
This means the 76ers can really go after any free agent they want this offseason, or they can simply stay put and wait for bigger-name targets to hit the market in the 2014 offseason.

Names the 76ers could target if Bynum isn't given a deal could be the Los Angeles Lakers' Dwight Howard, the Utah Jazz's Al Jefferson or Paul Millsap, the Atlanta Hawks' Josh Smith, the Portland Trailblazers' J.J. Hickson or the Minnesota Timberwolves' Nikola Pekovic. All would fill the 76ers No. 1 need right now for a difference-making big man.
Getting a physical big man in the post who can score, rebound and defend is crucial to the team's success moving forward. Unless they can nab Dwight Howard from the Lakers, the Sixers might be better off saving up for the 2014 offseason that is full of bigger-name stars.
The Miami Heat trio of LeBron James, Dwayne Wade and Chris Bosh will all have early termination options. Money could steer one of them away to another team.
There's also the Indiana Pacers' Danny Granger, Chicago Bulls' Luol Deng and Toronto's Rudy Gay, who will probably want out of the Raptors' organization by then.

Other names include Dirk Nowitzki of the Dallas Mavericks, Pau Gasol of the Los Angeles Lakers, Kevin Garnett of the Boston Celtics and Anderson Varejao of the Cleveland Cavaliers.

Having cap flexibility is one thing, being able to lure a big-name target to the city of Philadelphia is another. This is the ownership's biggest obstacle.

No. 5: The 76ers will have a lottery pick in this year's draft

The 76ers have the chance to quickly add to the strength of their roster through the NBA draft.
The team currently has the No. 10 pick if the season ended today, and, according to NBADraft.net, is projected to pick shooting guard Victor Oladipo of Indiana. Oladipo is among four players who I believe could fit into the 76ers' roster very well and would be a great addition to the franchise for the future.

The other three players are small forward Otto Porter of Georgetown, power forward Nerlens Noel of Kentucky and small forward Shabazz Muhammad of UCLA. Oladipo, Porter and Muhammad are all great scorers who have the length and athleticism to be great on the NBA level.
Noel is more of a rebounding big who can defend and block shots, but unless the 76ers can lose enough games to receive a top-five pick, Noel most likely won't be around when it comes time for their pick.

Other than a defensive/rebounding big such as Noel, the 76ers lack a shooting guard/consistent scorer and Oladipo and Muhammad could definitely fill that role and develop into good NBA players.
Porter, at 6'8", would likely take the small forward spot from Evan Turner and make him move back to shooting guard, where he's played a good amount in his career.
In order to have the best chance at one of these players the Sixers must lose as many games as they can the rest of the way, however. The two wins in the past three games are not encouraging.
Any win now will just hurt their cause.
This article is
What is the duplicate article?
Why is this article offensive?
Where is this article plagiarized from?
Why is this article poorly edited?

Philadelphia 76ers: Like this team?