Soundtrack to UFC 158: The Walkout Songs in Montreal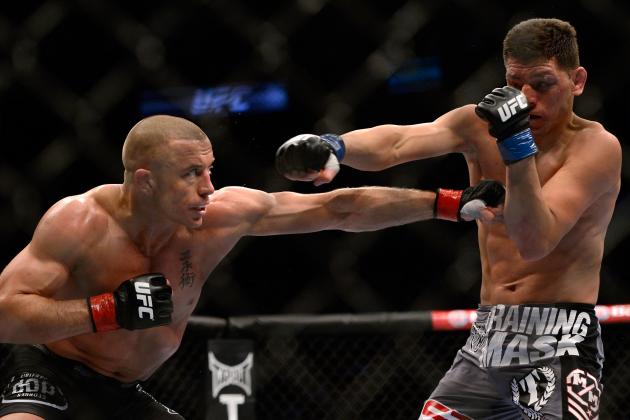 Eric Bolte-USA TODAY Sports

UFC 158 took place on Saturday night as Georges St-Pierre once again showcased his dominance in victory by defeating Nick Diaz by unanimous decision.
As always with any UFC show, the personality of the fighters shows through in their bouts, but sometimes just as much in the music they select when they walk out to the cage.
Some choose songs to get them pumped up and ready to fight while others will just select a random track.
At UFC 158, the main card fighters had a unique selection of tracks from St-Pierre's signature French hip-hop to Carlos Condit's standard Rage Against the Machine tune.
These are the songs that made up the soundtrack to UFC 158
(Please note: Some songs have explicit language and are considered NSFW)
Begin Slideshow

»
Canadian Mike Ricci picked a classic from Phil Collins for his walkout track on Saturday night. "In The Air Tonight" was recorded in 1979, but came into prominence in the 1980s and remains a very popular track on radio stations to this day.
The drum solo on the track stands as one of the most well known in music history. An interesting side note: The song is famously rumored to be about a drowning that Phil Collins personally witnessed, when in reality the singer has commented numerous times that it was written during his divorce from his ex-wife and he was just expressing anger through the song.
As for Ricci's opponent, Colin Fletcher, he had a custom-made track by MMA music enthusiast Mikey Rukus, which can be heard here.
Chris Camozzi picked up another big win on Saturday with his victory over Nick Ring at UFC 158, and for his walkout tune he chose the song "Sail" by the electronic alternative group Awolnation.
Camozzi was actually supposed to walk out to another track by the band Hatebreed called "Honor Never Dies," but for some unknown reason UFC officials nixed him using the track.
Awolnation has been a popular band over the past few years, with their songs being featured on several prominent TV shows, including the FX hit Sons of Anarchy.
Nick Ring picked a very catchy tune for his walkout track with the electronic hit "Sweet Nothing" by Scottish singer Calvin Harris featuring the vocals of Florence and the Machine singer Florence Welch.
Over the past few years, Florence and the Machine has become one of the most popular bands worldwide, but on this track she provides a guest spot to Harris on his third studio album
Fighters choose songs from all different styles and eras, but Jake Ellenberger had one of the more unusual choices for his walkout song at UFC 158 with Coolio's "Gangsta's Paradise."
The track was originally recorded for the 1995 film Dangerous Minds, and the video actually featured a cameo from actress Michelle Pfeiffer.
Coolio sampled the music and chorus for his song from the 1976 song "Pastime Paradise" by Stevie Wonder.
Nate Marquardt decided to go the electronic route for his walkout tune, choosing "Vava Voom" by Bassnectar.
In reality, Bassnectar is actually just one person—musician Lorin Ashton—who has been creating his unique sounds and stage show since the 1990s.
Some fighters are very loyal to a certain walkout song or band, and Johny Hendricks is no exception.
The UFC's newest welterweight title contender is a proud resident of Texas, and his walkout tune comes courtesy of a fellow Lone Star State resident.
Bleu Edmondson's "$50 and a Flask of Crown" has become Hendricks' signature tune over his past few fights, and with the results he's getting lately, it's not likely he'll change any time soon.
(EXPLICIT LANGUAGE)
It's no secret that the "Natural Born Killer" Carlos Condit is a huge fan of the metal group Rage Against the Machine because he's used their music for his walkouts ever since his days in the WEC.
Condit doesn't always stick to the same track, but he's very loyal to the band, which also happens to be UFC president Dana White's favorite group.
Rage Against the Machine released this track more than 20 years ago on their debut album in 1992. The themes of the band's songs typically speak out about oppression and political activism. The group's lead guitarist, Tom Morello, has been involved in numerous political actions over the years, including the Occupy Wall Street movement, and is also a Harvard graduate.
Main event fighter and former Strikeforce champ Nick Diaz is definitely a big fan of the Sacramento metal group Deftones because he routinely uses their music for his walkout tunes.
Much like Carlos Condit, Diaz doesn't always choose the same track, but he stays pretty loyal to Deftones for all of his fights.
This track comes from the group's 2000 album White Pony, which was a huge commercial and critical success for the band. The album sold 1.3 million copies, which means it reached platinum status, and also earned them a Grammy for Best Metal Performance in 2001.
UFC welterweight champion Georges St-Pierre is originally from French-speaking Montreal in Quebec, and he's always on top of the hip-hop featuring his native tongue.
While he tends to change songs for every fight, St-Pierre likes his French hip-hop, and this time around he chose French rapper La Fouine for his UFC 158 walkout song.
The track "Paname Boss" was released in 2012 from his album Drôle De Parcours. As far as the lyrics, unless you speak perfect French, Google Translate may be the only way to figure out exactly what La Fouine is saying on this track.
Here are the rest of the walkout tunes for UFC 158 by fight:
Patrick Cote - "I Wanna Rock" by Twisted Sister
Bobby Voelker - "This Could Be Anywhere in the World" by Alexisonfire
Darren Elkins - "You've Got to Stand For Something" by Aaron Tippin
Antonio Carvalho - "Cinderella Man" by Eminem
Jordan Mein - "Chalupa" by Cam'Ron
Dan Miller - "Run Through the Jungle" by Creedence Clearwater Revival
John Makdessi - "Hate it or Love it" by The Game
Daron Cruickshank - "Real American" by Rick Derringer
Rick Story - "Back in Black" by AC/DC
Quinn Mulhern - "No Church in the Wild" by Jay-Z and Kanye West
TJ Dillashaw - "Can't Be Touched" by Roy Jones Jr.
Issei Tamura - "Could You Be Loved" by Bob Marley
George Roop - "This Means War" by Busta Rhymes
Reuben Duran - "Pursuit of Happiness" (Steve Aoki Remix) by Kid Cudi