The Biggest Stories from the 1st Half of the NHL Season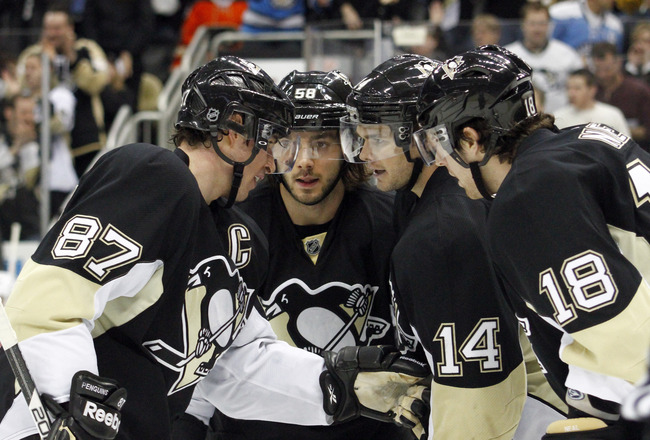 Justin K. Aller/Getty Images
The 2013 NHL season has had some major moments, and there have been amazing stories that have helped fans forget about the lockout.
Whether it's the Chicago Blackhawks' amazing point streak, the rise of the Montreal Canadiens and Anaheim Ducks or the amazing play of Sidney Crosby, there has been no shortage of amazing stories so far.
There has been so much to talk about during the season to date, but here are some of the biggest stories from the first half of the truncated season.
Viktor Fasth, Ryan Getzlaf and Anaheim's Mighty Ducks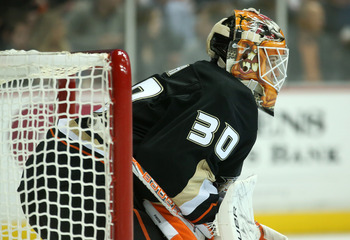 Stephen Dunn/Getty Images
The Ducks may no longer have "Mighty" as a part of their team name, but their play has been superhero-esque.
Viktor Fasth emerged from nowhere as a top-notch goaltender, and his win streak allowed the Anaheim Ducks to gain major ground in the standings.
Ryan Getzlaf has also had an amazing year to date, and his production helped earn him a sizable contract extension.
Overall, the Ducks' rise to the top as an elite team has been pretty impressive.
The Struggles of the New York Rangers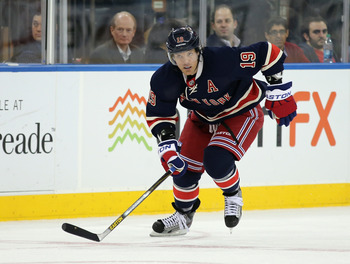 Bruce Bennett/Getty Images
The New York Rangers' struggles to date have been a huge story in the NHL, and it has become a polarizing issue when you realize that statistically they aren't any better than the Columbus Blue Jackets.
The Rick Nash trade has paid huge dividends for the Blueshirts. But with stars like Brad Richards struggling, the Rangers have failed to play to their potential.
Sidney Crosby's Rise Back to Super Stardom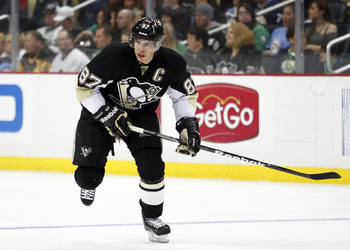 Justin K. Aller/Getty Images
The Pittsburgh Penguins have had an amazing year to date, and Sidney Crosby has been a huge catalyst for their offense in 2013.
The Penguins' star pivot has 48 points in 30 games. Crosby's 35 assists have enabled Chris Kunitz to have a career year to date, and it has been amazing to watch.
Jonas Brodin's Sensational Start for Minnesota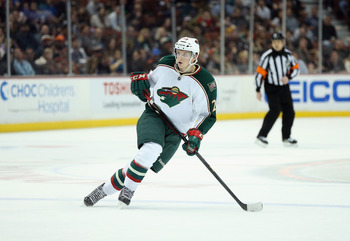 Jeff Gross/Getty Images
This year many fans were excited for the debut of Mikael Granlund, a dynamo prospect who was making the jump from Europe to play hockey for the Minnesota Wild.
Granlund made his debut and didn't have a huge impact, so he was sent down to the Houston Aeros.
Jonas Brodin, on the other hand, was an unknown to most fans. Since stepping in, he has been an amazing addition to the Wild blue line, and he is a big reason why the team is playing so well thus far.
The Montreal Canadiens Rise to the Top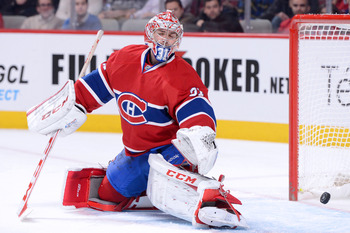 Richard Wolowicz/Getty Images
In 28 games, the Montreal Canadiens have an astounding 42 points. They trail the conference-leading Pittsburgh Penguins by two points and they have played in two fewer games.
The rise of the Canadiens under bench boss Michel Therrien was completely unexpected, given the limited changes the team made to their roster during the summer.
With P.K. Subban, Carey Price, Max Pacioretty and assorted others leading the way, it seems like eons ago that the Habs were in the cellar of the division.
Cory Conacher's Journey to NHL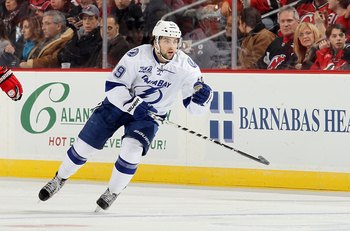 Jim McIsaac/Getty Images
Cory Conacher has always had the odds stacked against him. Despite battling diabetes from his youth, being an "undersized" hockey player and not being drafted, he currently leads all NHL rookies in points.
Conacher is a dynamic player with a game similar to teammate Martin St. Louis. The youngster has been an inspiring player to watch, and it has been great to see him thrive at the NHL level.
Carolina Hurricanes' Resurgence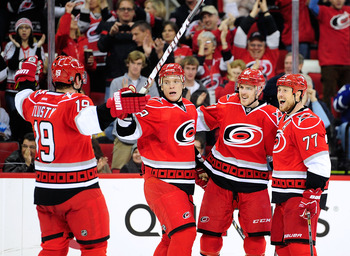 Grant Halverson/Getty Images
The Carolina Hurricanes have had amazing production from forwards Eric Staal, Jordan Staal, Jiri Tlusty and Alex Semin during the season to date, but the impressive part of their play in 2013 is that they have been able to keep it going despite losing starting goaltender Cam Ward.
Ward could miss the rest of the season because of an MCL sprain, but the Hurricanes have been able to keep the pace since his departure from the lineup.
They trail Winnipeg by one point for the top spot in the division, but they have played two fewer games to date.
Sergei Bobrovsky and the Columbus Blue Jackets
Jeff Gross/Getty Images
The Columbus Blue Jackets sit two points out of a playoff spot and five out of fifth place. They currently have the same amount of points as Rick Nash's New York Rangers.
The Blue Jackets have climbed out of the cellar because of the outstanding goaltending of Sergei Bobrovsky.
As Philadelphia Flyers fans bemoan the play of Ilya Bryzgalov, Columbus fans laugh at how the team decided to dump him via a trade before the NHL draft.
"Bob" currently has a record of 9-6-5 with a 2.00 G.A.A., a .932 Sv percentage and two shutouts.
These numbers are far superior to Bryzgalov's 13-12-1 record with a 2.78 G.A.A. and a .899 Sv percentage thus far in 2013.
The team has started to play like a contending hockey team, and who knows if they can hold on down the stretch to make the playoffs as a No. 8 seed.
Florida Panthers Get Hit with Massive Injury Bug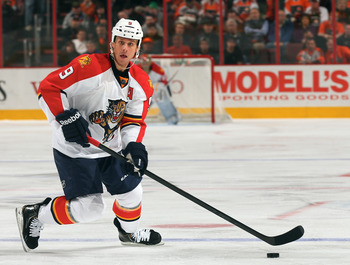 Elsa/Getty Images
The 2013 NHL season has been devastating for the league-worst Florida Panthers. But it hasn't been poor play that has derailed their season.
Jonathan Huberdeau has been a top rookie thus far, but injuries to Jose Theodore, Stephen Weiss, Kris Versteeg, George Parros and Ed Jovanovski have been brutal for the defending Southeast Division champions.
The best thing Panthers fans can hope for now is a favorable lottery pick, because they can add another top prospect to their system and prepare to rebound for the upcoming 2013-14 season.
Lindy Ruff Gets Fired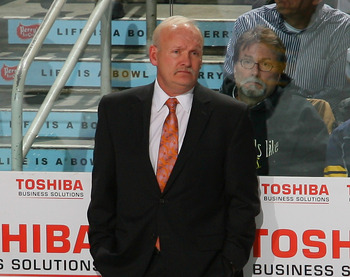 Rick Stewart/Getty Images
After 15 seasons, 1,165 games coached and 571 wins, Lindy Ruff got the axe as bench boss of the Buffalo Sabres.
For the longest time Ruff was spared from an early firing because of poor performances by his team, and he was thought to have the best job security of any NHL head coach .
It was one of the biggest stories of the year to date. Some fans are still shocked that he was finally let go.
Marc Staal's Eye Injury Re-Ignites Debate for Mandatory Visors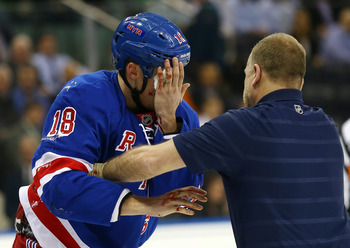 Elsa/Getty Images
When Marc Staal took a puck off the eye during a game against the Philadelphia Flyers, the debate for mandatory visors was re-ignited by many fans and writers around the league.
The NHL would love for visors to be mandatory. Unfortunately, there's a slim chance that the NHLPA will be passing such a mandate anytime soon.
Erik Karlsson's Season Ended by Freak Injury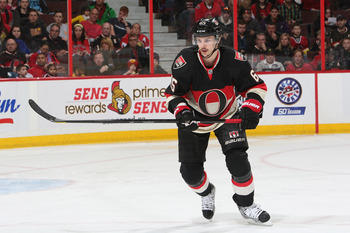 Francois Laplante/FreestylePhoto/Getty Images
Erik Karlsson's season was prematurely ended after a freak injury occurred against the Pittsburgh Penguins. While trying to pin the play along the board, Matt Cooke's skate sliced a tendon in the leg of Karlsson.
It was an injury that got a lot of national exposure and led to a debate about whether or not Kevlar socks should be a part of the NHL uniform.
Nazem Kadri Blossoms for Toronto Maple Leafs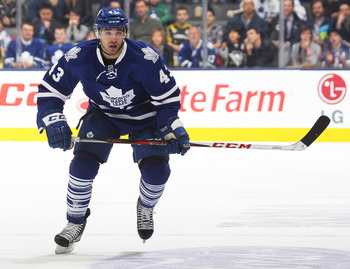 Claus Andersen/Getty Images
Nazem Kadri has 27 points, he is a plus-13 and he is only playing about 15 minutes a night for the Toronto Maple Leafs.
For years Brian Burke sought to acquire a center to be a catalyst for offense, and all this time he was within the organization.
Kadri has been given a chance to showcase his skills, and it has really helped the Leafs win some big hockey games.
With the Leafs currently sitting in a playoff spot, it is a good time to be a hockey fan in Toronto.
Ryan O'Reilly's Holdout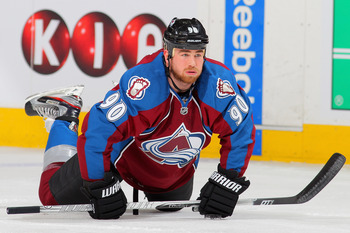 Doug Pensinger/Getty Images
Ryan O'Reilly's holdout because of a contract dispute led to him missing a big part of the truncated NHL season, and it was a situation that was a huge story.
O'Reilly has been a huge part of the team, so it was shocking when he decided to sign a two-year deal to play in the KHL.
An offer sheet by the Calgary Flames (matched by Colorado) ended the holdout, but it was major news for a player of his caliber to miss a sizable amount of the season because of a contract dispute.
Chicago Blackhawks Go Perfect in Regulation Through First Half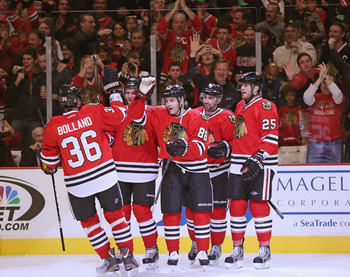 Jonathan Daniel/Getty Images
The Chicago Blackhawks' impressive streak has been the top story in the hockey community through 2013, and you know it was big when ESPN and SportsCenter decided to talk about it.
What's even more impressive is that the Blackhawks were able to keep the streak going after starting goalie Corey Crawford went down with an injury, and they didn't miss a beat when Ray Emery stepped in.
Additionally, Patrick Kane has had an amazing bounce-back season.
Keep Reading