NCAA Bracket 2013 Predictions: Upset Picks for Round of 64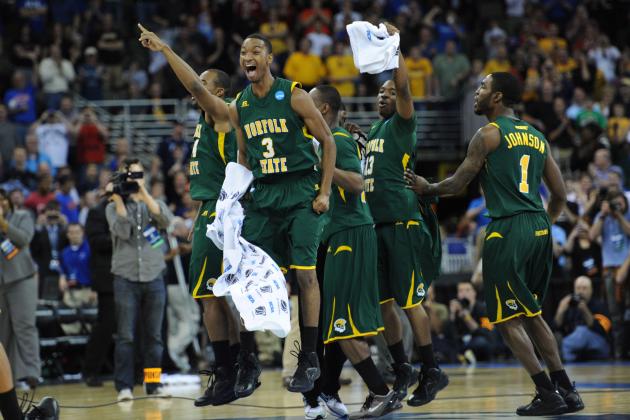 Peter G. Aiken-USA TODAY Sports

Time to impress your friends with some upset specials.
The key to picking a good upset is to find a strength for the underdog that is a weakness for the favorite. A good coach will exploit that, and there are plenty of them on this list.
No one is going to be impressed by your gall to go a nine over an eight, so those don't appear here. (We did go soft and pick two 10-7 "upsets.")
Also, a word of caution is at the end of each. So yeah, we're hesitant too. But going chalk is lame.
The picks are ranked from those that would barely move the needle to those that would lead SportsCenter.
Note: All advanced stats, unless otherwise noted, come from Statsheet.com.
Begin Slideshow

»
Reason to Believe: Two of the worst losses for Notre Dame this season—at Saint Joseph's and at Providence—came to teams that are perimeter-oriented and jacked up a bunch of threes.
If the Irish don't like small ball, they're going to hate playing Iowa State.
The Cyclones spread it out as well as any team in the country and they will shoot a ton from deep. They have five players who made 37 or more threes this year, and every one of them has the green light at any time.
Iowa State could have easily played to a better seed this season as well, especially if those two overtime games against Kansas had swung the other way.
Reason to be Skeptical: The Irish can pound the ball inside, and the Cyclones don't really love playing interior defense. If they're forced to play quality big men, like Jack Cooley, they like to pack the paint. That's tough to do against a Notre Dame team that makes 37.3 percent of its threes.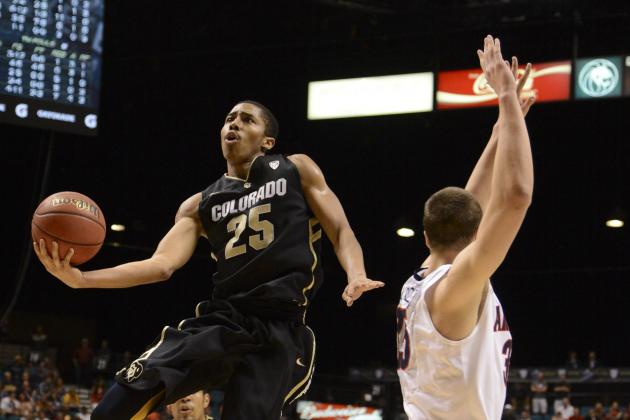 Kyle Terada-USA TODAY Sports

Reason to Believe: The Buffs love to play a pretty game, as they don't really want to get in a sloppy game and have to play physical. They'd rather let their guards run free and play at a fast pace.
The Illini are cool with that, and that could be an issue.
Colorado also has a really good perimeter defender in Spencer Dinwiddie, who could slow down Illinois leading scorer Brandon Paul. The Illini usually go as Paul goes.
Look for the Buffaloes to have the advantage inside as well. Freshman Josh Scott can score from the block, and Andre Roberson is one of the best rebounders in the country.
Reason to be Skeptical: Illinois coach John Groce showed last year he thrives in a postseason setting. Groce took Ohio to the Sweet 16 and nearly knocked off North Carolina, losing in overtime.
Reason to Believe: If the Gophers have a pulse, they have a chance.
UCLA lost second-leading scorer Jordan Adams for the season in the Pac-12 semifinals and will play the only double-digit seed that has more talent than it does.
This all comes down to which Minnesota shows up. The Gophers knocked off Indiana near the end of the year, which is probably why they are dancing. But they finished the regular season losing at Nebraska and at Purdue. Inexcusable.
Minnesota will have a great advantage inside with Rodney Williams and Trevor Mbakwe. UCLA's Wear twins do not like to bang in the post, and Williams and Mbakwe should out-muscle them (emphasis on should).
Reason to be Skeptical: Well, Minnesota being Minnesota. Also, Ben Howland and his Bruins have been doubted all year. And all they did was go out and win the Pac-12 regular season crown. Dealing with adversity (Adams' injury) should not faze this group.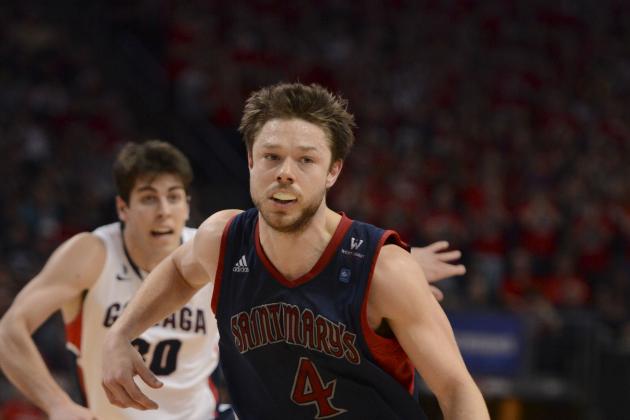 Kyle Terada-USA TODAY Sports

Reason to Believe: This is assuming Saint Mary's gets past Middle Tennessee, obviously.
Both Memphis and Saint Mary's played in what were viewed as weak conferences.
Memphis went undefeated in Conference-USA, but has only one win against an NCAA tourney team (Harvard).
Credit the Tigers, as they did dominate their league. According to John Gasaway's Tuesday Truths at Basketball Prospectus, Josh Pastner's squad outscored C-USA teams by 0.19 points per possession.
The Gaels went undefeated in the WCC against everyone but Gonzaga, and they outscored conference foes by 0.20 points per possession. That's counting two games against the team currently ranked No. 1 in the country.
According to the RPI, the WCC is the 10th-best conference and C-USA ranks 11th. So in a better league, Saint Mary's fared better on a per-possession basis.
The Gaels will also have the best player on the court in Matthew Dellavedova. Go ahead and throw out the seeds; these teams should be close to even.
Reason to be Skeptical: Memphis is the more athletic of the two teams, and the Tigers' quickness could cause trouble for Saint Mary's inside players.
Reason to Believe: Because Butler is Butler, Brad Stevens' team might be one of the most over-seeded teams in the tournament.
The Bulldogs do have really impressive wins against Indiana and Gonzaga, but they haven't played nearly as well after the Gonzaga win—they've gone 10-6 since.
Bucknell has the highest seed in the program's history and the slipper has fit before. Eight years ago, the Bison knocked off Kansas as a No. 14 seed.
Bucknell's juniors and seniors will be playing in their second NCAA tournament, and they'll have the best player on the court on their side in Mike Muscala.
Muscala averages 19 points and 11.2 rebounds per game and also blocks 2.4 shots per game. Butler's Andrew Smith has good size, but Muscala should win that matchup, and a dominant game from him could carry the Bison.
Reason to be Skeptical: Stevens. Tough to argue with his track record. He has made it out of the Round of 64 in three of the four NCAA tournaments he's coached.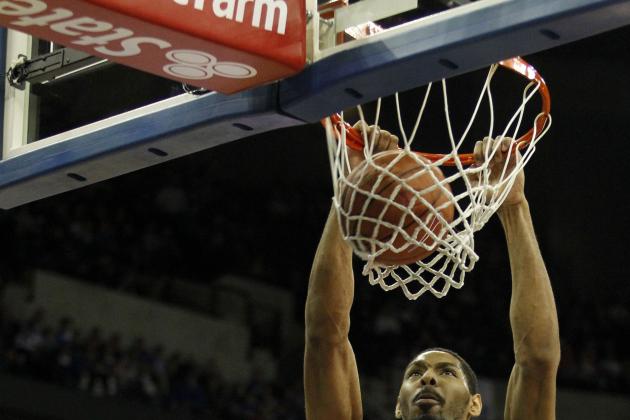 Matt Ryerson-USA TODAY Sports

Reason to Believe: Akron's defense.
VCU's "Havoc" will get all the attention, but Akron's half-court D is the better of the two. That's the key, whether Akron can get in the half court or not.
The Zips defend the rim better than any defense in the country. According to Hoop-Math.com, Akron's opponents shoot only 46 percent on layups and dunks.
The reason is seven-footer Zeke Marshall, who leads the Zips in scoring at 13.0 points per game and blocks 3.7 shots per game. VCU does not play anyone over 6'9".
If the Zips can avoid turnovers, they'll have an advantage in the paint.
Reason to be Skeptical: Turnovers could be the issue here. The Zips turn the ball over on 20.2 percent of their possessions. VCU is the best in the country at forcing turnovers, and Akron will be without starting point guard Alex Abreu, who was arrested for drug charges before the MAC tournament. This might be the least likely of the upsets on this list, but Akron is definitely capable.
Reason to Believe: Sean Miller's stomach had to drop when he saw Belmont show up as Arizona's opponent.
The Wildcats, by most measures, are a good defensive team. There's only one thing they don't do so well: defend the three. That just so happens to be Belmont's specialty.
The Bruins knock down 38.6 percent of their threes and attempt a three on nearly 40 percent of their field-goal attempts.
Ian Clark is the player to watch in this game. He averages 18.1 points per game and shoots 46.3 percent from the arc.
So just how bad is Arizona's perimeter D?
Opponents shoot 36 percent from distance, and in Arizona's six regular-season losses, Pac-12 teams knocked down 50 percent of their treys.
Reason to be Skeptical: Belmont has struggled against really athletic opponents, with losses to VCU, Kansas and Murray State. The Wildcats do not play the prettiest brand of basketball, but they have plenty of athletes.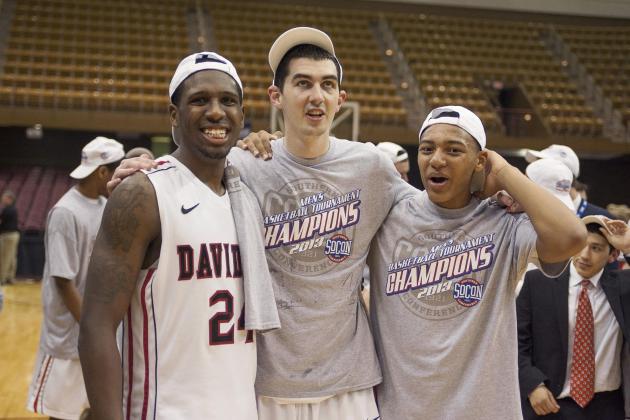 Jeremy Brevard-USA TODAY Sports

Reason to Believe: This is the best team Davidson has had since Stephen Curry took the small school to the Elite Eight in 2008, when it lost to Kansas. Essentially the same roster knocked off the Jayhawks last year in Kansas City.
Bob McKillop does not have an NBA guard on his team, but he does have one of the most efficient offenses in the country. The Wildcats have scored better than a point per possession in every game since a Jan. 2 loss against Duke.
How do they do it? Execution, most of which takes place in the half court.
Marquette played a really fast pace last season, but has slowed this year with 290-pound Davante Gardner becoming a big part of the offense.
The Wildcats have no issue playing a patient game, as they routinely run through their offense until a good shot becomes available.
Gardner will be tough to handle inside, but he will want no part of either of Davidson's big men on the other end.
Leading scorer Jake Cohen can stretch the floor and knocks down 38.7 percent of his threes. De'Mon Brooks does not shoot outside often, but he can put the ball on the floor and is quick for an inside player.
And if the game is close, Davidson is the best free-throw shooting team in the country at 80.1 percent.
Reason to be Skeptical: Buzz Williams does not have great talent, but his team is great at taking care of business against lesser teams. That's why the Golden Eagles won a share of the Big East title.