Serie A's Best XI Underrated Players in 2012-13
Valerio Pennicino/Getty Images
Serie A has a host of stars who entertain us each week, but there are plenty of others who make it such a tough league in which to shine.
With the standard of play so high, you know that the very best players in the league really are just that—the best.
The depth of talent in Serie A is such that you can find some real top-quality players further down the table who could easily cut it in some of the best teams around Europe.
So feel free to chime in with your choices and let me know whether you agree with mine in the comments section below.
Goalkeeper: Stefano Sorrentino, Palermo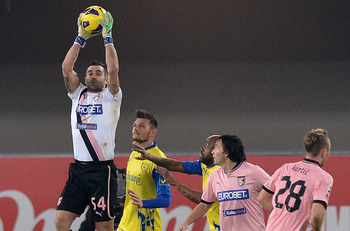 Tullio M. Puglia/Getty Images
Stefano Sorrentino is somewhat underrated outside of Italy, as I consider the Palermo stopper to be the best goalkeeper in the league outside of Gianluigi Buffon and Samir Handanovic.
In this is in a league famous for having some of the best goalkeepers in the world, one which is the perfect environment to test whether any goalkeeper is worth his salt.
A woeful Rosanero defence has not helped Sorrentino, but without him, Palermo would not have picked up the odd draw here and there.
A class act for so long with Chievo and already proving to be Palermo's best player, hopefully the 34-year-old will not hang around if the Sicilians are relegated, as the league needs his excellence.
Centre-Back: Kamil Glik, Torino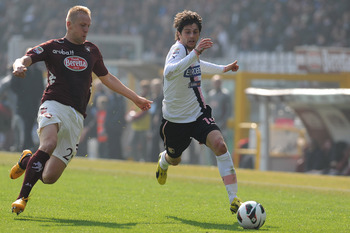 Valerio Pennicino/Getty Images
Kamil Glik has been one of the main reasons why Torino have survived so comfortably at the top level, having only been promoted from Serie B last season.
The Polish centre-back has filled in for large spells as the defence's leader when Angelo Ogbonna has been injured.
A terrific ball-winner and hard in the tackle, Glik is so reliable and can be counted on to organise the back line.
The Granata are tied for the seventh-best defence in the league, including 11 clean sheets, and Glik is the main reason for this strength in Giampiero Ventura's side.
Centre-Back: Nicolas Spolli, Catania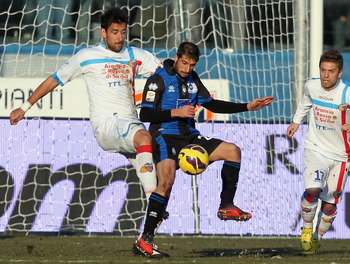 Maurizio Lagana/Getty Images
Catania have been known for their outstanding counterattacking talent, but their defence is not too shabby either, and there is a huge, hulking defender in Nicolas Spolli who can be a little aggrieved to not be more highly praised.
Spolli, with his long hair flapping around, can project the flight of the ball superbly, often getting distance as well as height for headers away from his own goal.
The 30-year-old has adapted very well over the past few years to Italian football, having joined the Elefanti from Newell's Old Boys in Argentina, and is now one of the most trustworthy defenders around.
Centre-Back: Daniele Gastaldello, Sampdoria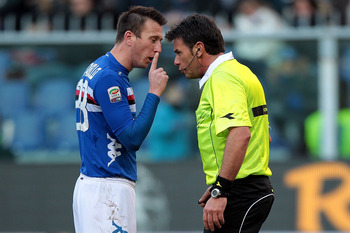 Gabriele Maltinti/Getty Images
Another promoted team who has survived comfortably in Serie A this season with a very underrated defence.
Samp have been outstanding at the back, led by their captain, Daniele Gastaldello, who is an inspirational leader from the back.
Gastaldello has led a defence in several defensive masterclasses, namely away shutouts to Milan and Napoli.
Led by Gastaldello, Samp have conceded just 33 goals this season, the fourth-best defence in the league, which is an incredible feat for a promoted team.
Right Midfield: Juan Cuadrado, Fiorentina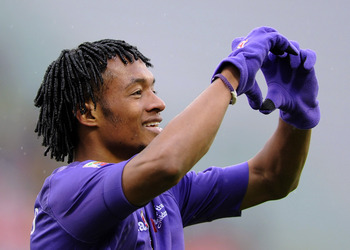 Claudio Villa/Getty Images
Juan Cuadrado has been sensational in his loan spell to Fiorentina from Udinese.
The Colombian does not deal in goals, but his energy and work rate all the way up and down the right side of the pitch is invaluable to the Viola.
Cuadrado is most dangerous when picking the ball up in deep areas and given license to drive forward past his opponent into the space behind.
This makes him the perfect candidate to play in a 3-5-2, which could mean that the player will be targeted by some bigger clubs soon, jeopardising the Viola's plans to turn his loan from the Zebrette into a permanent deal.
The dribbling and trickery from the 24-year-old give him sufficient skills to aid the side in a defensive manner or in a more attack-minded style.
Centre-Midfield: Jaime Valdes, Parma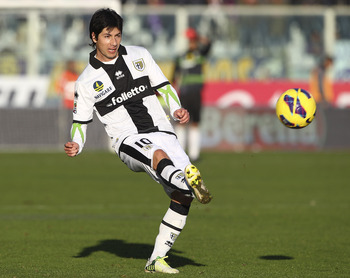 Marco Luzzani/Getty Images
Jaime Valdes used to be a winger, but Roberto Donadoni's vision has seen the Chilean become one of the league's best deep-lying playmakers.
The 32-year-old's passing is exquisite, and when he combines this with the lateral movement that he used to use when cutting inside from the wing, Valdes can control a game for the Crociati in that deep-lying midfield role.
Valdes is capable of waiting on the edge of the centre circle and recycling the possession when Parma's attacks break down, too, often looking to shoot from range if the opposition decide to drop off and defend deep.
Centre-Midfield: Albin Ekdal, Cagliari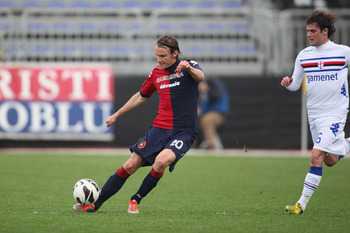 Enrico Locci/Getty Images
Cagliari have survived again this season despite numerous spells of poor form, because the Isolani can always rely on their midfield, which is certainly not relegation material.
With Radja Nainggolan, one of the best all-around midfielders in Serie A, and their capitano Daniele Conti, it is understandable that the rest of the midfield play second-fiddle to these stars.
Albin Ekdal has been outstanding since Ivan Pulga took the reigns, especially as he is capable of contributing equally at both ends of the field.
The Swede is often the legs for Conti, and when Nainggolan drives forward, Ekdal's tactical awareness makes sure that the Isolani are not caught on the counterattack.
Centre-Midfield: Alvaro Gonzalez, Lazio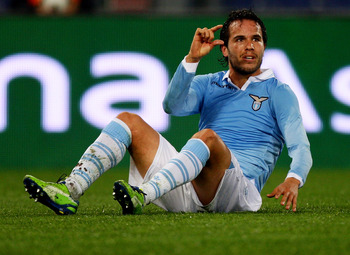 Paolo Bruno/Getty Images
Alvaro Gonzalez is the typical underrated player every team would love to have.
The Uruguayan runs his socks off every game and is a real fan favourite.
Lazio's bustling style, typically controlling the midfield, is in large part down to Gonzalez covering such a great amount of ground.
By unsettling the opposition and rushing them in possession, Gonzalez is often at the heart of the Biancocelesti's counterattacks.
Left-Midfield: Manuel Pasqual, Fiorentina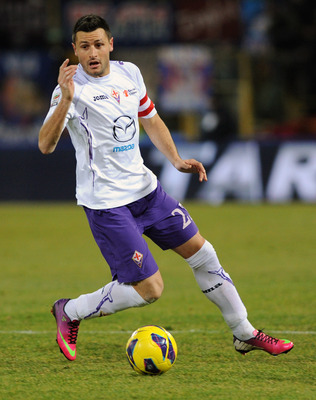 Giuseppe Bellini/Getty Images
Another Fiorentina wide man makes the undervalued team, proving how integral width is to Vincenzo Montella's success.
Pasqual is no youngster: The 31-year-old has been at the Artemio Franchi since 2005, when he joined the Viola from Arezzo.
Pasqual's versatility has been a major plus for Montella, who has switched to a 4-3-3 and played the former Italy international as a left-back when looking to expose sides fielding a 3-5-2.
Pasqual has also worked on his direct free kicks, too, proving to be a real threat from range with deadly accuracy in his left boot.
In the form of his life and still underrated, where is that call, Cesare Prandelli?
Centre-Forward: Cyril Thereau, Chievo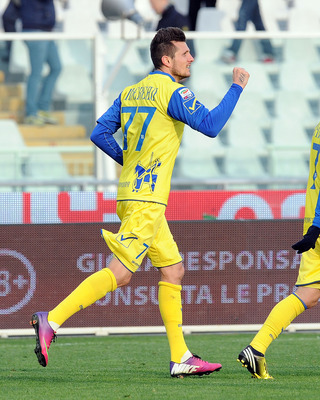 Giuseppe Bellini/Getty Images
Very underrated striker, simply due to playing for the most unfashionable team in the league.
Thereau is a very interesting striker. He's technically excellent, but capable of dribbling with the ball and changing the pace of a game with his drive.
With characteristics like this, Thereau ought to be more adept as a wide player, but with such mobility and a willingness to run the channels, the Frenchman is perfect for Eugenio Corini's negative 5-3-2, often using more than half the pitch to make runs off the ball.
Centre-Forward: Luis Muriel, Udinese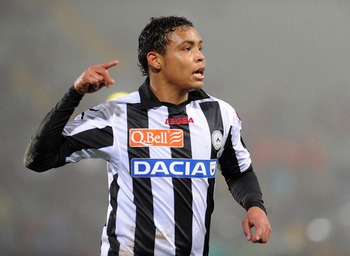 Dino Panato/Getty Images
Luis Muriel is one of the best young players in Italy. The Colombian is the latest diamond found by Udinese.
His talent is unquestioned by those with a keen eye on South American youth football, having starred for one of the best Colombian sides in decades.
Powerful with lightning acceleration, Muriel is an explosive forward who can really hurt teams on the counterattack.
The former Lecce forward has great power in his boots too, often striking the ball clean and true, meaning the goalkeeper does not stand a chance when Muriel finds the corners.
Keep Reading