2013 NCAA Bracket Predictions: Picks for Every Round of 64 Matchup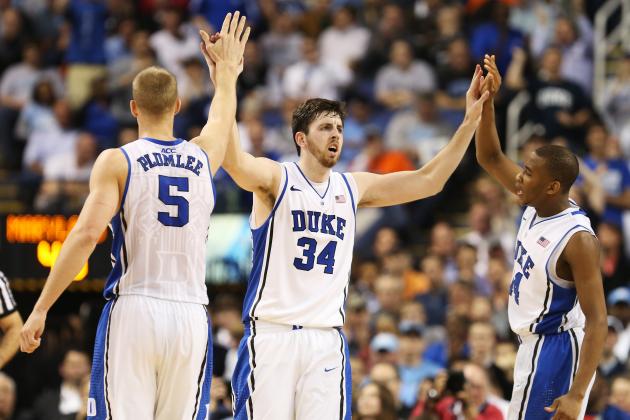 Streeter Lecka/Getty Images

As millions of Americans sit down to scribble the names of college basketball programs in an attempt to build the perfect bracket, we've taken some time to digest the opening slate of games. Fans fawn over matchups featured in the round of 64 each March, as shocking upsets and scintillating finishes take center stage throughout the two-day set.
Unfamiliar opponents have limited time to game plan before NCAA-tourney action kicks off. Here's a rundown of how we think things will turn out this week, when the mantra of each squad becomes "survive and advance."
Begin Slideshow

»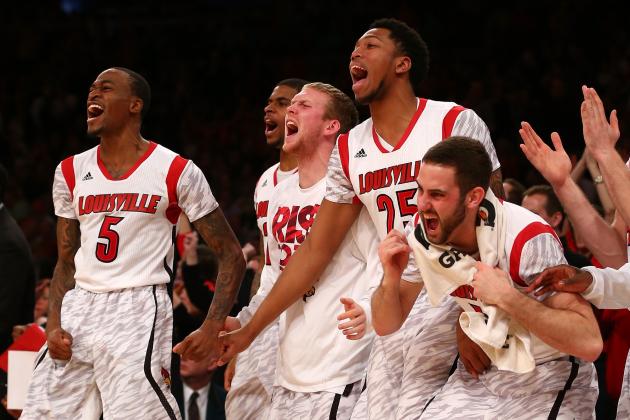 Elsa/Getty Images

Why Louisville could win: The Cardinals enter the tourney fresh off a Big East tournament championship and guard Russ Smith is heating up at the right time.
Why North Carolina A&T/Liberty could win: The Aggies finished off an unexpected MEAC tournament run by winning four games in five days to lock up the program's first tourney bid since 1995.
Prediction: Louisville 93, Liberty 54
Why Duke could win: Duke has reached a different level offensively since the return of 6'11" sharpshooter Ryan Kelly, putting up points in bunches and ranking among the nation's top teams along the perimeter. The Blue Devils are lethal in a half-court set.
Why Albany could win: The Great Danes are a defense-oriented team, holding opponents to 50 points or less in five of their last six victories.
Prediction: Duke 82, Albany 57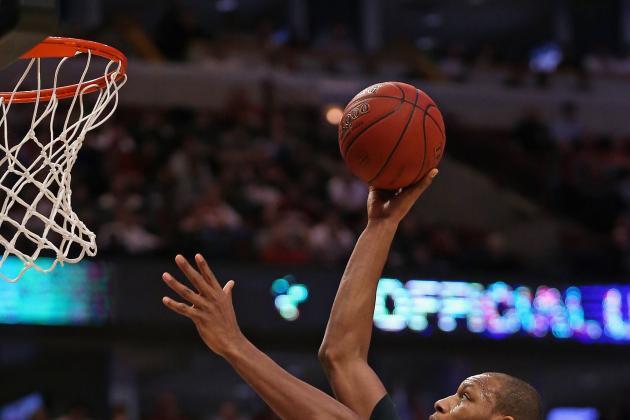 Jonathan Daniel/Getty Images

Why Michigan State could win: Tom Izzo ranks among the country's most experienced postseason coaches and leads a veteran group into the NCAA tourney. Junior guard Keith Appling could be on the verge of a special tourney run.
Why Valparaiso could win: The Crusaders average more than 70 points per game and could put a scare into the Spartans with hot shooting from beyond the arc. Valpo is sixth in the country in shooting percentage.
Prediction: Michigan State 77, Valparaiso 68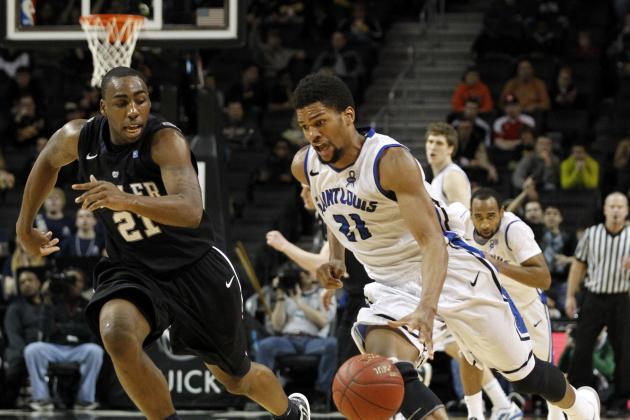 Jason Szenes/Getty Images

Why St. Louis could win: The A-10 champs are on a roll, winning 15 of 16 games and playing a complete style of basketball. Forward Dwayne Evans tallied two 20-point games in conference-tournament action.
Why New Mexico State could win: The Aggies, led by one of the tournament's most efficient offenses, are 18-2 in 2013. Freshman center Sim Bhullar gives the team a defensive anchor.
Prediction: St. Louis 68, New Mexico State 64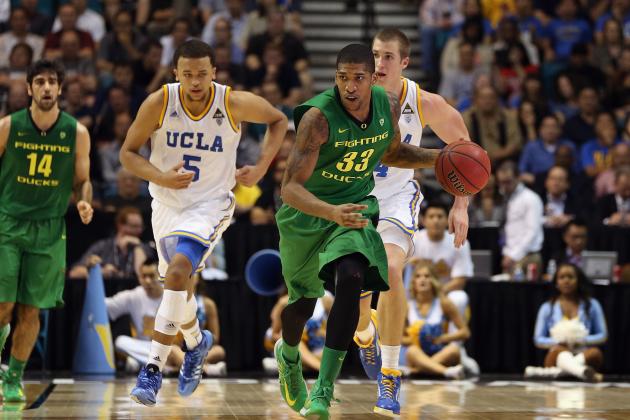 Jeff Gross/Getty Images

Why Oklahoma State could win: Oklahoma State is effective on the offensive glass, creating second-chance opportunities for one of the Big 12's most capable scoring attacks.
Why Oregon could win: The Pac-12 champions can keep up if this one turns into a track meet. The Ducks surged to an unexpected conference title courtesy of a backcourt that refuses to bow down when the tempo accelerates.
Prediction: Oregon 71, Oklahoma State 66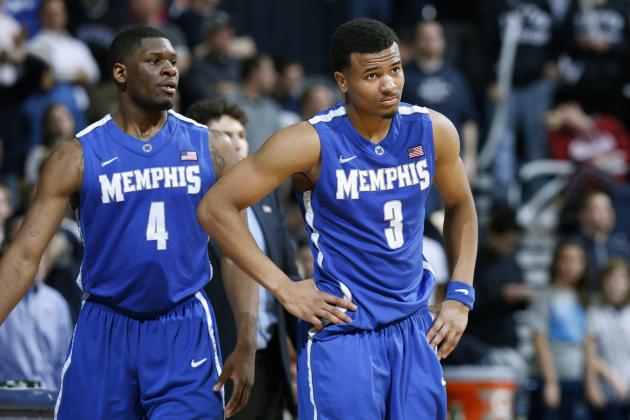 Joe Robbins/Getty Images

Why Memphis could win: The Tigers enter this matchup among America's hottest teams, winning 24 of 25 games on the way to a Conference USA championship.
Why St. Mary's could win: Expect Saint Mary's to put up a fight against Memphis. The Gaels' only three losses of 2013 have come against No. 1 seed Gonzaga.
Prediction: Memphis 70, St. Mary's 59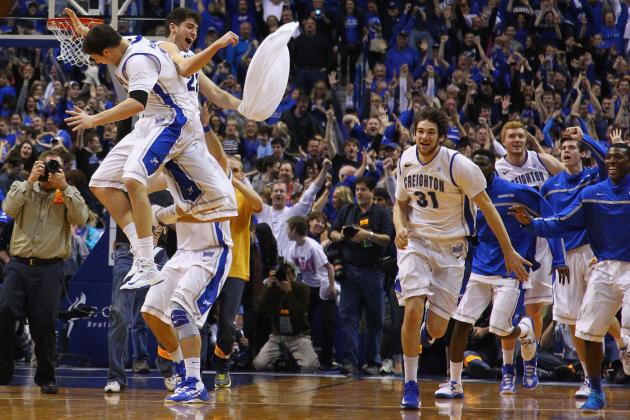 Dilip Vishwanat/Getty Images

Why Creighton could win: The Bluejays are a scary offensive squad, leading the nation in field-goal percentage (51 percent).
Why Cincinnati could win: The Bearcats have the ability to bully teams on the boards. Cincy ranks eighth nationally in rebounding.
Prediction: Creighton 73, Cincinnati 61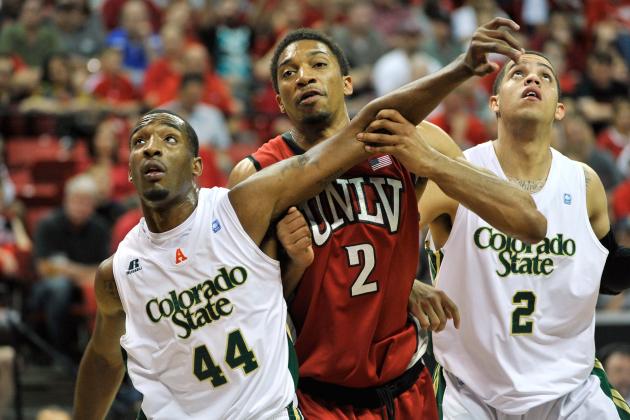 Jeff Bottari/Getty Images

Why Colorado State could win: The Rams are menaces on the glass, ranking fourth in the country when it comes to rebounds per contest.
Why Missouri could win: The Tigers battle back with an excellent rebounding approach of their own. Missouri is the nation's second-ranked rebounding team and attacks the rim with tenacity on offense.
Prediction: East Bracket: Colorado State 60, Missouri 59
Why Kansas could win: Kansas concluded the NCAA-tournament prelude with a Big 12-championship victory over rival Kansas State and enters the mix as one of the tourney's deepest teams. Guard Ben McLemore, the potential No. 1 pick in the 2013 NBA draft, leads the charge.
Why Western Kentucky could win: A veteran frontcourt makes the Hilltoppers a force to contend with down low, but this team must find a way to knock down shots from outside.
Prediction: Kansas 94, Western Kentucky 54
Why Georgetown could win: National Player of the Year candidate Otto Porter spearheads an experienced group that defends the perimeter as well as any team in the land. Points are always at a premium against the Hoyas.
Why Florida Gulf Coast could win: The Eagles connect on 46 percent of shot attempts and are capable of catching fire from beyond the three-point arc.
Prediction: Georgetown 79, Florida Gulf Coast 44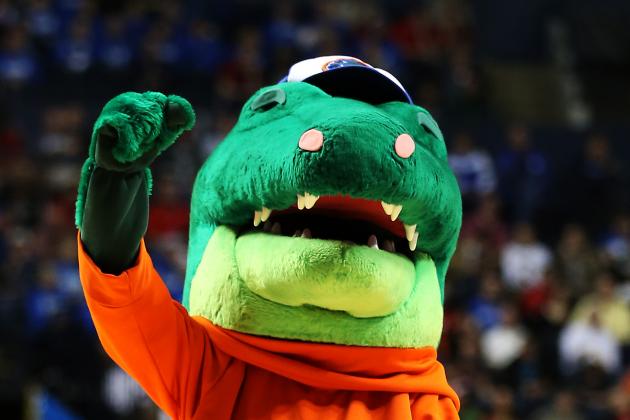 Andy Lyons/Getty Images

Why Florida could win: Coach Billy Donovan is a perennial postseason star and the Gators have enough hungry veteran players to provide the program with another memorable run. Four Florida players average double-digit-scoring efforts.
Why Northwestern State could win: The Demons are the nation's top-ranked scoring team (81 points per game). Leading scorer DeQuan Hicks does most of his damage inside and he has plenty of help. Seven players score at least five points per game for Northwestern State.
Prediction: Florida 74, Northwestern State 71
Why Michigan could win: The productive backcourt tandem of Trey Burke and Tim Hardaway Jr. helps the Wolverines overwhelm opposing defenses at times. Michigan has played nine nationally ranked opponents, so this team has been through the fire together.
Why South Dakota State could win: Senior guard Nate Wolters is among the country's most feared scorers and does a great job of setting up South Dakota State's supplemental players.
Prediction: Michigan 82, South Dakota State 68
Jonathan Ferrey/Getty Images

Why VCU could win: Coach Shaka Smart is considered a postseason stud, especially since leading VCU to a Final Four appearance in 2011. The Rams, who rank 11th nationally in points per game (78), face an Akron squad under a cloud of adversity. The Zips are missing point guard Alex Abreu, who was suspended March 7 after his arrest for marijuana trafficking.
Why Akron could win: Senior center Zeke Marshall is a dangerous post player. With early success, he can set up teammates on the outside.
Prediction: VCU 74, Akron 53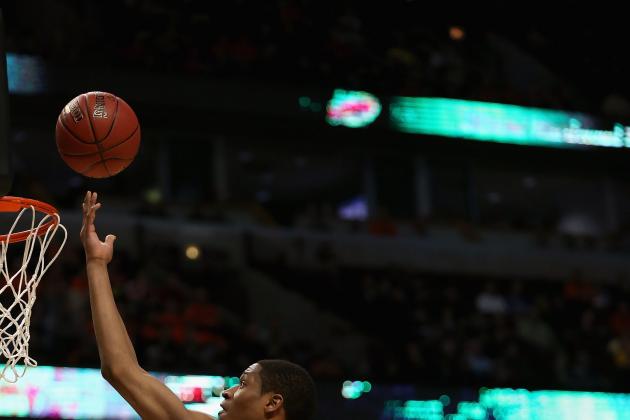 Jonathan Daniel/Getty Images

Why UCLA could win: Despite the loss of standout Jordan Adams to a fractured foot, the Bruins bring a pretty balanced rotation into tournament competition. Freshman Shabazz Muhammad relishes the opportunity to live up to lofty expectations in front of a national audience.
Why Minnesota could win: Tubby Smith has this team fighting for boards inside and it helped result in a surprising 15-1 start to the season. The Gophers rank 17th in the nation in rebounding.
Prediction: UCLA 73, Minnesota 65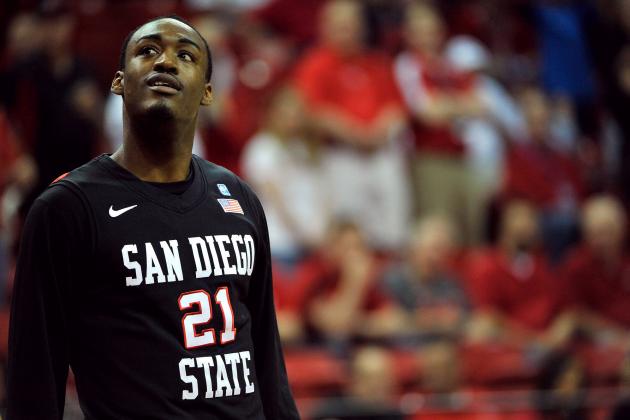 Jeff Bottari/Getty Images

Why San Diego State could win: The Aztecs are a formidable bunch based on superior length across the board. San Diego State typically lives and dies with the performance of junior guard Jamaal Franklin.
Why Oklahoma could win: Oklahoma was among the top rebounding teams in the Big 12 and looks to assert itself inside early. Senior forward Romero Osby has scored at least 18 points in the Sooners' last five contests.
Prediction: San Diego State 68, Oklahoma 65
Why North Carolina could win: Two-time national champion coach Roy Williams leads a Tar Heels team loaded with talent but lacking a statement victory. North Carolina seemed to regain some momentum with a late six-game winning streak and a trip to the ACC tournament title game.
Why Villanova could win: The Wildcats have knocked off three teams ranked among the Top Five nationally (Louisville, Syracuse and Georgetown). Sophomore forward JayVaughn Pinkston reached the 20-point mark in recent matchups against No. 5 Georgetown and No. 4 Louisville.
Prediction: North Carolina 81, Villanova 75
Why Gonzaga could win: The Bulldogs enter the tournament as a No. 1 for the first time in program history after an unbeaten run in the WCC. Junior center Kelly Olynyk is a skilled seven-footer and presents Southern with a matchup nightmare.
Why Southern could win: Malcolm Miller and Derick Beltran combine to give Southern a highly effective scoring tandem at the top of the rotation. The Jaguars are 9-2 since February began.
Prediction: Gonzaga 85, Southern 64
Why Ohio State could win: Guard Aaron Craft has been sensational since arriving in Columbus and keeps a potent Ohio State offense on track. The Buckeyes have beaten four straight nationally ranked teams since Feb. 24.
Why Iona could win: The Gaels pour in points, averaging 80.7 per game. That mark ranks second among all Division I teams.
Prediction: Ohio State 82, Iona 65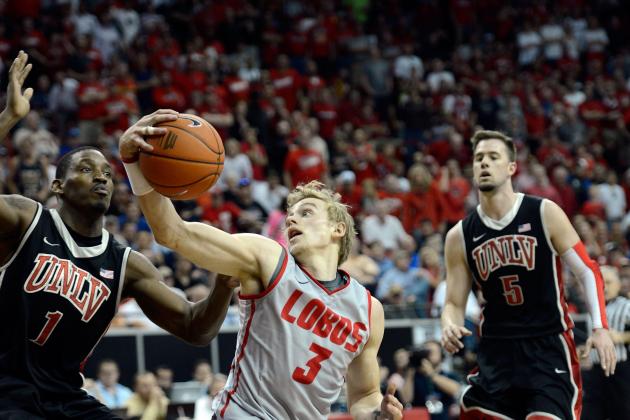 Jeff Bottari/Getty Images

Why New Mexico could win: The Lobos are 4-0 against nationally ranked teams and cruised through conference competition en route to capturing a No. 3 seed. New Mexico started the season 12-0 and features three players who average at least 11 points per game.
Why Harvard could win: The Crimson shoot 48 percent from the floor, placing the squad 12th nationally in that category. Sophomore Wesley Saunders, Harvard's leading scorer, has tallied double-digit point totals in every game this season.
Prediction: New Mexico 71, Harvard 62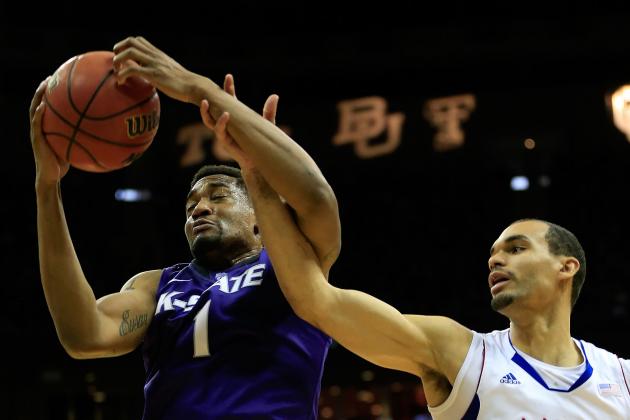 Jamie Squire/Getty Images

Why Kansas State could win: Sophomore point guard Angel Rodriguez spearheads a Wildcats offensive approach that routinely capitalizes on opportunities in the passing game (ranked 13th nationally in assists). Kansas State rarely wastes a possession and displays patience under duress.
Why La Salle could win: Led by senior guard Ramon Galloway, the Explorers own wins over Butler and VCU.
Prediction: Kansas State 76, La Salle 66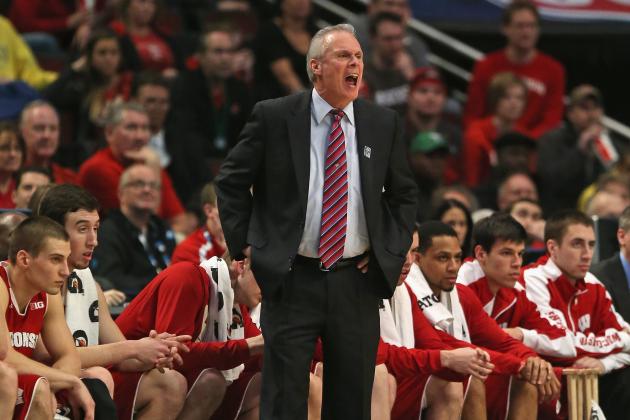 Jonathan Daniel/Getty Images

Why Wisconsin could win: Few teams can contend with Wisconsin down low. The Badgers have the ability to shut down the paint defensively, as Jared Berggren anchors the interior. Teams don't get more battle-tested than the Badgers, who have faced seven teams ranked among the nation's Top 10 at the time of each matchup.
Why Mississippi could win: Ole Miss has momentum on its side. The Rebels have reeled off five consecutive wins and claimed an unexpected SEC championship. If sharpshooter Marshall Henderson gets hot, watch out.
Prediction: Wisconsin 59, Mississippi 53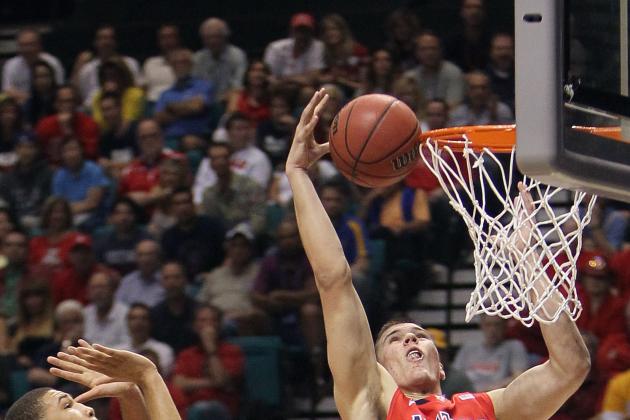 Jeff Gross/Getty Images

Why Arizona could win: Arizona is still fuming after allowing UCLA to rally in the Pac-12 semifinals. The Wildcats can be expected to use the defeat as motivation moving forward. Savvy senior forward Solomon Hill should exploit Belmont's frontcourt.
Why Belmont could win: The Bruins bury shots with great efficiency. Belmont is hitting nearly 50 percent of its attempts from the floor and ranks fourth nationally in shooting percentage.
Prediction: Arizona 73, Belmont 72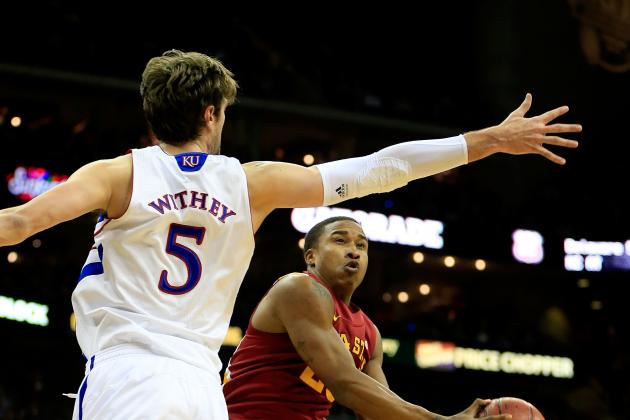 Jamie Squire/Getty Images

Why Notre Dame could win: Built around senior power forward Jack Cooley, the Fighting Irish are among the tourney's most experienced squads. Point guard Jerian Grant helped Notre Dame rise to sixth in national assist rankings during the regular season.
Why Iowa State could win: The Cyclones are the nation's fourth-highest-scoring squad, averaging nearly 80 points per game. Senior guard Tyrus McGee is a 46 percent three-point shooter, setting the tone for a team that thrives on long-distance connections. Bad news for a Notre Dame squad that had its share of defensive struggles in Big East action.
Prediction: Iowa State 81, Notre Dame 79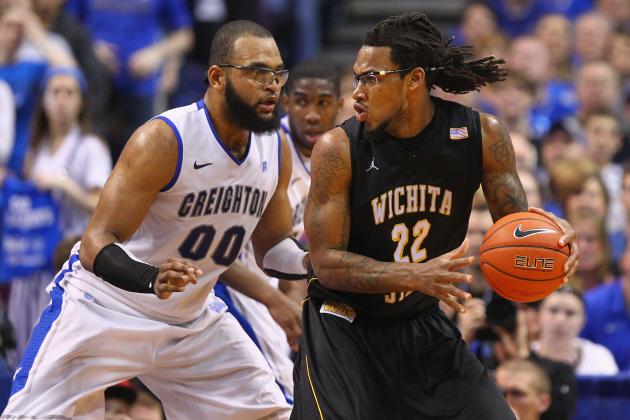 Dilip Vishwanat/Getty Images

Why Pittsburgh could win: The Panthers lack a true go-to superstar but make up for it with persistent defense and an abundance of options throughout the lineup. Pittsburgh is built on its depth, evidenced by a rotation that routinely reaches 10 deep.
Why Wichita State could win: The Shockers should hold their own underneath. Wichita State excels on the glass, ranking 27th nationally in rebounding. Senior forward Carl Hall caught fire late in the regular season and carried that success into the MVC tournament, where he averaged almost 16 points per game.
Prediction: Wichita State 60, Pittsburgh 55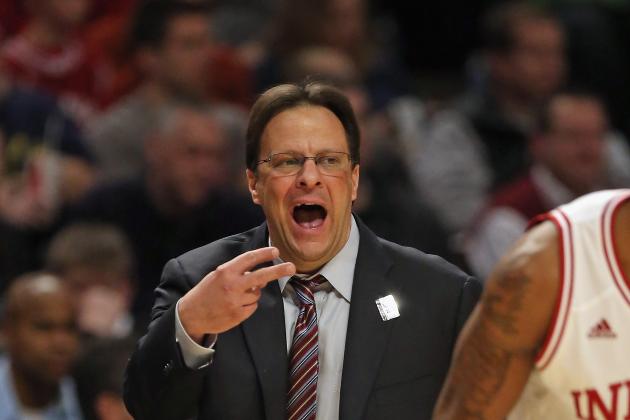 Jonathan Daniel/Getty Images

Why Indiana could win: Where to start? The Hoosiers feature two legitimate superstars—Victor Oladipo and Cody Zeller—but that pair is only part of a deep lineup implemented by coach Tom Crean. Indiana is in total title-or-bust mode this spring.
Why James Madison could win: The Dukes strut into the NCAA tournament on a roll after capturing an unexpected CAA title. James Madison senior Rayshawn Goins is a double-double threat each time he steps onto the court.
Prediction: Indiana 101, James Madison 56
Why Miami could win: After dropping three late regular-season matchups, the upstart Hurricanes regained confidence with an impressive run to the program's first ACC title. Miami's lineup is filled with seniors, so lack of motivation certainly won't be a factor. Sophomore guard Shane Larkin averaged approximately 24 points per game in the ACC tournament.
Why Pacific could win: Pacific reeled off seven straight wins to claim the Big West title. The Tigers' attack is based on the ability to knock down outside shots, as four members of the team's rotation shoot better than 40 percent from three-point range.
Prediction: Miami 75, Pacific 54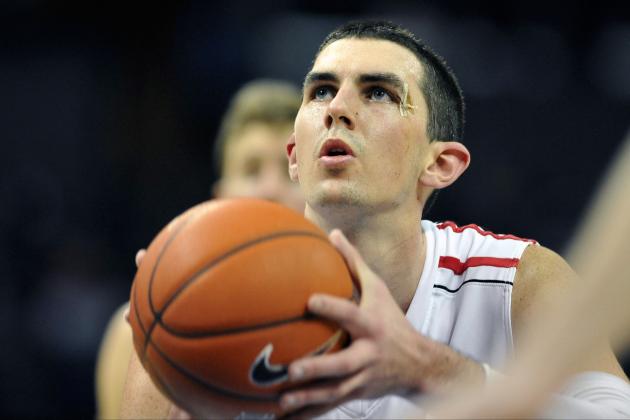 Lance King/Getty Images

Why Marquette could win: The Golden Eagles impressed in the highly competitive Big East conference, capturing a share of the regular-season title. Junior forward Davante Gardner was the best sixth man in the Big East this season and provides a jolt of the bench.
Why Davidson could win: The Wildcats won't go down easily after riding a 17-game winning streak into the NCAA tourney. Davidson battled with Duke and Gonzaga earlier in the season, so this squad is no stranger to taking on top-tier opponents outside the Southern Conference.
Prediction: Davidson 61, Marquette 59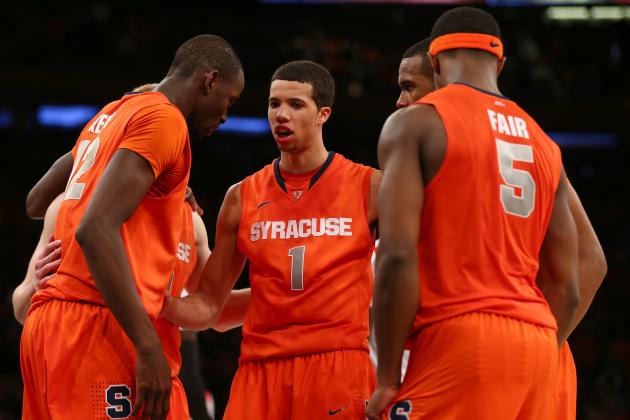 Elsa/Getty Images

Why Syracuse could win: Syracuse found its swagger in the Big East tourney. After losing seven of 12 to end the regular season, the Orange surged to a conference-title-game appearance during a run that saw James Southerland catch fire from three-point range. Sophomore point guard Michael Carter-Williams is an elite ball distributor and takes this team to another level when he finds his stroke from mid-range.
Why Montana could win: The Grizzlies gained steam in the second half of the season, finishing 21-2 in the final 23 games. Montana swingman Kareem Jamar is the back-to-back Big Sky Conference tournament Most Valuable Player.
Prediction: Syracuse 80, Montana 58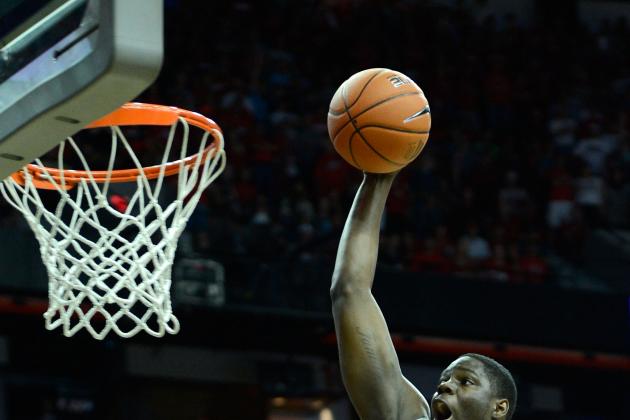 Jeff Bottari/Getty Images

Why UNLV could win: The Rebels rank sixth in the nation in rebounds and refuse to give up space on the glass. Freshman power forward Anthony Bennett averages 16 points and eight rebounds per contest, providing UNLV with a formidable force in the paint.
Why California could win: The Golden Bears have given up fewer than 60 points in each of their last four victories. Junior guard Allen Crabbe rose to prominence as one of the most versatile playmakers in the Pac-12.
Prediction: UNLV 62, California 51
Jason Szenes/Getty Images

Why Butler could win: The team reached back-to-back national titles (2010 and 2011) recently and head coach Brad Stevens always has his team ready to compete come tourney time. Senior guard Rotnei Clark has been the team's best player since his 2011 transfer from Arkansas.
Why Bucknell could win: The Bison shoot 46 percent from the floor and do an excellent job of establishing offense inside. Senior center Mike Muscala averages a double-double (19 points, 11 rebounds).
Prediction: Butler 72, Bucknell 51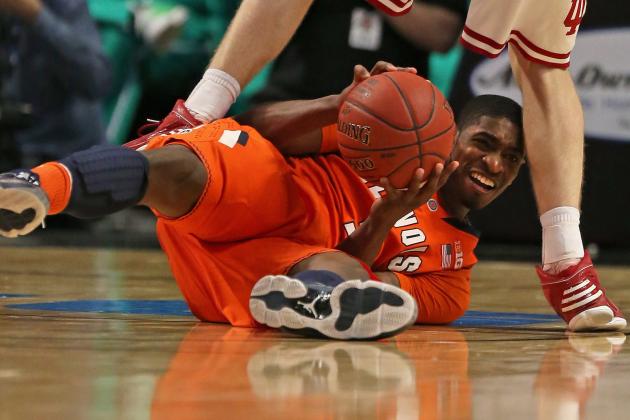 Jonathan Daniel/Getty Images

Why Illinois could win: The Illini began the season 12-0 and weathered the storm during a tumultuous Big Ten season. This battle-tested bunch is led by senior guard Brandon Paul, who played a pivotal role last season and grew as a leader this winter.
Why Colorado could win: The Buffaloes are at their best when burying shots from long distance, although it's an inconsistency that has hurt the team during stretches. If Colorado comes out firing with effectiveness from beyond the three-point line, it would present a difficult task for Illinois because the Buffaloes are already a potent team around the rim. Five Colorado players average at least nine points per game.
Prediction: Illinois 64, Colorado 61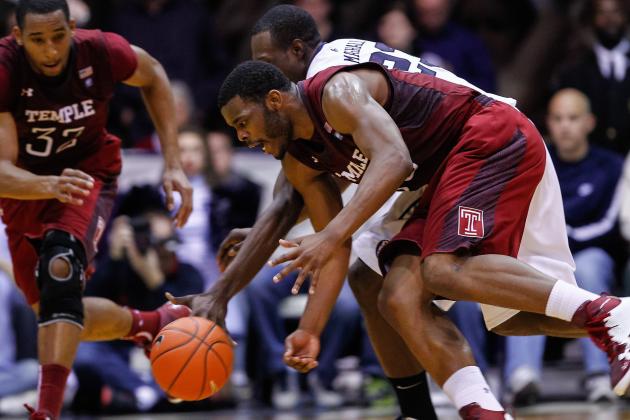 Michael Hickey/Getty Images

Why NC State could win: The Wolfpack are loaded with talent and despite falling short of preseason expectations (picked to finish first in ACC), NC State is a scary squad when it flicks the switch. It's been a roller-coaster season for supremely talented junior forward C.J. Leslie and highly touted freshman Rodney Purvis. Both players are motivated to silence the doubters.
Why Temple could win: Khalif Wyatt averages nearly 20 points per game as the Owls' offensive catalyst. Coach Fran Dunphy has assembled a poised squad that plays hard on both ends of the court. Temple is 9-2 in its last 11 matchups, scoring at least 71 points each game.
Prediction: Temple 68, NC State 60
Can't get enough of the NCAA tournament?
Make your picks for the 2013 NCAA tournament here with the Bracket Challenge Game.