Chelsea vs. West Ham: 6 Things We Learned from 2-0 Win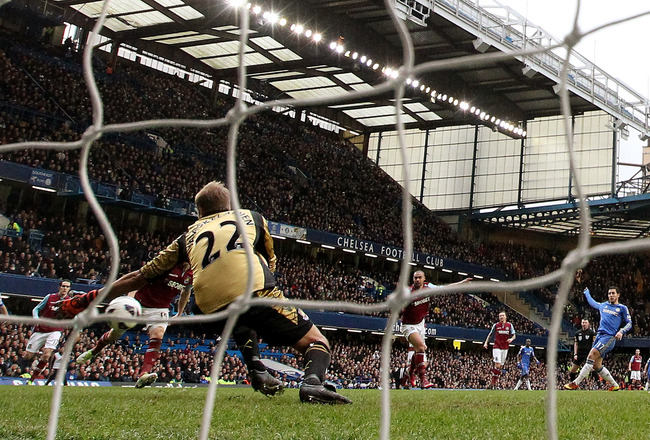 Scott Heavey/Getty Images
West Ham made the trip down the District Line to Chelsea, hoping to do the double over their London rivals. They had recorded a 3-1 win over the Blues in Rafa Benitez's third game in charge back in December 2012, despite the Spaniard's promise to get the team winning.
The Hammers were to be disappointed as their former player Frank Lampard headed home his 200th Chelsea goal from an Eden Hazard cross. It was the Belgian who stole the show in a man-of-the-match performance that was capped by a goal of his own in the second half.
Having received a pass from Juan Mata similar to his own earlier effort for Lampard, Hazard jinked across the face of goal before firing a left-footed shot back into the far corner.
Demba Ba squandered several chances to turn a comfortable win into a rout. and West Ham were furious to have an Andy Carroll goal ruled out for a foul on David Luiz. Chelsea finish the weekend back in third place, while West Ham will be casting their eyes down the table and hoping to stay out of reach of relegation.
Here are six things we learned from a confident Chelsea win.
Frank Lampard Will Beat Bobby Tambling's Goal-Scoring Record
Scott Heavey/Getty Images
It seems like an obvious one as the prolific midfielder, Frank Lampard, had scored 199 goals for Chelsea before this match, but after a solid scoring spell over the festive season, he had failed to find the net since February's FA Cup replay against Brentford.
He has appeared dejected in recent weeks as a new deal keeping him at Stamford Bridge beyond season's end has still not been reached, and many fans were beginning to worry that he could fall agonisingly short of this milestone.
Scoring a landmark 200th goal in a Blue shirt against his former club will have given Lampard a massive boost with at least 11 games left to play for Chelsea this season. Even with Rafa Benitez's rotation policy, he should see enough match time to surpass the Sixties' striker's record of 202 goals.
.
Rafa Benitez's Rotation Is Entirely Random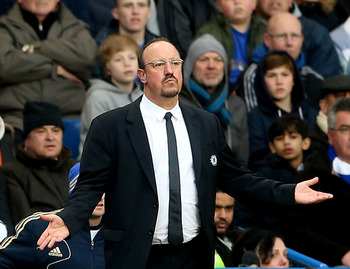 Scott Heavey/Getty Images
This game was played ahead of an international week which will see the majority of Chelsea's squad head off across the globe to represent their countries in World Cup qualifiers and friendly matches.
With match fitness apparently the primary reason for John Terry's recent absence, it would surely have been prudent for Rafa Benitez to start the club captain, who retired from international football in 2012.
Terry sat on the bench, occasionally going for a warmup which greatly antagonised the travelling support, until the 77th minute when he came on for David Luiz. How he is supposed to regain his match fitness without being involved in more than 15 minutes of a game is a valid question, but there are other omissions that are just as befuddling.
The Three Amigos were electric at the start of the season, providing scintillating displays of telepathic, tiki-taka football. Since Benitez took charge of the club, he has rarely deployed them together, and their performance against Premier League leaders Manchester United in the FA Cup shows that there is little rationale behind this.
He knows that he is leaving at the end of the season, so there is no long-term planning involved in his tinkering, and it seems bizarre to leave out your best defender and dismantle your most lethal midfield trio, all for the sake of change.
Chelsea Should Give 4-3-3 a Chance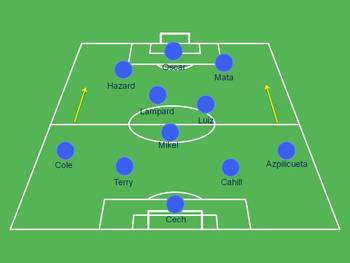 The Three Amigos have combined this season to rack up a ridiculous number of goals and assists between them, whilst Fernando Torres has continued to flounder. Demba Ba is yet to get a good run in the side, and his ineligibility for the Europa League leaves Torres as the only option in a 4-2-3-1.
The introduction of a 4-3-3 would line up with one defensive midfielder and two supporting, with Mata, Hazard and Oscar leading the attacking line. If Benitez really wants to shake things up he could do a lot worse than trying this out. Failing that...
Chelsea Still Need a Striker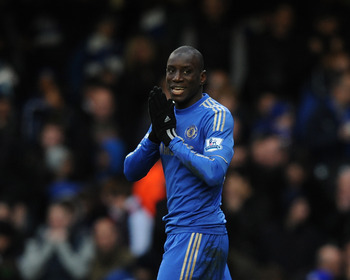 Steve Bardens/Getty Images
Torres scored in the Europa League tie prior to this match, but was rested in favour of Demba Ba for this London derby. Ba wasted two excellent chances in the first half and drifted out of the game, as Eden Hazard and Juan Mata took over the attacking duties.
If Chelsea are going to persist with the 4-2-3-1, they will need to shop for another striker in the summer to support the Senegalese.
Having the Away Fans Behind the Goal Does Not Work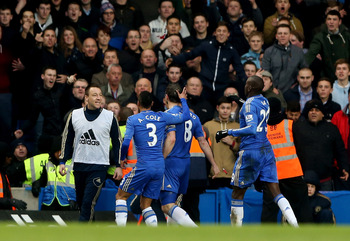 Scott Heavey/Getty Images
In 2004, the family section at Stamford Bridge was moved from the Shed End in an attempt to improve the match-day atmosphere. The noise behind that goal is certainly louder now, but the consequence is that just under half of the stand is filled with away fans.
The main issue with this centres on celebrations. After scoring his 200th goal for the club, Lampard ran over to celebrate with John Terry who was warming up near the corner flag. Unfortunately, that corner of the ground also housed the away fans and the Metropolitan Police are investigating allegations of missiles being thrown from the stands.
The passion of the fans is what makes the match-day atmosphere, but if you put opposing sets of supporters in close proximity to the area of the pitch where the game is won and lost, things have a far higher chances of getting out of control.
If the away fans were moved back to the East Stand with the family area swapped to the West Stand there is every chance that the atmosphere would improve further.
Chelsea Will Qualify for the 2013-14 Champions League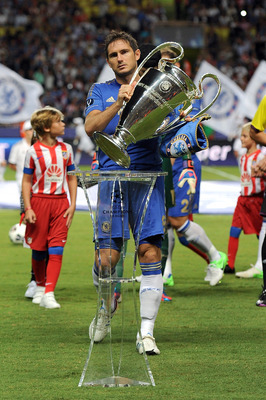 Chris Brunskill/Getty Images
Having picked up a vital three points on the same day as Tottenham Hotspur lost their first home game since November, Chelsea are a point clear of their closest rivals with a game in hand.
The way the season has panned out, so far, it would be foolish to entirely ignore the possibility of a last-minute implosion, but this win was important in providing a confidence boost as the international break approaches. With six games in 16 days followed by a trip to Russia awaiting them when they return, the attitude of the squad will make or break this season.
Keep Reading

Chelsea: Like this team?