Cards' 2013 Mock Draft: Full 7-Round Predictions After First Week of Free Agency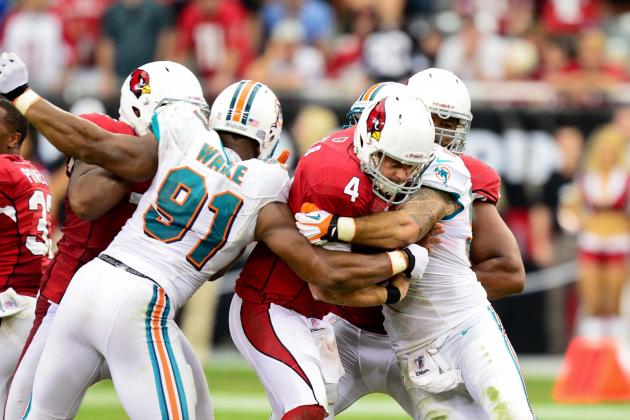 Matt Kartozian-USA TODAY Sports
Kevin Kolb (center) was released Friday.
The Arizona Cardinals made some moves in the first week of free agency which bring their needs at the draft into focus. The biggest move was releasing quarterback Kevin Kolb on Friday to avoid paying him a $2 million roster bonus that would have come due Saturday. It also gives the Cardinals significant relief against the salary cap.
The signing of quarterback Drew Stanton to a three-year contract signals that Arizona thinks they might have their quarterback issue resolved.
The first week of free agency gave clarity to the Cardinals' blueprint for a successful run at the draft. Keep in mind Arizona has two sixth-round picks but no seventh-round pick as a result of the AJ Jefferson trade with the Vikings last August.
The NFL draft is a month away, but you can start the slideshow below for our predictions.
Begin Slideshow

»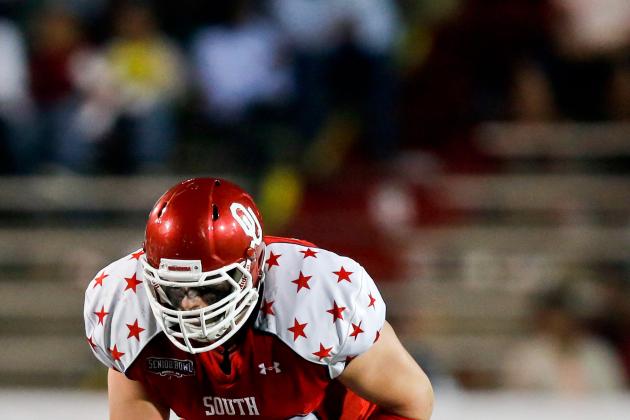 Derick E. Hingle-USA TODAY Sports
Lane Johnson could be making running lanes in Arizona.
Arizona desperately needs help on the offensive line and Lane Johnson should be the their first-round pick. By the time the Cardinals come up at the seventh spot, it's expected that offensive tackles Luke Joeckel and Eric Fisher would be off the board.
There have been plenty of people who think Arizona should take a quarterback in the first round such as Matt Barkley from USC or Geno Smith from West Virginia. That would be the worst thing the Cards could do.
Arizona signed Drew Stanton to a three-year contract this past week. It would be baffling to see them draft a quarterback in the first round given Stanton's contract and knowledge of Bruce Arians' offense.
Ryan Lindley and John Skelton are still on the roster for now, as is Brian Hoyer. Regardless of how the quarterback situation shakes out, it's highly unlikely that Arizona would take a quarterback in the first round.
Taking that into mind, Johnson is the best bet for Arizona. His size and athleticism would be a great fit and help cut down on the ridiculous number of sacks (163) the Cardinals' offensive line has allowed over the last three seasons.
This season's draft class doesn't have the home run quarterbacks like last year's draft, and besides, how long would a quarterback last behind the offensive line if it continues to leak?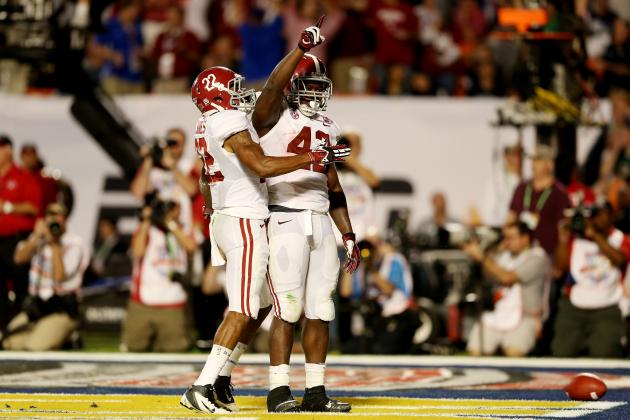 Streeter Lecka/Getty Images
Lacy could be a feature back for the Cardinals in the second round.
Arizona's second-round pick could be Eddie Lacy of Alabama. There's still chances to address the offensive-line issues later in the draft, but the Cardinals should go running back here.
At 5'11" and 231 pounds, Lacy is the kind of back who can take a pounding and still deliver results. He ran for 1,322 yards on 204 carries for a 6.5 yards per carry average. He scored 17 touchdowns last season and would make a great 1-2 punch with Rashard Mendenhall, who Arizona signed as a free agent last week.
The other reason that Arizona would be best suited going running back in the second round would be fairly obvious. None of the quarterbacks on the roster at this time give off that air of being able to carry a team through the passing game if needed.
Another powerful runner would take the pressure off of whomever winds up under center for the Cardinals in 2013.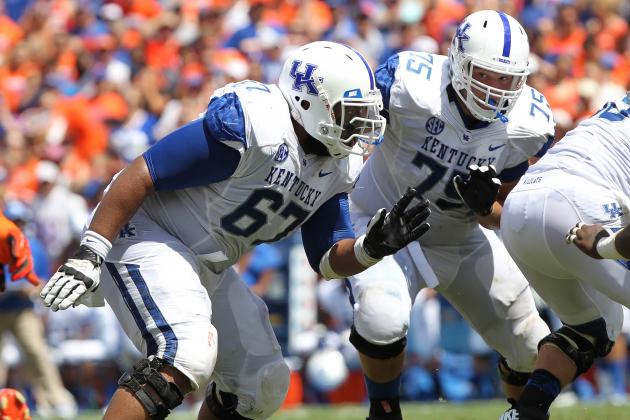 Kim Klement-USA TODAY Sports
Warford would be the kind of big guard Arizona needs.
Larry Warford would be the second offensive lineman drafted in the first three picks for Arizona if things fall according to this mock draft.
Arizona still needs help on the offensive line, and Warford has the durability that the team has lacked. Warford started his last 37 games in a row for Kentucky and didn't allow a single sack his senior year. That made Warford the first Kentucky lineman with AP All-American designation in 36 years.
The downside is his speed, as Warford clocked a 5.58 40-yard dash time at the combine. Don't expect him to get out and throw lead blocks at the second level, but he should excel in pass protection.
At 6'3" and 332 pounds, Warford has the size and the technique to make life difficult for oncoming pass-rushers. Given how often the Cardinals' offensive line is called on to protect the quarterback, Warford would make a great fit in the third round of the draft.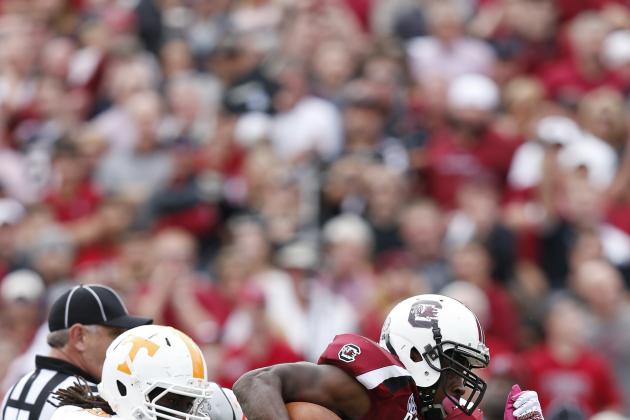 Joe Robbins/Getty Images
Lattimore races for the open field against Tennessee.
Arizona's run of taking SEC players could continue in the fourth round with South Carolina running back Marcus Lattimore.
Everyone saw how his 2012 campaign ended against Tennessee. Lattimore is recovering well after getting his knee repaired by Dr. James Andrews, but how much he could play in 2013, if at all, remains to be seen. Lattimore and South Carolina has its pro day on March 27th, and that will go a long way to determining where he goes in the draft.
It could be worth picking Lattimore and stashing him away for this season. He could use the extra time to recover and be ready for 2014. That would make him a built-in option if Mendenhall were to get injured, perform poorly or doesn't re-sign with the Cards after his one-year deal runs out.
If healthy, Lattimore could easily find himself in the top 10. It's worth the risk if Arizona can get a first-round talent for a fourth-round price.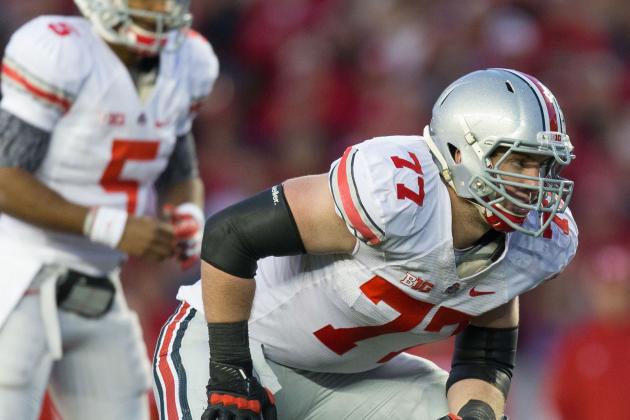 Jeff Hanisch-USA TODAY Sports
Fragel would be a massive addition to the Arizona line.
Reid Fragel would be a smart pick in the fifth round for the Arizona Cardinals. Fragel played offensive tackle for the Buckeyes for just one season, but was impressive during that time.
He stands 6'8" and 308 pounds, so he has the size to play the position. He recorded a 5.14 40-yard dash at the combine and knocked out 33 repetitions on the bench press. He brings power with size and athleticism to the table, and that's just what Arizona needs.
Fragel only played one season on the line because his two previous seasons were as a backup tight end. He made the move after being convinced by Urban Meyer to do so, put on 20 pounds of muscle and didn't lose any quickness.
His ability to play on both sides of the line adds to his value, and he could also be a sneaky option in the passing game on tackle-eligible plays as well.
Fragel would give Arizona another big body to work with as they try to fix the offensive line.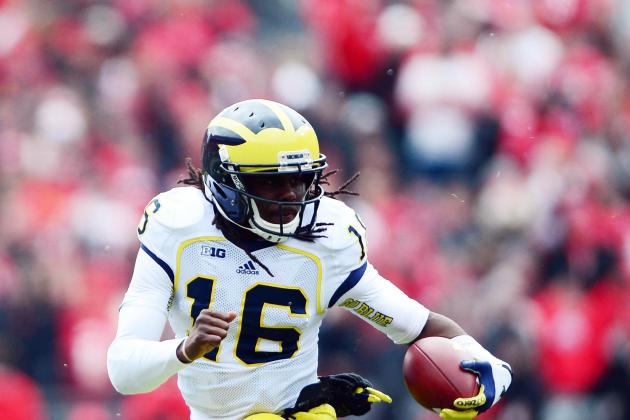 Andrew Weber-USA TODAY Sports
Robinson could be a versatile weapon for Arizona.
Denard Robinson worked out at the combine as wide receiver, but is more of a Swiss Army Knife when it comes to what he could do.
Robinson has blazing speed (4.43 40-yard dash) and can leap for the high passes with his 36.5-inch vertical. He can line up practically anywhere on the field and create matchup problems. His speed makes him a threat on plays like screen passes, but he can also take a handoff and create something rushing the ball as well.
A lot of attention was put on Robinson's throwing ability, which was taken away when he injured his elbow against Nebraska last season. Despite his reduced passing capacity, people overlook the fact that he ran for 1,166 yards and seven touchdowns on 154 carries. That's 7.5 yards per carry and difficult to walk past without a look.
Arizona signed wide receiver Joshua Cribbs this week in free agency and he looks to be in place to return kickoffs for the Cardinals. Robinson would be another speedy compliment to the Cardinals' wideouts.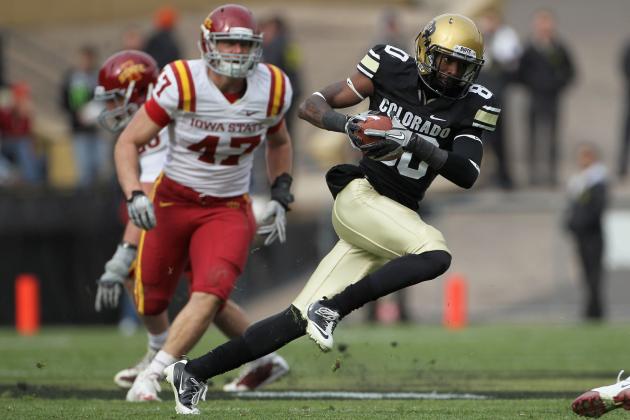 Doug Pensinger/Getty Images
Klein (left) chases down a Buffalo.
AJ Klein is an inside linebacker from Iowa State that has the talent and physical skills to perform at the NFL level. He just doesn't have the hype, and that's perfectly fine.
Klein stands out for having four interception returns for touchdowns, which tied for the most by any FBS linebacker. His size (6'1" 245 pounds) and speed (4.66 40-yard dash) catch people's eyes and his performance at the East-West Shrine Game brought up his draft stock. His abilities in the open field is also a great strength to have for a linebacker.
Klein's motor doesn't stop and he has great instincts to get to the ball. Arizona could use some of that after getting run all over in 2012. With his strong abilities in zone-pass coverage, Klein can be a valuable asset on defense for the Cardinals.