SEC Football: Each Team's Most Dynamic Playmaker on Offense for 2013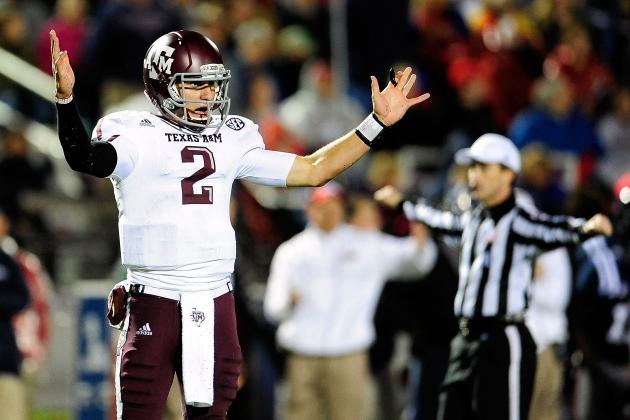 Stacy Revere/Getty Images

The SEC will always be a conference known for its aggressiveness on the defensive side of the ball, but we are seeing an increase in offensive playmakers. This is no longer a group of teams that go out and overwhelm you defensively, and do just enough on the offensive end to get by.
Speed and flashy players are being added on the other side of the ball, and it is exciting to see.
We just saw a playmaking quarterback from this conference win the Heisman Trophy. Two SEC receivers finished in the top 10 in the country in receiving yards last season. And then we can't possibly forget about the many true-freshmen running backs that took college football by storm a year ago.
The offense is matching up with the defense, and there are plenty of playmakers to choose from on each team.
Here is the most dynamic skill position player on each team in the SEC as we head into the 2013 college football season.

Note: All stats come from cfbstats.com unless otherwise noted.
Begin Slideshow

»
Kevin C. Cox/Getty Images

From the Alabama spring game last season, T.J. Yeldon quickly turned heads. He then did the same thing for much of the regular season, rushing for 1,108 yards, averaging nearly 12 yards a reception and scoring 13 total touchdowns.
Now just imagine what he would be able to do with a full season as a starter.
Yeldon is the type of player that you must know where he is on the field at all times. With game-changing speed, elusiveness and ability to hit the homerun, he is the complete package at running back. He also has above-average hands for the position, making him a threat slipping out of the backfield and snagging a few passes.
This is the type of playmaker that every offense needs, and he will only provide more value for Alabama now that he is in position for a larger workload.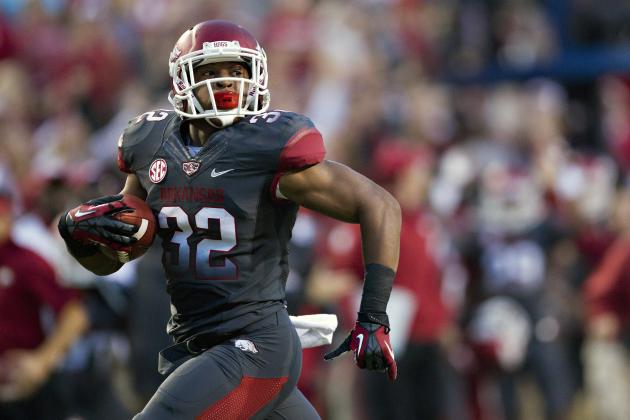 Wesley Hitt/Getty Images

Finding an actual playmaker for Arkansas was a bit difficult. This is an offense that doesn't return many familiar faces after having several star players just a season ago.
However, Jonathan Williams does have the potential to be that dynamic playmaker for the Razorbacks. Stuck in Knile Davis shadow as a true-freshman last year, he only touched the ball 45 times, but he did average a little more than five yards a carry. Williams also caught eight passes for 208 yards, showing that he can provide that offensive spark in the receiving department as well.
Williams is a big-play runner, who should do a good job of keeping this offense from completely falling off the map production wise. New head coach Bret Bielema loves the ground-and-pound game, and he has a solid piece to build around with Williams in the backfield.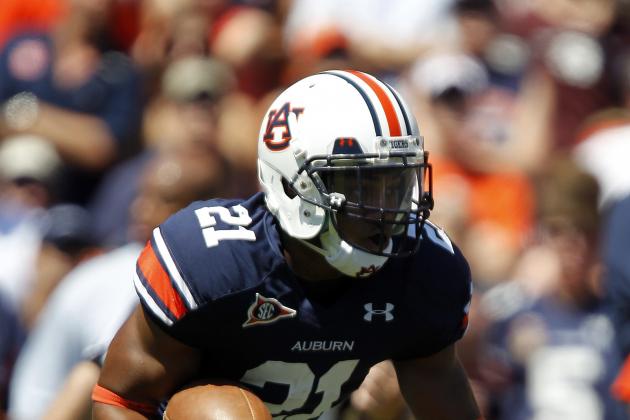 Butch Dill/Getty Images

The Auburn offense is going to be in better hands now that Gus Malzahn is calling the shots. After all, majority of the current offensive players were recruited to play in the spread offense under the current head coach.
No player should thrive more in the new system than running back Tre Mason. Not the biggest in stature at 5'10", this is a shifty runner with quick feet and ability to go the distance with the ball in his hands. Last season he averaged nearly six yards a carry, caught seven passes and was even a factor on special teams.
Mason really has the potential to emerge as one of the better backs in the entire country. Now it's just really a question of whether or not guys around him can step up and remove some of the pressure off of his shoulders.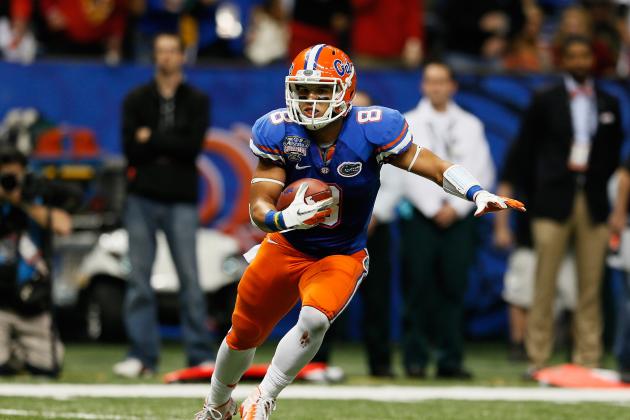 Kevin C. Cox/Getty Images

In an offense that struggled to move the ball and score points, Trey Burton has been the most consistent offensive player over the years for the Florida Gators.
Listed as a fullback in the Florida offense, Burton is really the utility man who is asked to do it all. Sometimes he will be responsible for blocking, you will see him line up as a wide receiver, other times he will run the ball, and he has even thrown the ball a few times. Burton really does a little bit of everything for the Gators, and his versatility really keeps the opposing defense on its toes.
Florida must find other guys to step up offensively, but having Burton back for another season really gives this team a unique weapon that not many have on its roster.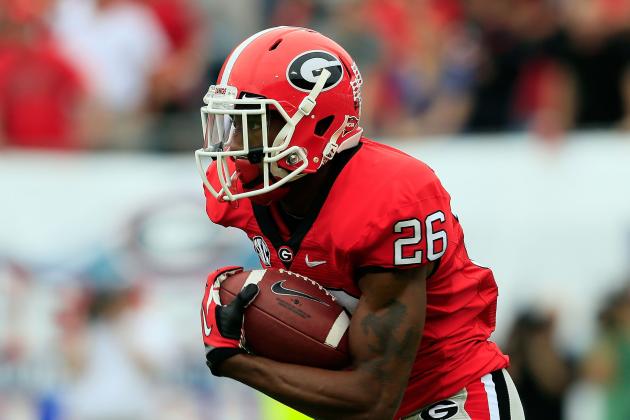 Sam Greenwood/Getty Images

Malcolm Mitchell proved just how dynamic he was earlier in the season when he spent time playing on the defensive side of the ball as a defensive back. Finishing with 12 tackles and three broken up passes, he really helped keep the Bulldogs from losing it defensively.
Even with an impressive audition, Mitchell is a playmaking wide receiver at heart. With his size at 6'1" and incredible speed, he helps stretch the field and is more than capable of coming up with those big receptions. Last season he finished with 40 catches for 572 yards and four touchdowns, while also running the ball a few times.
Mitchell is an explosive receiver who can beat defenses over the top with just one mistake by the safety. Now that Tavarres King is no longer in the picture, the numbers should only increase for Mitchell moving forward.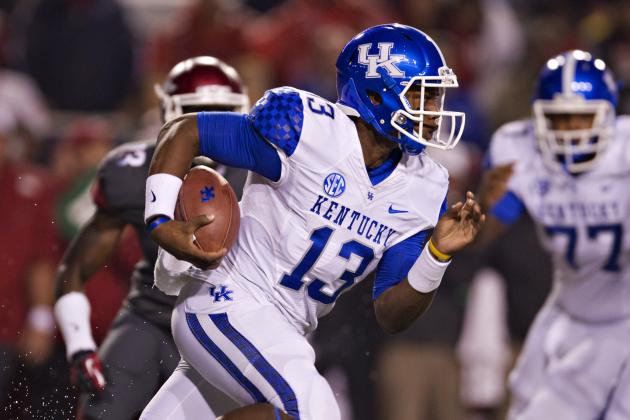 Wesley Hitt/Getty Images

It remains to be seen who the starting quarterback is going to be for the Kentucky Wildcats. With Maxwell Smith returning from injury, there is a good possibility that Jalen Whitlow could find himself accepting a backup role in the 2013 season.
However, that doesn't change the fact that he is the most dynamic offensive player for the Wildcats. A dual-threat signal-caller, Whitlow completed 54 percent of his passes in 10 games and ran for 206 yards on 68 rushing attempts. In fact, 16 of those runs picked up first downs for Kentucky, while two of them went for more than 20 yards.
Whitlow is a fine athlete who can even line up at wide receiver if things don't work out at quarterback. Either way, he is an offensive weapon that the Wildcats must find ways to use within the offense in the upcoming season.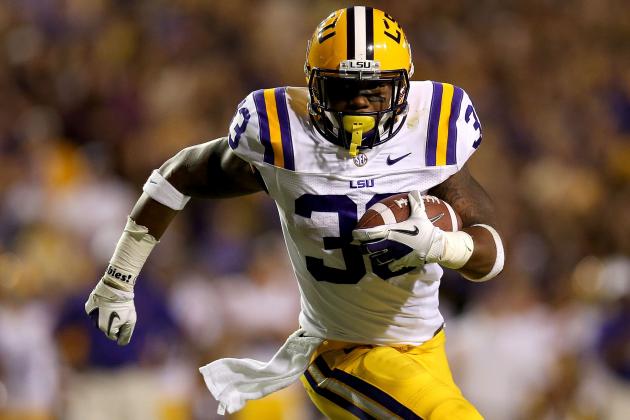 Matthew Stockman/Getty Images

In a running back by committee for LSU, it was somewhat surprising to see freshman Jeremy Hill step on the scene and kind of takeover as the lead runner. But that is exactly what he did as he led the Tigers with 142 carries, producing 755 yards and 12 touchdowns.
Not the flashiest or fastest back on the roster, Hill is more of a downhill runner, who rarely goes down on initial contact and uses his quickness to find the open lane. He does a good job of breaking tackles and it is his hands that make him a dynamic player, as he also caught eight passes last season.
Hill has proven in a sort amount of time to be a consistent runner that can carry the workload. He has also shown to be a dynamic playmaker that this Tigers offense has been desperately searching for.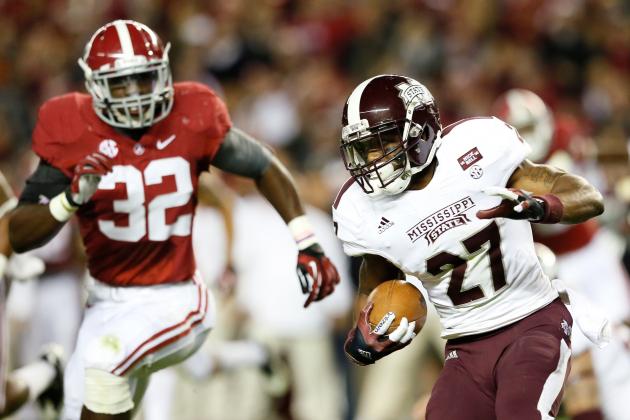 Kevin C. Cox/Getty Images

Quick question: Name one returning Mississippi State offensive player besides LaDarius Perkins, and I'll give you a dollar.
The fact is that the Bulldogs lose a ton of production at the receiver spot, forcing the workhorse runner to carry much of the load yet again. With 205 carries under his belt last season, Perkins was one of the more unappreciated players in the country, rushing for 1,024 yards and scoring 10 total touchdowns. He also set a career high with 19 receptions and was even a factor on kick returns as well.
Perkins isn't just the most dynamic offensive player for Mississippi State, but he happens to be the bread and butter of this unit. This offense will really go as far as he carries it, much like it was last season.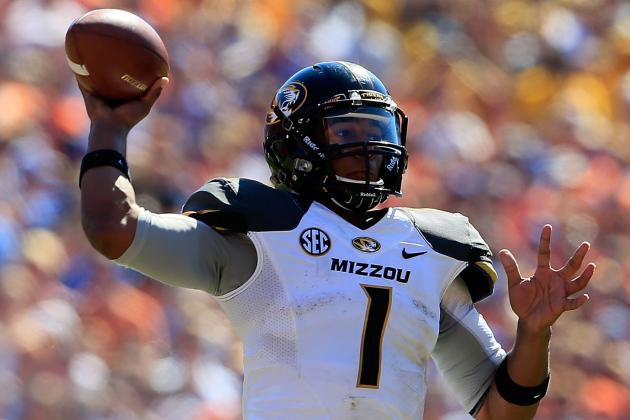 Sam Greenwood/Getty Images

Depending on the overall health of quarterback James Franklin, Missouri should end up being one of the more improved teams in this conference.
Sure, everybody got the giggles out of the way with the Tigers struggles last year, but Franklin spent much of the year recovering from injuries. When this kid is healthy, he is easily a top-five dual-threat quarterback in the country. Let's not forget that back in 2011, he threw for 2,872 yards, ran for 981 yards and scored 36 total touchdowns.
Franklin is somebody who can take over a game like a Johnny Manziel or Braxton Miller. Hopefully he is ready to go for the upcoming season because he will give Missouri a fighting chance to silence some of those critics.
Andy Lyons/Getty Images

Nickolas Brassell is listed as a member of the 2013 class because he had to go the JUCO route due to poor academics.
But Ole Miss fans should be very familiar with Brassell and his playmaking ability. This is somebody who played for the Rebels back in 2011 and was effective in many different ways. He picked up 336 receiving yards, 133 rushing yards and scored three total touchdowns, which includes a punt return for a score. Keep in mind: He was a true-freshman back then.
Brassell brings a ton of speed to the table and is capable of providing a spark in many different ways for the football team.
This is someone who should see the field rather early and pick up where he left off a couple of years ago.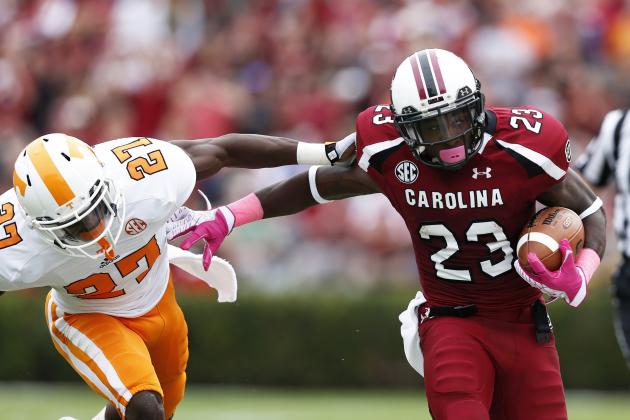 Joe Robbins/Getty Images

You know Bruce Ellington is an all-around great athlete because he happens to be the starting point guard for the South Carolina Gamecocks basketball team.
On the football side of things, he led the team last year with 600 receiving yards and took seven of his 40 receptions into the end zone. Ellington was also an effective kick returner for the Gamecocks and averaged a little more than five yards on five rushing attempts. With great hands and elusiveness in the open field to make defenders miss, Ellington is a true playmaker who should continue to thrive with an expanded role within the offense.
Now that Ace Sanders is no longer in the picture, the sky is really the limit for this two-way athlete.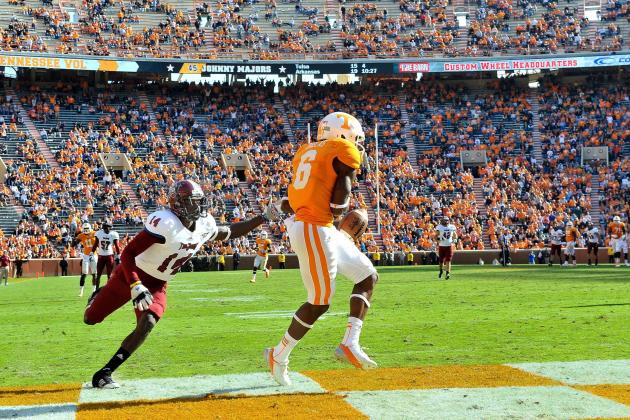 Jim Brown-USA TODAY Sports

Vincent Dallas is so athletic; he has spent time at wide receiver, defensive back and is now being thrown back in the mix as a wide receiver once again.
He hasn't put up incredible numbers in his first two seasons, but a lot of that had to do with him playing behind future NFL players in Justin Hunter, Cordarrelle Patterson and Da'Rick Rogers.
Dallas is a quick receiver at 5'11", and he does a good job breaking in and out of his cuts. He does a nice job of snagging the football and can pick up nice chunks of yards after the catch, as he averaged 16.6 yards a reception last season. With his ability to make plays with the ball in his hands, it wouldn't be surprising to see him included on a few trick plays this season, as he can be that game-changing player for the Volunteers.
This is a player that has had to wait his turn with a loaded roster at the receiver position. Now Tennessee fans will finally see what he is truly made of this year.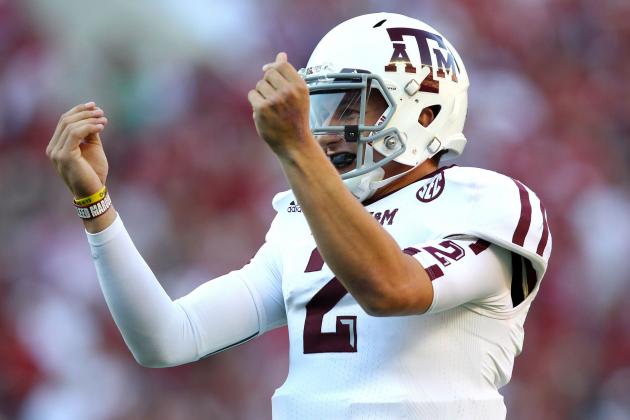 Mike Zarrilli/Getty Images

Well, this is a shocker.
Until defenses figure out how to stop Johnny Manziel from being awesome, he will continue to be the most dynamic player in all of college football. He absolutely abused SEC defenses last year with both his legs and arm, setting an SEC single-season record for total yards and becoming the first freshman to win the Heisman Trophy.
It really made you wonder last season if there is anything he can't do at the quarterback position. Putting up video game numbers, Manziel has taken over college football as of late and will continue to be the most talked about player until somebody designs the blueprint on how to stop him.
Manziel will continue to make this Texas A&M offense go and is much of the reason the Aggies are even in national championship conversations.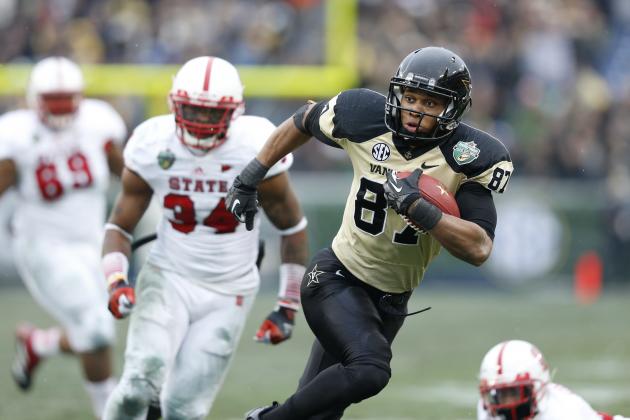 Joe Robbins/Getty Images

If Jordan Matthews didn't play for a school that is more known for producing high grade point averages and less football stars, he would be in the same conversation as Marqise Lee for best receiver in the country.
Matthews caught 94 passes last season for 1,323 yards and eight touchdowns. A total of 34 of those receptions went for at least 15 yards and 54 of them picked up a first down. At 6'3", the Vanderbilt receiver has the combination of size and speed that is going to receive many NFL scouts' attention.
Capable of lining up inside or outside on the line, Matthews is really the marquee playmaker on this Vanderbilt offense.
Considering he finished with at least 44 more receptions than everybody on the roster last season, I think it is safe to say that he is the most dynamic offensive player for the Commodores.