Sacramento Kings vs. LA Lakers: Live Score, Results and Game Highlights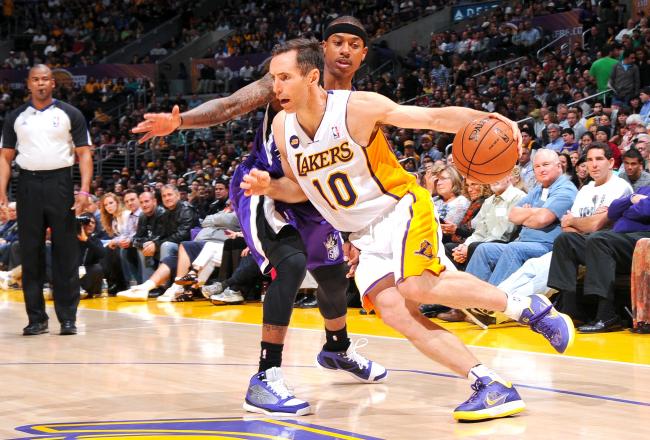 Commentary from the L.A. Lakers' 113-102 victory over the Sacramento Kings at the Staples Center in Los Angeles on March 17, 2013.
Keys to the Lakers win:
1) Entirely Different Inside/Outside Attack: Without Kobe Bryant, the Lakers chose to focus their offensive sets around Dwight Howard again, as they did on March 15 against the Indiana Pacers. Howard didn't post gaudy scoring numbers, he only scored 12, but the Kings spent a lot of energy trying to contain him, which opened up the offense for everyone else, which led to a lot of...
2) Threes: The Lakers knocked down 12-of-28 from behind the arc, and the Kings really couldn't keep a hand up on shooters
3) Dwight Defense: Much like during his time in Orlando, Dwight Howard was changing shots, rejecting shots and anchoring a strong Lakers defense. Howard had five blocks on the evening, but changed a lot more shots.
4) Great Ball Movement: The Lakers had 28 assists on 41 field goals. Steve Nash had 12 assists, and the other Steve, Steve Blake, contributed eight dimes off the bench in addition to his 16 points.
5) Bench Play: OK, so it's hard to call it a bench when it is just the aforementioned Blake and Antawn Jamison, but both played masterful games. Jamison had 27 points and knocked down five threes.
LAKERS 113, KINGS 102 — FINAL
Patrick Patterson just did the closest thing I've seen to a "Dream Shake" in 15 years, and few casual fans even know who the Kentucky product is. Patterson now has 20 points on 9-of-12 shooting, and it's looking like Daryl Morey may have made a rare mistake in dealing him for Thomas Robinson.
It's far too early to say that, on either account though, as Robinson is a rookie and Patterson is still on his ascent as an NBA talent.
LAKERS 113, KINGS 100 — Under 1 Minute, 4th
The Kings color commentators are hopelessly optimistic. With the Kings down 11 points and 2.5 minutes remaining:

"The Kings pretty much have to stop them every possession here on out."
*missed shot by Steve Nash*
"There's one stop."
I don't think Sacto's coming back in this one.
LAKERS 108, KINGS 98 — 1:40 4th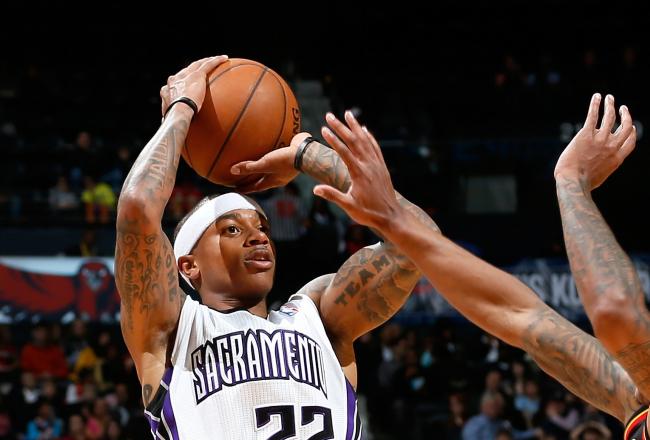 Isaiah Thomas has just fallen in love with the dribble. I'd say over-dribbling is his biggest weakness as a floor general at this point. He creates well with the ball in his hand, but needs to give Tyreke Evans and Marcus Thornton a chance to do more than just spot up while he works the ball around the court.
Thomas has 24 points and five assists on the night, but there's always room for improvement.
LAKERS 107, KINGS 94 — 2:55 4th, Lakers Timeout
Quite a collective game from PG's named "Steve" for the Lakers. Nash pulled up for a 3 to put LAL up 10. He has 17 & 12, Blake 16 & 7.

— Mike Trudell (@LakersReporter) March 18, 2013
Two point guard lineups have become a lot more prevalent in the last five to eight years. Didn't see much of it in the 90s.
It's working for the Lakers.
An Antawn Jamison triple from the top of the key gave the Lakers a 13-point lead, their largest of the game. It was answered by a Chuck Hayes bucket inside, and while there's a lot of time left in this one, the Kings are going to have to find a way to both cover Dwight Howard and stop allowing open threes.
In case you weren't aware, that's darn near impossible, at least without a 5-man capable of covering Dwight.
LAKERS 103, KINGS 90 — 4:45 4th
Dwight Howard swatted Chuck Hayes now. That's four, and that's a block party. And that's also an 8-0 Lakers run the last 2:30.
LAKERS 98, KINGS 88 — 6:10 4th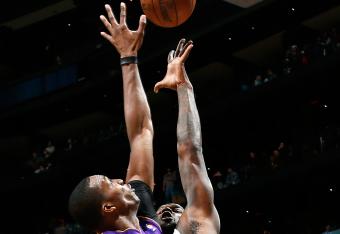 Dwight Howard's swat of Marcus Thornton gave him his third block of the night. The three-time Defensive Player of the Year is capable of truly anchoring a defense, which is what has made the Lakers' defensive struggles all the more so perplexing.
And if you've read my Lakers' live blogs in the past, you'll already know I believe it all begins and ends with the so-called "coaching" of Mike D'Antoni. The man needs an assistant coach to defensively coordinate his team.
LAKERS 95, KINGS 88 — 6:58 4th, Kings Timeout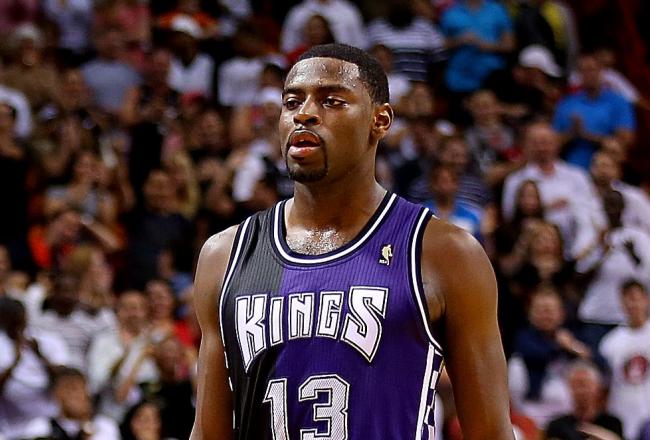 An 8-0 run by the Sacramento Kings forced a Lakers' timeout. We have a ball game again.
Tyreke Evans assisted on the Marcus Thornton bucket, then scored one of his own, to cap off the run. It's difficult to say why Evans has regressed since his rookie season, but when the ball is in his hands he can certainly create.
LAKERS 90, KINGS 86 — 9:01 4th, Lakers Timeout
Yahoo NBA - Bryant sits out Sunday, doubtful for Monday (The SportsXchange) #lakers #nba lalakersdailynews.com/headline/bryan…

— LaLakersDailyNews (@LakersDailyNews) March 18, 2013
The Lakers will likely be without Kobe Bryant again on Monday (March 18) when they travel to Phoenix face the Suns. All eyes will be on Steve Nash, anyway.
LAKERS 90, KINGS 83 — 9:24 4th
No, please tell us parody Bill Walton.
For the first time all season, the Lakers are playing like an actual team. Does anyone know what the missing ingredient was?

— Not Bill Walton (@NotBillWalton) March 18, 2013
I'm guessing the implication is the missing ingredient was the removal of an integral ingredient. That doesn't mean I buy into that assertion.
LAKERS 86, KINGS 76 — 11:48 4th
Steve Blake's three from the left wing added insult to injury for a Kings team that isn't managing to play very good defense. The rotations have been slow, and the Lakers have taken advantage and hit nine threes.
LAKERS 86, KINGS 76 — End of 3rd
An offensive foul on Earl Clark fighting for the rebound puts Patrick Patterson on the line for two freebees. That's not the way the Lakers had hoped to close the quarter, after forcing a tough shot by the Kings' Marcus Thornton.
Patterson hit both.
LAKERS 83, KINGS 76 — 19 seconds 3rd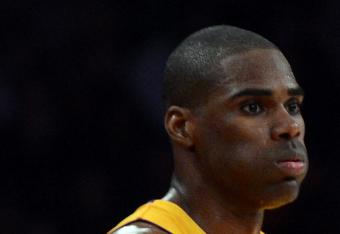 The Lakers two-man bench of Antawn Jamison and Steve Blake has been huge. Jamison has 19 points and has hit four threes. Blake has eight points and seven assists.
Mike D'Antoni is sticking with this tight seven man rotation, rather than WOW us by putting in the likes of Robert Sacre and whichever other Lakers happen to be healthy enough to play but not good enough to get on the court (Devin Ebanks, Chris Duhon, etc. Not even Lakers fans know the day-by-day status of these standouts).
LAKERS 82, KINGS 74 — 1:15 3rd
The Kings trio of Isaiah Thomas, Patrick Patterson and Tyreke Evans has combined to shoot 21-of-37 from the floor (56 percent). The rest of the Kings have combined for just 21 points on 9-of-26 shooting (34 percent).
Another 6-0 run by the Lakers forces a 20-second timeout by the Kings.
LAKERS 79, KINGS 72 — 3:16 3rd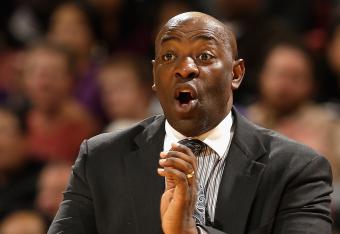 A 10-2 run by the Lakers forced Keith Smart to call timeout.
LAKERS 73, KINGS 68 — 5:44 3rd, Kings Timeout
Kings made up 2 points during the time-out (three-point review/upgrades)

— Eric Pincus (@EricPincus) March 18, 2013
Jason Thompson scored his first bucket of the game on a jumper from the top of the key. It's imperative that Thompson get more involved to make Dwight Howard work on the defensive end.
KINGS 68, LAKERS 68 — 6:31 3rd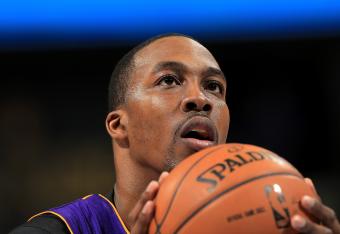 Dwight Howard made all four of his first free throws in the first half, but he missed his first two of the second half.
The Kings need to get more aggressive in hacking Howard. Most teams do.
KINGS 66, LAKERS 65 — 6:58 3rd
Isaiah Thomas is relentlessly pursuing his offense. While it appeared he was over-dribbling on the Kings last possession, he found a way to break free for a jumper and knock it down. Steve Nash is having a world of difficulty staying between Thomas and the basket. Thomas has 18 on the evening, six of which have come in this third quarter.
KINGS 66, LAKERS 63 — 8:00 3rd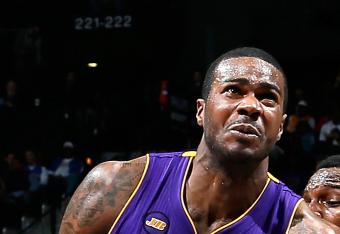 Earl Clark just hustled his rear off fighting for a loose ball and there wasn't as much as a clap from the Staples Center.
KINGS 64, LAKERS 63 — 9:00 3rd
Back to back threes by Metta World Peace gives the Lakers a three-point lead. MWP has 13 points and has yet to miss a shot in six attempts.
LAKERS 61, KINGS 58 — 10:20 3rd
Patrick Patterson continued his hot shooting, hitting a turnaround in the paint for his 16th point. Earl Clark is known to be a good defender, but Clark's prowess is best suited towards covering guys that face up and play a perimeter game. While Patterson does plenty of that, his game is very diverse and he's found a number of ways to exploit Clark.
LAKERS 59, KINGS 58 — 10:40 3rd
Isaiah Thomas has big eyes tonight. Licking his chops against Nash, Duhon and Blake.

— James Ham (@James_Ham) March 18, 2013
Isaiah Thomas missed a jumper at the horn, but he played a brilliant first half. The Washington product put his skill set on display in the first half, showcasing the dribble penetration and mid-range abilities that helped him have such a great NCAA career. Questions about his size caused him to fall to the No. 58 pick in the 2011 draft, but if the draft were re-done today, Thomas would have to be a top-20 selection.
KINGS 56, LAKERS 56 — Halftime
On the Lakers' final possession of the half, the team went to a play which many figured would make this team unstoppable: a Dwight Howard and Steve Nash pick and roll.
Before the season, I'd written that such a combo would be enough to make the Lakers contenders, even without Kobe Bryant or Pau Gasol. Nash and Amar'e Stoudemire were great in Phoenix, and Howard is even better.
The attention on the pick and roll resulted in an easy short range jumper for Nash.
KINGS 56, LAKERS 56 — 2.1 seconds 2nd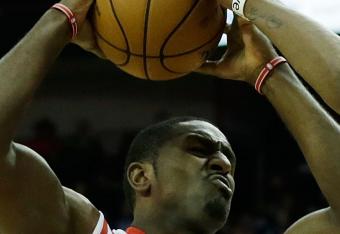 Patrick Patterson is also having a nice game at the 4-spot for Sactown, with 14 points on the evening on 6-of-8 shooting.
Patterson and Earl Clark are an entertaining battle, showcasing two up and coming (and underrated?) players in the Western Conference. Clark has nine points on 4-of-9 shooting.
KINGS 54, LAKERS 54 — 1:34 2nd, Lakers Timeout
This article is
What is the duplicate article?
Why is this article offensive?
Where is this article plagiarized from?
Why is this article poorly edited?