Texas Football Recruiting: Mack Brown's Top Targets for 2014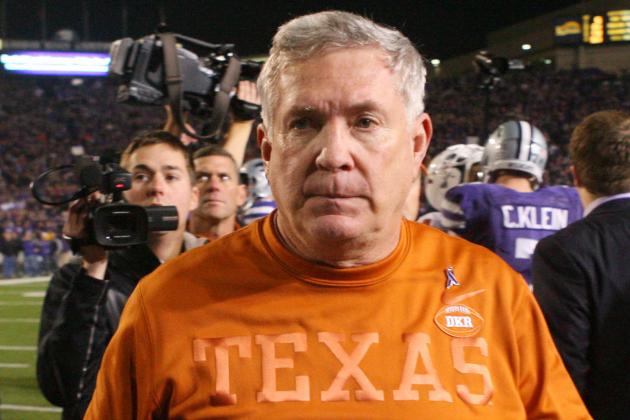 Scott Sewell-USA TODAY Sports

Though spring practice has taken center stage for the Texas Longhorns, recruiting season for the 2014 class is still very much in full swing. Given some recent misses on the trail, Mack Brown and his staff need to work on locking up their top targets.
Though the 'Horns already have eight commits, the recent down seasons are very obviously taking their toll on next year's haul. Defensive backs Edward Paris and Dylan Sumner-Gardner are gone, top linebacker Hoza Scott has chosen the Aggies and nothing else is coming easy for a team that could be replacing up to 12 starters in 2014.
Luckily there is plenty of time for Brown and the staff to get things turned around with a flipped commit or a national-level talent. These are the top candidates for the 'Horns to do just that.
Begin Slideshow

»
With quarterback Jerrod Heard and tailback Donald Catalon already on board, top wide receiver K.D. Cannon is Texas' top priority on the offensive side of the ball.
As a receiver, it is nearly impossible to point out a weakness in Cannon's game. He knows the ins and outs of the position like the back of his hand and is among the most natural pass-catchers you will see at the high school level.
That said, Cannon is not without his faults. He has good height at 6'1" but weighs under 170 pounds so he needs to add around 20 pounds before he is a BCS-caliber receiver. He also needs to improve as a blocker, which should happen once he bulks up.
Lorenzo Joe and Roderick Bernard are already locked in, so bringing in Cannon would all but end Texas' pursuit of a wide receiver. Once his body catches up with his impressive technical skill, he has a real shot at immediately replacing Mike Davis on the outside.
Texas desperately needs help at safety. And with two top targets already off the board, getting a commit from safety Jamal Adams should be among the team's top priorities on the recruiting trail.
Kenny Vaccaro's graduation has left the Longhorns downright anemic on the back end and the situation could become dire come 2014. The 'Horns are already talking about moving top corner Quandre Diggs to safety and probable starter Adrian Phillips is gone following this season. After losing out on all game-ready safeties in 2013, Mack Brown and Duane Akina must get it done this go around.
Jamal Adams could be the answer to their prayers. He has the size, smarts and versatility to be a four-year starter that would solidify the position the same way that Vaccaro did. After a positive visit earlier this month, Texas seems to be in good shape here.
Texas could lose both of its starting corners after the 2013 season. Adding a player like Tony Brown would immediately alleviate the situation.
Brown, like the aforementioned Adams, is among the best talents in the country and is probably 2014's top cornerback prospect. From covering to tackling to making the big play, he does everything well from the corner position thanks to his track speed and willingness to deliver a big hit.
Unfortunately LSU seems to be the favorite to land Brown, though his relationship with Duane Akina has kept Texas close. A strong 2013 campaign and the availability of immediate playing time could tip the scales in the Longhorns' favor.
The Longhorns have already secured a commitment from possibly the state's best athlete in defensive end Derick Roberson. Adding Solomon Thomas to the mix could give them the best defensive end class in the country.
At 6'3" and 265 pounds, Thomas already has the size to play defensive end in college and could also slide inside to tackle depending on where Texas needs him. That move is likely given his power and skill against the run, but he projects just as well on the strong side in Alex Okafor's old spot.
As of now, the Longhorns have the best shot of any to land Thomas. He has already spent significant time on the Forty Acres and Texas loses two defensive ends after this season, so the opportunity for playing time will be there.
Texas brought in one of the best offensive lines in the country this past recruiting season. Locking down Cameron Robinson could allow them to repeat that feat in 2014.
Robinson, the country's best tackle prospect, is just oozing with potential. He is already 6'6" and 325 pounds but has the frame to support even more size. He also has plenty of room to be coached up as he has been able to rely on his raw physicality to dominate at the high school level.
Robinson's recruitment is as much about him as it is about the Longhorns making a statement to the rest of the country. Programs from near and far have begun poaching top talent from Texas' backyard, and its taking a top prospect like Robinson, a Louisiana native, would indicate a major victory in this realm. Running backs coach Larry Porter was brought on to give Texas sway along the Louisiana Pipeline, and Robinson is a great place for him to start.
Following DeShawn Washington's commitment to Texas A&M the Longhorns have work to do on Gerald Willis III, another major target in Louisiana.
At 6'3" and 260 pounds, Willis could play either defensive end or tackle at the next level depending on where he lands. He lacks ideal speed to play bookend, but he does have great explosiveness and room to put on the type of size Texas wants inside. Here, he would also fill a position of need as Ashton Dorsey and Chris Whaley both graduate next spring.
As previously stated, the 'Horns have to really get after Willis. He enjoyed his visit and maintains a relationship with line coach Stacy Searels, but also holds offers seven other BCS programs. Given that Willis is a Louisiana native, this is another scenario in which Larry Porter could prove his worth.
Given the uncertainty surrounding Tony Brown and the rest of the Longhorns' targets in the secondary, securing a commitment from corner Nick Watkins should be a top priority.
Watkins, like Brown, is a bigger, complete corner that has the potential to start as a freshman under Duane Akina. He has excellent ball skills courtesy of the time he has spent at receiver in high school and, outside of his weight, he has no glaring weaknesses in any aspect of his game.
Given where things are with Brown, taking care of business with an in-state prospect that has stated Texas as his No. 1 is a must. This is especially so given the talent in 2014's cornerback class, as "DBU" can ill-afford to lose out on all of the top talents in this class. He is going to take his time, so anticipate a nerve-wracking wait for Watkins' decision.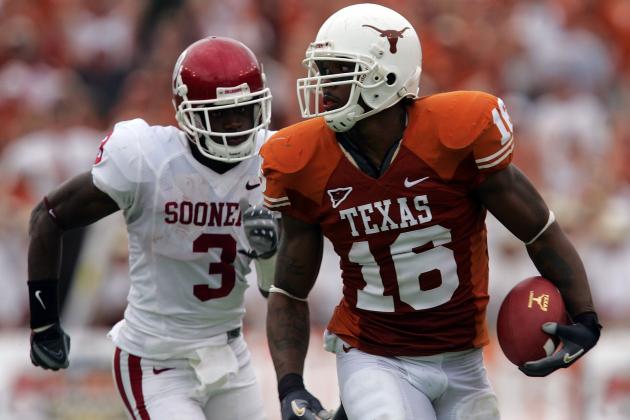 Ronald Martinez/Getty Images
If he commits, Jones would be the most athletic tight end Texas has had since Jermichael Finley (above).
The Texas Longhorns have needed an every-down tight end since 'Nam. After losing out on their top target in 2013, securing Louisiana native Anthony Jones could fill the void.
Jones is not exactly topping recruiting charts, but Texas' track record with the position has repelled the nation's top tight ends. However, given his speed and athleticism, he has the potential to be the steal of Texas' class. He needs to add something like 30 pounds, but Jones would be very valuable as a true tight end.
Right now Texas is the favorite for the New Orleans product, but he is going to wait to make his decision. Therefore it would behoove the 'Horns to involve the tight end position much more in 2013, otherwise Jones will look elsewhere as Durham Smythe did this past year.
Landing Otaro Alaka is as much about pride and stature as it is Alaka himself, as the 'Horns have blundered their way into a battle for the surging linebacker this spring.
Alaka is due to vault up the recruiting rankings the same way Torrodney Prevot did in 2013. He has ideal size for the position, gets off his blocks quickly and is a great form tackler. He also displays above-average speed and solid coverage skills.
As a former teammate of incoming freshman Jacorey Warrick, Alaka has heavily favored Texas since his recruitment began and seemed like a lock after his junior day visit. That is until Texas neglected to offer Alaka until two days following said visit and none other than the Aggies, who have already taken Hoza Scott and Josh Walker off of Texas' plate, have entered the mix.
Now Alaka is weighing his options and has decided to wait following his visit to A&M. The 'Horns have already lost five offers to their former rivals and losing yet another one would be a humbling blow to the program's gut. Mack Brown and his staff need to give Alaka the full-court press before that happens.
Leonard Fournette would be tops on this list if he was not such a long shot but when it comes to this type of talent, there is no single reason to ignore the possibility.
Where do you start with this kid? He runs a 4.4 despite weighing over 230 pounds, he is deadly quick but will remove your head with a stiffarm if necessary and he can carry a full season's load. But the most telling descriptions of Fournette's talent are the numerous comparisons to Adrian Peterson, in case you have ever heard of that guy.
He seems destined for LSU, but Fournette immediately fielded an offer from the Longhorns when he arrived for their second junior day. Not only is he an incredible talent, but he may end up filling a position of need now that Daniel Gresham has been gushing over his Alabama offer.
Given the improbability it is probably self-destructive to imagine, but the idea of Fournette forming a one-two punch with Johnathan Gray is too perfect to ignore. Realistically, Texas does not even come close to making that happen unless it has a top-five finish in 2013, so do not hold your breath.