Warriors vs. Rockets: Live Score, Results and Game Highlights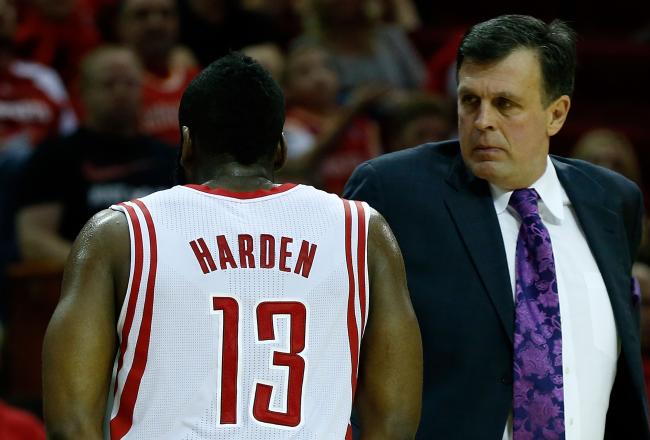 Scott Halleran/Getty Images
Commentary on the Golden State Warriors' 108-78 victory over the Houston Rockets from the Toyota Center on March 17, 2013.
Keys to the Warriors win:
1) Hot Shooting Backcourt: Steph Curry and Klay Thompson shot a combined 22-of-40 from the floor, and the tandem hit a combined 11 threes. The rest of the Warriors shot just 22-of-56 from the floor. As to how the Warriors attempted nearly 100 field goals in a 48 minute game, I'm not really sure.
2) Tough First Half Defense: The Rockets shot 3-of-22 from the floor and scored just 10 points in the first period. That tough Warriors defense set the tone for the rest of the game, and though Jeremy Lin and James Harden played good games for Houston, no one else did.
3) Took Good Care of the Basketball: Just 10 turnovers isn't too bad when the team attempts 96 field goals.
4) Tough Interior Defense: The Warriors blocked six shots, led by Andrew Bogut's three. But Bogut changed a lot of shots, and Festus Ezeli played some tough defense around the basket in his 12 minutes of play. Now that Bogut is rounding into form better, Ezeli will find minutes tougher to come by.
WARRIORS 108, ROCKETS 78 — FINAL
Golden State's Kent Bazemore played brilliantly during garbage time of the Warriors March 15 victory over the Chicago Bulls, but scoring 14 points in the fourth quarter of that game wasn't enough to earn him any more than more garbage time tonight.
Bazemore will undoubtedly be trying twice as hard to earn a spot in the rotation this evening.
WARRIORS 106, ROCKETS 78 — 1:10 4th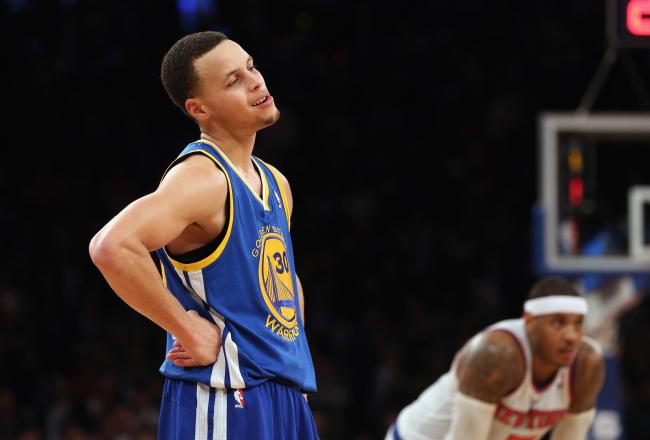 Stephen Curry's three pointer gives the Warriors 100 on the evening. The Warriors have hit 12-of-24 from three-point range, and their starting backcourt of Steph Curry and Klay Thompson has hit 10.
WARRIORS 100, ROCKETS 77 — 2:15 4th, Rockets Timeout
The Rockets have gone to chucking up threes, and it's pretty safe to say this one is pretty much over.
The Warriors 10-2 run extended the lead to 24, and with just a few minutes to go, there's just no coming back from this.
WARRIORS 97, ROCKETS 75 — 3:15 4th
The Rockets have gone to a hack-a-Bogut strategy, and that's going to make these next few minutes until the 2-minute mark arrives take quite a while.
The best part is that Bogut hit all four free throws. Take that McHale.
WARRIORS 93, ROCKETS 73 — 4:55 4th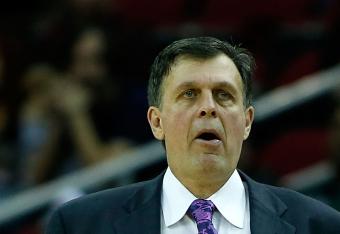 As the game goes to the mandatory mid-quarter break, Kevin McHale is trying to figure out why his team stopped playing defense again. That whole defensive effort/getting stops thing tends to work pretty well when trying to get back in a game.
Rockets have shown a lot of fight in trying to come back. Time's running out though... #RedNation

— Howard Chen (@ho_chenCSN) March 18, 2013
WARRIORS 87, ROCKETS 71 — 6:07 4th, Official Timeout
The Rockets still don't really seem like a team that knows how to succeed in the half court. That, more than anything else, will be their Achilles' heel in the playoffs. If a team can get back in transition, it will eliminate a number of Rockets' scoring options.
James Harden took too long initiating the Rocket offense, and it resulted in a shot clock violation.
WARRIORS 87, ROCKETS 69 — 6:27 4th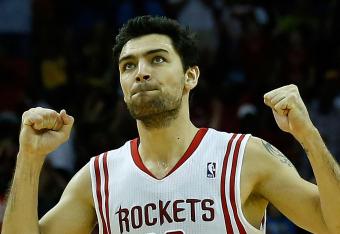 The Rockets went over five minutes without scoring until a Carlos Delfino triple ended the drought. Too much time is passing without an intense run...and I spoke too soon. Delfino just knocked down another three, back-to-back threes.
Rockets have hit their last 7-of-13 from deep after starting 2-for-16 from behind the arc. Warriors lead 79-66 with 8:35 to play

— #GSWStats (@gswstats) March 18, 2013
Delfino is a valuable guy to have coming off the bench: good defender, good shooter and he plays hard.
Carl Landry will try to complete a three-point play when the game returns from break.
WARRIORS 79, ROCKETS 66 — 8:35 4th, Timeout In Play
Rockets' reserve center Greg Smith's third foul in 10 minutes of play highlights a classic flaw in young NBA big men. They just don't know how to keep from reaching.
WARRIORS 77, ROCKETS 60 — 10:15 4th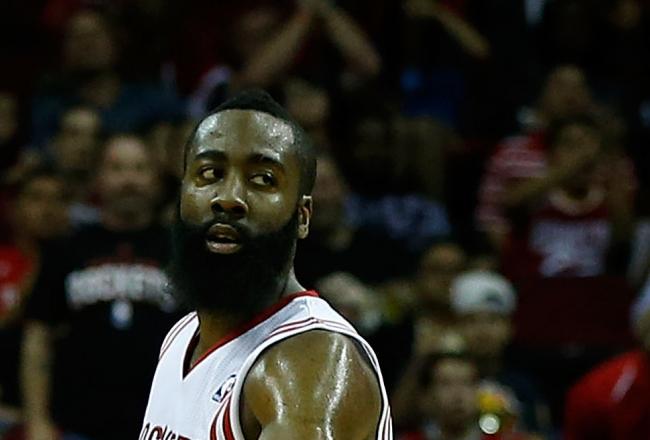 James Harden is trying to do too much. He's scored 10 in the quarter and the Rockets have cut the deficit, but at times it appears he trusts his beard far more than his teammates. His attempt over Draymond Green and Carl Landry was just pure desperation.
Backcourt battle: Lin/Harden 40 points Curry/Thompson 44 points #Warriors #Rockets

— Hiren Joshi (@htown747) March 18, 2013
The Rockets out-scored the Warriors 29-21 in the quarter, but they're going to have to have an even more impressive fourth to pull this comeback off (obviously).
WARRIORS 75, ROCKETS 60 — End of 3rd
Outside of Stephen Curry and Klay Thompson, the rest of the Warriors are shooting 33 percent from the field (13-of-39). Even so, the Warriors backcourt has helped them re-extend the lead to 15 points, and the momentum Houston had seems to be all but gone.
WARRIORS 75, ROCKETS 60 — 2:01 3rd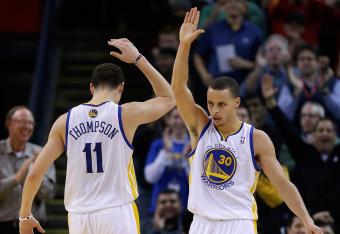 Steph Curry and Klay Thompson are always there to answer runs. A Klay Thompson elbow jumper and a corner three by Curry have helped Golden State stave off what has been a huge quarter for the Rockets.
Curry and Thompson are a combined 16-of-29 from the floor.
WARRIORS 70, ROCKETS 57 — 3:10 3rd
Coming back from a Houston timeout, Chandler Parsons knocked down a triple. The Rockets then had another fast break as Parsons found a cutting Jeremy Lin for a layup. That 5-0 run pulls the Rockets within seven, and the momentum has definitely made a complete flip-flop in the second half.
WARRIORS 62, ROCKETS 55 — 4:53 3rd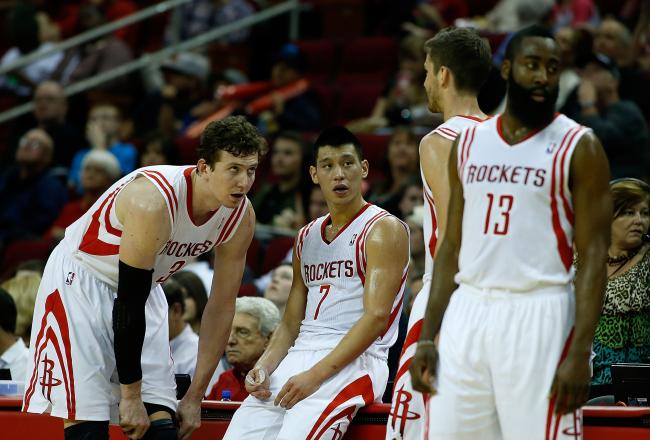 Now everything is falling for Houston, and in particular Jeremy Lin who has scored the Rockets last five points.
The Rockets are playing defense, and CSN Houston broadcasters are espousing the theory that there is something wrong with one of the baskets, since Golden State is experiencing the same shooting maladies that Kevin McHale's squad did in the first 24 minutes.
After going 9-for-46 in the first half, the Rockets are 8-for-12 in the third quarter

— #GSWStats (@gswstats) March 18, 2013
The Rockets are on a 19-4 run following a James Harden transition layup.
WARRIORS 59, ROCKETS 50 — 6:30 3rd
This is about when the #Rockets usually tip-off so I think they just got the memo.

— Hiren Joshi (@htown747) March 18, 2013
Donatas Motiejunas' righty hook coming across the paint ends his goose egg. Motiejunas and the Rockets have begun the half on a 9-2 run, and forced Mark Jackson to call for a timeout.
WARRIORS 56, ROCKETS 40 — 8:25 3rd, GSW Timeout
For the Rockets to come back from down 20, they're going to have to do something they haven't done much of yet this year: Play Defense.
The shots have to start falling, of course, but a huge deficit can't be overcome without getting stops—and a lot of them.
WARRIORS 54, ROCKETS 34 — 10:46 3rd
The Rockets shot 9-of-45 in the first half and turned the ball over seven times. That's not even a favorable stat line for an 9-year old girls' YMCA game.
The Golden State Warriors aren't having their greatest night, and they're up by 21 at the half. The Rockets have been almost indescribably bad, and that has to give Mark Jackson's squad a lot of confidence after losing the first three meetings this season.
WARRIORS 54, ROCKETS 31 — Halftime
For those of you who have followed my live blogs, you'll notice I often comment on players who are nowhere near their listed height. Aaron Brooks looks at least six inches shorter than Jarrett Jack, despite the fact that Brooks is listed at 6'0" and Jack is listed at 6'3"
It seems a large number of the guys who list at 6'0" are rounding up two and three inches to avoid having that dreaded "5" appearing first.
Jack's easy bank shot over Brooks extended the Warriors lead to 21.
WARRIORS 54, ROCKETS 31 — Halftime
Do the #Rockets usually play like the Post All Star Break Warriors? Which is the real team? The one that kept killing us or this one? #GSW

— Trapped in Golden St (@TrappdnGoldenSt) March 17, 2013
Gotta wonder, because Houston won the first three matchups between the teams this season. What kind of momentum breaker is it though to lose the fourth and final matchup this badly?
WARRIORS 45, ROCKETS 27 — 2:06 2nd
Aaron Brooks took Jarrett Jack off the dribble, but ended up forcing a wild reverse layup. Andrew Bogut tipped the shot again, but it appeared Brooks absorbed some contact on the play.
Brooks' speed will give most guards problems, and while Jarrett Jack is an above average defender, there was a time when Brooks seemed to be a poor man's Allen Iverson—some people even remember as far back as 2009-10.
WARRIORS 43, ROCKETS 27 — 2:27 2nd, 20-sec Timeout Rockets
Kevin McHale finally decided to give Aaron Brooks a go.
Now in his second stint with Houston, Brooks will try to rekindle the magic he had when he played for the Rockets in 2009-10 when he averaged nearly 20 points a game while playing all 82 regular season contests. Since that season, he hasn't averaged more than 11 points per game.
WARRIORS 39, ROCKETS 27 — 3:20 2nd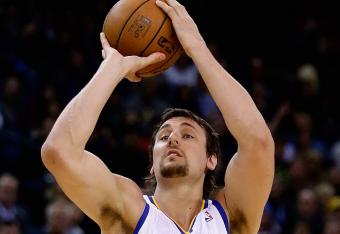 Andrew Bogut is having a block party. His tip of Donatas Motiejunas' shot (questionably) gives the Warriors center his third rejection of the evening. Bogut led the league in blocked shots in 2010-11, averaging 2.6 per game.
WARRIORS 34, ROCKETS 23 — 4:54 2nd, GSW Timeout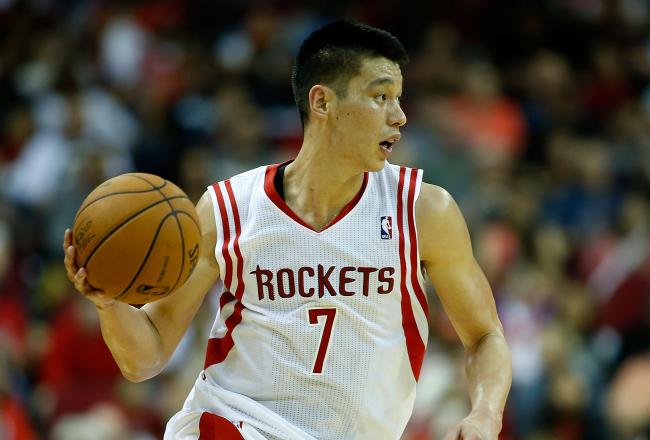 Jeremy Lin hit the Houston Rockets' first three point field goal, after the Rockets missed their first eight. Unfortunately for the Rockets, it was answered by a Stephen Curry three on the other end.
The Warriors are shooting just 36 percent from the floor, but it seems like their on fire compared to how poorly the Rockets are shooting.
WARRIORS 34, ROCKETS 19 — 5:36 2nd
It's not just poor shooting that has hurt the Houston Rockets. They've also coughed the ball up seven times, while the Golden State Warriors have just two turnovers as we approach the mid-way point of the second quarter.
WARRIORS 29, ROCKETS 20 — 6:30 2nd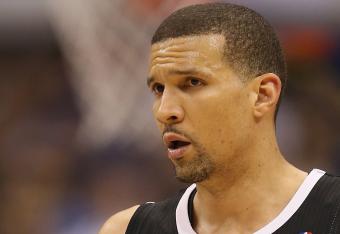 Newly acquired Rocket Francisco Garcia hasn't seen a ton of court time, but he's getting minutes in the second quarter as Kevin McHale searches for answers. Garcia played just four minutes in the win over the Minnesota Timberwolves on March 15, but he will see more than that tonight most likely.
The Rockets have scored half as many points as their first quarter total already, but that hasn't been enough. GSW have outscored them 6-5 in the second quarter.
WARRIORS 24, ROCKETS 15 — 8:47 2nd, Official Timeout
This article is
What is the duplicate article?
Why is this article offensive?
Where is this article plagiarized from?
Why is this article poorly edited?