Texans 2013 Mock Draft: Full 7-Round Predictions After 1st Week of Free Agency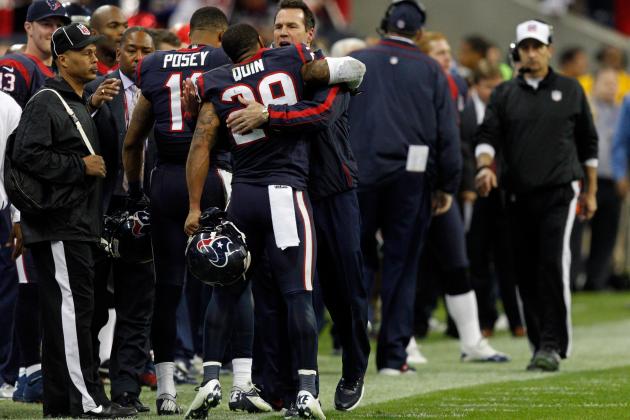 Bob Levey/Getty Images

Free agency has come, and it has done its worst. In the calm of an afternoon day, it snatched Glover Quin, the Texans' most valuable free agent and moved him to Detroit.
Later on, free agency transplanted Connor Barwin to Philadelphia. The horde of Texans free agents that includes Brice McCain, Shaun Cody and Bradie James all remain un-signed.
While these losses may seem tough, they can be easily corrected in the draft. Hopefully.
The Texans must improve this offseason in order to reach the Super Bowl, and they must have a fantastic draft in order to overcome the losses of free agency.
Begin Slideshow

»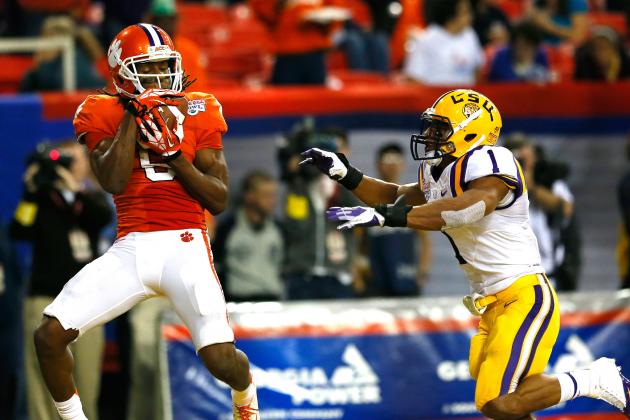 Kevin C. Cox/Getty Images

When the Texans cut Kevin Walter, they finally realized their incredible need for a capable No. 2 receiver. Andre could not keep the passing game afloat all by himself, and Keshawn Martin, Lestar Jean and DeVier Posey are all way too inexperienced to be counted on.
DeAndre Hopkins is more than capable of filling Walter's role in the offense.
Like his counterpart in the NFL, Roddy White, Hopkins really can do it all. He has the size, athleticism and skills to become a dangerous starting receiver in the NFL.
The first thing one notices about Hopkins is his powerful hands. No matter where the ball is, Hopkins is able to pull it in. He is a beast while catching balls in traffic, making seemingly impossible receptions look natural and easy.
Hopkins also is an extremely talented route runner. Whether it's a deep, medium or short route, Hopkins is able to utilize his extraordinary cutting ability and deceptive jukes to create noticeable separation. He creates a target for his quarterback, which can make him an effective chains-mover in the NFL.
Furthermore, due to his route-running ability, Hopkins often catches the ball in open space. And when he has a clear field ahead of him, he is explosive. Utilizing a quick head fake and the occasional spin move, Hopkins constantly picks up extra yardage. Also, after taking the first hit, Hopkins fights like a man possessed, inching out every possible yard.
Hopkins possesses one more quality that makes him an extremely tantalizing prospect: his ability to produce in the red zone. Last season for Clemson, Hopkins hauled in an impressive 18 touchdown receptions, many of which occurred on desperate jump-balls thrown within the 20-yard-line.
His knack for being consistent in the red zone would be huge for the Texans, who struggle to find any sort of passing game to work when the opponent's goal line approaches.
Hopkins would provide a quick fix to the Texans' weak receiving core, and he could potentially take over Johnson's role when the superstar finally decides to hang up the cleats.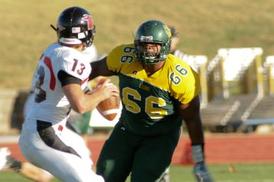 With Shaun Cody remaining un-signed, the need for the Texans to draft a dependable nose tackle becomes even more obvious.
Cody, while not a liability, would never help elevate the defense to new heights. He was simply too average to make any type of impact.
In this year's draft, the Texans will have the opportunity to draft a game-changer, a talented nose tackle who could help the Texans' defense dominate the line of scrimmage.
Brandon Williams is that guy.
Despite playing for the D-II Missouri Southern State Lions, Williams has the athleticism and talent to produce at the highest level.
A mountain of a man, Williams' sheer size alone makes him a difficult task for offensive linemen to handle. He's not just a lumbering mass of weight; he has surprising speed and quickness for a man of his size.
He quickly gets out of his stance, attacking offensive linemen with powerful strength while his feet churn under him with the speed of a much more athletic defensive linemen. All of this amounts to one thing: him creating disturbances in the backfield.
And when big nose tackles create disturbances in the backfield, they must be double-teamed. If Williams were to be drafted by the Texans, though, double-teams would rarely come. After all, he would be playing next to J.J. Watt and Antonio Smith, both of whom require double-teams of their own.
Williams, or any other playmaking nose tackle, would make it nearly impossible for opposing teams to block the Texans' defensive line. In turn, this would open up more pass-rushing lanes for Brooks Reed and Whitney Mercilus, which would give opposing quarterbacks much less time to throw the ball. This, then, would make it much easier for the Texans' press-man coverage secondary to effectively cover their assignments.
Williams could revolutionize the Texans' defense. If he were to play to his full potential, he could transform the defense into the Super Bowl-caliber one that we all know it can become.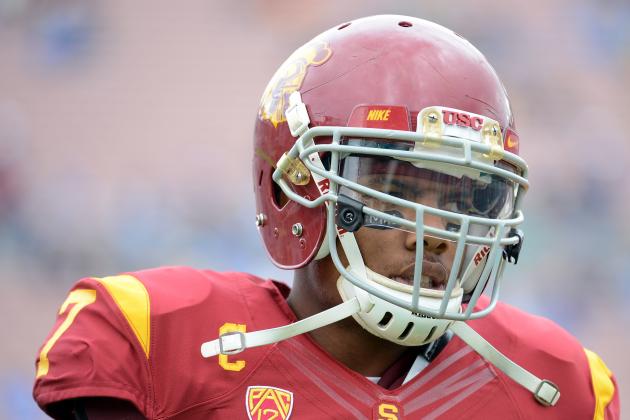 Harry How/Getty Images

Currently, the Texans' safety core consists of Danieal Manning, Shiloh Keo and Eddie Pleasant. Manning is an effective player, but the ones behind him certainly are not.
Glover Quin played a major role for the Texans' secondary, and neither Keo nor Pleasant can possibly fill it capably. It makes sense why the Texans are making such a major push for Ed Reed, as their secondary could face a major collapse if Keo or Pleasant were to be elevated into a starting role.
Whether or not the Texans sign Reed, drafting T.J. McDonald here is the right decision.
McDonald, a hard-hitting safety, is a missile when it comes to attacking the run game. He flies into the backfield, hitting the right hole and shuts down the play before it can even get started.
In this way, he greatly resembles Quin. His ability to essentially play as a fifth linebacker makes it extremely difficult for opposing offenses to establish a consistent running game.
McDonald, however, is not dependable in coverage. He struggles with footwork, which makes it difficult for him to turn and run with wide receivers.
A little work with Vance Joseph, the Texans' renowned secondary coach, could certainly solve those issues. But it would be much better for McDonald if he were given time to develop.
If the Texans are able to sign a veteran safety like Reed, then this would be the perfect pick. If not, there could be a rough, but manageable, growing period.
A major factor in the Texans' late-season collapse last season was the inconsistency of the right side of the offensive line.
Whether it was Derek Newton, Ben Jones or Brandon Brooks receiving playing time, the right side was never able to effectively implement the zone-blocking scheme, making it near impossible for Arian Foster to find running room on many occasions.
Furthermore, the three's half-hearted attempts at pass protection were difficult to watch. All too often Matt Schaub would end on his back before he even got a chance to look for an open receiver because of the incapable right side.
Jordan Mills is a player who could step in and contribute right away. While he may not necessarily be ready for a complete starting role, he could certainly receive significant playing time and make a noticeable impact.
Possessing the rare quality of size and athleticism, Mills has the ability to become a great tackle in the NFL. He is extremely quick, which allows to him to effectively reach the second level on his blocks, a quality essential for linemen in the zone-blocking scheme.
Mills is also a dependable pass protector who can consistently keep opposing pass-rushers at bay.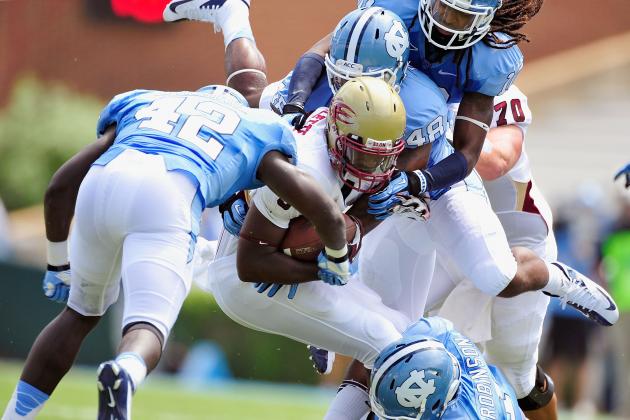 Grant Halverson/Getty Images

The Texans are weak in terms of inside linebacker depth, with Brian Cushing and Darryl Sharpton remaining the only starting-caliber linebackers on the roster.
It is clear that the Texans need to bolster their middle linebacker depth in this draft, and Kevin Reddick is a fine candidate.
Although slated to be a second- or third-round pick come draft day, his stock his falling due to his poor combine performance. Reddick was valued as an athletic thumper who could wreak havoc against opposing running games.
His combine results have revealed that he is nowhere near as athletic as teams have presumed him to be, but that does not take the thumper part of him out of the equation.
He has an impressive downhill burst which allows him to penetrate the offensive backfield. He is capable of running down running backs and is talented at holding his ground against shifty, elusive backs.
He plays to his abilities, and does not attempt to outplay himself and hurt the rest of the defense. He needs to improve his vision, and his size and inability to play from sideline to sideline will prevent him from becoming a dominant linebacker in the NFL.
Regardless, he has the talent to improve the Texans' linebacking core, and his deficiencies certainly could be masked by Cushing's stardom.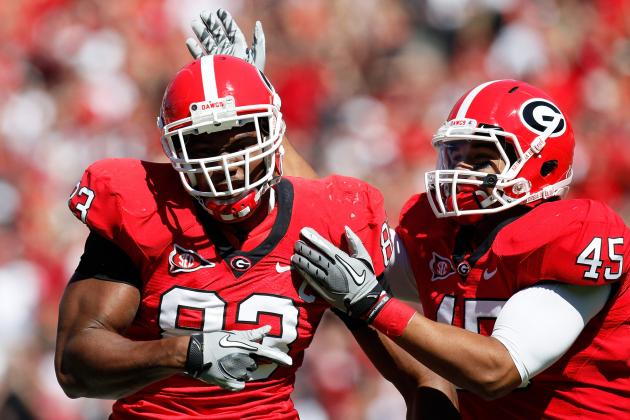 Kevin C. Cox/Getty Images

Connor Barwin, one of the Texans' starting outside linebackers last season, was not expected to find much interest on the open market.
He had a terrible 2012 season, which led many to believe he would return to Houston for a cheap price. The Philadelphia Eagles instead decided to focus in on his spectacular 2011 season, and they offered him a huge contract. Barwin gladly accepted it.
The Texans are now left without a third outside linebacker for this upcoming season. Although Whitney Mercilus and Brooks Reed are both solid players, the Texans need a dependable backup for insurance against injury.
Cornelius Washington, despite unproven, is the type of athletic pass-rusher that the Texans need.
Washington was a member of the Georgia Bulldogs, which means he was consistently overshadowed by the likes of Jarvis Jones, Alec Ogletree, John Jenkins, Kwame Geathers and Bacarri Rambo.
Washington was never able to become a consistent producer, mainly because of his incredible rawness. He is an exceptional athlete who is physically extraordinary, but he's never been much of a meaningful contributor.
In the sixth round, though, his potential is way too high to pass on. He can become a future star in the NFL, and the Texans would be wise to harness his ability.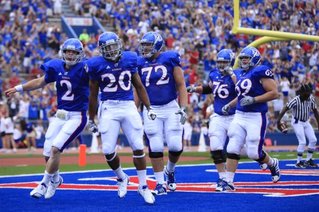 Tanner Hawkinson, of the Kansas Jayhawks, is the type of under-the-radar offensive lineman that Gary Kubiak loves to draft and develop.
Hawkinson is meant for a zone-blocking scheme offense, as his lack of strength would doom him on a team that utilizes a physical running game.
Hawkinson has great footwork, allowing him to gain position on opposing defenders. This lets him open up holes for running backs without having to out-muscle defensive linemen.
He is consistently able to reach the second level, which is key in a zone-blocking scheme. His athleticism allows him to effectively prevent speed-rushers from reaching the quarterback, but powerful bull-rushers can easily overpower him.
If Hawkinson can add weight, he can certainly become a contributor for the Texans somewhere down the line.