Both semifinal matchups in the 2013 World Baseball Classic will feature a heavy favorite going up against a serious underdog for a chance to go to the tournament's final on March 19.
The first semifinal game will pit the defending champion Japan team against Puerto Rico, who will certainly be viewed as a long shot to advance in this particular contest.
The second semifinal showdown has the immensely talented Dominican Republic squad going up against a scrappy Netherlands team that enjoyed success against their semifinal counterpart back in 2009.
Each game has its own interesting storyline and we should see some exciting baseball when these teams clash on Sunday and Monday.
Let's take a look at when to watch each of these games and let's break them down as well.
*Note: WBC semifinals will be broadcast on MLB Network. Click here for the full schedule of remaining games.
Puerto Rico vs. Japan: Sunday, March 17, at 9 p.m. ET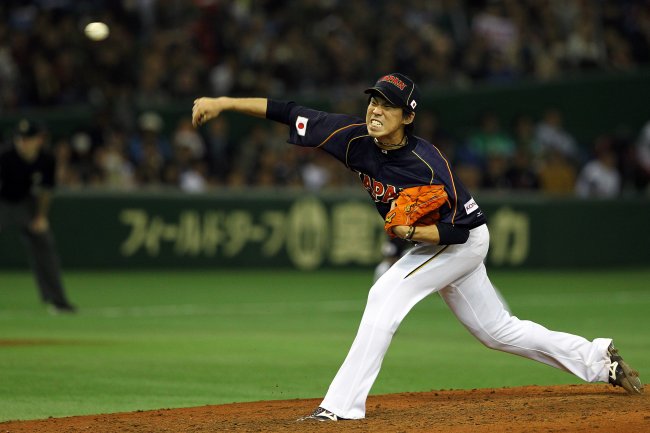 Koji Watanabe/Getty Images
Right off the bat, Japan has the advantage in the rest department thanks to the travel schedule. Puerto Rico had to play two games in less than 24 hours and then went on to travel across the country to San Francisco for its semifinal matchup.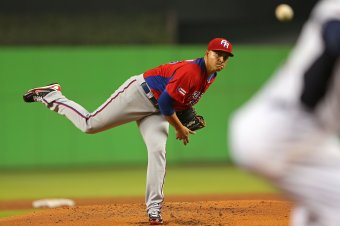 Mike Ehrmann/Getty Images
For Puerto Rico, Mario Santiago (0-1, 6.23) will be taking the mound after making a lackluster start in his first and only appearance in the WBC. Santiago went 4.1 innings and allowed three runs on five hits with two walks and three strikeouts.
For Japan, Kenta Maeda (1-0, 0.00) is going to be tasked with getting Japan off to the right start in this game. The Japanese starter has been sensational in the tourney thus far with two starts totaling 10 innings of two-hit, shutout baseball. Maeda has also compiled an astounding 15 strikeouts to just one walk in his two WBC starts.
The advantage in pitching goes to Japan all around, especially when you consider their starter for this game has been one of the most dominant pitchers in the 2013 WBC.
Of the four teams left in the tourney, Puerto Rico is by far the worst offensively. Sporting a dreadful .224 team average, the Puerto Ricans have scored just 20 runs in seven games this year. Meanwhile, Japan is batting .294 as a team and have slugged its way to eight homers and 43 runs.
The advantage once again goes to Japan as the Japanese are clearly the superior offensive squad in this matchup.
So, not only can Japan slug better than Puerto Rico, but they can also pitch to a superior level and both advantages should lead to the defending WBC champs getting another shot at once again becoming tournament champions.
Prediction: Japan 7, Puerto Rico 1
Netherlands vs. Dominican Republic: Monday, March 18, at 9 p.m. ET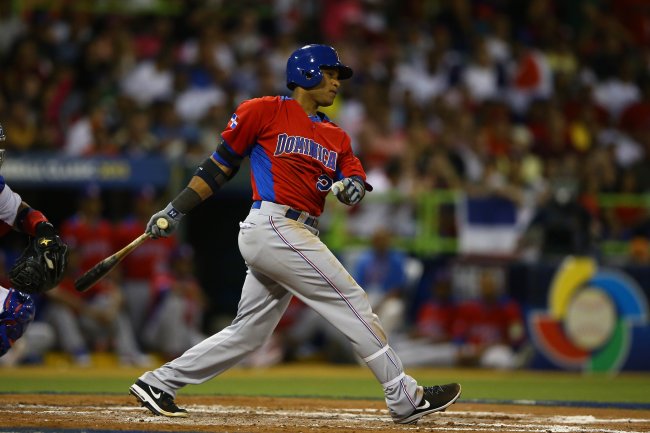 Al Bello/Getty Images
The Dominican Republic has an opportunity to exact some revenge against the Netherlands in this game as it was the underdog Dutch who knocked the Dominicans out of the 2009 WBC with two wins in the first round.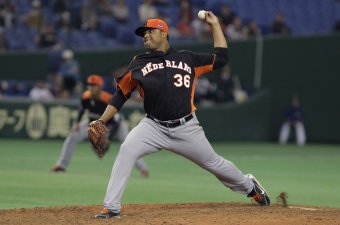 Chung Sung-Jun/Getty Images
Starting for the Netherlands will be Diegomar Markwell (1-0, 1.50), who has no doubt been the ace of the staff for the Dutch. Markwell has made two stars thus far and has allowed just one run in 10 innings pitched; however he has allowed about one hit per inning, which is a dangerous stat to say the least.
For the Dominicans, major leaguer Edinson Volquez (0-0, 8.31) will get the nod and while his status as a big league pitcher might seem like an advantage, his numbers in the WBC this year prove otherwise. In two starts, Volquez has allowed three hits, four walks and four runs in 5.1 innings pitched.
By the numbers, the edge goes to the Netherlands in this pitching matchup as its starter has been pitching much better, but Markwell will be facing an incredibly tough lineup in the Dominican Republic, so that makes his start a bit more unpredictable.
Surprisingly, the Netherlands (35 runs) has outscored the Dominican Republic (29 runs) during the tourney with far less firepower one through nine. The Dominicans have the edge in batting average by 20 points over the Dutch.
Despite the run differential here, you still have to give the edge to the Dominicans with all the stars they have in their lineup.
Markwell will have a tough time navigating his way through the Dominican Republic batting order and his counterparts will no doubt capitalize on the amount of hits Markwell has been giving up in this tourney. Countless scoring opportunities will give the Dominicans a solid run output and that should be more than enough to support their pitching en route to topping the Dutch in the semifinal.
Prediction: Dominican Republic 6, Netherlands 4