The 7 Most Balanced Teams in the NHL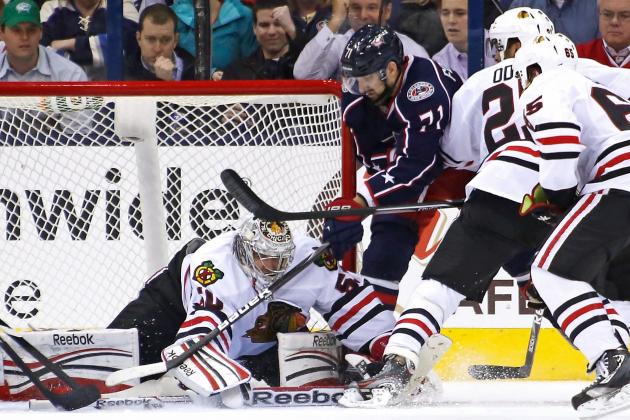 Kirk Irwin/Getty Images

The Los Angeles Kings were in an unbalanced state for most of the 2011-12 season.
They had a solid defense that could break up scoring plays and compete in a physical style. They had excellent goaltending with Jonathan Quick in the net.
However, they were not consistent on the offensive end. They struggled to put the puck in the net most nights.
That changed after they acquired Jeff Carter from the Columbus Blue Jackets. Carter gave the offense more firepower and he took much of the pressure off of Anze Kopitar, Mike Richards and Dustin Brown. Suddenly, the Kings had balance. They used that balance to dominate in the postseason and earn their first Stanley Cup.
You need balance to win the Stanley Cup. Recent champions like the Detroit Red Wings, Pittsburgh Penguins, Chicago Blackhawks, Boston Bruins and the Kings all had it.
Heading into the final six weeks of the season, here's a look at the seven most balanced teams in the league.
Begin Slideshow

»
The Chicago Blackhawks may no longer have a "0" in the loss column, but they are all still playing stellar hockey.
They have incredible balance. Head coach Joel Quenneville knows that there is no shortage of stars and role players who can come through for him on an every-game basis.
Jonathan Toews, Marian Hossa and Patrick Kane are the offensive heroes, but Bryan Bickell, Viktor Stalberg and Brandon Saad may just as easily come through with a big goal.
On the defensive front, the Blackhawks are not usually going to play a physical game and intimidate opponents with their body-checking, but defensemen like Duncan Keith and Brent Seabrook will regularly break up opposing rushes and take the puck away from the defense. Chicago's depth on defense gives the team a chance to shut down opponents most nights.
Finally, Quenneville has to feel great about his team's goaltending. Corey Crawford and Ray Emery have been sensational this season. Emery, the backup goaltender, has a perfect 10-0-0 record through March 17.
The Blackhawks should be in an excellent position to win the Stanley Cup this year, and their balance is one of their strongest attributes.
When you think of the Pittsburgh Penguins, you think of stars like Sidney Crosby, Evgeni Malkin and James Neal.
Star power does not usually go with balance, but the Penguins have many key players who give head coach Dan Bylsma the dependability that makes the team so difficult to beat.
The Penguins have won nine in a row after beating the Boston Bruins March 17. They have quickness and talent up and down their lineup who support their superstars.
Chris Kunitz has raised his level of play this season and he's joined by excellent role players in Brandon Sutter and Tyler Kennedy.
The Penguins have not always played solid defense, but they are improving in that area as the season progresses. Kris Letang is the team's best defenseman, and the Penguins are hoping that a lower body injury suffered March 17 against Boston is not serious.
Paul Martin and Matt Niskanen are much improved this season on the blue line.
Marc-Andre Fleury has been good enough to win a Stanley Cup in his career. He has a 15-5-0 record with a 2.45 goals against average and a .909 save percentage. If he can keep on improving and put last year's playoff debacle against Philadelphia behind him, the Penguins will be adequate in goal.
The Anaheim Ducks would probably be the NHL's best regular-season story if it were not for the Chicago Blackhawks.
The Ducks have been a dominating, physical team that has consistent scoring and solid defense.
Offensively, their top three players are Ryan Getzlaf, Corey Perry and Bobby Ryan. However, veterans Teemu Selanne and Saku Koivu are still carrying their weight and giving the Ducks plenty of clutch scoring.
Andrew Cogliano (10 goals) and Daniel Winnik (14 points) have also been solid contributors.
On the defensive end, the Ducks assert themselves in a physical style on a consistent basis. Francois Beauchemin and Sheldon Souray have set the tone for the Ducks defense.
Head coach Bruce Boudreau has to be thrilled with the goaltending the Ducks have displayed. Jonas Hiller and Viktor Fasth have won 10 games each and combined for three shutouts.
It will take a substantial effort to beat the Ducks this year, because they are one of the most balanced teams in the league.
While the Bruins have dropped both games they have played against the talented Penguins and split two games with the Montreal Canadiens, there is no denying that head coach Claude Julien has one of the most balanced and deepest teams in the league.
They may have some issues with quickness, but they make up for it with physical strength, overall skill, determination and confidence.
Patrice Bergeron sets the tone on offense with his versatility and all-around play. Tyler Seguin, Brad Marchand, Milan Lucic and Nathan Horton can all carry the team from time to time.
Zdeno Chara is the most intimidating defenseman in the league. He is a solid leader and a big factor in all key games. Dennis Seidenberg is one of the most underrated defensemen in the league. Andrew Ference and Johnny Boychuk don't make many mistakes on defense.
Tuukka Rask (14-3-3, 1.92 GAA and .928 save percentage) is having one of the best statistical years of any goaltender and backup Anton Khudobin is solid.
Beating the Bruins requires a top-ranked opponent's best effort.
The Kings started slowly this season, but they have hit their stride and should be formidable the rest of the season. They will have a chance to assert themselves in the postseason once again.
The Kings have enough offensive firepower and have been scoring at a much higher rate than they did last year. Jeff Carter leads the way with 17 goals (yet only two assists), but he gets plenty of help from Dustin Brown, Anze Kopitar, Mike Richards and Justin Williams.
The Kings probably have more depth on defense than any Western Conference team. Slava Voynov has 19 points from the blue line. He has shown a talent for finding open teammates and setting them up with scoring opportunities. Drew Doughty, Jake Muzzin and Rob Scuderi have been solid on the defensive end as well.
Jonathan Quick won the Conn Smythe Trophy as the MVP of the playoffs last year. He is struggling with a 2.69 GAA and an .891 save percentage this season. Quick needs to pick it up for the Kings to match last year's achievement, but he certainly has the talent to do that.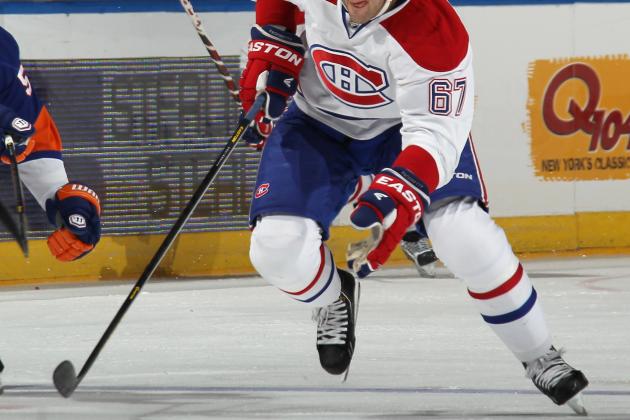 Bruce Bennett/Getty Images

Forget about last year, because the Canadiens certainly have.
They may have been last in the Eastern Conference in 2011-12, but they have been at or near the top of the Conference this year.
Head coach Michel Therrien has instituted a defensive-minded and disciplined system, and the team has excelled.
The Canadiens have plenty of quickness and firepower. Max Pacioretty, Tomas Plekanec, Brian Gionta, David Desharnais, Brendan Gallagher and Michael Ryder are all creative and effective offensive players.
The defense has been consistent all season. Veterans Andrei Markov and Alexei Emelin set the tone at the start of the season, while P.K. Subban is an explosive and game-changing player.
Goalie Carey Price has had a few subpar games, but he has been solid most of the time. He is still considered one of the best at his position in the league.
The St. Louis Blues have not been as consistent as they were last year. The goaltending has let head coach Ken Hitchcock down on occasion.
However, the framework of this team is still strong. The Blue have the depth to push any Western Conference team and force them to play their best game.
The Blues are nasty and physical when they are playing their best game. Chris Stewart, David Perron and David Backes form a formidable trio at the top of the Blues' scoring list.
The Blues have plenty of strength on defense with Kevin Shattenkirk, Alex Pietrangelo and Barret Jackman all playing well this season.
Brian Elliott and Jaroslav Halak were both sensational in net last year, and both have struggled with save percentages under 90 percent this season. However, Jake Allen has tried to bail them out with an 8-1-0 record along with a 2.18 GAA and a .920 save percentage.
The Blues still need to show some improvement, but they have one of the most balanced rosters in the league.