Opening Odds for Every Team in 2013 NCAA Tournament
Al Bello/Getty Images
We now know the 68 teams that make up the field for the 2013 NCAA tournament.
Brackets are being downloaded and printed.
All we need to do is figure out how we are going to fill out our bracket (or brackets) so that we will be the champs of the pools that we enter.
Here are the opening odds for each team's chances of winning it all.
Make your picks for the 2013 NCAA Tournament here with the Bracket Challenge Game
Midwest Region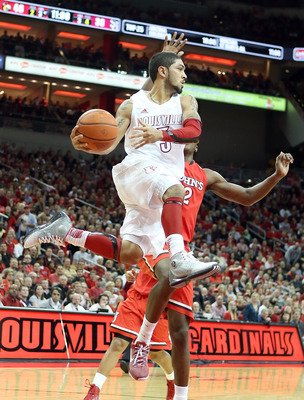 Andy Lyons/Getty Images
16. North Carolina A&T (Play-in; 50-1): The Aggies finished in sixth place in the MEAC. Speedy departure? Yes.
16. Liberty (Play-in; 75-1): Depending on your perspective, the Flames' inclusion in March Madness is either a joke or what's awesome about the current selection process. One and done if there's ever been one.
15. Albany (35-1): The Great Danes pulled off an upset in the America East championship game. Albany went 7-9 against teams with an RPI under 200. Hasta la vista, Great Danes.
14. Valparaiso (25-1): Even if the Horizon League champs weren't playing the most fierce competition all year long, the Crusaders' 10-5 road record is impressive and will help them when they square off in the NCAA tournament later in the week.
13. New Mexico State (25-1): Winning the WAC tourney title four times since 2007 is a nice accomplishment, but NMSU doesn't have the players to get out of the first round.
12. Oregon (14-1): The Pac-12 tournament champs are one of the most balanced scoring teams in the country. The fact that the Ducks are a perfect 3-0 against Top 25 teams bodes well for them going into March Madness.
11. Middle Tennessee State (Play-in; 25-1): The Blue Raiders' Sun Belt tourney slip-up has been pardoned, and MTSU could be a David looking for their Goliath.
11. St. Mary's (Play-in; 20-1): The Gaels are notorious March Madness Goliath slayers. They take care of the ball, shoot threes and crash the offensive boards. Are they ready to pull off another first-round upset? Absolutely.
10. Cincinnati (15-1): The Bearcats limp into March Madness losing four of their last seven games. Not good.
9. Missouri (10-1): If everything finally gels for the Tigers, Mizzou has more than enough weapons to do work in this year's tourney.
8. Colorado State (12-1): The Rams' strength on the boards (40.4 RPG; No. 5 in the nation) could help CSU pull off a first-round upset.
7. Creighton (9-1): The Bluejays' insane shooting accuracy (50.8 percent; No. 1 in the nation) will help them advance to the middle rounds of March Madness.
6. Memphis (10-1): The Tigers' 66.6 free-throw percentage (No. 262 in the country) spells trouble in more ways than one.
5. Oklahoma State (8-1): The Cowboys are at their best when they are creating turnovers, running the court and getting to the line. National freshman Player of the Year candidate Marcus Smart is the perfect point guard for OSU's attack.
4. Saint Louis (7-1): Any squad that beats Brad Stevens' team three times in one season has my instant respect.
3. Michigan State (5-1): Because Spartans head coach Tom Izzo coaches the heck out of every minute of every game, don't be surprised if MSU knocks on the Final Four door again.
2. Duke (5-1): The Blue Devils' senior leadership (Seth Curry, Mason Plumlee and Ryan Kelly), along with their dynamic offensive attack, could translate into Coach K's 12th Final Four appearance.
1. Louisville (3-1): The Big East tournament champs may be playing as well as any team in the country. Final Four? Promising. National champion? Could be.
South Region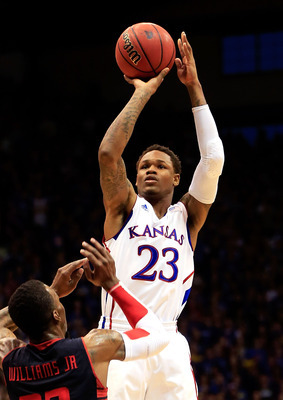 Jamie Squire/Getty Images
16. Western Kentucky (50-1): The Hilltoppers were in fourth place in the Sun Belt Conference. On the season, WKU had more turnovers (527) than assists (392). Not a good March Madness combo.
15. Florida Gulf Coast (35-1): Even though the Eagles' calling card is defensive pressure (306 steals; No. 6 in the nation), FGC will make a quick exit.
14. Northwestern State (40-1): The Demons are the No. 1 scoring team in the nation (81 points per game), but the Florida Gators will have something to say about Northwestern State putting the ball in the basket.
13. South Dakota State (20-1): The Jackrabbits are a finely tuned offensive machine, scoring lots of points off of precise three-point shooting and good ball management. Could they be a first-round giant killer? Possible.
12. Akron (25-1): With shot-eraser Zeke Marshall, the MAC champ could pull off an opening-round upset, but it is not likely to get beyond the Round of 32.
11. Minnesota (15-1): Because the Gophers are one of the best offensive rebounding teams (15 per game; No. 3) in college hoops, a second weekend appearance is not out of the question.
10. Oklahoma (18-1): The Sooners' inconsistency in closing out games could come back to bite them early in the tourney.
9. Villanova (14-1): The Wildcats rocked the Big East in late January when they knocked off Louisville and Syracuse in a matter of four days. Since then, 'Nova has gone 7-6. Not the way you want to enter March Madness.
8. North Carolina (11-1): The Tar Heels are firing on all cylinders since changing to a four-guard attack. UNC getting to its 31st all-time Sweet 16 is doable.
7. San Diego State (11-1): Because the Aztecs struggled away from home (7-9) and down the stretch (5-5) this year, a first-round defeat may be in the cards.
6. UCLA (20-1): The Bruins' March Madness prospects definitely took a serious hit when freshman wing Jordan Adams broke his foot in the closing moments of the Pac-12 semis.
5. VCU (8-1): Nobody wants to play the Rams because they apply relentless defensive pressure (No. 1 in the nation in steals—11.9 per game) and persistently crash the offensive boards (13.9 per game; No. 10).
4. Michigan (5-1): The Wolverines have the best perimeter game in college basketball. Not many teams have four quality wings who can shut this group down.
3. Florida (5-1): The Gators still have a dynamic offensive attack, but it's Florida's top-tier defense (No. 3 in both scoring defense and field-goal percentage defense) that will help it make a deep run this year.
2. Georgetown (5-1): The Hoyas may be the most sound team in the tournament when you break down every element of the game. Otto Porter makes everyone around him better.
1. Kansas (4-1): Because the Jayhawks have strong senior leadership and are the nation's top field-goal percentage defensive team (35.9 percent), look for KU to reach the Final Four for the second year in a row.
West Region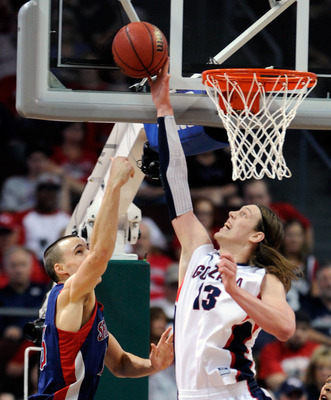 David Becker/Getty Images
16. Southern (50-1): Only three of the Jaguars' opponents this season had a Top 100 RPI. Even though they play tough, in-your-face defense, Southern will be hard-pressed to make their first-round game competitive.
15. Iona (30-1): The Gaels will need to do more than score (80.7 PPG; No. 2 in the nation) to have a chance to make some March Madness noise.
14. Harvard (30-1): The fact that the Crimson are the second-worst offensive rebounding team in the country adds further challenge to their nearly impossible task of winning a single game in this year's NCAA tournament.
13. Boise State (Play-in; 25-1): BSU lived through the brutal MWC schedule this year. A first March Madness win in school history would be a realistic goal and a decent accomplishment.
13. La Salle (Play-in; 25-1): The Explorers proved this year that they can hang with some top-level teams (victories over VCU and Butler), but they will be overmatched, even in a play-in game.
12. Ole Miss (14-1): The insane ride that is 2012-13 Rebel basketball just got more crazy, as Mississippi came roaring back in the second half of the SEC title game to beat Florida. Anything (absolutely anything) can happen when the Rebels take the court.
11. Belmont (20-1): The sharpshooting Bruins (49.4 FG percent) are an intriguing "David" team, but I'm not sure that 2013 will be the year that they get their first March Madness victory.
10. Iowa State (15-1): The Cyclones love the three ball. They launched more shots from beyond the arc (878) than any other team in D-I hoops. When their long-range shooting is on, they can hang in any game in the tourney.
9. Wichita State (15-1): The Shockers are a gritty unit that won't be intimidated regardless of who they play. Determined D and hard-hitting work on the offensive glass will keep WSU in its March Madness games.
8. Pittsburgh (10-1): The Panthers' ball-control offense and relative success on the road (8-5) this season will help Pitt get to the second weekend.
7. Notre Dame (9-1): Because the Fighting Irish share and take care of the ball as well as any team in the country, a second-weekend appearance is possible.
6. Arizona (9-1): 'Zona was out fast this season (20-2), but current unpredictability makes a deep run an outside chance.
5. Wisconsin (8-1): The Badgers have five wins over Top 25 teams this season, including two victories over both Indiana and Michigan. It's never an easy game when you play against a Bo Ryan-coached team.
4. Kansas State (7-1): Because the Wildcats take care of the ball (1.38 assists to turnovers; No. 13 in the nation) and pound the offensive glass (455; No. 12), K-State will play at least into the second weekend.
3. New Mexico (7-1): The Mountain West regular-season and tournament champs have won 12 of their last 14 games. Hot teams do well in March Madness.
2. Ohio State (5-1): The Big Ten champion Buckeyes haven't allowed their opponents to score more than 60 points in over a month. Defensive competence plays well in March Madness.
1. Gonzaga (4-1): The Bulldogs' offensive expertise (No. 3 in the nation in both field-goal percentage and points per possession) could propel Gonzaga to the school's first Final Four appearance.
East Region
Gregory Shamus/Getty Images
16. Long Island (Play-in; 60-1): Even though the Blackbirds are a high-scoring and aggressive bunch, LIU will experience a speedy departure from this year's tourney.
16. James Madison (Play-in; 70-1): The Dukes finished in fourth place in the CAA, but they knocked off Northeastern in the conference tourney final. Can you say, "Quick Exit"?
15. Pacific (35-1): The Tigers struggled away from home (6-10) during the regular season. Not the best quality for a team looking to pull off a big upset in the first round.
14. Davidson (25-1): Could the Wildcats, who are riding a 17-game win streak, pull off a first-round surprise? Possibly.
13. Montana (25-1): The Grizzlies need more than a bear trap to snare even a first-round win.
12. California (15-1): Pac-12 POY candidate Allen Crabbe is going to have to elevate his already advanced game if the Golden Bears are going to roar in March Madness.
11. Bucknell (20-1): Could the Patriot League champs pull off another monster upset like Lehigh did last year? With Mike Muscala patrolling the middle, anything is possible.
10. Colorado (15-1): The Buffaloes' 4-1 record in neutral-court games gives CU a glimmer of hope.
9. Temple (13-1): The Owls' wins against Syracuse, Saint Louis and VCU show that they can hang with top-tier teams. Because of their offensive efficiency, Temple is a team to watch in the opening rounds.
8. N.C. State (15-1): The Wolfpack are a Jekyll and Hyde team: great offense, nearly nonexistent defense. Not exactly a recipe for a deep March Madness run.
7. Illinois (15-1): The Fighting Illini attempt to pillage their opponents by the sheer volume of their three-point attempts (815; No. 3 in the nation). Unfortunately, that will not be enough to prevent Illinois from making a hasty departure in this year's NCAA tournament.
6. Butler (10-1): Brad Stevens' 11-4 NCAA tournament record is all I need to know about the Bulldogs' prospects.
5. UNLV (9-1): The Rebels play tough defense, crash the boards, block shots and share the ball. And yet, UNLV still finished in third place in the MWC. Was the league that tough this season? We'll find out shortly.
4. Syracuse (9-1): The Orange's end-of-the-season struggles (5-5) and colossal collapse in the Big East tournament final point toward an unfortunate and untimely exit from this year's March Madness.
3. Marquette (7-1): The Golden Eagles' 7-8 road/neutral-court game record could translate into first-round trouble.
2. Miami (Fla.) (5-1): In spite of going through a rough patch just before the end of the regular season, the Hurricanes are still one of the best teams in the country. Deep run? You better believe it.
1. Indiana (3-1): Because the Hoosiers have added a stout defense to their top-10 offense, Indiana is a compelling national championship contender.
Keep Reading