Barca Takes Down Rayo: 3 Takeaways on Messi, Adriano and Villa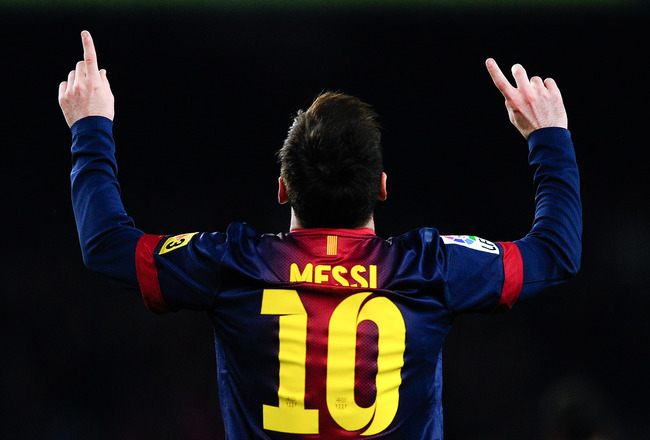 King Leo
David Ramos/Getty Images
FC Barcelona continued their winning ways as El Blaugrana demolished Rayo Vallecano 3-1 at the Camp Nou on Sunday.
Lionel Messi's free kick hit the crossbar in the eighth minute. It was the 11th time a Messi shot hit woodwork this season. Jordi Alba's great run-and-cross was cleared by Rayo in the 20th minute.
David Villa got the scoring started in the 25th minute as Messi on the break found El Guaje to his left and Villa put it in the back of the net. It was Villa's eighth goal in La Liga this season.
Messi grabbed his goal in the 40th minute as Villa fed Messi, who slipped it underneath Rayo goalkeeper Ruben in his 18th consecutive game with a goal.
In the second half, Dani Alves' shot hit off the post in the 49th minute.
Messi got his second goal in the 57th minute as a corner kick for Rayo started a counterattack for Villa. El Guaje fought off a Rayo defender and found Messi. Leo had a one-on-one with Anaitz Arbilla, and his speed beat Arbilla toward the net. Messi finally lobbed the shot over Ruben for his second goal on the night. A pure golazo!
Raul Tamudo made it 3-1 thanks to his goal in the 70th minute.
Messi nearly got his hat trick in stoppage time, but his chip shot just went over the crossbar.
Final: FC Barcelona 3-1 Rayo Vallecano
Let's break down my three takeaways "From the Mind of Xoel" as Barcelona beats Rayo 3-1 on Sunday. Vamos!
Adriano: Do Not Offer Him a Contract Extension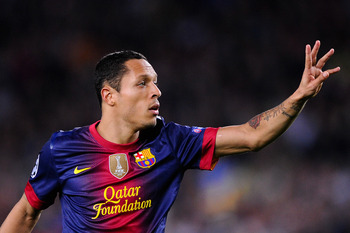 David Ramos/Getty Images
Adriano was injured and subbed off during Sunday's game against Rayo. The Brazilian hurt his hamstring and went immediately to the locker room. At half-time, it was revealed that Adriano suffered a tear in his hamstring and will be out four to six weeks.
This is tough news, as the Barcelona defense was already thin with Carles Puyol out for three months with knee surgery.
As much as I like Adriano, I believe this injury just confirms that he is not the best option for FC Barcelona for the future.
MundoDeportivo.com (via @Barcastuff) reported last week that the club was getting close to finalizing a contract extension for three more seasons. Adriano's current contract ends in 2014.
Adriano is an excellent utility player. He can play defense, forward and even in the midfield. But as much as I like him, the man is as fragile as a kitten. He continues to suffer thigh and hamstring injuries.
Maybe Adriano needs to go see a specialist in another country, because he continues to suffer the same injuries over and over and the Barcelona medical staff has not done enough to help him overcome this.
I believe Sandro Rosell needs to reconsider extending Adriano's contract. Can this team depend on him being regularly available from now until 2017? I'd say no. There are plenty of good, young players at La Masia like Carles Planas, who deserve to be called up to the first squad.
Sorry, Adriano, I like you, but you're injury-prone, and I just don't think you merit a three-year contract extension.
Messi and Villa: It's All About Respect
David Ramos/Getty Images
David Villa is having a terrific week!
El Guaje shined against Rayo, as his goal and two assists helped lead to the win. A pretty good encore from his huge goal against AC Milan in Barcelona's UEFA Champions League remontada last Tuesday.
If this Barcelona team are going to get past Paris Saint-Germain, we'll need to see more of this David Villa. It's a throwback to the impact Villa had in the 2010-11 season, when Villa's scoring helped Barcelona win the Champions League title.
We all know Lionel Messi can take over a game, but like any other footballer, Leo needs his teammates/forwards to help him. Last season, we saw that Leo was in desperate need of having a winger help him score the goals. Alexis Sanchez, Pedro and Cristian Tello have not been scoring as we'd all like to see this season. But now with David Villa on fire, I'm hopeful Barcelona will have an easier time scoring goals without it always having to be Messi.
Critics will say that Messi and David Villa still do not like each other.
I don't know if David and Leo are good friends or not, but one thing that I do know is that right now, they love each other.
Winning always makes things better.
And who says you always have to always like your teammate? I'm not saying it's not important, but you do not have to always like your teammate, just as long as you respect him or her.
Maybe Messi and Villa don't see eye to eye at times, but I'm sure they respect each other and are both happy they have the other as a teammate.
David Villa is one of the best strikers/wingers of our generation, and I'm ecstatic he is playing like the El Guaje of old. We'll need him to continue to score goals, assist and create tremendous plays to Lionel Messi (and vice versa) if FC Barcelona are going to go deep in the Champions League.
Messi + Villa + on-the-pitch chemistry = pure FC Barcelona magic.
Messi by the Numbers
David Ramos/Getty Images
As we do every week, let's look at Lionel Messi by the numbers, as Leo scored two goals in Barcelona's win over Rayo Vallecano.
Messi's 42 league goals is more than 15 different La Liga teams, 12 EPL teams, 14 Serie A teams, 12 Bundesliga teams and 15 Ligue 1 teams (via @AlbaEspana).
Messi has now scored 60 goals for club and country this season (50 matches): 55 for Barcelona and five for Argentina.
This is the second consecutive season in which Messi scores 60-plus goals for club and country (82 in 2011-12; 60 so far in 2012-13), according to @MessiStats.
Lionel Messi is the first player in history to score 42-plus league goals in two consecutive seasons in a top-four league (via @2010misterchip).
Messi's scoring run of 18 consecutive games is longer than any of the other clubs currently in La Liga (via @infostradalive).
With Messi's second goal, Leo pass the great Pahino as the player with seventh-most Liga goals ever (211 goals).
With Messi's second goal, Messi passed Alfredo Di Stéfano's goal tally of 307 goals for a single Spanish club. Only Zarra (335) and Raúl (323) have more (via @champ_ian).
Lionel Messi has hit the woodwork more times than any other player (11) in the top five European leagues this season (via @Barcastuff).
Since 1995, no player has hit the woodwork as many times in one Liga season as Lionel Messi (11) in the ongoing season (via @pedritonumeros).
Lionel Messi has scored 42 goals so far this Liga, more than the 31 in his first four seasons at Barcelona together (via @opta).
Messi's 42 league goals this season is more than the top scoring duo in the EPL combined: 41 goals from Luis Suarez's 22 Robin van Persie's 19 (via @infostradalive).
Lionel Messi has scored 42 goals in the 28 Liga games this season, an average of 1.5 goals per game.
Did I mention he's still 25 years old?
Grande Messi!
Histórico Messi!
FC Barcelona goes to the international break up 13 points on Real Madrid in the Liga table and with the momentum needed for Liga and especially upcoming Champions League games.
But what we're all looking forward to is to hopefully see manager Tito Vilanova back on the Barcelona bench after the FIFA break.
Vamos!
Xoel, The Voice of FC Barcelona.
Follow me on Twitter for continuous Barca news, live tweets of every game and your questions answered.
Keep Reading

FC Barcelona: Like this team?