Michigan Wolverines' Blueprint to Win the 2013 NCAA Tournament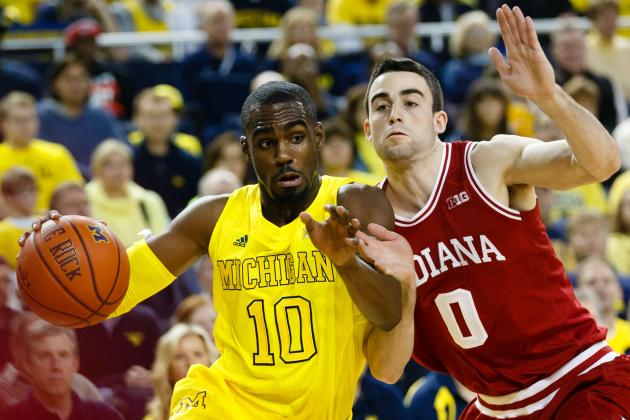 Rick Osentoski-USA TODAY Sports
What will Tim Hardaway Jr. need to do in order for Michigan to win a national title?
Selection Sunday finally arrived, and the Michigan Wolverines found out they will be the No. 4 seed in the south region of the NCAA tournament bracket. Despite Michigan's recent struggles, there is still a viable blueprint to win its first national title since 1989.
The Wolverines will be playing close to home in the opening rounds, which could provide them with a much-needed spark.
Michigan's Thursday tilt with the South Dakota State Jackrabbits, and potential Saturday clash with the Virginia Commonwealth Rams or Akron Zips, will be at the Palace of Auburn Hills. The short trek from Ann Arbor will undoubtedly give the Wolverines a home-court advantage.
Head coach John Beilein's team will need to overcome a lack of production from their bigs and get some outstanding play from their top guards. Still, nobody should want to face the Wolverines as long as they follow this blueprint to a national title.
Begin Slideshow

»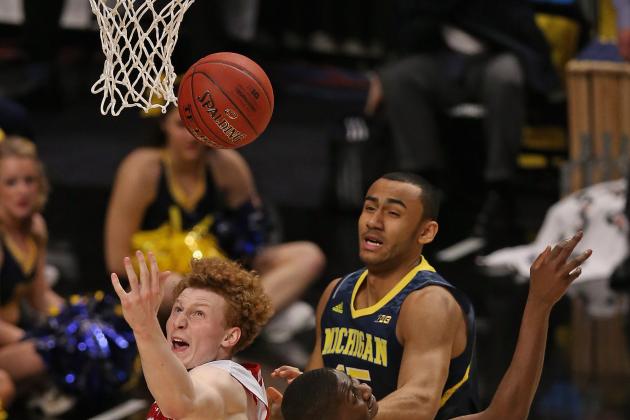 Jonathan Daniel/Getty Images
If Michigan is going to win the NCAA tournament, it will need to improve defensively.
Interior defense is the Michigan Wolverines greatest weakness entering the NCAA tournament, and unless the Maize and Blue batten down the hatches, they could be eliminated as early as the opening weekend.
Michigan's defensive woes inside have caused some other problems as well. The Wolverines' defensive rebounding and ability to guard the perimeter have suffered due to their inability to keep opposing bigs from entering the paint with minimal effort.
This has been on display in Michigan's most recent losses to the Wisconsin Badgers, Indiana Hoosiers and in victories over the Michigan State Spartans and Purdue Boilermakers.
Both Indiana and Wisconsin hit three-pointers—seven and eight, respectively. The Hoosiers, Spartans and Boilermakers managed to snag 48 offensive rebounds in their rematches with the Wolverines in March.
Thankfully, the Wolverines will not need to worry about being battered on the glass against the South Dakota State Jackrabbits this Thursday. The Jackrabbits have two talented bigs in Tony Fiegen and Jordan Dykstra, but the latter is more of a shooter than a post-up forward.
Rebounding could become an issue this weekend, though, against the winner of the Virginia Commonwealth Rams vs. Akron Zips contest.
Juvonte Reddic is a force both on the boards and in the paint for the Rams. Reddic averages 14.4 points per game to go along with 8.3 rebounds.
The Kansas Jayhawks are another team that will pose a major threat to the Wolverines if they make it to the Sweet 16. Senior bigs Jeff Withey and Kevin Young combine for 15 rebounds per game.
Whether or not Michigan can hold its own in the paint against Kansas and VCU will determine if this team has a chance to make a run at a national title.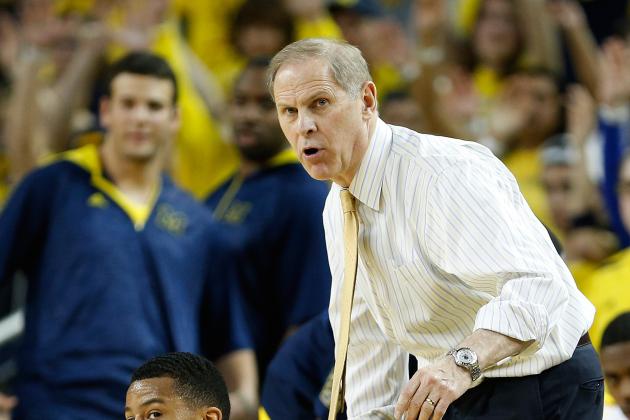 Gregory Shamus/Getty Images
Trey Burke cannot try to do it all himself if the Wolverines are going to win a national title.
Although one of sophomore point guard Trey Burke's best traits is the ability to single-handedly take over a game, the Michigan Wolverines will be making an early exit from the NCAA tournament if he does not limit his field-goal attempts.
When Burke has taken 20 or more shots this season, Michigan is 0-4. Several attempts in these games have been early in the shot clock, and have resulted in wasted possessions.
Burke needs to avoid getting shot-happy, get his teammates involved on every possession and shoot the ball anywhere between 13 and 19 times. The Wolverines are 16-1 when Burke finishes inside that happy medium.
The Big Ten Conference Player of the Year needs to be Michigan's top scorer, but it cannot come at the cost of taking too many attempts away from his teammates.
In order for this to happen, though, shooting guards Nik Stauskas and Tim Hardaway Jr. have to consistently knock down shots.
The reason Burke had to shoot the ball 22 times in the Wolverines' most recent loss to the Wisconsin Badgers is because Stauskas went 1-of-8 from the field. Stauskas needs to rebound and become a reliable option for Burke on the wing in order to take pressure off the Wooden Award finalist.
If Burke is closing in on 20 field-goal attempts late in any NCAA tournament game, Michigan fans should be more than a little concerned.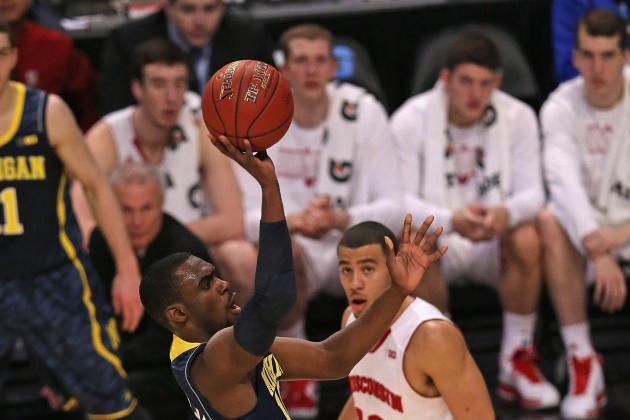 Jonathan Daniel/Getty Images
Tim Hardaway Jr.'s aggressive style of play will be needed for Michigan to make a run to Atlanta.
If the Michigan Wolverines are going to win a national title, junior shooting guard Tim Hardaway Jr. needs to continue attacking the basket and avoid settling for three-pointers.
Hardaway's aggressive style of play against the Wisconsin Badgers led to a 5-of-9 performance. The Miami native finished the loss with 14 points, and his best field-goal percentage since Jan. 27.
When Hardaway is camping out beyond the arc, his game suffers mightily and so do the Wolverines. There have been 12 games in which Hardaway has taken more than five three-balls this season. Hardaway only shot 50 percent or better from distance in three of those contests.
The 6'6", 205-pounder can elevate over anybody guarding him and is lethal from mid-range. Hardaway needs to rely on those traits, as opposed to his streaky three-point shooting in order for Michigan to reach Atlanta.
The Wolverines need Hardaway to be an active rebounder as well. When Hardaway pulls down more rebounds, it is easier for Michigan to ignite the fast break and get out in transition.
There will be no extended run for the Wolverines, though, if Hardaway fails to maintain his aggressiveness.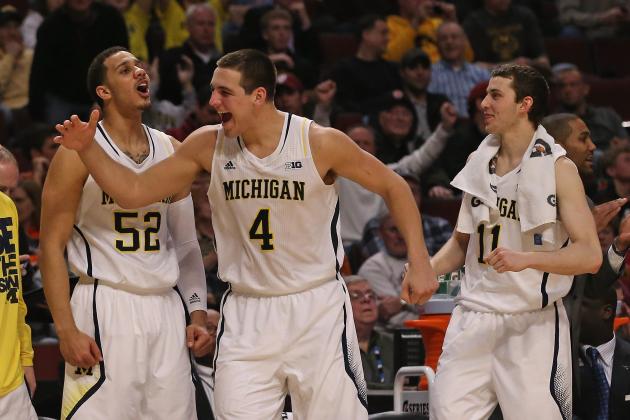 Jonathan Daniel/Getty Images
Mitch McGary and Jordan Morgan will need to be at their best for Michigan to win it all.
Efficient play in the post has crippled the Michigan Wolverines since early February, which is when their Big Ten schedule started to heat up. Michigan's big men cannot afford to commit silly turnovers or miss easy finishes at the rim if it has any national title aspirations.
In order for Michigan to become a legitimate national title contender once again, its trio of big men has to avoid fundamental mistakes and make a high percentage of their field-goal attempts.
Redshirt junior forward Jordan Morgan has only converted 8-of-20 shots over the past four games. Morgan also got yanked by head coach John Beilein early in the Wolverines' Big Ten tournament quarterfinal loss to the Wisconsin Badgers, after he committed three turnovers.
Mitch McGary has struggled to finish off easy buckets as of late, too. The freshman power forward went 1-of-5 in Michigan's 72-71 loss to Indiana last Sunday and 3-of-7 on Friday against Wisconsin.
Not much will be expected of Jon Horford, but he will need to hold his own at both ends of the floor when substituting for Morgan or McGary.
The VCU Rams thrive off turnovers, which means the Wolverines' bigs will have to play fundamentally sound basketball in order to advance past the first weekend.
Michigan's bigs will be at a significant disadvantage if the team faces the Kansas Jayhawks in the Sweet 16, but as long as the trio of power forwards can cash in on the easy opportunities they have, the Wolverines can overcome their size disadvantage inside.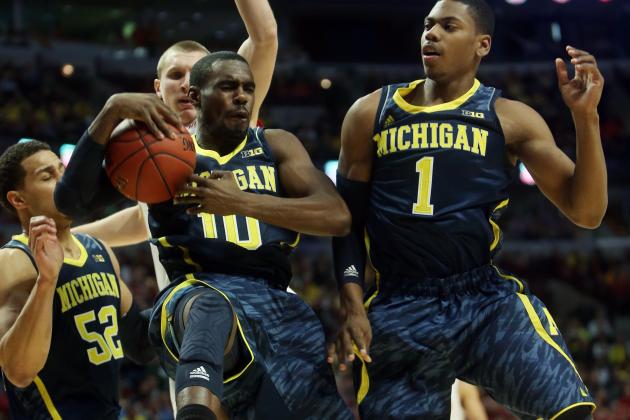 Jerry Lai-USA TODAY Sports
Michigan's guards need to get out in transition for this team to be at its best.
The top priority for the Michigan Wolverines in the NCAA tournament will be getting out in transition and racking up fast-break points.
When Michigan is forced to operate completely out of the half court, its offense is nowhere near as potent. The Wolverines are at their best when Trey Burke is running the floor and setting up Tim Hardaway Jr., Nik Stauskas and Glenn Robinson III with high-percentage shots.
Fortunately for the Maize and Blue, there are a lot of teams in this region that love to run, get shots up in a hurry and play in transition. The Kansas Jayhawks and North Carolina Tar Heels come to mind from the South Region.
The two teams with the ability to take away Michigan's transition offense are the Florida Gators and Georgetown Hoyas. These programs would make the Wolverines operate out of the half court for lengthy periods of time, which could be their undoing.
Michigan would only have to face one of these teams, though, since both are in the bottom half of its region. The Wolverines will not meet Florida or Georgetown until the Elite Eight.
A potential rematch with the top-seeded Indiana Hoosiers from the East Region in the Final Four would be the best matchup for Michigan's transition game.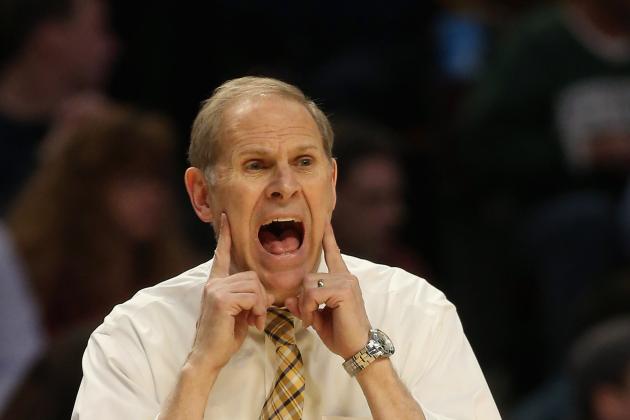 Jonathan Daniel/Getty Images
John Beilein and the Wolverines have a fairly good set up to make a run to Atlanta.
As far as this week goes, Michigan should have no problem dispatching of the South Dakota State Jackrabbits. The Summit League champions have a talented scorer in senior point guard Nate Wolters (22.7 points per game), but the Jackrabbits will not be able to keep up with Michigan in transition.
If the chalk holds in the first round, the Wolverines will face the VCU Rams on Saturday. The Rams pressure defense thrives off turnovers, so Trey Burke will need to be on his game in order for Michigan to come out on top.
Burke leads the nation in assist-to-turnover ratio (3.41), which should tilt this contest in favor of the Wolverines.
The Kansas Jayhawks will likely earn a spot in the Sweet 16, and this matchup is not a good one for the Wolverines given their deficiencies in the paint. If Michigan's guards are able to significantly outplay Elijah Johnson, Travis Releford and Ben McLemore, though, the team can pull off the upset.
The Elite Eight would be Michigan's toughest round. The Georgetown Hoyas and Florida Gators both play outstanding defense and operate well out of the half court. Whichever team advances to the regional final will pose a serious threat to the Wolverines' title hopes.
Overall, Michigan will be hard-pressed to make it out of its region. Fans should expect nothing less than an appearance in the Sweet 16, but beating Kansas and Georgetown/Florida is unlikely.