The Top Five Players To Have Ever Played in the Negro Leagues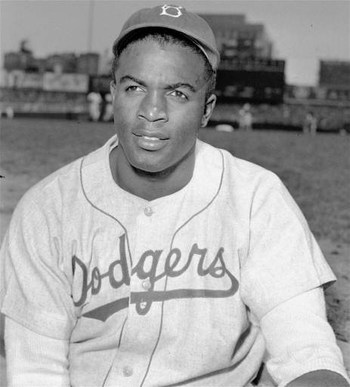 With yesterday being Jackie Robinson day and every player wearing No. 42, it got me to thinking; who were the best Negro League players of All-Time?
I batted around names such as Larry Doby, the first African-American in the American League but decided to go with a different player, now look at the next five slides to see who my top five Negro League players of All-Time are.
Feel free to voice your opinion in the comment section. Enjoy.
No. 5 - Satchel Paige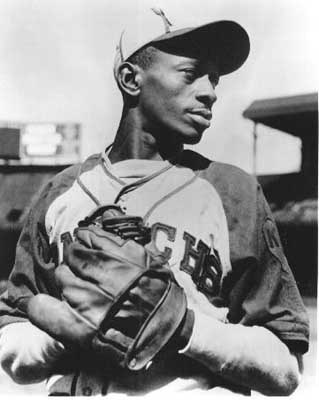 LeRoy "Satchel" Paige got his nickname of Satchel as a child carrying luggage in train stations. He was born on July 7, 1906 and died on June 8, 1982 at the age of 75.
He played in the Negro Leagues from 1926-1947. During those 21 years he played for 12 different teams. Some of which were the famous Pittsburgh Crawfords and Kansas City Monarchs.
Paige finally broke into the major leagues in 1948 at the age of 42. He'd play two years for the Cleveland Indians, three for the St. Louis Browns and one for the Kansas City Athletics.
The year he played for A's came 12 years after he last played for the Browns. Meaning he retired in 1953 at the age of 47 and then came back at the age of 59 to play one more year in the majors. Talk about longevity.
He is a member of the National Baseball Hall of Fame, elected in 1971. He was also an AL All-Star in 1952 and 1953.
No. 4 - Josh Gibson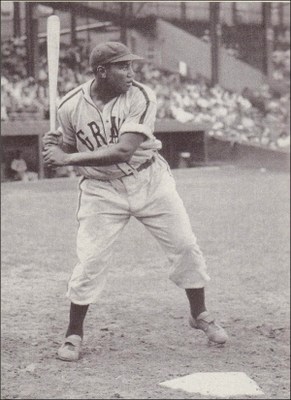 Josh Gibson was born on Dec. 21, 1911 and died on Jan. 20, 1947 at the age of 35. He played for 16 years for four teams, and three stints with the famous Homestead Grays.
However unlike the other names on the list he never got to play in the majors but will always be remembered for hitting an unconfirmed 800 home runs.
He was elected into the Baseball Hall of Fame in 1972.
No. 3 - Hank Aaron
Hank Aaron was born on Feb. 5, 1934 and is still alive today. During his Negro League career he played for two teams, the Mobile Black Bears and Indianapolis Clowns.
At the age of 18, he helped the Clowns win the 1952 Negro League World Series. Three years earlier he tried out for the Brooklyn Dodgers but did not make the team.
Now on to his Major League career he was a 25-time All-Star, a member of the Braves 1957 championship team, a three team Gold Glove winner, 1957 NL MVP, 1970 Lou Gehrig Memorial Award winner and his No. 44 was retired by the Brewers and Braves. He also hit a record 755 home runs.
No. 2 - Willie Mays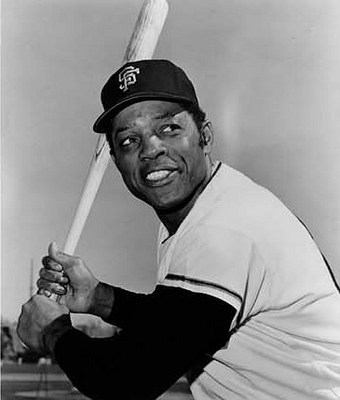 Willie Mays was born on May 6, 1931 and is still living strong today at age 77. Many people don't know that before making his basket catches for the Giants, he played in the Negro Leagues for the Chattanooga Choo Choos and Birmingham Black Barons.
After signing with Birmingham numerous teams came to the ballpark to scout Mays, one of which was Bud Maughn a scout. When Maughn referred Mays to the Braves front office, they declined to sign him.
Maughn then told the New York Giants about him, and they decided to sign him and assigned him to their Class-B Affiliate in Trenton.
After hitting .351 in Trenton he was called up to Triple-A Minneapolis Millers of the American Association. He hit .477 and was called up to the majors on Mat 25, 1951.
Mays went on to play 20 seasons for the New York/San Francisco Giants. During the 1972 season he was traded to the New York Mets. He went on to play for the Mets the rest of the season and then in 1973.
After the 1973 season at the age of 42 he retired from playing. In 1979 he was elected to the Major League Baseball Hall of Fame.
During his career he was a 20 time All-Star, 1954 World Series Champion, a 12 time Gold Glove award winner, a two time NL MVP, 1951 NL Rookie of the Year, 1971 Roberto Clemente Award winner and he had his No. 24 retired by the Giants.
No. 1 - Jackie Robinson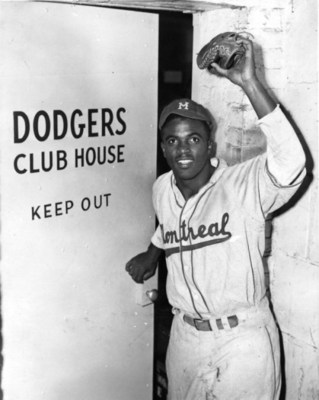 Jackie Robinson was born on Jan. 31, 1919 and died on Oct. 24, 1972 at the age of 53.
This choice should have been obvious since the man broke the baseball color barrier and played as big a role in the Equal Rights Movement as Dr. Martin Luther King.
Robinson began his Negro League career playing for the Kansas City Monarchs. He hit .387 with five home runs and 13 stolen bases for the Monarchs in 47 games. His performance garnered Major League interest.
The Boston Red Sox were the first team to try him out but even with only management in the stands he was still subject to racial name calling.
Ironically, even though they tried him out, the Red Sox were the last major league team to have an African American player on its roster.
Branch Rickey of the Brooklyn Dodgers began to scout Robinson and eventually signed him. He was sent to their Triple-A affiliate the Montreal Royals. Six days before the 1947 season he was called up to the Dodgers.
He would play nine seasons in Dodger Blue during which he was a six time All-Star, a World Series Champion in 1955, 1947 MLB Rookie of the Year, 1949 NL MVP, and his No. 42 was retired all around the Major leagues.
Keep Reading

Los Angeles Dodgers: Like this team?