UFC 158: 10 Memorable Moments from GSP vs. Diaz Fight Card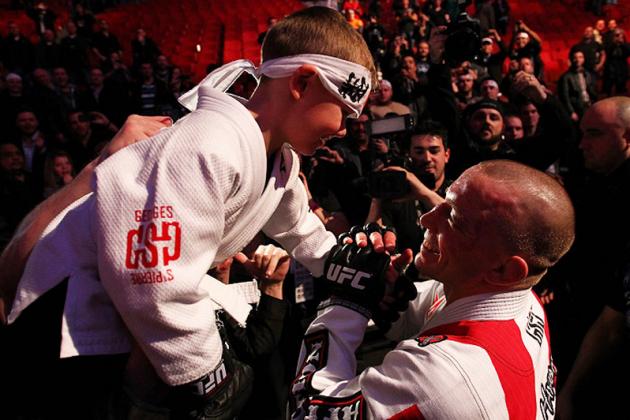 Georges St-Pierre easily battered a helpless Nick Diaz at UFC 158 in a record-breaking eighth title defense.
There was little doubt that Georges St-Pierre would pitch a perfect performance at UFC 158, and once again, the champion retained his title in stellar fashion.
But even though "Rush" walked away with the win, Nick Diaz stole plenty of the spotlight.
Could the Stocktonian retire? Is Diaz really done with mixed martial arts?
And even without talking about the main event, there was still plenty else to chew on once the night was done. New contenders, stellar prospects and future matchups all came to the forefront during Saturday's blockbuster MMA event.
So, which moments were the best?
Read on as we recap scenes from Montreal's Bell Centre, calling back 10 of the best interviews, highlight finishes and amazing exchanges from UFC 158.
Begin Slideshow

»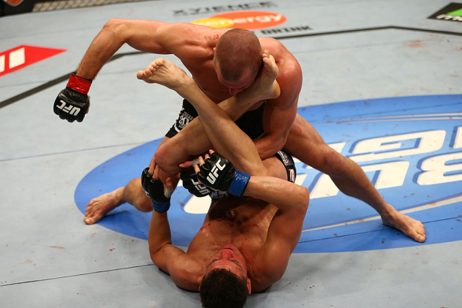 Photo Credit: UFC/Zuffa
There was no answer from Nick Diaz as George St-Pierre scored his ninth takedown of the night.
As easily as the champion had done it eight times before, GSP sealed his history-making title defense by dumping Diaz on his backside and peppering the Stockton native with swarming punches.
But as if the point hasn't been driven home enough, the crowd at Montreal's Bell Centre chanted a scathingly brutal goodbye to the challenger as he flailed on his back.
"F--- YOU, DIAZ! F--- YOU, DIAZ!"
It was obvious what the crowd was saying, and even color commentator Joe Rogan had to feign ignorance as GSP finished the night by beating Diaz up with a final flurry from guard.
And in that moment, no Hail Mary submission came from Diaz as St-Pierre put another picture-perfect performance in the books, officially passing one-time rival Matt Hughes for the most consecutive welterweight title defenses in UFC history.
Who cares about what St-Pierre had to say after the fight?
"Nick Diaz was a great opponent, he was my toughest challenge, blah blah blah."
Instead, all eyes quickly turned to Diaz, who cryptically teased the idea that he was done taking punishment in the Octagon.
"To be honest, I don't really think I've got it anymore," Diaz laughed in his post-fight interview with Joe Rogan. "I think I'm done with mixed martial arts. I'm tired of getting banged up like this."
But in the post-fight press conference right after, Diaz left the idea of more fights out there.
But the only reason I'm here right now is—I want a rematch. I believe I can beat [St-Pierre]. That's what I think. I think I might be a better matchup for Anderson Silva as well. But we'll see what happens.
And as usual, Diaz makes more news in an interview than he does in an actual fight.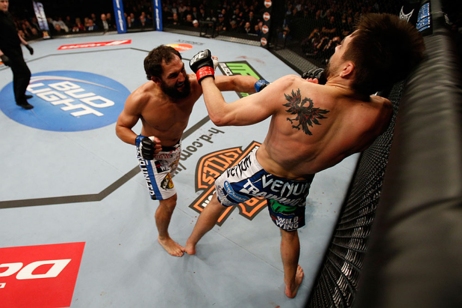 Photo Credit: UFC/Zuffa
Carlos Condit had never been stopped by KO or TKO in 34 professional fights.
But on Saturday night, Johny Hendricks came closer than anyone else.
Leaping right out of the gate with his monster hook punches, Hendricks backed up Condit with huge strikes, nearly ducking the Greg Jackson MMA fighter under.
But Condit doesn't go away that easily.
Not only did the former interim champion weather the storm, but he also turned a late takedown from Hendricks into a submission attempt, rolling for a kimura before taking Hendricks' back in the process.
For the first time in ages, Hendricks was in legitimate trouble, making for an excellent fight.
Sadly enough, Hendricks' pleas for a championship bout may fall on deaf ears.
One could almost hear the desperation in his voice as "Bigg Rigg" took a close decision win away from Condit, telling Joe Rogan that he has worked too hard to be passed over.
"GSP, if you win tonight, I want to see you here in five months," Hendricks cried out to Montreal. "I know you guys are GSP fans, but guess what? I earned it."
But did Hendricks earn his title shot?
Maybe, but there's bigger fish to fry, and without a KO victory, the argument is harder to make.
For now, all Hendricks can do is keep asking.
There's no better forum than UFC 158 to announce the next season of TUF, especially when Ronda Rousey is your headlining coach.
And that's exactly what UFC president Dana White did during the UFC 158 pay-per-view, revealing that the women's bantamweight champion would indeed coach the 18th main installment of The Ultimate Fighter against the winner of Miesha Tate vs. Cat Zigano.
Joe Rogan's expression spoke for many of us.
Ronda Rousey? TUF? Male and female bantamweights? Living in the same house?
Good Lord.
This could be the best season of The Ultimate Fighter ever.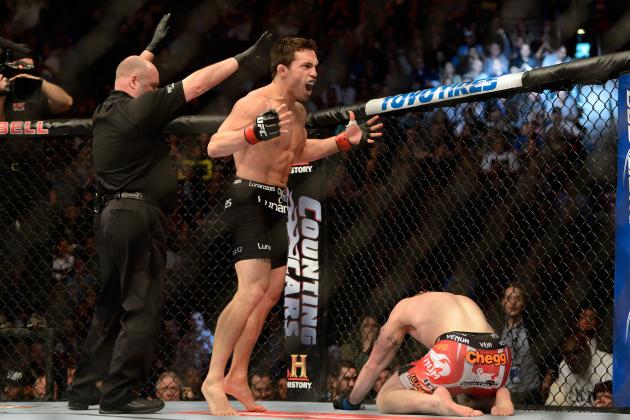 Eric Bolte-USA TODAY Sports

Just like that, Jake Ellenberger has regained his spot in the mix.
Although he won't be pushed to the front of the line with his KO win over former Strikeforce champion Nate Marquardt, that victory served as a strong reminder of the depth at welterweight.
In the end, Ellenberger didn't even need his wrestling as an equalizer.
While "Nate the Great" tried to ply his superior range with kicks and knees, the shorter Ellenberger eventually found an opening, as Marquardt got caught with his back against the cage fence.
From there, one missed kick left Marquardt's hands down and his chin exposed.
Ellenberger saw his chance, landing a stiff left overhand punch right on the nose and swarming a falling Marquardt before punching him into unconsciousness.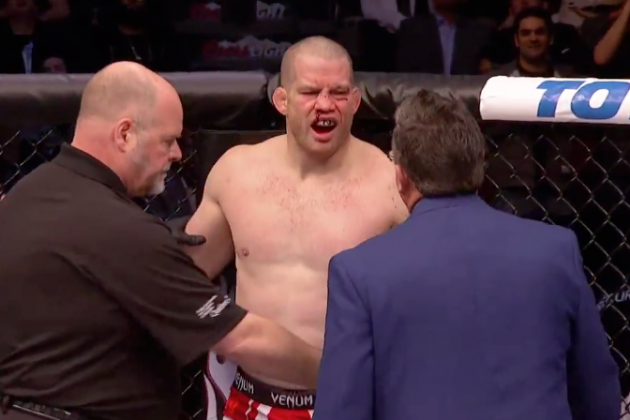 There's no shame in losing an MMA fight via KO to an elite athlete like Jake Ellenberger.
But there is shame in protesting the stoppage like a sore loser.
Especially when you visibly get put to sleep.
That was exactly what happened when Nate Marquardt regained his senses after the end of his main-card fight with Ellenberger, angrily pushing away cageside officials as he claimed an early stoppage.
Unfortunately for Nate, it wasn't early at all.
Had Ellenberger been allowed to pour on the punishment, it could have been damaging, and Marquardt was too angry about the loss to recognize it. Poor sportsmanship from a veteran competitor.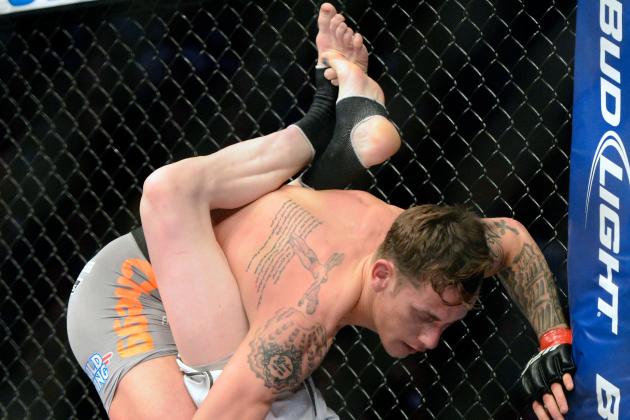 Eric Bolte-USA TODAY Sports

Mike Ricci and Colin Fletcher may have drawn their fair share of boos in their tepid striking display, but at least one of them came close to a finish.
As the final round closed to its end, Ricci grabbed Fletcher's back with 40 seconds to work, attempting a rear-naked choke before failing an armbar.
That exchange alone was more exciting than the rest of the fight.
Hopefully Ricci and Fletcher will get put on a gatekeeper track for other prospects as they continue to polish their stand-up or, barring that, get thrown some strong grappling threats.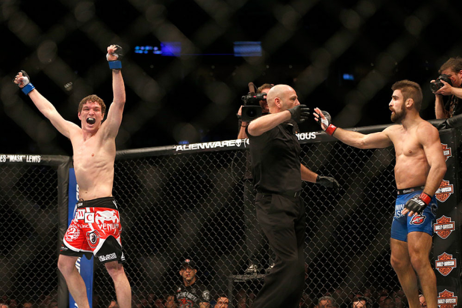 Photo Credit: UFC/Zuffa
At least Yves Lavigne didn't ruin the main event.
Unfortunately, Antonio Carvalho wasn't as lucky, having a fight taken away from him as the veteran referee prematurely stopped his bout with Darren Elkins.
Three minutes into the first around, Elkins managed to drop Carvalho with a stiff shot and nearly pressed for a finish as Carvalho popped up to his feet, ready to launch his counter-attack in a last-ditch effort.
That's exactly when Lavigne stepped in, not warning Carvalho or giving him a chance to fight back.
Was it too early?
Most likely. Even UFC president Dana White chimed in via Twitter for Carvalho, saying that Lavigne should've given Carvalho "more time" before the call.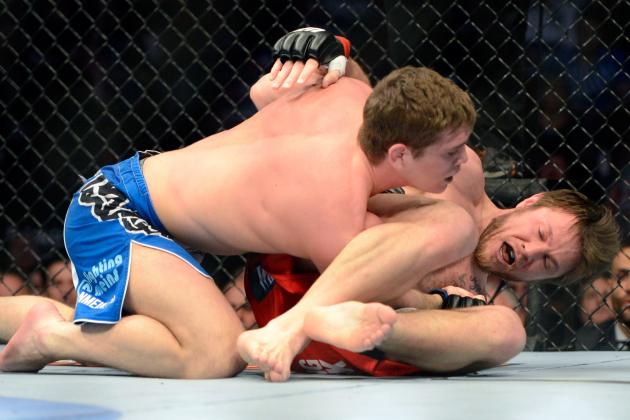 Eric Bolte-USA TODAY Sports

Strikeforce veteran Jordan Mein has stamped his spot in the UFC roster, and he did it with an amazingly dramatic show of grappling skill.
After getting caught in a nasty-looking armbar from Dan Miller, it seemed like things were over.
But the 23-year-old Mein showed exactly what his 35 fights of experience was worth, expertly spinning out of the armbar and saving his elbow before getting to his feet.
Moments later, Mein became the first man to stop Miller on strikes, ending the bout on a solid KO shot.
And that's no small feat.
Miller is a tough veteran who's gone the distance against Michael Bisping, Demian Maia and Chael Sonnen—which means Mein's victory puts a lot of welterweights on notice.