5 Fighters Who Made Statements at UFC 158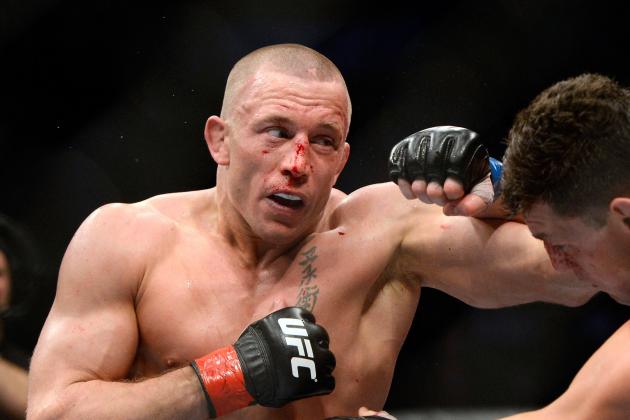 Eric Bolte-USA TODAY Sports

Five fighters, three of whom were welterweights, capitalized on their chances to impress the organization's brass and shined in the face of pressure Saturday at UFC 158 at Montreal's Bell Centre.
One fighter solidified his status as the welterweight division's undisputed kingpin, while another sewed up a well-deserved title shot at 170 pounds. Three other contenders made bold statements with wins by form of first-round knockout.
Here are the five fighters who flourished with the lights shining bright at UFC 158.
Begin Slideshow

»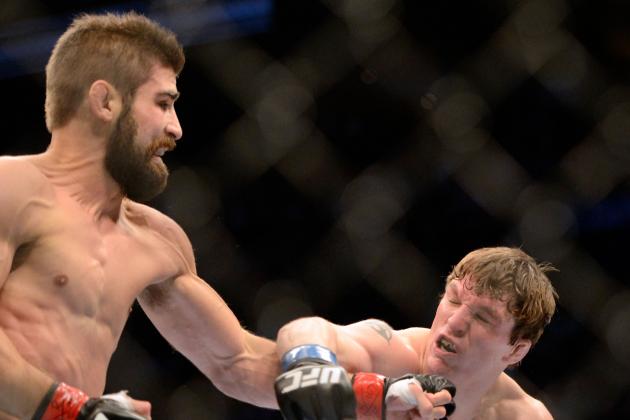 Eric Bolte-USA TODAY Sports

Granted, Darren Elkins halted Antonio Carvalho's two-fight winning streak in controversial fashion, but that doesn't diminish the fact that Elkins reeled off his fifth straight win in the UFC's featherweight division.
Elkins put Carvalho on skates late in the first round with a vicious right hand to the jawline. Elkins then finished a shaky Carvalho with a one-two combination that dropped the Canadian just long enough for referee Yves Lavigne to call the bout.
Lavigne may have jumped the gun on calling this bout, but that's not to say that Elkins wouldn't have soon finished the fight anyway.
Elkins sports a 6-1 record in the UFC and committed his lone error in the organization when he got armbarred by Charles Oliveira at UFC Live 2 in 2010.
In his post-fight interview with Joe Rogan, Elkins, who had won his last four fights by decision, sounded off on the importance of getting a finish.
"He was definitely hurt. He dropped, and then I went in for the kill. That's something I've been working on for this fight. I needed a finish, I thought, in this fight, and I definitely went after it."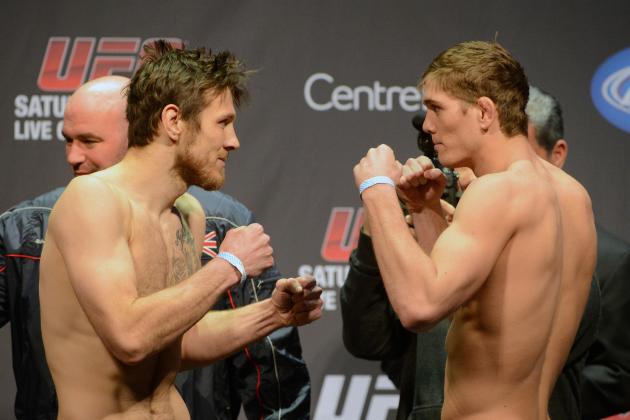 Eric Bolte-USA TODAY Sports

Yet another successful Strikeforce transplant, 23-year-old Jordan Mein made his presence felt in his UFC debut by becoming the first man to finish Dan Miller in his 22-fight career.
Mein calmly escaped from a precarious position when Miller hooked up a tight armbar just 1:30 into the fight.
Roughly three minutes later, Mein backed Miller up against the fence and unloaded a barrage of ferocious combinations which sent the 31-year-old New Jersey native to the canvas.
Like a starving lion, Mein turned it on at the sight of blood, finishing Miller on the ground with a furious flurry of punches and elbows.
"It makes me so excited. It was one of my goals. Dan's never been stopped in the UFC so that was one of my goals, and I achieved it," Mein said in his post-fight interview with Rogan.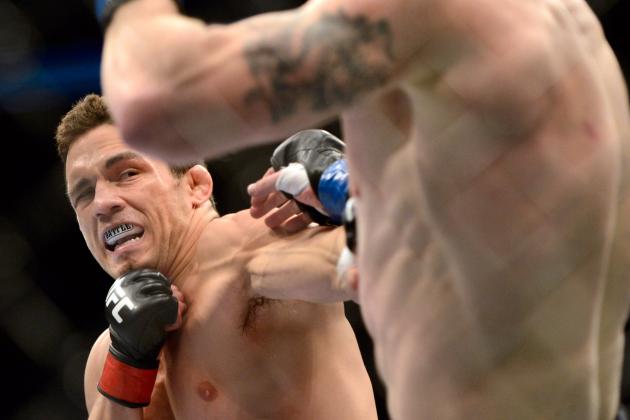 Eric Bolte-USA TODAY Sports

Following his TKO loss to Martin Kampmann at The Ultimate Fighter 15 Finale, Jake Ellenberger expected a long and trying road back to title contention.
Nearly six months after his win over Jay Hieron, Ellenberger took another step in the right direction by clobbering former middleweight title challenger Nate Marquardt.
Ellenberger stalked Marquardt for the better part of three minutes before unleashing a venomous three-punch combination that rendered "Nate The Great" momentarily unconscious.
Initially pegged as Johny Hendricks' opponent at UFC 158, Ellenberger made last-minute adjustments in his training camp to develop a more conducive plan of attack for the volatile Marquardt.
But because Hendricks just punched his ticket to a title shot, Ellenberger knows he'll need at least one more convincing win over a viable contender to earn his first crack at UFC gold.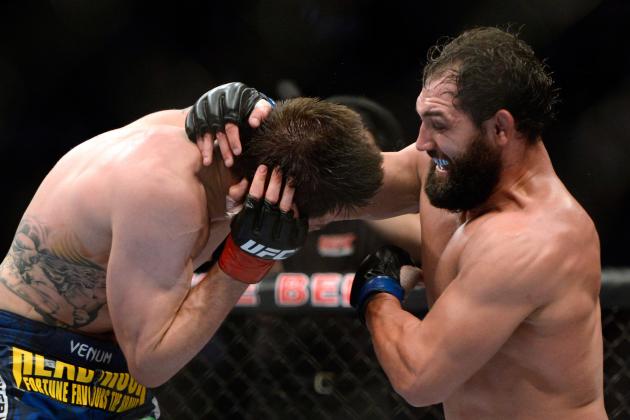 Eric Bolte-USA TODAY Sports

In what could easily be deemed a candidate for MMA Fight of the Year, Hendricks used powerful combinations and superior wrestling dexterity to outshine the incredibly cagey Condit.
Although Condit outstruck "Bigg Rigg" 94-69, including 42-30 in the significant strikes category, "The Natural Born Killer" managed to stuff just three of Hendricks' 15 takedown attempts.
Once on the ground, Bigg Rigg primarily aimed to control the feisty Condit, who continuously scored with elbows from the guard position.
Hendricks, however, looked like a different fighter in the stand-up exchanges, stalking Condit and aggressively throwing multi-punch combinations in constant pursuit of a knockout.
Just a slight favorite over Condit, Hendricks used his post-fight interview with Rogan to begin promoting his fight with "GSP."
"I know you guys are GSP fans, but guess what, I earned it. GSP, please, give me that. If not, I'll fly to your house, I'll hire a ref, and we'll do something about it."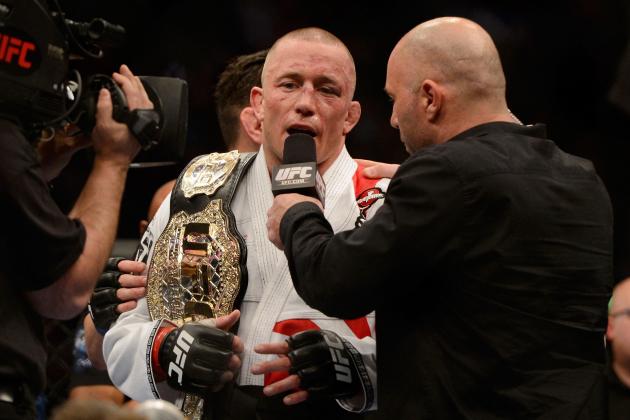 Eric Bolte-USA TODAY Sports

St-Pierre made a different kind of statement against Nick Diaz than he made when he bounced back from ACL surgery to outlast Condit at UFC 154.
"Rush" set out to silence Diaz, the man who publicly disrespected him countless times, by besting the Cesar Gracie jiu-jitsu pupil in his own areas of expertise.
GSP made Diaz's vaunted boxing chops seem rudimentary at times, outstriking the 29-year-old Californian 210-80, including 105-41 in the significant strikes category. St-Pierre also scored nine takedowns and a pair of guard passes while continually neutralizing the grappling offensives of Diaz, a fellow Brazilian jiu-jitsu black belt.
Akin to his win over Condit, St-Pierre once again proved to any naysayer that his cerebral style—predicated mainly on his ability to ground and control his foes—works marvelously against highly aggressive submission and knockout artists.
In his post-fight interview with Rogan, St-Pierre elaborated on the most trying challenges of facing an unorthodox talent like Diaz.
"He has a very unusual scramble style, which I'm not used to seeing, so I don't have training partner(s) like that. I couldn't train for it. It's very hard to find a guy like him. When you fight a guy like this, it's almost impossible to get ready for that."
When the dust settled, GSP once again displayed his propensity for formulating and carrying out intricate game plans on dangerous opponents. But with Hendricks on the horizon, St-Pierre surely won't have much time to savor the sweet feeling of satisfaction.