The NCAA tournament steals the brightest lights in March, but there's plenty of quality basketball to be played in college basketball's other showcases, including the unique and exciting College Basketball Invitational.
The first CBI was played following the conclusion of the 2007-08 regular season. Jerome Jordan of Tulsa took home the tournament MVP award in its inaugural season, leading the second-seeded Golden Hurricanes to a win over four-seeded Bradley in the finals.
Recognizable programs like Oregon, Oregon State, Stanford, Davidson and Butler have all competed in the CBI, as well as Pittsburgh, which won the tournament in 2012.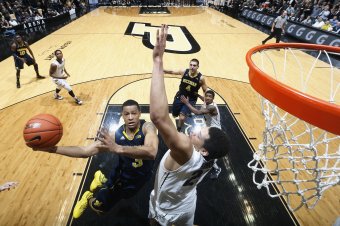 Joe Robbins/Getty Images
The CBI is one of the more unique showcases in college sports. Each matchup throughout the tournament features a visiting team and a host team, which pays for the right to host games in their home arena (h/t BankrollSports.com).
Just like the NCAA tournament and NIT, the initial rounds of the CBI are determined in a single-elimination format. Unlike college basketball's more prestigious events, the winner of the tournament is decided by a finals matchup featuring a three-game playoff.
No team has won the CBI in multiple seasons, and this year should once again provide the kind of parity and unpredictability that makes college basketball so exciting.
Let's take a look at the dates, times, television schedule and more.
Where: Various Locations
When: March 19-April 5
Watch: AXS.tv (AT&T U-verse)
Participating Teams: Purdue, Texas, George Mason, College of Charleston, Vermont, Santa Clara, Western Illinois, Houston, Tulsa, Wright State, Richmond, Bryant, Lehigh, Wyoming, North Dakota State, Western Michigan
Tournament Schedule
The first round is set to begin on March 19 with three first-round matchups. The final five games of the round will take place on March 20.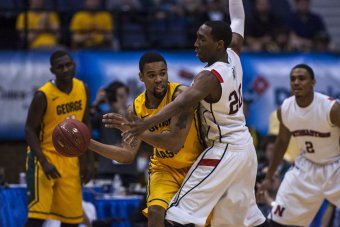 USA TODAY Sports
Eight teams will advance to the quarterfinals on March 25, after which the final four teams will be re-seeded for the semifinal round on March 27.
The two teams to emerge from the semifinals will then participate in a best-of-three playoff to determine the CBI champion. The "Championship Series" will begin with a game on April 1, followed by a second game on April 3 and a third (if necessary) on April 5. Here's a look at the game schedule for Round 1.
Date
Matchup
Date
Matchup
March 19
George Mason vs. Charleston
March 20
Tulsa vs. Wright State
March 19
Vermont vs. Santa Clara
March 20
Richmond vs. Bryant
March 19

Lehigh

vs. Wyoming
March 20
North Dakota State vs. Western Michigan
March 20
Texas vs. Houston
March 20
Western Illinois vs. Purdue
*Full schedule and bracket can be found at GazelleGroup.com.
Historical Winners
| | |
| --- | --- |
| 2008 | Tulsa |
| 2009 | Oregon State |
| 2010 | VCU |
| 2011 | Oregon |
| 2012 | Pittsburgh |
Be sure to follow all the NCAA tournament action with Bleacher Report's live updated bracket and fill out one of your own for free with the printable PDF version.
Make your picks for the 2013 NCAA tournament here with the Bracket Challenge Game.