GSP vs. Diaz Fight Card: Post-UFC 158 Stock Report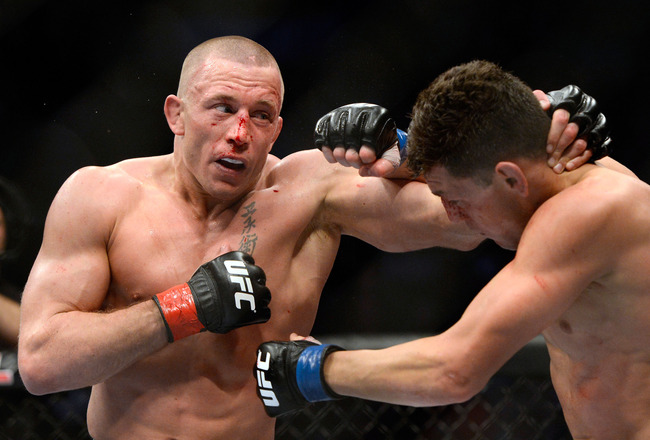 Eric Bolte-USA TODAY Sports
UFC champion Georges St-Pierre showed once again why he's the top dog in the welterweight division after his domination of Nick Diaz at UFC 158.
Utilizing a very technical game plan, the champ repeatedly took Diaz down and showed great control from the top. While the challenger got a few good shots in, St-Pierre was able to land his jab at will to control the action standing up.
While the welterweight king's stock is certainly riding high, not everyone from Saturday night's fights were as lucky.
Let's check out whose stocks are up, and whose are down following the UFC's latest trip to Montreal.
George Roop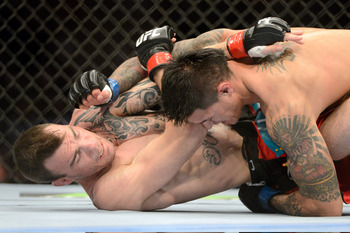 Eric Bolte-USA TODAY Sports
Stock: Up
After back-to-back losses to featherweight powerhouses Cub Swanson and Hatsu Hioki, TUF alum George Roop grinded his way back into the win column with his successful UFC bantamweight debut on Saturday night.
After eating a few good shots from Reuben Duran early in the first round, Roop was able to take control of the fight in the second and third frames, scoring with takedowns and knees against the cage to take the unanimous decision.
While the victory was a solid one for the newly minted 135er, it will be interesting to see if Roop can keep it up against the upper echelon of the bantamweight division.
Reuben Duran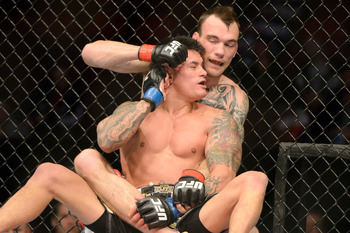 Eric Bolte-USA TODAY Sports
Stock: Down
Suffering his third defeat out of his past four fights, Reuben Duran's current stint in the UFC is likely coming to an end.
With just a 1-3 record with the promotion, Duran has been unable to get his momentum going inside the Octagon, despite a Submission of the Night-winning performance over Francisco Rivera in June of 2011.
After this latest loss to Roop, the regional scene will likely be Duran's next destination.
T.J. Dillashaw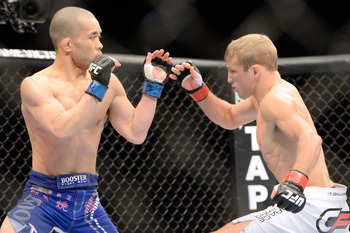 Eric Bolte-USA TODAY Sports
Stock: Up
TUF 14 finalist T.J. Dillashaw stayed hot on Saturday night, extending his winning streak to three with his second-round KO of Issei Tamura.
After a slow first round, the Team Alpha Male product came out fast in the second frame, quickly landing a knee and some ground-and-pound strikes to finish Tamura just 26 seconds into the round.
Having shown that he can clean up against lower-tier 135ers, it's time for Dillashaw to face someone higher up on the bantamweight ladder.
Issei Tamura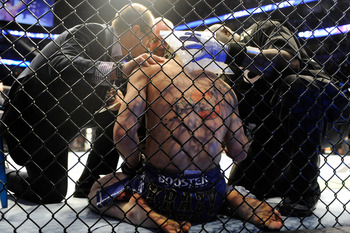 Eric Bolte-USA TODAY Sports
Stock: Down
Moving down to bantamweight has proven to be a poor decision so far for Issei Tamura.
After an impressive KO win over former featherweight Tiequan Zhang in his UFC debut at UFC 144, Tamura has looked bad in his last two outings. Suffering back-to-back second-round finishes at the hands of Raphael Assuncao and T.J. Dillashaw, Tamura may be another fighter with a pink slip in his future.
Rick Story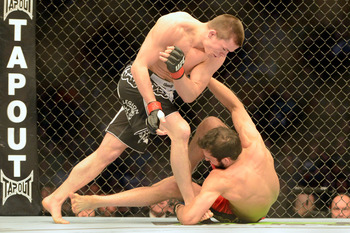 Eric Bolte-USA TODAY Sports
Stock: Up
Rick Story blasted his way back to the win column with a big, first-round KO of Strikeforce import Quinn Mulhern on Saturday night.
Story was in control for the entire fight, stalking Mulhern from the opening bell before landing a flurry of strikes to get the finish just a little over three minutes into the first round.
"The Horror" looked great against Mulhern, but he will need to patch together a few more victories over better competition if he wants to recapture some of the momentum that he had during his six-fight win streak a few years back.
Quinn Mulhern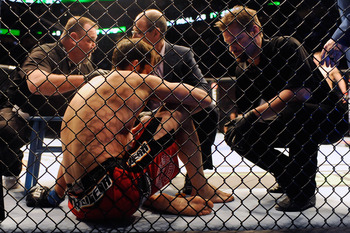 Eric Bolte-USA TODAY Sports
Stock: Down
Strikeforce import Quinn Mulhern did not look good in his first, and possibly last, crack at fighting inside the Octagon.
Granted, his first test in the UFC was against a tough veteran in Rick Story; however, the brutal first-round loss won't help Mulhern's case for a second shot with the promotion.
Maybe it was just first-time jitters, but in any case, I doubt he gets an immediate second chance with the promotion.
Daron Cruickshank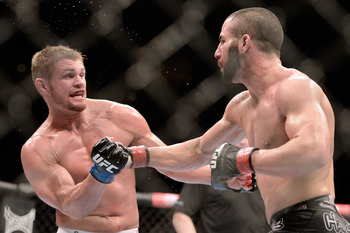 Eric Bolte-USA TODAY Sports
Stock: Down
TUF alum Daron Cruickshank got to test his taekwondo skills against fellow stylist John Makdessi on the FX portion of the card but fell just short, ending up on the wrong side of a unanimous decision.
Cruickshank didn't look too bad in defeat, but was out-gunned by Makdessi's pin-point accurate punches and counterstrikes.
"The Detroit Superstar" will likely get another lower-tier lightweight as his next opponent, so expect the talented Cruickshank to rebound nicely in his next fight.
John Makdessi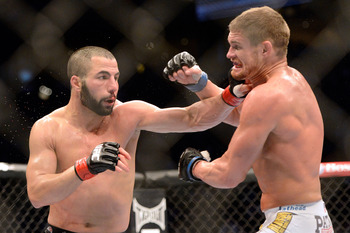 Eric Bolte-USA TODAY Sports
Stock: Up
After dropping two in a row to tough opponents like Anthony Njokuani and Dennis Hallman, Makdessi's stock is once again on the rise now that he's back to his winning ways.
The Canadian followed up his UFC 154 win over veteran Sam Stout with another impressive outing against Cruickshank on Saturday night, making it two wins in a row for "The Bull."
If Makdessi can add another victory or two to his streak, expect him to start facing fighters higher up on the lightweight ladder.
Dan Miller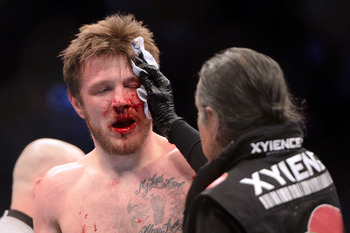 Eric Bolte-USA TODAY Sports
Stock: Down
Jordan Mein pulled off a feat on Saturday night that no one else in MMA has been able to do up to this point: finish Dan Miller.
Unable to lock in an early armbar attempt, Miller started eating shots from Mein midway through the first round before getting dropped with a big left hand. Mein allowed Miller to stand back up before dropping him again with another huge shot, eventually finishing the New Jersey native with ground-and-pound strikes.
The longtime veteran is just 1-3 in his last four fights, but his years of service will likely stave off the pink slip for at least one more bout.
Jordan Mein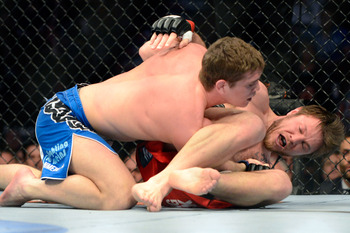 Eric Bolte-USA TODAY Sports
Stock: Up
Jordan Mein definitely caught the UFC's attention with his big win over Dan Miller at UFC 158.
Able to secure the first-round TKO against the longtime veteran with his vicious striking and ground-and-pound, the Strikeforce import extended his winning streak to three, and is now 9-1 in his last 10 fights.
After proving that he can finish a dangerous vet like Miller, expect Mein to take a step up in competition for his next outing.
Antonio Carvalho
Eric Bolte-USA TODAY Sports
Stock: Down
Antonio Carvalho saw his two-fight win streak come to an end, albeit in controversial fashion, against Darren Elkins on Saturday night.
After some back-and-forth action in the opening minutes, Elkins dropped "Pato" with a series of strikes that caused referee Yves Lavigne to call a stop to the fight. Carvalho seemed completely fine and popped right back up; however, it was already too late for the Canadian.
While the stoppage appeared a bit premature, it'll still go into the record books as a loss for Carvalho.
Darren Elkins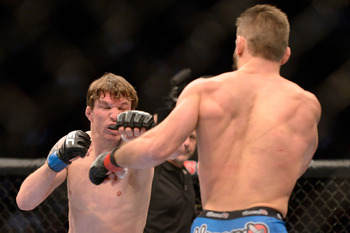 Eric Bolte-USA TODAY Sports
Stock: Up
Since making the move to featherweight in June of 2011, Darren Elkins has amassed a perfect 5-0 record, continuing his tear through the division with his latest win over Carvalho.
While the victory was mired in controversy, the bout once again showcased Elkins' dangerous skill set while adding another solid 145er to his growing list of victims.
With wins over vets like Michihiro Omigawa and Tiequan Zhang as well as promising prospects Diego Brandao and Steven Siler, Elkins is in prime position to make a huge run up the featherweight ladder.
Bobby Voelker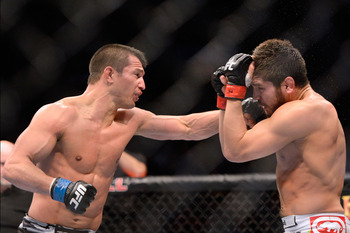 Eric Bolte-USA TODAY Sports
Stock: Up
Bobby Voelker may have ended up on the wrong side of a unanimous decision opposite Patrick Cote, but the Strikeforce import's stock is anything but down.
Voelker put it all on the line against the one-time middleweight title contender, going punch-for-punch with "The Predator" in this three-round war.
Due to his willingness to put his body on the line in his exciting UFC debut, I totally expect to see Voelker back inside the Octagon again.
Patrick Côté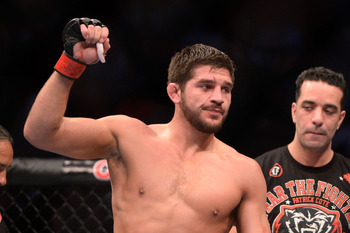 Eric Bolte-USA TODAY Sports
Stock: Up
Striking ace Patrick Cote put on a very exciting show during his welterweight debut at Saturday night's UFC 158.
The exciting back-and-forth affair saw both men throw caution to the wind at various points throughout the fight, eventually ending up as a win for "The Predator." Improving his record to 2-1 during his current stint with the UFC, the drop-in weight may be the career boost Cote's been looking for.
The Canadian will need a few more wins, though, before he can start challenging the upper tier of the division.
Colin Fletcher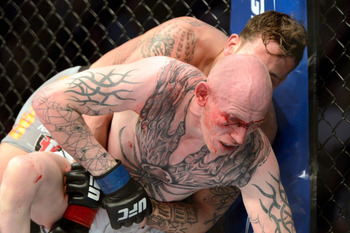 Eric Bolte-USA TODAY Sports
Stock: Down
After a lopsided snoozefest of a loss to Mike Ricci on Saturday's main card, TUF: The Smashes finalist Colin Fletcher is in a tough position following his second straight loss.
While "Freakshow" is a fan favorite with great submission skills, his ability to finish opponents and excite the crowd may not be enough to keep his job with the UFC.
I expect the promotion to give him another shot inside the Octagon, but Fletcher needs to come up big if he wants to retain his spot on the roster.
Mike Ricci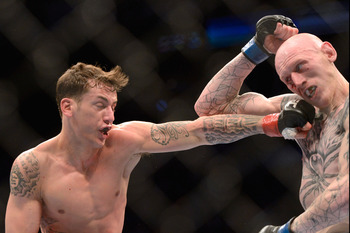 Eric Bolte-USA TODAY Sports
Stock: Up
TUF alum Mike Ricci may have come away with the victory against Colin Fletcher; however, the win was anything but exciting.
Ricci was able to score some takedowns and work the ground game, but other than a late choke attempt in the final frame, there really wasn't much action in this bout.
While the win was a much-needed one for the Canadian, he will have to do a lot more in his next fight if he wants to emerge as a rising prospect.
Nick Ring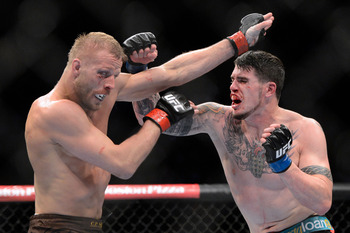 Eric Bolte-USA TODAY Sports
Stock: Down
TUF alum Nick Ring suffered his second loss out of his last three fights on Saturday night, ending up on the wrong end of a spilt decision opposite Chris Camozzi.
Despite landing his jab and utilizing some quick footwork earlier in the fight, Ring began to fade in the final two frames, eating a huge knee in the second round before his energy started to seriously wane in toward the end of the bout.
Ring is still a talented middleweight, but he's going to have to amp it up a notch if he wants to keep his spot on the roster.
Chris Camozzi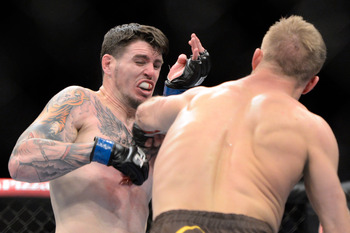 Eric Bolte-USA TODAY Sports
Stock: Up
Chris Camozzi has slowly amassed a nice winning streak over the past year and a half, with his latest victory over Nick Ring possibly being his biggest win to date.
While the fight itself wasn't that spectacular, Camozzi was able to get the better of Ring while standing up in the later frames, highlighted by a huge knee in the second round.
Despite his four-fight win streak, I hope that Camozzi takes on a few more mid-level guys before knocking on the door of the upper echelon of the division.
Nate Marquardt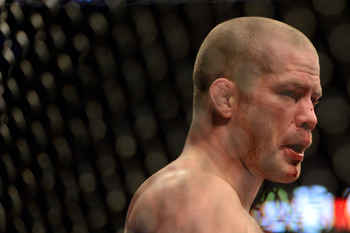 Eric Bolte-USA TODAY Sports
Stock: Down
Former Strikeforce champ Nate Marquardt showed fans that he's learned from his title loss to Tarec Saffediene, even employing his own deadly leg kicks against Jake Ellenberger at UFC 158.
However, this strategy would prove to be Marquardt's undoing as Ellenberger caught him flush on the chin as he tried to throw a kick in the first round. A stunned "Nate the Great" ate a few more heavy shots before finally falling to the ground against the cage.
The big KO loss is a huge setback for Marquardt, making it a must-win situation for him in his next fight.
Jake Ellenberger
Eric Bolte-USA TODAY Sports
Stock: Up
Ellenberger's stock is way up after his KO win against Marquardt, so it's not hard envisioning him taking the top contender spot should "The Juggernaut" come out of his next bout victorious.
The highlight-reel finish earned Ellenberger Knockout of the Night honors and once again showcased his dangerous KO power.
Improving his record to 8-1 in his last nine fights, "The Juggernaut" may be a win away from a crack at the title.
Carlos Condit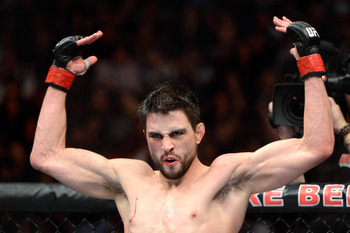 Eric Bolte-USA TODAY Sports
Stock: Even
Despite riding a two-fight losing skid, former interim champ Carlos Condit is still one of the most dangerous welterweights in the division.
Johny Hendricks was able to outwrestle "The Natural Born Killer" to take the decision win, but Condit gave it all he had, landing a myriad of strikes in this exciting, back-and-forth contest. While he'll have to wait a bit longer for another shot at the title, this surefire Fight of the Year candidate of a bout will keep Condit near the top of the ladder in spite of the loss.
Johny Hendricks
Eric Bolte-USA TODAY Sports
Stock: Up
The fighter whose stock rose the most on Saturday night has to be current top contender Johny Hendricks.
Finally securing a shot at the title with his win over Carlos Condit, "Big Rigg's" wrestling and heavy hands will be a huge challenge for the champion.
With a who's-who list of welterweight victims on his resume, Hendricks might just be the man to dethrone St-Pierre.
Nick Diaz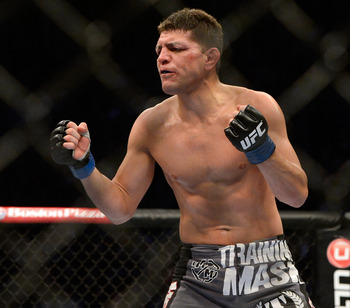 Eric Bolte-USA TODAY Sports
Stock: Down
Poor Nick Diaz.
After getting shutout by St-Pierre in Saturday's main event, the Stockton-born former Strikeforce champ appears to be caught up in even more trouble outside of the Octagon.
Hinting at retirement unless he can somehow secure a rematch with the champ, it's sad to say, but the Nick Diaz show may be finally coming to an end.
Georges St-Pierre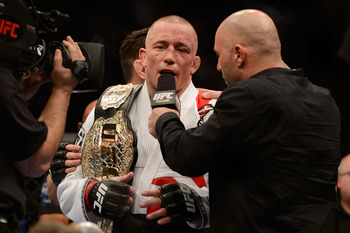 Eric Bolte-USA TODAY Sports
Stock: Up
It was smooth sailing for UFC welterweight champ Georges St-Pierre on Saturday night as he dominated Nick Diaz en route to another unanimous decision victory.
The Canadian was able to establish his jab standing up and repeatedly took down the challenger in virtually every round of the five-round fight.
GSP's next test will be the heavy-handed Johny Hendricks, which will make for a very interesting matchup inside the Octagon.
Be sure to like me on Facebook or follow @MattchidaMMA
Keep Reading