Tottenham Hotspur vs. Fulham: 5 Things We Learned in Premier League Clash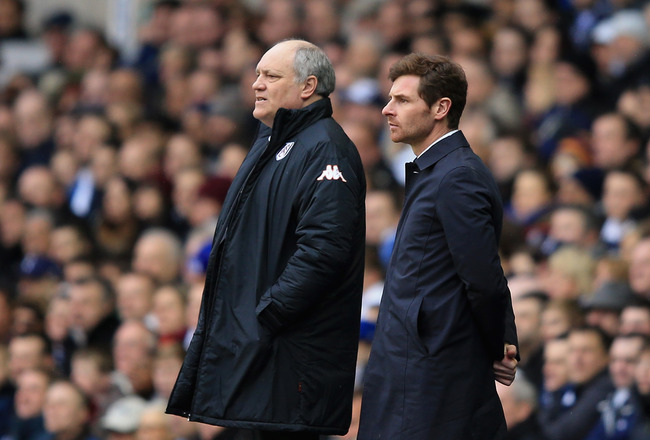 Tottenham Hotspur past and present: Martin Jol and Andre Villas-Boas.
Richard Heathcote/Getty Images
The rain poured down on White Hart Lane on a miserable Sunday afternoon that brought to a close and just about summed up a pretty miserable week or so for Tottenham Hotspur.
Fulham's 1-0 victory was the Champions League-chasing North Londoners' third consecutive loss after coming unstuck against Liverpool and Inter Milan. The latter on Thursday was not at the expense of progress in the Europa League, but after playing 120 minutes the game looks to have taken its toll in more ways than one.
What can Tottenham and Fulham take from their Sunday afternoon meeting? Read on for a few thoughts...
The International Break Has Come at a Decent Time for Tottenham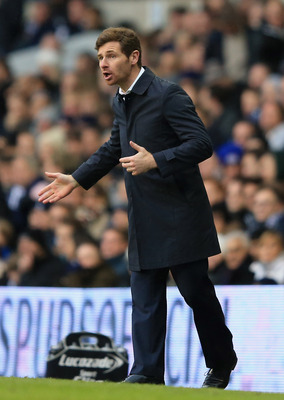 Andre Villas-Boas.
Richard Heathcote/Getty Images
International breaks are not generally welcomed by club managers. These intrusions take their players away and run the risk they might get hurt, robbing their paymasters of their services for even longer.
Andre Villas-Boas will have this concern over the coming fortnight, but the break in Premier League action has come at a decent time for the Tottenham boss.
Spurs were lackluster against Fulham. Their performance, to a certain extent, cast aside any thoughts that the preceding week was just a blip.
They are not a team in crisis, but one certainly in need of evaluating what it has done right, what has gone wrong and where it goes from here. Without a game for two weeks, Spurs have a little breathing space to do this.
As important as it can be for the players to get a rest from competitive action (or at least a change of scenery in the case of those on national duty), the same is true of a coaching staff.
It is the start of a mini-season that will run from 10 to possibly 13 games. For all concerned at Spurs, they have a lot work ahead of them. Now is their chance to refocus.
Dawson and Lennon Have No Luck with Injuries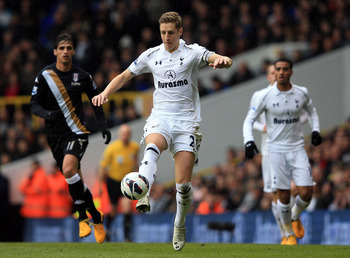 Richard Heathcote/Getty Images
Michael Dawson and Aaron Lennon have had a tough time of it with injuries over the last few years. In cruel timing for the two of them, with both playing regularly and in the latest England squad, they have been hit by them again.
Lennon, with a groin injury, was described by Villas-Boas (via BBC Sport) as being "on the brink of rupturing his muscle." Having started for Spurs 37 times this season, it is probably not surprising he is tiring at this stage. The winger was certainly missed against Fulham as his team found it difficult to open them up.
Dawson played the first half against the Cottagers but was substituted at half-time with a hamstring injury. His manager said it was precautionary more than anything, and the hope now will be it is not a major problem. In the meantime though, Dawson was similarly missed when a disorganized Tottenham back line were cut to shreds by a sweeping Fulham attack, finished off by former Spur Dimitar Berbatov.
The couple of weeks off is timely in the respect neither Dawson nor Lennon miss any Tottenham games before the end of the month. But even if they are close to fitness for the Swansea game on March 30, there will be concern they might suffer further setbacks before the season is out. As two of their team's best performing players this season, this is something Spurs can ill-afford.
Carroll Deserves a Chance to Start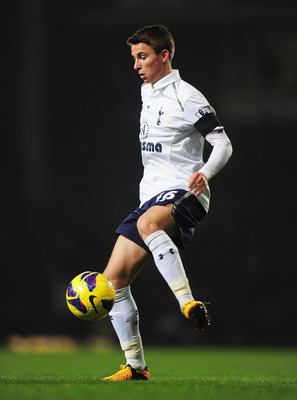 Tom Carroll.
Jamie McDonald/Getty Images
At this stage of the season, as important as it is to be able to play your best players, concessions also have to be made so they do not burn out.
That is where having some good young players around the squad can prove useful. They can come in and give you a game or two's good work. Maybe they will give you a reason to stick with them, but if not, pulling them out after is not as much of a possible headache as with more established members of the squad.
Unfortunately for Tottenham, they have loaned out several such players. Good as the experience is they might be getting, Villas-Boas might be ruing his decision to send out a player like Andros Townsend right now.
One youngster who is still around is Tom Carroll. The midfielder put in a decent second-half showing against Fulham after coming on for Moussa Dembele in the latest in a line of cameo appearances that have shown him not to be out of his depth at this level.
Now, that is different to him being ready to be a fully fledged starter. Carroll has been promising enough to warrant more of a look though. Spurs could benefit from his movement and eagerness to get on the ball as a real outlet in their more staid outings. His eye for a pass does not put him out of place either.
Right now he would serve the added purpose of being able to give someone else a rest and perhaps a reason for them to come back eager to reassert their own claim to be playing.
Fulham Are Nearly Safe for Another Year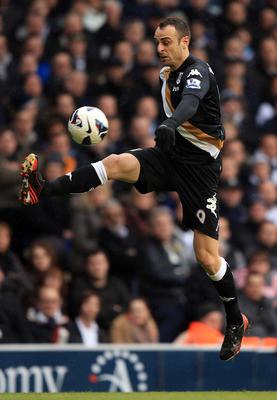 Goalscorer Dimitar Berbatov.
Richard Heathcote/Getty Images
Fulham's win over Tottenham has left them in 10th place, nine points clear of the relegation zone, and with a game in hand over most of the teams below them.
With nine matches left to play, the Cottagers are not mathematically safe. For all intents and purposes though, Martin Jol's team are looking good for another season in the Premier League now.
The defeat of Spurs has given them a little extra room to breathe on a weekend when wins for Aston Villa, Southampton and Wigan Athletic have brought things at the bottom a lot closer together.
Some tricky fixtures remain, including a West London derby with Queens Park Rangers in just over a couple of weeks. But Fulham's steady form in 2013 would seem to suggest this is a team that can nearly begin looking forward, rather than behind.
Senderos Might Yet Prove a Good Bit of Business for Fulham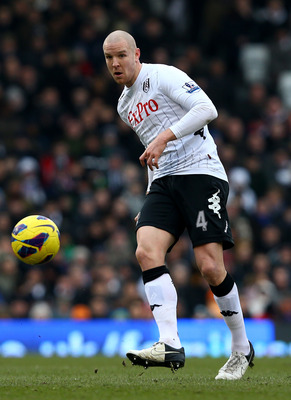 Philippe Senderos.
Jan Kruger/Getty Images
In his days at Arsenal, Philippe Senderos was often touted as one of European football's potential star defenders. He was a decent enough contributor in his time in the red half of North London, but it would be fair to say the Swiss international has not lived up to that billing.
Senderos has had some hard luck with injuries too. Often struggling to turn out for Fulham, he has featured only 14 times this season. If he his performance against Spurs was anything to go by though, the 28-year-old could still be a quality center-back in the Premier League if he can stay fit.
Alongside Brede Hangeland, the pair marshaled Tottenham's attacking threats effectively for most of their Sunday meeting. Spurs found their way through occasionally, but on the whole Senderos and Hangeland dominated their penalty box.
Given more and more time together, the physically imposing duo could become a fine defensive partnership. Senderos signed a one-year contract extension earlier this month. He, Jol and Fulham will be desperate for Hangeland to put pen to paper too and solidify a foundation that this team could be built on in the next couple of seasons.
Keep Reading

Tottenham Hotspur: Like this team?