Virginia Tech Football: Position-by-Position Spring Practice Preview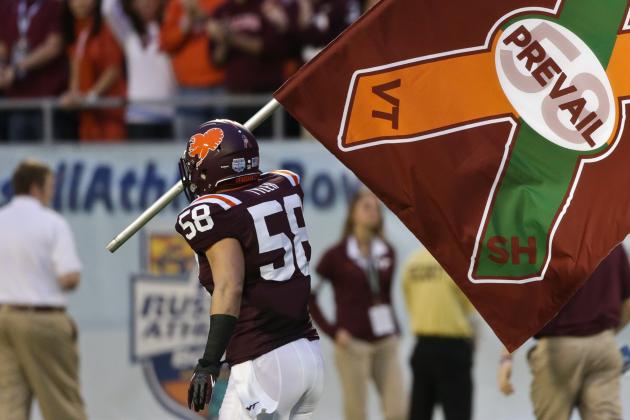 Rob Foldy-USA TODAY Sports

Spring practice is a great time for college football fans. It gives them a small dose of football and even a game. Unfortunately, the game is an intra-squad scrimmage, but it gives fans an opportunity to see how players have progressed from one season to the next.
The Virginia Tech Hokies begin spring practice next Wednesday. The biggest storyline this spring will be if new offensive coordinator Scot Loeffler can take the Hokies' offense to another level.
Head coach Frank Beamer finally decided to make a change at the offensive coordinator position after another middling season and fan unrest. Hokie fans have long felt Beamer was too loyal to former coordinator Bryan Stinespring and it was holding the program back.
The defense has always been in good shape with longtime coordinator Bud Foster. The Hokies expect to have another outstanding defense in 2013.
How will the offense respond?
Here is a position-by-position preview for the Hokies as we get closer to the onset of spring practice.
Begin Slideshow

»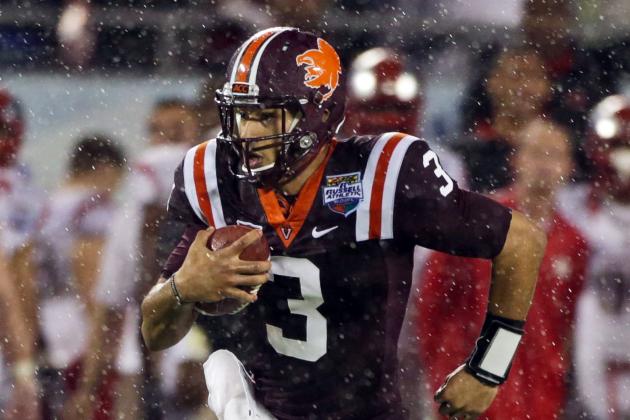 Rob Foldy-USA TODAY Sports

This is all about Logan Thomas and his adjustment to Scot Loeffler's offense. Loeffler has had two months now to review film on Thomas and meet with him personally.
Thomas is entering his third season as starter. After a promising sophomore season, Thomas struggled with bouts of inconsistency as a junior. Losing Jarrett Boykin and Danny Coale at receiver did hurt him in 2012. Marcus Davis and Dyrell Roberts weren't as reliable as the players they replaced.
Loeffler's biggest goal should be working on Thomas as a passer, because he has the tools to be a good one. The Hokies also need to focus on running Thomas less. The quarterback shouldn't be carrying the football 15 to 20 times per game like Thomas did at times last season.
Behind Thomas is talented but inexperienced junior Mark Leal.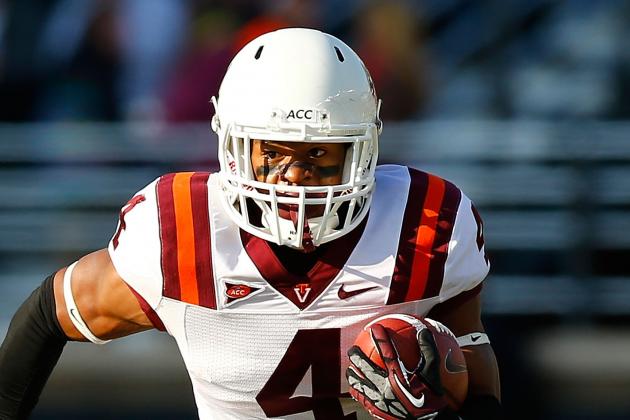 Jared Wickerham/Getty Images

The Hokies running backs struggled mightily in 2012. They never found a reliable starter, but much of that was due to bad offensive line play.
Sophomores J.C. Coleman and Michael Holmes return to battle with redshirt freshman Trey Edmunds. Coleman had a good freshman season, and he looks to have a bright future. He has blazing speed and is a much stronger runner than one would think considering his diminutive size (5'7").
Holmes had several opportunities last season but never seized them. Spring practice will be important for him, with Edmunds now playing this season.
Edmunds may be the most talked-about player in the program at the moment. At 6'2", 205 pounds, Edmunds ran a 4.37 40-yard dash in winter max testing. His 40 time was the same as Coleman's, a player known for his terrific speed.
The Hokies have traditionally liked having a power back with the ability to get the tough yards that aren't always blocked. Edmunds appears to be that guy. Remember, last season, his first on campus, the coaches were undecided on whether to play Edmunds at running back or linebacker.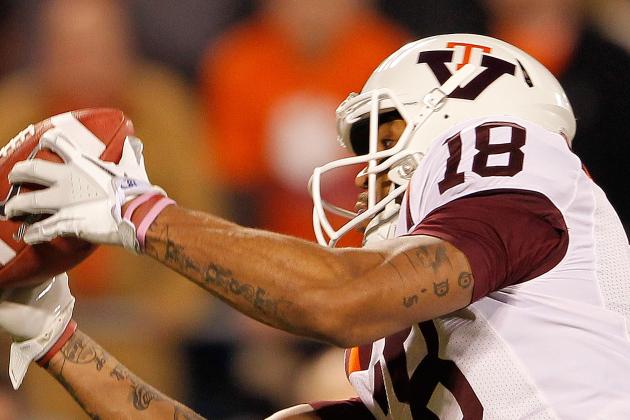 Mike Ehrmann/Getty Images

For the third straight year, the Hokies will have a different pair of starting wide receivers. Fans were accustomed to record-setting receivers Jarrett Boykin and Danny Coale for four years but took a step back last season.
Marcus Davis and Dyrell Roberts were extremely talented but never seemed to develop consistency. It is a shame Corey Fuller's eligibility expired, because he came so far as a receiver last year. He was Thomas' favorite target and easily the Hokies' best wide receiver in 2012.
Senior D.J. Coles, who has fought injuries the past two years, will start at one spot. Coles was expected to start opposite of Davis last season, but another injury to his knee in the season opener against Georgia Tech sidelined him for the season. He is a big (6'4", 226 pounds), reliable target that Thomas needs. If healthy, Coles will have a good season.
Sophomore Demitri Knowles appears to be the next good, young Hokies receiver. Knowles didn't begin playing football until high school, so he was raw when he arrived on campus. He made great strides last year. If his route-running has improved, he will undoubtedly start opposite of Coles. Thomas seemed to trust Knowles last year. While he only caught 19 passes, he didn't get a lot of opportunities with so many seniors ahead of him.
Several other young players like Joshua Stanford, Kevin Asante, Christian Reeves and Joel Caleb will look to impress the coaches this spring and see if they can move up the two-deep.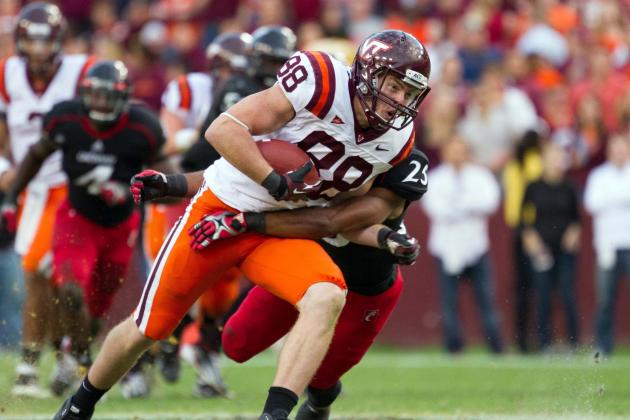 Paul Frederiksen-USA TODAY Sports

This is a position where the Hokies haven't had great production in recent seasons. They hope that changes this year with Ryan Malleck's return. Malleck played in all 13 games in 2012, starting seven of them. He caught 17 passes, but he did have some key red-zone drops last season.
Malleck, a junior, has good size (6'4", 245 pounds) and is still improving as a blocker.
He will not be given the starting position, however.
The Hokies have some big, talented players that will push him. Sophomore Darius Redman and freshman Dakota Jackson are two players to watch.
In addition to those two, a pair of former defensive ends, juniors Duan Perez-Means and Zack McCray, look to move up the depth chart. Perez-Means made the switch to tight end a year before McCray, so he may be farther along in his development. McCray, the cousin of Logan Thomas, is a terrific athlete and played tight end in high school in addition to defensive end.
This position should be one of the most watched this spring. There is a solid starter in place with several young players pushing him. The competition at tight end should be outstanding.
Geoff Burke/Getty Images

The Hokies replaced four starters on the offensive line last year and never seemed to find consistency. Both starting tackles from last year, Nick Becton and Vinston Painter, have now graduated. The Hokies are hoping a pair of juniors, Mark Shuman and Laurence Gibson, are ready to take over.
Shuman and Gibson, both former 4-star recruits, will be given every opportunity to take over at each of the tackle positions. They will not be given the starting positions, however. New offensive line coach Jeff Grimes will clearly stress competition with his group, hoping the best five emerge.
Senior Andrew Miller returns from a broken ankle to start at center. Before his injury, Miller was unceremoniously rotated with sophomore Caleb Farris. Miller was on the watch list for the Rimington Trophy before the 2012 season and was expected to be the Hokies' leader along the revamped offensive line.
Farris also returns, but will Grimes go with Miller or allow Farris to push him for the job? Farris will also be in competition to start at guard.
Junior Brent Benedict is the returning starter at right guard while senior David Wang returns at left guard. Benedict is a former tackle and had his share of struggles playing inside last year. Wang is a solid athlete on the inside, but he has had trouble staying healthy.
Junior Matt Arkema is another experienced guard. Arkema started two games in 2012. He and Farris will push Miller, Benedict and Wang for playing time this spring.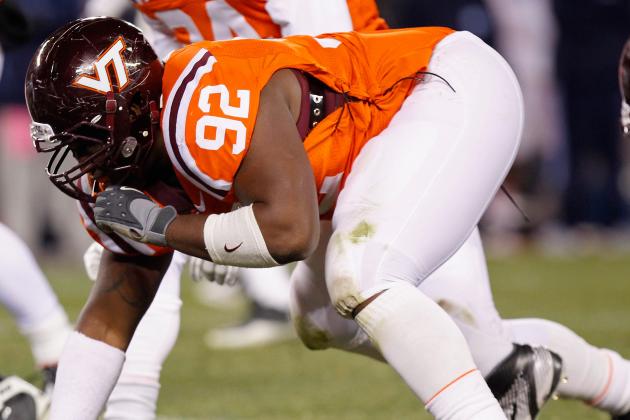 Geoff Burke/Getty Images

This is the deepest position group on the team. The Hokies have several talented defensive ends, led by senior James Gayle. Gayle decided to return to school for his senior season when he realized he could improve his draft position.
At 6'4" and 270 pounds, Gayle is a phenomenal athlete. He plays angry and is a talented pass-rusher.
Who will start opposite of him at defensive end? Junior Corey Marshall and senior J.R. Collins appear to be the leading candidates. Collins had an uneventful 2012 after a solid 2011. Collins is probably the better pass-rusher between the two, while Marshall is the better player.
Tyrel Wilson will receive significant playing time, since he is a tremendous pass-rusher, although undersized. Sophomore Dadi Nicolas and freshman Ken Ekanem are players to watch for the future.
Junior Luther Maddy and senior Derrick Hopkins return to form an excellent pair of starting defensive tackles. Maddy is a play-maker capable of creating an interior pass rush. Hopkins is a solid run defender and an incredibly reliable player.
Sophomore Kris Harley is the primary backup at defensive tackle and is a similar player to Maddy.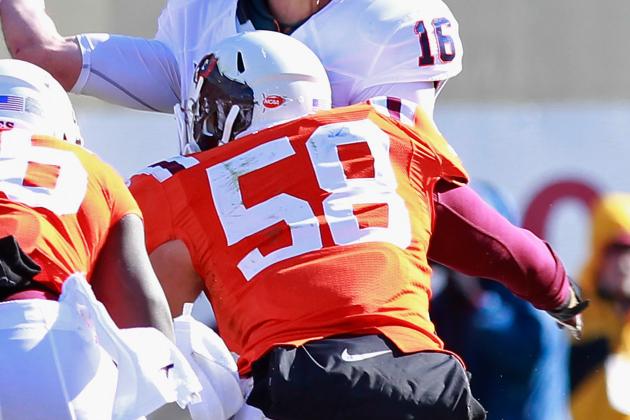 Geoff Burke/Getty Images

Senior All-ACC linebacker Jack Tyler returns to man the middle linebacker position for the Hokies. Tyler, a former walk-on, has improved every year on campus. He has transformed himself into a complete player capable of creating turnovers. He will be the leader of this team in 2013.
Senior Tariq Edwards missed most of the 2012 season due to a leg injury. He was very good at the 'backer position in 2011. Edwards has good size (6'2", 237 pounds) and speed to match his terrific instincts. He was solid in all facets of the game as a sophomore. The question surrounding Edwards is, has he lost some of his speed due to the recurring leg issues?
Sophomore Ronny Vandyke is the projected starter at whip linebacker. Vandyke is a former high school defensive back and flashed his vast potential in limited duty in 2012. Just like most young players, Vandyke often struggled with diagnosing plays at the line of scrimmage. The spring is important for him.
Freshman Deon Clarke will be Edwards' top backup. Clarke, like Vandyke, looks like a future three-year starter. Built similarly to Vandyke (6'2", 215 pounds), Clarke has the speed of a defensive back and is a big hitter. Keep an eye on him this spring.
Junior Chase Williams is a very capable player. He can play each of the linebacker positions if needed but is penciled in as the backup to Tyler in the middle. The son of Gregg Williams, Chase is obviously a smart player and an impressive athlete. He will see the field in 2013 on defense.
Freshman Devin Vandyke projects to be his older brother's top backup at whip.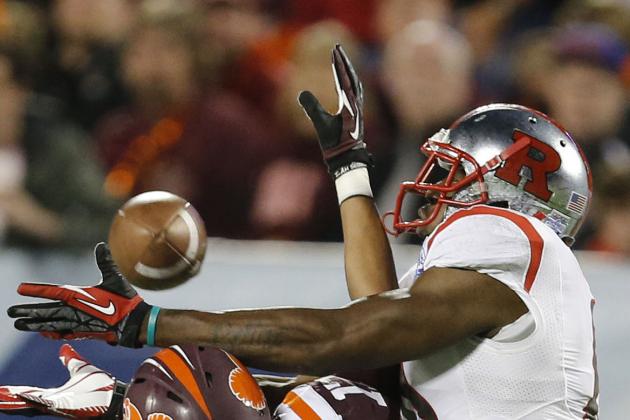 The Star-Ledger-USA TODAY Sports

The Hokies obviously got bad news in January when All-ACC cornerback Antone Exum tore his ACL. Exum, in his first year at corner after two years at safety, got much better in 2012 as the season wore on. Super freshman Kendall Fuller obviously will not arrive until August, so there is an opportunity for others in the program to step up and impress coaches.
Senior Kyle Fuller returns as the other starting cornerback. He is an extremely physical player who has played whip linebacker in addition to safety at times in his career. He has excellent instincts and is a very good tackler for a cornerback. He has had some trouble with the deep ball at times.
Look for a pair of sophomores, Donovan Riley and Donaldven Manning, to step up in Exum's absence. Both had their fair share of struggles as freshmen in 2012, but the year of experience should prove beneficial to them. This will be an interesting battle this spring. Also, don't close your eyes on early enrollee Brandon Facyson at cornerback.
Kyshoen Jarrett and Detrick Bonner, both juniors, return as starters at rover and free safety, respectively. Jarrett had an excellent year in his transition to rover and has the physical style needed to play the position.
Bonner struggled at times but got better late in the season. Both are former cornerbacks and can play that position in a pinch if the situation dictates that.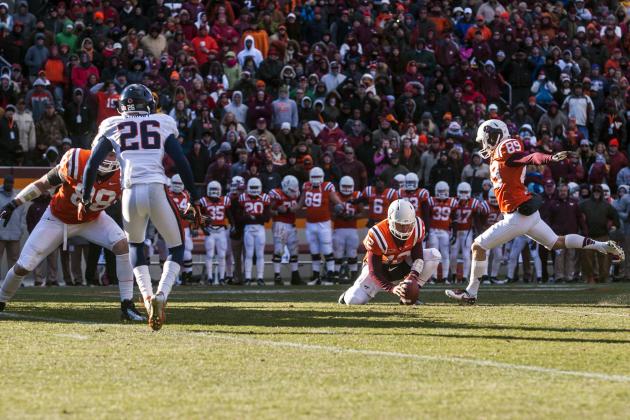 USA TODAY Sports

The Hokies are in good shape here.
Senior Cody Journell returns for his third year as the Hokies' kicker. Journell has proven capable of hitting big kicks and is very accurate. He hasn't shown he can hit the long field goals, however. Forty-two yards is his current career high.
A.J. Hughes solidified the punting position as a true freshman in 2012. The Hokies had struggled in 2011 with multiple punters. Hughes had a season-long of 57 yards while finishing the season with 22 punts downed inside the 20-yard line. Overall, Hughes had 15 punts over 50 yards. He is a necessary weapon for a team with a strong defense and an offense that may not score a lot.
The Hokies have several options at both punt and kick returner. Demitri Knowles and J.C. Coleman both were strong as kick returners in 2012. Knowles averaged 28.3 yards per return and had a 93-yard return for a touchdown against North Carolina.
Starting rover Kyshoen Jarrett solidified his hold as the primary punt returner, averaging 13.9 yards per return with one touchdown.