UFC 158 Results: Top 10 Welterweights in the UFC
Eric Bolte-USA TODAY Sports

UFC 158: St-Pierre vs. Diaz is now in the books, and it's time to rank the welterweights after one of the most important nights in the division's history.
Georges St-Pierre took care of business in the main event, controlling Nick Diaz in typical GSP-like fashion, grinding him down with some impressive ground-and-pound while also making use of his jab on the feet. In the end, even Diaz couldn't deny that the champion deserved to keep his title.
In other welterweight contests, the UFC return of Nate Marquardt fell short as he was knocked out by Jake Ellenberger. Johny Hendricks also solidified himself as the top contender at 170 pounds after earned a unanimous-decision win over former WEC champion and UFC interim champion Carlos Condit.
The welterweight division has been in constant shift for months, but we now have a much better idea of where the fighters stack up. Here are the updated rankings following UFC 158.
Begin Slideshow

»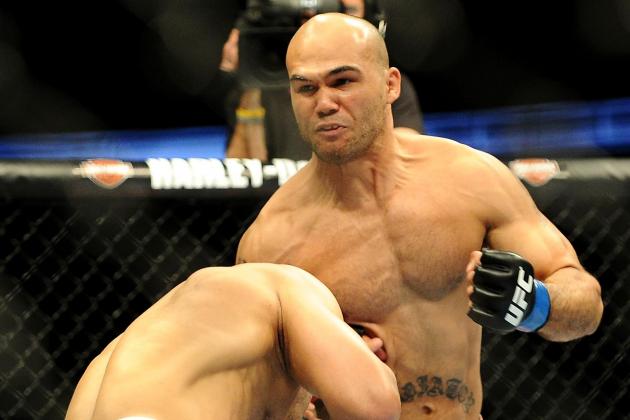 Jayne Kamin-Oncea-USA TODAY Sports

MMA Record: 20-9 (1)
Most Recent Fight: Defeated Josh Koscheck at UFC 157
After a relatively unsuccessful run in the UFC from 2002 through 2004, Lawler revived his career outside the Octagon, putting together a very successful run in EliteXC before moving on to Strikeforce.
Lawler made a successful return to the promotion at UFC 157 with a dramatic knockout over top welterweight and always game Josh Koscheck.
Although he has still lost three of his past five fights, Lawler's stock is on the rise. If he can get another win against a top contender, Lawler could work his way into title contention.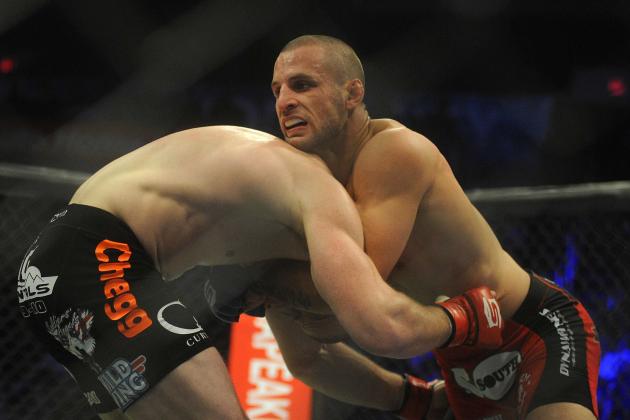 USA TODAY Sports

MMA Record: 14-3
Most Recent Fight: Defeated Nate Marquardt at Strikeforce: Marquardt vs. Saffiedine
The final Strikeforce welterweight champion has yet to make his UFC debut, but the work he did in the last Strikeforce bout was good enough to place him solidly in the top-10 fighters in the division.
Saffiedine's first opponent in the Octagon has yet to be announced, but one fighter who makes sense is Martin Kampmann. Kampmann recently said that he'd like the opportunity to fight Saffiedine, so it seems like there is a good possibility that it will happen.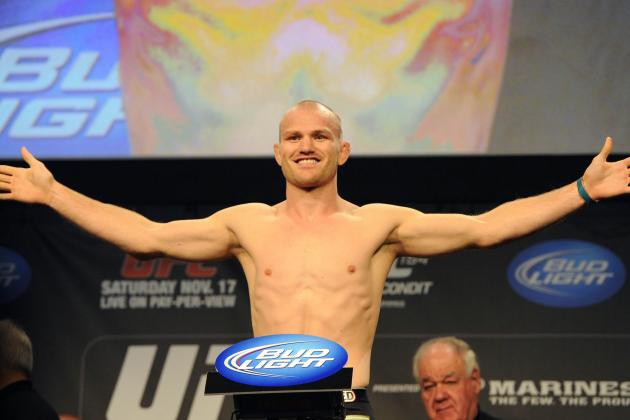 Eric Bolte-USA TODAY Sports

MMA Record: 20-6
Most Recent Fight: Lost to Johny Hendricks at UFC 154
He's coming off a brutal knockout loss to Johny Hendricks at UFC 154, and he has actually lost three of his past six fights overall but it's tough to refute that Martin Kampmann still deserves to be in the top 10 of the welterweight division.
Kampmann owns victories over Jacob Volkmann, Rick Story, Thiago Alves and Carlos Condit. His most impressive feat, however, has to be the "Knockout of the Night" bonus he earned by clobbering Jake Ellenberger with knees at The Ultimate Fighter 15 Finale.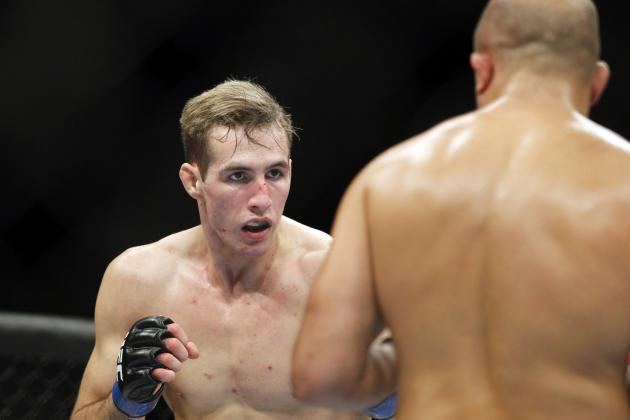 Joe Nicholson-USA TODAY Sports

MMA Record: 14-1
Most Recent Fight: Defeated BJ Penn at UFC on Fox 5
Perhaps the most dominant fighter in the division outside of his training partner Georges St-Pierre, Rory MacDonald may also be the future of the UFC welterweight division.
MacDonald has won four straight in the Octagon, including soul-crushing victories over Nate Diaz, Mike Pyle and former champion BJ Penn. He was originally set to fight Carlos Condit at UFC 158, but had to pull out of the fight with an injury, which allowed Johny Hendricks to step in.
At only 23 years old, MacDonald still has a lot of room for growth, and that is a scary thought considering the way he has been crushing his opponents. Now he just needs to stay healthy.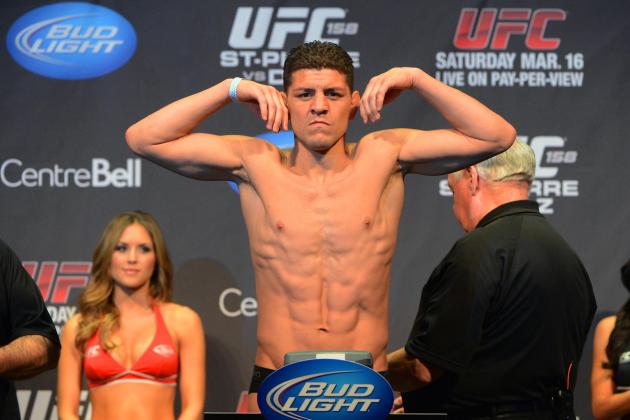 Eric Bolte-USA TODAY Sports

MMA Record: 26-9 (1)
Most Recent Fight: Lost to Georges St-Pierre at UFC 158
Nick Diaz might be the most polarizing figure in mixed martial arts, but even after his lopsided loss to Georges St-Pierre in the main event at UFC 158, he is still one of the best welterweights in the world.
Diaz's back-to-back losses on the scorecards to the aforementioned St-Pierre and Carlos Condit don't look very good, but the 11-fight win streak that he had strung together prior makes him an easy lock as a top-10 fighter.
He spoke of a possible retirement in his in-cage interview immediately after the fight, but Diaz has said that before and still came back for more. The truth is that he loves MMA, and it would be difficult to imagine him doing anything else.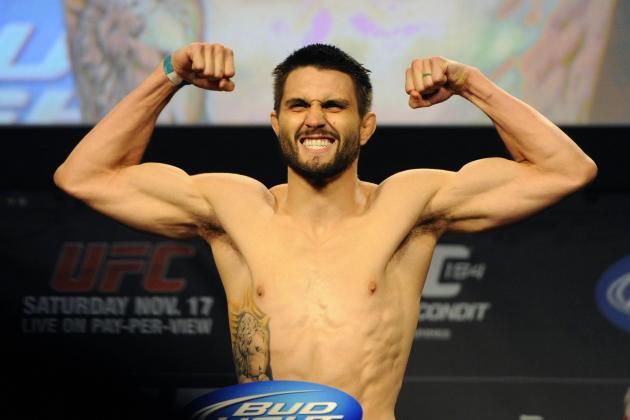 Eric Bolte-USA TODAY Sports

MMA Record: 28-7
Most Recent Fight: Lost to Johny Hendricks at UFC 158
A "Fight of the Night" bonus will help Carlos Condit ease financial burdens after UFC 158, but it's hard to believe that it will help him to sleep any better. He has now lost back-to-back fights to Georges St-Pierre and Johny Hendricks.
Condit, a killer in the standup game and a former WEC champion and UFC interim champion, struggled against two of the division's best wrestlers. Now many believe that his next test will be against another very good wrestler in Rory MacDonald.
MacDonald and Condit first met at UFC 115, when MacDonald dominated almost the entire fight before getting knocked out in the final 10 seconds of the bout. Since then, both fighters have ascended into the elite of the division, and a rematch of their very close bout seems to make sense for both men.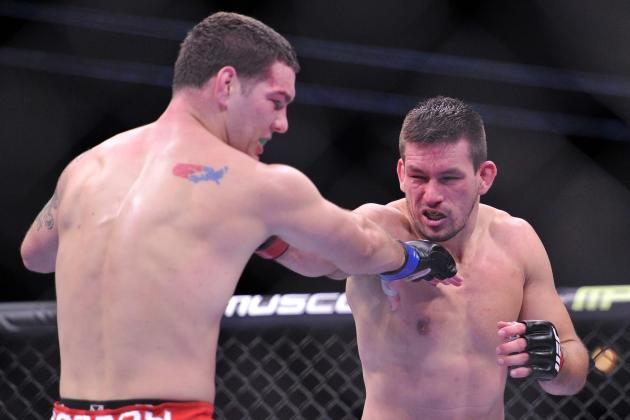 Mike Dinovo-USA TODAY Sports

MMA Record: 18-4
Most Recent Fight: Defeated Jon Fitch at UFC 156
Demian Maia is a former UFC middleweight No. 1 contender, but he has somehow looked even better at 170 pounds than he ever did at 185.
After losing two of his final three fights in the middleweight division, Maia dropped down to welterweight at UFC 148. Many expected him to struggle against Dong Hyun Kim, one of the best grinding-style wrestlers in the division, but that didn't happen. A freak muscle spasm caused Kim to be knocked out, and Maia has not looked back since.
Maia has since earned victories over two more of the division's top wrestling-style grapplers, Jon Fitch and Rick Story, and neither fight was particularly close.
With one more win in the division, Maia could earn a title fight against the best of the best when it comes to wrestlers at 170—champion Georges St-Pierre. If he gets there, it will be interesting to see how St-Pierre deals with the submission wizard.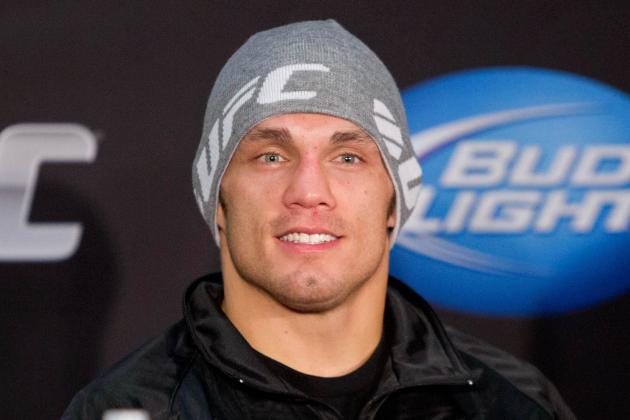 Bruce Kluckhohn-USA TODAY Sports

MMA Record: 29-6
Most Recent Fight: Defeated Nate Marquardt at UFC 158
Jake Ellenberger has been so close to a title fight before and had the opportunity slip through his hands. After his impressive knockout victory over Nate Marquardt at UFC 158, he may once again be one win away from competing for the welterweight championship.
Ellenberger has won eight of his past nine fights, including five wins over consensus top-20 opponents in that time frame. If you can look beyond his loss to Martin Kampmann at The Ultimate Fighter 15 Finale, Ellenberger's resume is as good as anyone else's in the division.
Now he just needs to lock up one more win before he can finally get the opportunity to compete with the best in the division.
Eric Bolte-USA TODAY Sports

MMA Record: 15-1
Most Recent Fight: Defeated Carlos Condit at UFC 158
Many believed that Johny Hendricks should have been the one fighting in the main event at UFC 158 instead of Nick Diaz. Now it's almost impossible to argue that point after his unanimous-decision victory over Carlos Condit in the co-main event.
"He's the No. 1 contender," Dana White said of Hendricks in the post-fight press conference.
Hendricks controlled Condit throughout the majority of the fight even after injuring his hand in the second round. He was eventually given a unanimous-decision victory (29-28, 29-28, 29-28) for his sixth straight win in the Octagon and his fifth straight victory over high-level competition.
He may not have the big name of other fighters, but Hendricks presents a serious challenge for Georges St-Pierre. Not only does he have incredible one-punch knockout power, he is also a two-time NCAA national champion wrestler. So don't expect St-Pierre to have the same success taking down Hendricks as he did with Diaz.
The stylistic matchup is interesting, and we will be watching to see how Hendricks handles the first title fight of his career.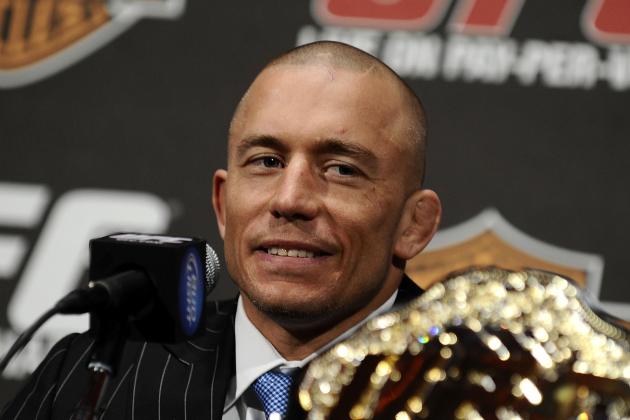 Jeff Zelevansky/Getty Images

MMA Record: 24-2
Most Recent Fight: Defeated Nick Diaz at UFC 158
Those who doubted Georges St-Pierre were shut down yet again at UFC 158, when the champion made it look easy against one of the best fighters in the sport, Nick Diaz.
It was a classic GSP game plan of wrestling and quick striking on the feet, but Diaz had absolutely no answer for the UFC welterweight champion. The fight was never in any doubt, and even Diaz had to acknowledge that the better fighter came away with the win on Saturday night.
Finding a real welterweight challenger for St-Pierre is becoming increasingly difficult, but it will be interesting to see how he handles the challenge of new No. 1 contender Johny Hendricks in the coming months.