UCLA vs. Oregon: Live Score and Analysis for Pac-12 Tournament Championship 2013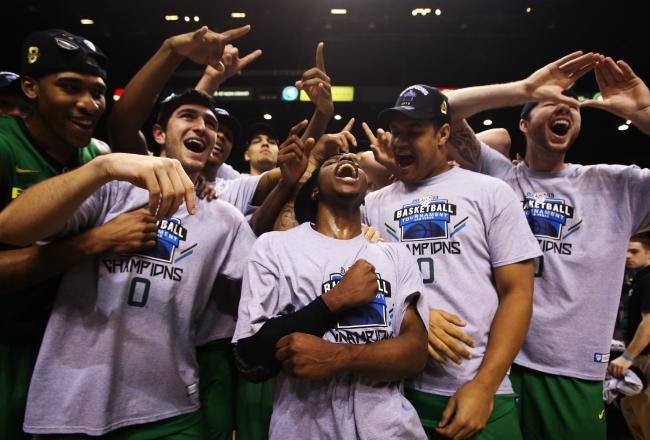 Jeff Gross/Getty Images
In a city filled with spectacle and neon lights, the most exciting action in Las Vegas on Saturday night was inside the MGM Grand, as UCLA and Oregon squared off for the Pac-12 Tournament Championship.
The streaking Bruins sought revenge on the Ducks, who delivered them their first conference loss of the season in January in Pauley Pavilion in the team's only matchup this year, but were unsuccessful.
Oregon, led by forward Carlos Emory's 20 points and stellar three-point shooting in the first half that gave the team a nine-point lead at halftime, overcame the top-seeded Bruins and won their first conference tournament since 2007.
Both UCLA and Oregon are now tied for all-time conference tournament championships, as the Ducks have now secured their third in program history.
The trophy was on the line in Vegas on Saturday night and it's now in the hands (or wings, rather) of the Ducks.
That'll be all for tonight, ladies and gents. Thanks for following along!
Norman Powell, the injured Jordan Adams' replacement, put up 10 points. Shabazz Muhammad and Larry Drew II finished with 14; Travis Wear had 13.
Carlos Emory finishes with a game-high 20 points. Johnathan Loyd put up a season-high 19. Oregon didn't make a three-pointer in the second half after going 7-of-11 from beyond the arc in the first half.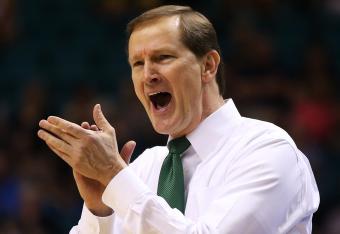 Oregon is officially Pac-12 Tournament champions for the first time since 2007. This is the program's third conference tournament championship.
Oregon 78, UCLA 69. FINAL.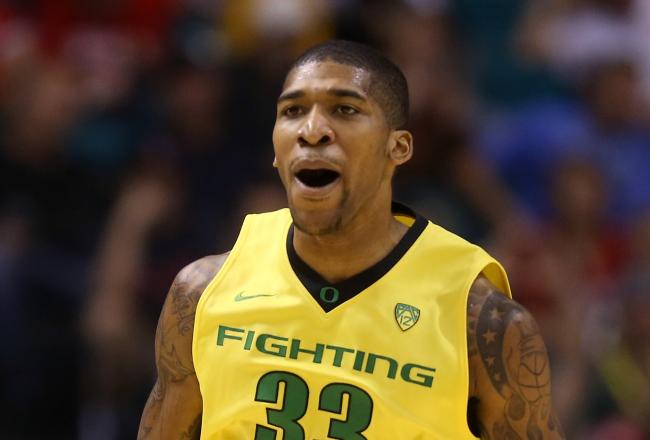 Carlos Emory makes sure the entire West Coast knows who the Pac-12 Tournament Champions are. What an emphatic slam!
That should do it here in Vegas. Oregon will run out the clock. Oregon 76, UCLA 66. 0:29, 2nd.
That's where Muhammad's "star power" is detrimental to the team. He wanted the ball too badly.
Huge possession here for UCLA. If they miss, it's likely over.
Shabazz saves the Bruins by corralling Drew's blocked shot and making the putback. Oregon 73, UCLA 66. 1:27 2nd.
Earlier tonight, Larry Drew II moved into third place on the Pac-12 Conference's single-season assists record list (now at 253).

— UCLA Basketball (@UCLAMBB) March 17, 2013
Drew fires back and stops an Oregon run. Has 12 points now. Howland burns the Bruins' final timeout right after the shot. Oregon 71, UCLA 64. 2:17 2nd.
That is one of Travis Wear's biggest weaknesses. Has an excellent jumper but is afraid of contact. Should have drawn the foul there.
Getting down the wire here in Vegas. Back-and-forth battle continues with less than four minutes to play. Oregon 69, UCLA 62. 3:49 2nd.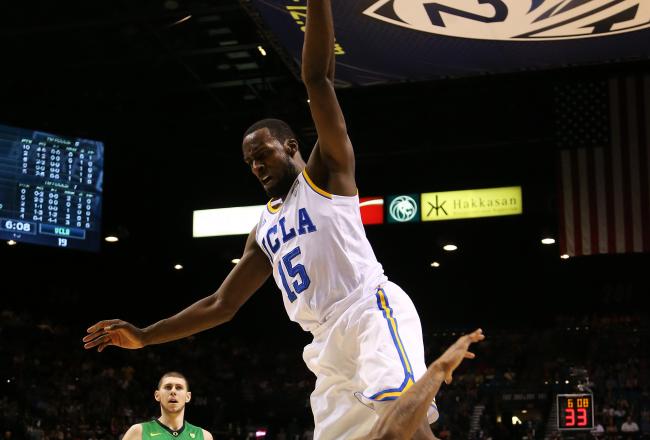 Shabazz has that look in his eye. Has 12 points and is attacking the basket relentlessly. Watch out Oregon. Oregon 68, UCLA 62. 4:34 2nd.
Oregon's Johnathan Loyd averages 4.5 points per game at 34% from the field. He has a game-high 16 points on 7-of-11 (64%) tonight. Oregon 68, UCLA 60. 6:21 2nd.
Ben Carter just exceeded his season average with that shot. Big-time shot for the freshman. Oregon 64, UCLA 58. 8:28 2nd.
Oregon's senior center Tony Woods has yet to have much of an influence on either end of the floor tonight. Has only two points. He put up a game-high 18 when the Ducks beat UCLA in January.
This game has a feeling to it that it will be decided with the last shot. What else can we expect from a college basketball game in the month of March? Oregon 60, UCLA 52. 10:12 2nd.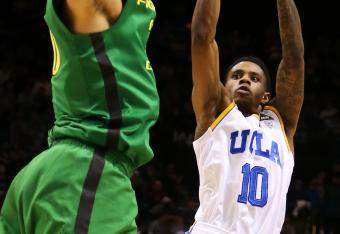 Something clicked in Drew's shot in the middle of conference play. His three-point shooting is out of this world. He's shooting 75% (6-of-8) from beyond the arc in this tournament. Oregon 54, UCLA 52. 12:02 2nd.
Keep the jacket on, Howland. That one was a foul.
This article is
What is the duplicate article?
Why is this article offensive?
Where is this article plagiarized from?
Why is this article poorly edited?