UFC 158 Results: Memorable Quotes and Images from GSP vs. Diaz Fight Card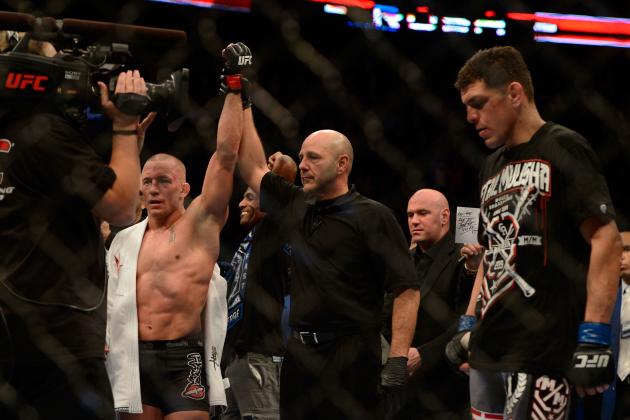 Eric Bolte-USA TODAY Sports

UFC 158, like any fight card, had its share of ups and downs.
Two of the three preliminary card fights on Facebook ended in stoppages, giving fans some hope that they were in for a night of excitement.
The adrenaline stayed pretty high through the FX portion of the card, but that excitement level took a nosedive when the pay-per-view portion of the card began, as Mike Ricci and Colin Fletcher delivered a forgettable performance. One could argue that the Nick Ring vs. Chris Camozzi fight was a passable scrap, but it did little to get the blood pumping.
That all changed when Jake Ellenberger put Nate Marquardt away and Johny Hendricks and Carlos Condit delivered a Fight of the Night performance.
As for the main event, as long as you weren't hankering for a war, you probably weren't disappointed, as Georges St-Pierre did his thing and earned the win over Nick Diaz.
What follows are memorable images and fighter quotes from each fight at UFC 158.
**All quotes via UFC.
Begin Slideshow

»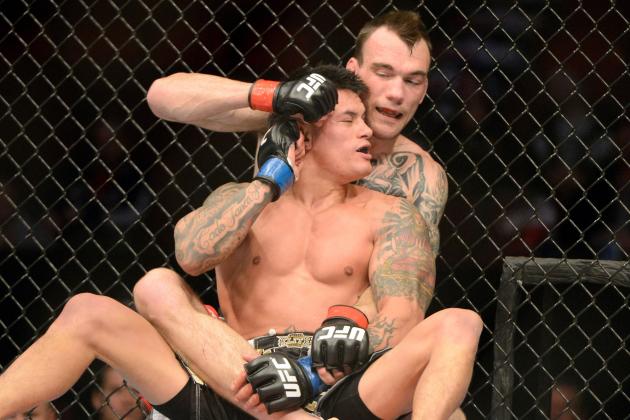 Eric Bolte-USA TODAY Sports

At 6'1", George Roop made the decision to drop to bantamweight after suffering two straight defeats at lightweight. It was an extreme move for a fighter of his stature, but he made the weight and his body didn't betray him through three rounds as he earned a unanimous-decision win at UFC 158.
After the fight, Roop said, "I got rocked a couple of times in the first round, he definitely won the first round with his strikes. I managed to use my range and keep him away but there's no way I won that 30-27. I won the last two rounds, I managed to get back into it, but I'm not that happy with my wrestling. I got work to do in the gym, but I will be back better next time."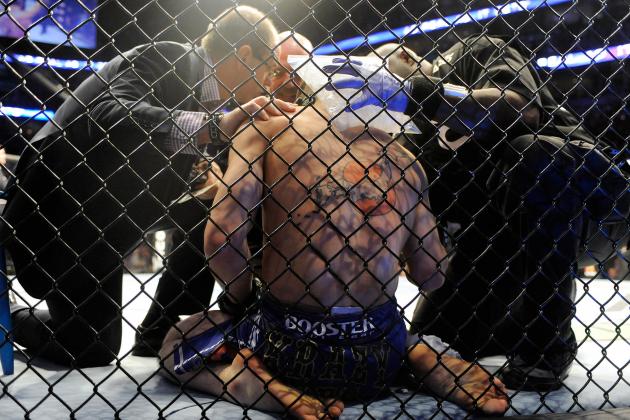 Eric Bolte-USA TODAY Sports

See that photo? That's Issei Tamura after he leaned into T.J. Dillashaw's kick and was met with a knee to the head. The impact put him down, and Dillashaw finished him with some ground-and-pound.
Dillashaw, an injury replacement on the card, had this to say after his win:
"That was the best KO of my career—so far. I knew he was out when I landed it. It was a great knee but he sort of headbutted my knee at the same time. I followed up just in case and he was out. My knee is killing me right now. From here, I just want to fight anyone who is ranked above me. I want to move up the ladder."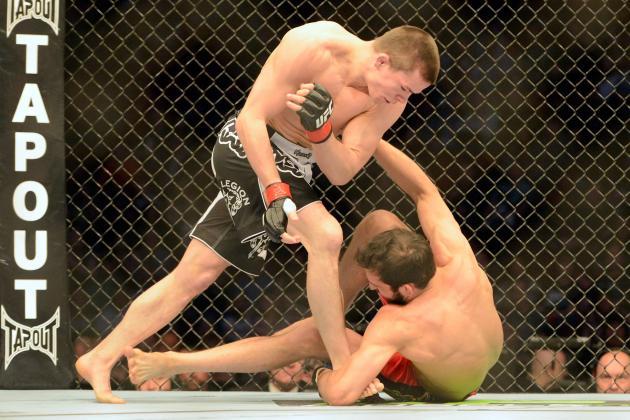 Eric Bolte-USA TODAY Sports

It wasn't that long ago that Rick Story was fighting in a UFC main event. On Saturday, he was fighting on the Facebook card, a clear indication of just how far his star had fallen in the UFC after going 1-3 in his last four fights.
Story earned a first-round TKO win at UFC 158, essentially saving his job with the promotion.
After the fight, Story said, "That felt great. I've been working hard to get back to where I was at and it felt great to win like that. I want to get back up and fight a big name next."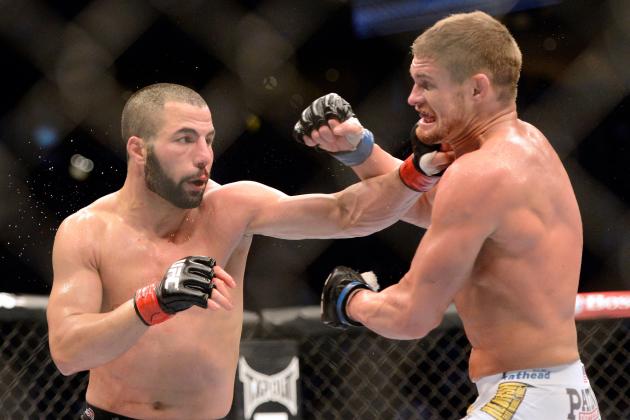 Eric Bolte-USA TODAY Sports

John Makdessi had a rough start against Daron Cruickshank, but picked it up in the second and then really took things to another level in the third, using a strong left hand to set up combinations that Cruickshank had no reply for.
The judges agreed, giving Makdessi the 29-28 unanimous-decision win.
After the fight, Makdessi said:
"That was a tough fight. I felt strong and my cardio was good, I trusted my trainers when they said just breathe and push the pace. I kept the pressure on him. He picked at my eye a couple of times, he didn't close his fist when he blocked my shots and I took a couple of fingers in my eye, but I kept on going forward. I think I can get much better. I want to improve everyday, and I know I can get right up there if I keep working hard. The best is yet to come but, right now, I just want to see my family."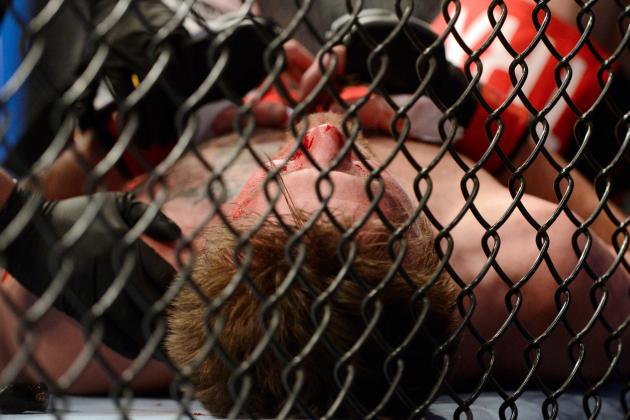 Eric Bolte-USA TODAY Sports

As far as UFC debuts go, you could do much worse than what Jordan Mein did at UFC 158. The 23-year-old welterweight finished Dan Miller in the first round, the first time that Miller had ever been stopped.
Some of the fighters who failed to accomplish what Mein did are Chael Sonnen, Demian Maia, Michael Bisping and Nate Marquardt.
A nice start in the UFC for the young man from Alberta. After the fight, Mein said, "Fighting in the UFC for the first time was just an awesome experience. I had a lot of pressure on myself in the Octagon for the first time, coming in from Strikeforce. That armbar was a little scary, everyone knows Dan Miller always brings it. I just had to roll and roll until I was out. I'm so happy right now, this is a great feeling."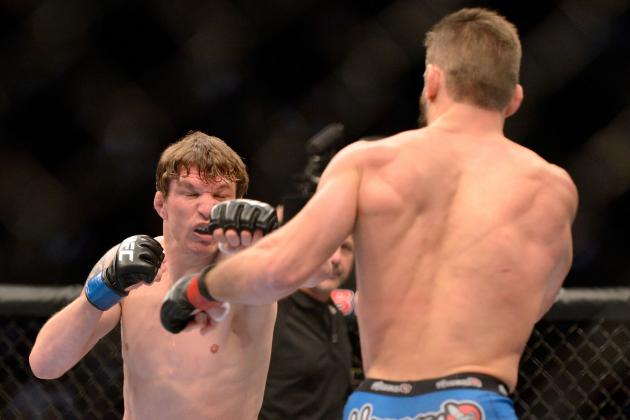 Eric Bolte-USA TODAY Sports

You could argue that referee Yves Lavigne stopped the Darren Elkins vs. Antonio Carvalho bout early, but if fighter safety is the referee's first job, that argument has some weak legs. Sure, Carvalho popped back up after being dropped by Elkins, but this one looked like it was headed for a stoppage regardless.
The win was Elkins' first stoppage victory as a featherweight, moved his record in the division to 5-0 and may make him the most unknown threat in the division. After the fight, Elkins spoke about the win.
"He was hurt for sure but after I dropped him he popped back up, and I don't think the referee put himself in the position to see that. I feel bad for him, but of course I am going to say that I would have stopped him anyway. He was very cool about it, he told me that I hurt him and he had no complaints. He's a true martial artist and great guy.

"I'm now the first featherweight in the history of the 145-lbs UFC division to go 5-0. You know why I know that? My wife, Connie, has been texting me about it all week. That's a pretty cool stat. Now I just want someone in the top 10. I don't care who it is, whoever doesn't have a fight signed right now, who is in the top 10, I am ready. I'm here to get into the top 10 and fight for a title."
Carvalho offered the following in defeat, "I don't blame Darren. He isn't the referee. Listen, he hit me with something because I remember going down. I shouldn't have been caught with the punch in the first place because some referees are safety-first and you don't get to do it again. I feel bad he got a big win and was booed. It wasn't his call to stop it like that."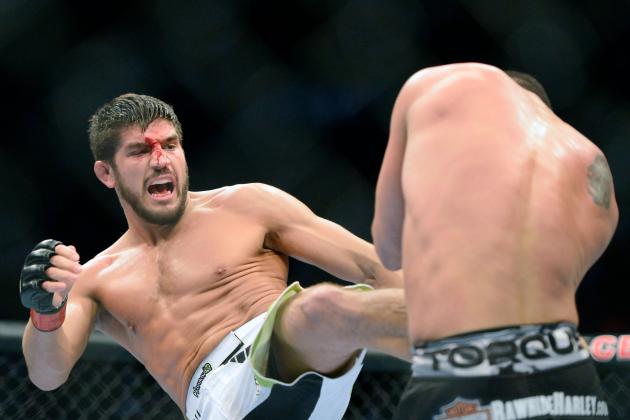 Eric Bolte-USA TODAY Sports

Patrick Cote made his welterweight debut on Saturday night and may have been the recipient of some home cooking when he was awarded the unanimous decision over Bobby Voelker.
Regardless of the decision, the fight was an entertaining three-round scrap that showed Voelker deserves to be in the UFC.
Cote offered the following after the fight, "I thought I won the first two rounds, but it was a good, competitive, close fight. I felt good at the weight for the first time at welterweight, but I got real tired after the second round and he pushed me around in the last round. This was my first time making the weight, this is a learning process for me, and I will work on that with my trainers and try to make sure this doesn't happen next time. But welterweight is the weight for me now. Next time it will be a little easier and I will be closer to 100 percent and not tire so fast."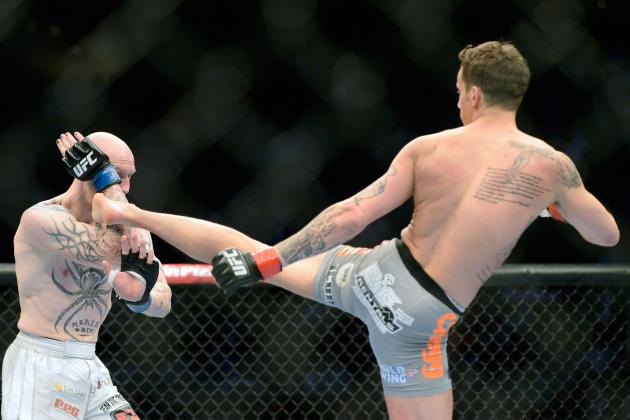 Eric Bolte-USA TODAY Sports

I could try and say something nice about the fight between Mike Ricci and Colin Fletcher, but you all know that it would be a stretch. The fight happened, Ricci won and lets move on.
After the fight, the winner said, "My walkout song—"In the Air Tonight" by Phil Collins—said it all for me. I have been waiting for this moment all my life. I grew up wanting to win in the Octagon, and I've spent six years on a road of blood and sweat to make sure I got here. I had some UFC jitters, but I spoke with GSP two days ago and he said, 'Listen, get used to them because they never, ever go away,' so I was nervous but I expected to be going in. Winning a UFC fight means everything to me!

"He was so hard to figure out. I was trying to land to the head but he's so unorthodox I couldn't get him so I went for the body just to make sure I landed something. I was in control every time we went to the ground though.

"I grew up in traditional martial arts and the sword I walked out with is a symbol to me that I am going into battle. I have it with me all fight week, and when I pack it to come to the arena I know it is time for war. Walking to the Octagon with it was awesome, I just feel ready to go into battle."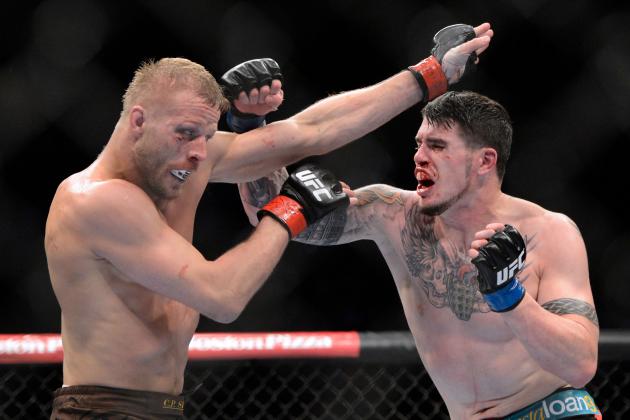 Eric Bolte-USA TODAY Sports

Another one that had the crowd restless.
After Cote and Voelker set the table well for the pay-per-view portion of the card, Ricci vs. Fletcher and this one between Nick Ring and Chris Camozzi brought things down several notches.
In the end, the win went to Camozzi by split decision.
Camozzi had this to say after his victory, "It was a tough fight; he fought in a weird style which was hard to figure out. I did more damage and I think that's what the judges went on."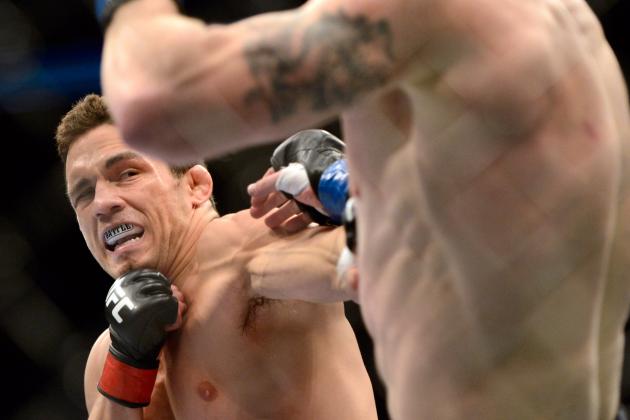 Eric Bolte-USA TODAY Sports

The bout between Nate Marquardt and Jake Ellenberger may have started slow, but there was a reason for that—respect.
The two fighters showed a great deal of that as they worked from distance for much of the early portion of the first round, but as the clock ticked down, Ellenberger began to walk Marquardt down. Once he had backed him up against the cage, he unleashed a combo that put Marquardt down and out.
After the fight, Ellenberger said, "He kicked me hard to the leg and one to the body and I thought 'Okay, we going to end this fast.' I saw he squared up whenever he kicked so I threw hard every time he did that. This is no doubt the biggest KO of my life, and it puts me right there for a title fight or No. 1 contender fight.

"I want to say something. After the Kampmann fight there were people saying I was "gun shy" and not the same fighter. I showed tonight that's total BS. I can knockout anyone in the division and I go for the KO every chance I get. The setback in the Kampmann fight only made me stronger. I'm very happy right now."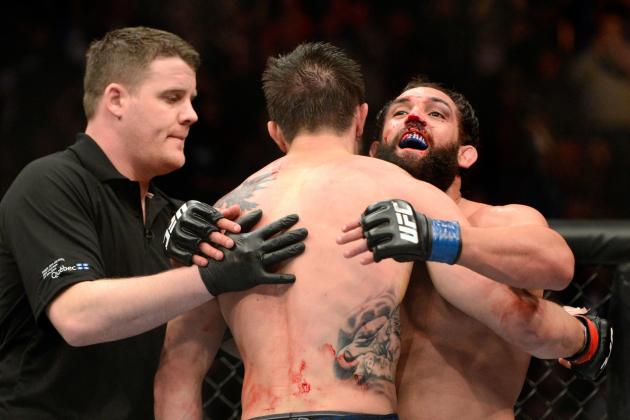 Eric Bolte-USA TODAY Sports

For weeks, all we heard about was GSP this and Nick Diaz that. Lost in the mix was the co-main event, a fight between two dudes, Johny Hendricks and Carlos Condit, who have never been shy about going in there and getting after it.
OK, maybe the Condit vs. Nick Diaz fight is the exception to that rule, but I'm not going to let one fight get in the way of my argument that these guys will mix it up.
Go after it they did, for the entire 15 minutes.
This fight was so good, it kind of made you wish that it had been a five-rounder. I know it's a cliche, but there was no loser in this fight. I know Condit may disagree with that because the "L" goes on his record, but he had nothing to be ashamed of in defeat and they both earned every penny of their "Fight of the Night" bonuses on Saturday night.
After the fight both fighters spoke.
Hendricks: "I want GSP next if he wins this fight. If Diaz wins, I know he will fight me. I have more than earned it. What did GSP do to earn his two title shots? What did Diaz do? Lose a fight to the guy I just beat. GSP didn't go through the contenders like I did. I have beaten the same guys way more impressively than he has. Condit didn't knock me down but he had GSP out.

I'm banged up but I will be ready whenever he is. He can fight me here in Montreal, or any arena anywhere in the world. That, or I grab Dana White, I hire the Octagon myself, I hire a ref and I show up at his house, ring the door bell and we fight right there on his porch. He's got nowhere to hide now.

Much respect to Carlos. I am banged up. I hit him very hard, big shots, but he kept coming and coming. He's an awesome fighter.

I missed a punch near the fence and kinda raked my fingers on the fence. It hurt like hell but I still hit him with it."

Condit: "I wish Johny the best of luck in his title shot. He's earned it. I will be back."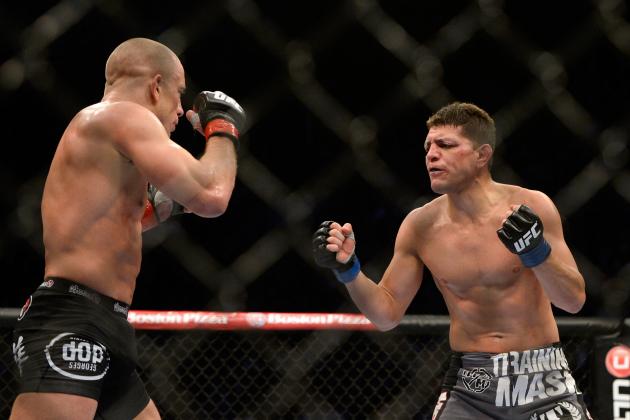 Eric Bolte-USA TODAY Sports

The buildup to the Georges St-Pierre vs. Nick Diaz fight delivered a lot more promise than the actual fight, but that shouldn't be a surprise.
St-Pierre showed some fire in the days leading up to the fight, but once the cage door locked behind him and Nick Diaz, he was the same cool customer we have come to expect. St-Pierre did what we knew he would do all along, take Nick Diaz down, overpower him and control the fight.
It wasn't the most exciting display in the world, but so what—he did what he needed to do to retain his title. He did what a champion is supposed to do.
Win.
After the fight, both fighters had their say on the bout.
St-Pierre: "It was satisfying beating him tonight. I said he was crazy thinking I was afraid of him. I mixed it up and this is a very satisfying win for my career. I don't want to think about Nick Diaz again."

Diaz: "I am trying to retire but I want a rematch. I didn't do as good as I could in the first two rounds. I didn't feel like I was awake in the first couple rounds. In the third and fourth I was catching him and hitting him and he did good in the fifth. I did the best I could, but I could do better. I'm trying to retire and I don't want to fight any of these young kids, but I will fight GSP again."