The Kansas Jayhawks took down in-state foe Kansas State 70-54 to win the Big 12 conference tournament on Saturday in the Sprint Center.
Wooden Player of the Year Award finalist Jeff Withey led the way for the Jayhawks on both ends of the floor. Withey put up 17 points and nine rebounds while shutting down the Wildcats offense, justifying his recent distinction as the conference's best defender.
Even with freshman phenom Ben McLemore not sinking his first basket until midway through the second half, the Jayhawks were in complete control.
The Kansas defense smothered Bruce Weber's bunch, who went over 10 minutes without a field goal in the first half. The Wildcats managed just six field goals in the half overall but still only trailed by eight at the break.
Unfortunately for KSU, the Jayhawks began to heat up on offense, with Withey acting as the catalyst. Perry Ellis was especially valuable for Kansas as well, notching 12 points, six rebounds and two assists off the bench.
Naadir Tharpe matched Ellis' 12 off the pine, knocking down four of six three-point attempts.
Kansas State's Rodney McGruder led all scorers with 18 points, but by the time he began to find his groove, the outcome was already well in Kansas' favor.
Senior Travis Releford played outstanding defense on McGruder in the early going, and the Wildcats' go-to playmaker could not muster much. That threw off the rhythm of the whole offense, as the Jayhawks rotated beautifully and contested every perimeter shot well.
Twitter Reaction
Wildcats writer D. Scott Fritchen pointed out how much of an uphill battle it was for Kansas State in its comeback bid during the second half.
K-State 12 fouls, Kansas 3. Can't recall a differential like that in a Big 12 game I've seen. KU on pace for fewest fouls in Big 12 title gm

— D. Scott Fritchen (@DScottFritchen) March 16, 2013
Rustin Dodd of the Kansas City Star noted the dominance of Kansas' defense in the first 20 minutes within the context of the Jayhawks' season.
Kansas leads 24-16 at the half. Just six FGs for K-State, fewest KU has allowed in a first half since Texas had five on Feb. 16 in Lawrence.

— Rustin Dodd (@rustindodd) March 16, 2013
Fox Sports' Kevin Flaherty made a humorous cross-sports analogy about the halftime score, nodding to former Kansas State quarterback Collin Klein:
Kansas leads Kansas State 24-16 at halftime. Not a huge lead for Collin Klein to overcome.

— Kevin Flaherty (@LonghornDigest) March 16, 2013
KOMU-TV reporter Danny Spewak highlighted the dominance that the Jayhawks have enjoyed against Kansas State in recent history.
In the last 50 games against Kansas State, KU now has a .920 winning percentage.

— Danny Spewak (@dspewak) March 17, 2013
I lied. It's a .940 winning percentage for KU against KSU I believe. That's not even fair.

— Danny Spewak (@dspewak) March 17, 2013
Player Grades
Jeff Withey, Kansas: A+
Jamie Squire/Getty Images
The big man continues to be rock solid for the Jayhawks. Fundamentally sound and rarely out of position, Withey elevated his game in this one. He altered many shots around the bucket and simply dominated in the post on offense.
Rodney McGruder, Kansas State: B+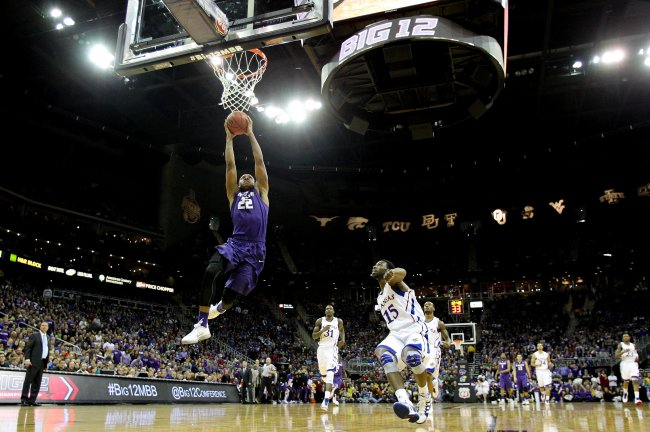 Jamie Squire/Getty Images
In order to pull this one out, the Wildcats simply had to score more. McGruder is their typical leader in that regard, but he took too long to provide a spark. However, he did drain four shots in a row after making just three of his first 11, and he played outstanding defense on McLemore.
Perry Ellis, Kansas: A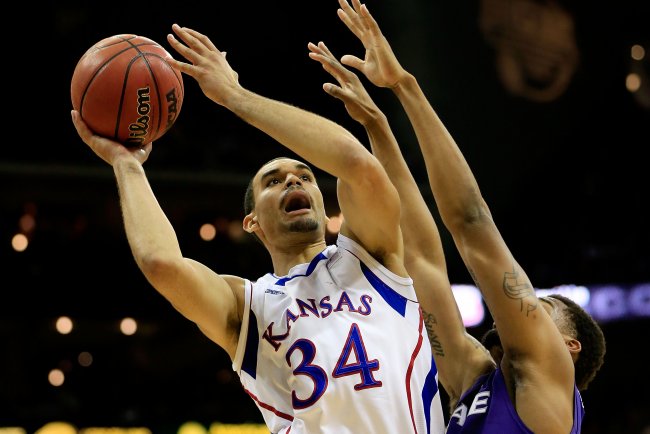 Jamie Squire/Getty Images
The talented freshman forward from Wichita came off the bench to pour in 12 points on efficient 5-of-6 shooting from the field. He attempted just his third three-pointer of the year from the top of the key and drained it, which thwarted some Wildcat momentum late. His guts to pull the trigger in that situation showed Ellis should be a valuable contributor to the Jayhawks' NCAA run.
Angel Rodriguez, Kansas State: B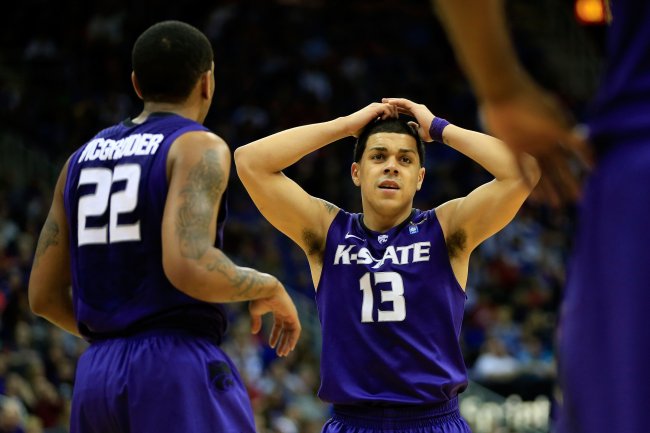 Jamie Squire/Getty Images
Rodriguez was one of few Wildcats showing signs of life as Kansas State desperately attempted to claw back into the game in the second half. He drained three three-pointers, and he also shut down his counterpart Elijah Johnson, partially by forcing him into several turnovers.