UFC 158: Power Ranking the Facebook Prelim Fights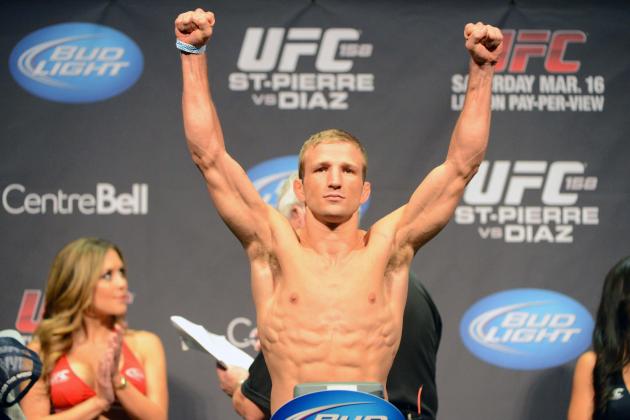 Eric Bolte-USA TODAY Sports

UFC 158 will be remembered as the event where Georges St-Pierre and Nick Diaz finally faced off, but before the two welterweights take to the Octagon, 11 other bouts will be held inside the Bell Centre.
The first three contests of the night were aired live via Facebook as a lead in to the televised portion of the night's action, and they delivered a mix of intriguing competitiveness and nice finishes.
Here we'll glance back at the UFC 158 Facebook prelims and look at which fight did the most to kick off the event in style.
Begin Slideshow

»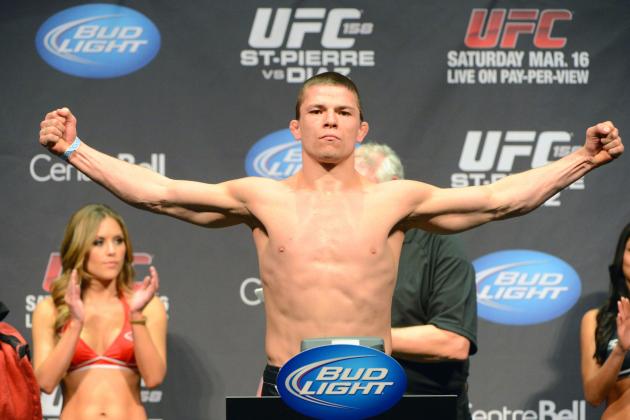 Eric Bolte-USA TODAY Sports

Rick Story def. Quinn Mulhern via TKO (Round 1)
The final Facebook fight pitted UFC newcomer Quinn Mulhern against on-the-rebound Rick Story.
From the get-go, it was apparent that Mulhern didn't have much for Story on the feet, and his desperation shots were easily stopped by his opponent.
After a few minutes of giving pitter-patter shots and taking big ones back, Mulhern collapsed to the mat and covered up until the referee mercifully stepped in.
The Facebook prelims certainly didn't save the best for last—the outcome was written on the wall about 20 seconds in, and it didn't last long enough to deliver on the action. It was a good performance from Story but not the best fight overall.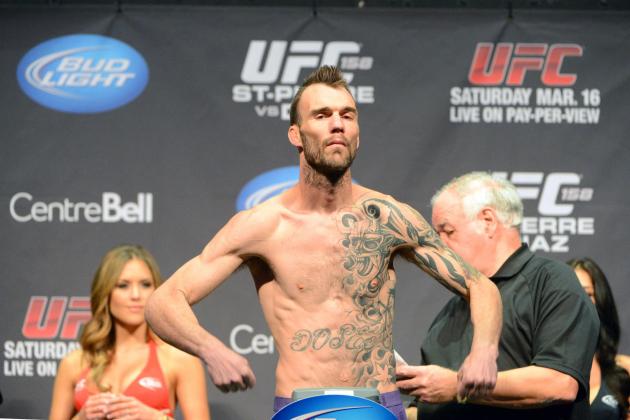 Eric Bolte-USA TODAY Sports

George Roop def. Reuben Duran via unanimous decision
Duran and Roop started the night off with a highly competitive match that went the full 15-minute distance (and then about three seconds afterward, too).
For the most part, Roop got the better of the exchanges, although he did take some damage. Duran landed a fair share of takedowns and maintained top control for chunks of the first two rounds but never advanced position or threw many strikes. In fact, Roop was more active from his back, firing elbows and looking to throw up his legs.
The pace of the contest was decent but not outstanding. Its entertainment value was boosted by its competitiveness, although overall the fight was still pretty average.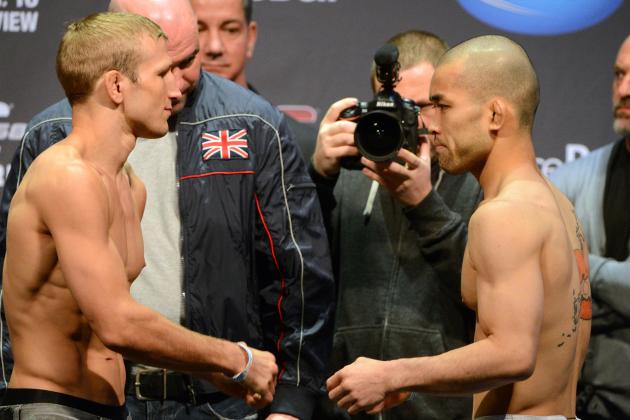 Eric Bolte-USA TODAY Sports

T.J. Dillashaw def. Issei Tamura via knockout (Round 2)
After a fairly pedestrian first round, Dillashaw came out like a rocket and smashed Tamura early in the second frame, scoring a knockout victory via head kick and punches.
Coming into the match, there weren't many who gave Tamura much of a chance, so the outcome was hardly shocking. Still, the finish was abrupt and quite beautiful, so at least an element of the unexpected was present.
Overall, this was a fairly slow fight capped off by a nice finish that was worth the five-and-a-half-minute wait. Still, it delivered by far the best moment of the first tier of fights, so it slightly edges out Roop vs. Duran for top spot on the list.