ACC Championship Game 2013: Players Who Are Crucial to UNC and Miami's Success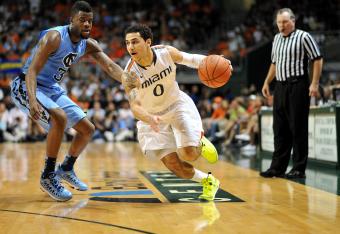 USA TODAY Sports
The North Carolina Tar Heels and Miami Hurricanes are set to do battle in the Atlantic Coast Conference tournament championship on Sunday, and both squads must have their best players in top form in order to grab a victory.
The Tar Heels had their hands full with the Maryland Terrapins in the semifinal one day after Maryland shocked Duke in the quarters, but North Carolina was able to hold off a late Maryland surge to advance.
In the other semifinal game, the Hurricanes staked themselves to a 12-point lead after the first half of play, and it was a hole that the North Carolina State Wolfpack were never able to climb out of.
Miami and North Carolina met twice during the regular season with the Hurricanes getting the better of the Tar Heels in both instances. But you can throw those results out the window, as this ACC tournament championship is a whole new ballgame on a much bigger stage.
Let's take a look at the key players for both teams and what they must do in order to help their respective teams win.
ACC Tournament Bracket: Each Team's Road to the Final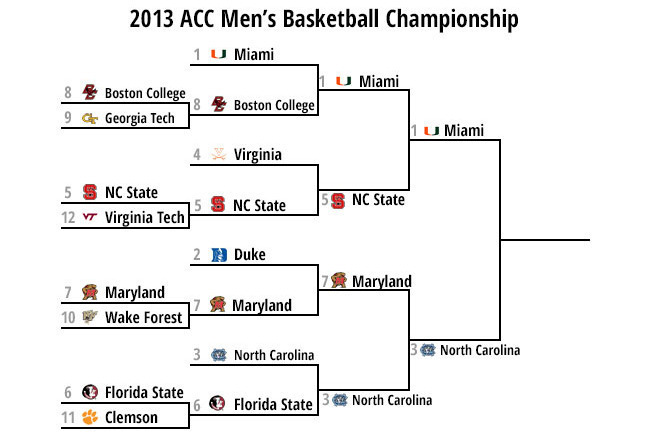 Key Players
Shane Larkin, G, Miami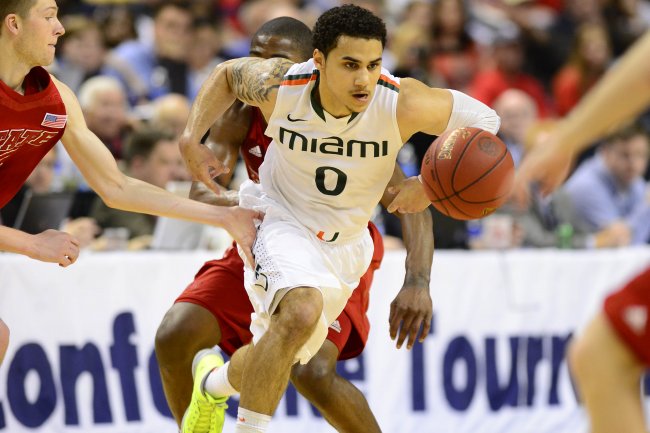 Bob Donnan-USA TODAY Sports
Larkin is easily the most important player on the Hurricanes roster after having a sensational regular season. The Miami guard averaged a team-leading 13.9 points and 4.4 assists and grabbed 3.8 rebounds per game during the 2012-13 season, but he's been even better in the ACC tournament.
In the tourney, Larkin has stepped up in every way possible, and his numbers prove it. He's averaged 21.5 points, five rebounds, four assists and 2.5 steals per contest.
Miami will need Larkin to perform well in this game against North Carolina if it hopes to grab the victory. Not only do the Hurricanes need Larkin to score, but they also need him to draw that extra attention on his way to the basket that will open up the floor for his teammates.
The Tar Heels must respect Larkin's ability to score the basketball, and the star guard knows he should exploit that fact.
On defense, Larkin has shown he can hit the boards, and that's certainly an added bonus to an already stellar player. More importantly, Larkin's pressure as a defender should help create some steals and fast-break opportunities for Miami's offense.
Larkin always seems to rise to the occasion when it matters most, so expect nothing different from him in the ACC tourney championship on Sunday.
Durand Scott, G, Miami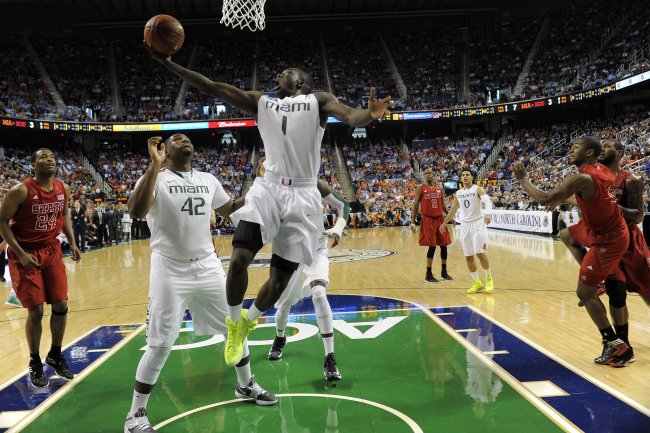 John David Mercer-USA TODAY Spor
The senior guard from the Bronx had a memorable performance in the semifinal of the ACC tournament against North Carolina State, scoring 32 points on 12-of-18 shooting from the field, including 5-of-8 from downtown.
There's no question Scott's No. 1 role on this team is to be a main scorer next to Larkin and the team's second-leading scorer during the regular season, Kenny Kadji. But after the win over the Wolfpack, it's clear Scott can be a force on the offensive end all by himself and can take any game over.
Even when he isn't at his best, Scott must be able to hit those big shots down the stretch of games and/or when the Hurricanes are holding on to a lead against a surging opponent like he did against the Wolfpack on Saturday.
What's even more impressive about Scott's season is his dedication on the defensive side of the ball. The Miami guard has proved to be a great defender who can lock down any team's best player, and it helped earn him ACC Defensive Player of the Year honors this season.
With great all-around players like Larkin and Scott, it's no wonder the Hurricanes have had such a successful season during the 2012-13 campaign.
James Michael McAdoo, F, North Carolina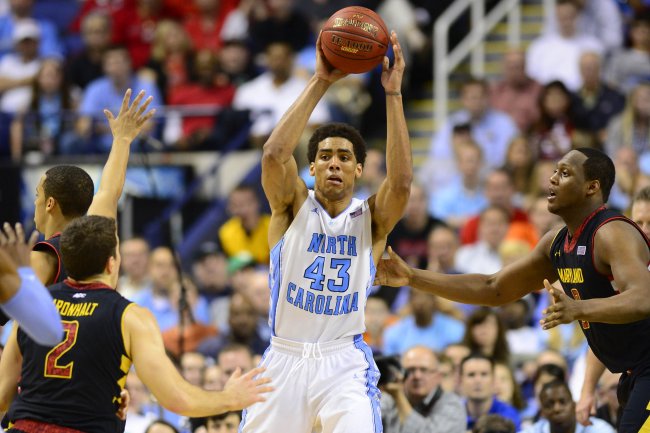 Bob Donnan-USA TODAY Sports
McAdoo's size makes him an important interior presence for the Tar Heels in the starting lineup when the team goes to a four-guard set, and his role on the defensive end is immeasurable as a result.
That will hold especially true against Miami, which has several players capable of attacking the paint and getting easy buckets on the inside. McAdoo must make sure the Tar Heels don't get abused by the Hurricanes' incredibly talented backcourt.
The North Carolina big man has averaged 14.5 points, 7.5 rebounds, 1.2 assists and 1.5 rebounds per game this season, but his numbers have taken a slight decline during this tourney. However, that doesn't erase just how vital McAdoo is on both sides of the floor.
He led the team in scoring during the 2012-13 season, so that's another area the Tar Heels need McAdoo to excel in if they hope to keep up with the Hurricanes in this game.
Reggie Bullock, G, North Carolina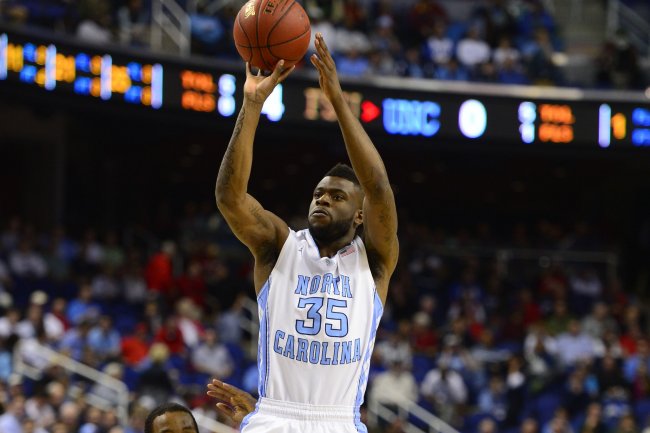 Bob Donnan-USA TODAY Sports
Bullock has been excellent for the Tar Heels during the ACC tourney and has been one of the team's more consistent players throughout the season.
The North Carolina guard has averaged 16 points, nine rebounds and 2.5 assists during tournament play and is arguably the team's best rebounder. Hitting the boards is especially important when the Tar Heels have a small lineup on the floor.
As a defender, Bullock is much improved and will be tasked with stopping some of the Hurricanes' more talented offensive players. A great effort on the defensive end could be the difference between a North Carolina victory and loss depending on what Bullock does against some of Miami's marquee offensive threats.
Offense is also an important part of Bullock's role on this team, as he finished second in scoring for North Carolina this season. Not only is he capable of driving to the basket, but Bullock is a threat to shoot from anywhere on the floor, which helps spread out opposing defenses to open things up.
With P.J. Hairston playing with a wrapped hand, UNC will need Bullock's offensive prowess even more should Hairston not be himself on Sunday.
This article is
What is the duplicate article?
Why is this article offensive?
Where is this article plagiarized from?
Why is this article poorly edited?