UFC 158: Power Ranking the Main-Card Fights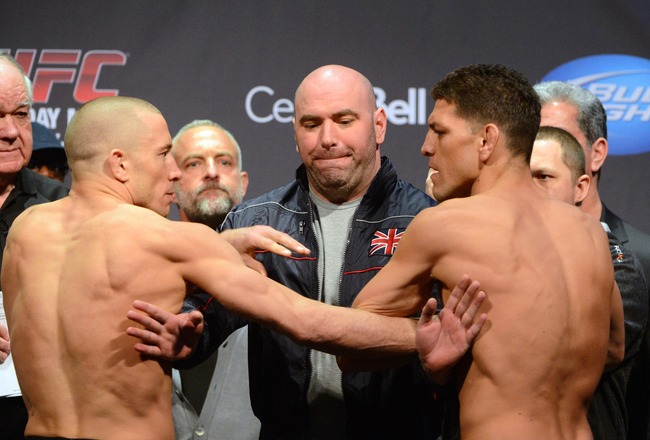 Eric Bolte-USA TODAY Sports
UFC 158 is in the books.
Although Georges St-Pierre was able to retain his welterweight title against Nick Diaz and possibly send him into retirement, the talk of the night will be Johny Hendricks vs. Carlos Condit.
Hendricks put on perhaps the best fight of the year, with Hendricks taking a unanimous decision victory over Condit.
While it should be an obvious No. 1 on this list and possibly fight of the year, here is how the rest of the main card stacks up.
5. Mike Ricci vs. Colin Fletcher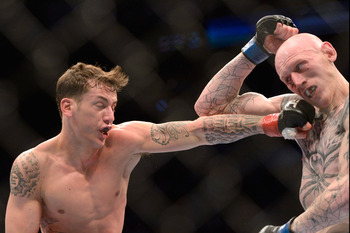 Eric Bolte-USA TODAY Sports
Two former TUF finalists met in the opening bout of the night, as Mike Ricci took on Colin Fletcher.
With the exception of Ricci using pretty good ground-and-pound in the second round and gaining an advantage late in the third, the fight was pretty close.
It was far from the most exciting fight on the card, but it did leave Fletcher gaining comparisons to Nosferatu and Joe Rogan calling him the "Whitest" human being he's ever seen.
Mike Ricci vs. Nosferatu hasn't been much fun to watch.

— Jeremy Botter (@jeremybotter) March 17, 2013
4. Georges St-Pierre vs. Nick Diaz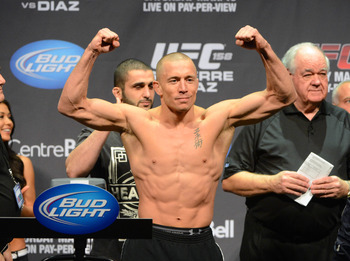 Eric Bolte-USA TODAY Sports
There was a lot of pre-fight hype for this title fight.
But like every other St-Pierre fight, it was very predictable.
St-Pierre used his wrestling and ground-and-pound to with a unanimous decision against Diaz.
Diaz did not have much of an answer for St-Pierre, as he was out rolled on the ground.
While this could be the last of Diaz in MMA, St-Pierre should be set to face off against Johny Hendricks.
This fight could easily be the worst of the night, thanks to the hype that led to it and the huge letdown that it became. But almost everybody saw this coming.
3. Nick Ring vs. Chris Camozzi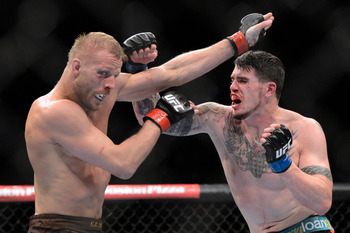 Eric Bolte-USA TODAY Sports
Nick Ring and Chris Camozzi are two more former TUF fighters who both had their TUF dreams cut short thanks to injuries.
Both men fought a very close fight, but Camozzi did enough to defeat Ring.
Much like the night's first fight, there was not much going on in the excitement department.
Ring did his best Lyoto Machida impersonation, as he kept his hands down and fought in and out of Camozzi's reach.
Camozzi did get a few shots in though, as the damage would show on Ring's face in the third round.
This fight only gets a slight nod above GSP and Nick Diaz, thanks to both men trying to press the action and keeping the fight on the feet.
2. Jake Ellenberger vs. Nate Marquardt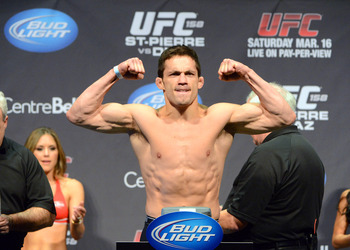 Eric Bolte-USA TODAY Sports
After some back-and-forth action which saw Nate Marquardt throw quite a few leg kicks, Jake Ellenberger caught him with a big left punch.
Ellenberger dropped him with a right and ended the fight on the ground.
Marquardt looked OK at the start and tried to push the pace of the fight, but got caught like so many other fighters do against Ellenberger.
The exciting knockout earns this fight the second spot.
1. Johny Hendricks vs. Carlos Condit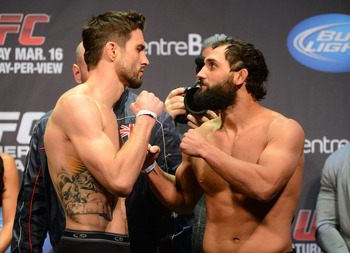 Eric Bolte-USA TODAY Sports
This was, without a doubt, the fight of the night.
Both Johny Hendricks and Carlos Condit left it all in the Octagon, and both men put on a good show.
Hendricks looked like he was going to finish Condit in the first round. Then just like that, Condit turned the tide and almost finished Hendricks.
It was a back-and-forth affair that saw Hendricks take the edge with his wrestling.
This fight could very well be the fight of the year.
Keep Reading